We've had some beautiful sunrises the past few days. This photo was taken yesterday morning around six am. The forecast said rain today, but only a few sprinkles so far, but the temperature has dropped down into the 60's.
Today was Groomer day for 'The Kids", Abby and Cjuo.
Cujo looking so handsome and feeling like a new guy, always loves to go to the Groomer's.
Abby Rose, not feeling to well today, and not happy about getting her pix taken. But looking so pretty!
The other night my grand daughter Sammi was in a big concert out at Tuacan Ampitheater. And got her pix in the news paper, front page!
There she is! Right on the front page! How proud I am to have my grand daughter right on the front page of our local newspaper! Oh, having a hard time picking her out? Well, I must confess that even with my reading glasses I don't know how long it would have taken me to find her! So, I cheated and asked her Aunt "WHERE'S SAMMI"? Kind like that book "Where's Waldo"? Remember that stressfull book? Kept my boys busy at the doctor's office though and they always found Waldo! But I needed help! So I will help you out, too.........
There's Sammi ! Her face is a little covered by the hand of the girl to the right of her but that's Sammi! Singing her heat out in the 2007 Holiday of Harmony at Tuacan. Sammi loves to sing and she likes to perform. As you can see these kids were all having a great time!
My grandson, Joey Marakis just got a letter from the people at "Who's Who
It is a book published of the Outstanding Students in America! They wanted to let him and his parents, my daughter Jennifer and her husband Frank know that Joey will be one of the students featured in the "2007 Who's Who Outstanding Student's in America" book! So "CONGRADULATIONS, JOEY!" Grandpa and I are so proud of you! Joey is doing great in school and is involved in sports. HIs first baseball game is this afternoon! YOU GO JOE!
Well, I have had a real up and down week! I've shed tears of sadness and tears of joy! There is always some sadness along with all the good things in life. But I choose to only write about the good things for now!
And what a wonderfull surprise, Sunday, as I was lieing in bed, resting and not feeling well at all, when in hops the cutest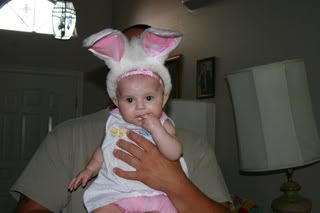 baby EASTER BUNNY I have ever seen! Madison came to brighten Granny's day and make her feel better! And it worked! Madison's mommy and Daddy came, too of course, so they had dinner with us. Dad cooked steaks! Then we went outside and had a great afternoon! Blowing bubbles and flying a tiny POOH kite!
And just being silly! It's so true, Love & Laughter are the best medicine! I sure worked for me Easter Sunday with my little Bunny Madison.

I hope that you all had a great Easter Holiday and Spring Break!

GOD Bless ~