Dogs all over the world are thought of as man's best friends. They help the blind, the deaf, and there are even search and rescue dogs. But for everyday people, the best type of dog is a loving dog. Today I've put together the top ten most loving dog breeds, based on the breed's friendliness towards their owner, strangers and other pets, and their activity level.
10. Brittany Spaniel
This dog is used as an excellent bird hunter, but it was soon discovered that this dog made an excellent companion, because of their loving and gentle nature. They have a remarkable sense of smell, and have all the qualities of the finest bird dogs. It is known to work all day in the cold or the rain, without losing its strength or spirit. It will even plunge into an icy river to retrieve a fallen duck, if that is what is expected of it. However, these dogs have health problems; they can be prone to ear infections, so it is vital that you check and clean the ears daily. Excercise and frequent walks are essential to keep this breed happy. The average lifespan is from 12-14 years.

9. Japanese Chin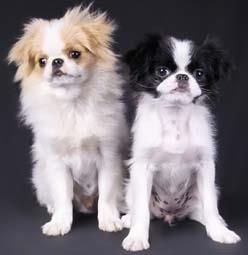 This was once the favourite breed of the Japanese Imperial Court. It was introduced to the west in the 1860's. The high stepping dog can move with grace and elegance. It can run through your house, and not break anything! The dog tends to snack rather than eat, and it enjoys when the owner gives them food from their owner's plate. Tangles can occur in their fur quite often, so to prevent this, it must be brushed very regularly. The average lifespan for Japanese Chins are from 12-14 years. They do have several health disorders; Patellar Luxation is when their knees become dislocated. Surgery is sometimes required, but normally the prognosis is very good. They can also have dry eye, cataracts and entropion (rolled in eyelids).

8. Vizsla
The Vizsla is a hardworking hunting dog that originates from Hungary. It has a great sense of smell, is calm, playful and easy to train. This dog is not suitable for people that live in the city - it has a tremendous energy level that needs to be burned off. Their coats should be brushed two to three times a week. Unfortunately this dog has few but severe health issues. One is epilepsy, in which seizures occur. The dog must be taken to the vet immediately. Another problem this breed suffers from is Hip Dysplasia, when the hip is irregularly formed. They are also susceptible to Hemophilia. This is where the blood clots do not form correctky when the dog bleeds. If left untreated, the dog may bleed to death.
7. English Springer Spaniel
The English Springer Spaniel is a very affectionate breed. Overall they are a cheerful, eneergetic and playful breed. It is considered the most robust of all the spaniels, and it is quick to learn, easy to train, easy to train, obedient, and eager to please. It has many health problems, though; Hip Dysplasia, Elbow Dysplasia, ears require special attention and Progressive Retinal Atrophy. The average lifespan for an English Springer Spaniel is from 10-14 years.
6. Cavalier King Charles Spaniel
The King Charles Spaniel is believed to have originated from either Japan or China a long time ago. It is a very sweet, quiet, gentle and very affectionate breed of dog. They are happy with a short or moderate walk daily. Their coat must brushed at least once every two days. They can suffer from Hip Dysplasia, Patellar Luxation (where surgery is sometimes needed) and various heart issues. Their lifespan is from 9-14 years.


5. Papillon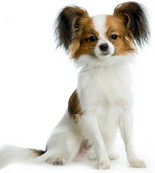 Also known as the 'butterfly dog' because of the way their ears look, Papillons, like the Japanese Chin, were famous with royalty as 'lap' or 'companion' dogs for centuries. They are small dogs, with ears shaped like butterflies' wings (Papillon means butterfly in French). Tireless in play, it delights its admirers with its unusual antics. It is a very playful dog, but also calm. It loves to be cuddled, but some people have reported that Papillons are possesive. It is also one of the top ten most intelligent dog breeds. They do have various health issues; teeth easily develop tartar, prone to dislocated kneecaps and Progressive Retinal Atrophy. Their average lifespan is from 13-16 years.

4. Bichon Frise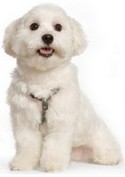 The Bichon Frise is a very popular breed in Great Britain, Italy, France and North America. They simply love everyone, however they bark a lot, and may be difficult to house train. Their coat needs very special attention. It must be groomed daily, with a very stiff brush. They must also be washed once a month. Runney eyes is a problem that keeps recurring, so they must be cleaned regularly with a cotton swab dipped in special lotion (which every vet should have). They are susceptible to one health problem that affects their eyes; Corneal Degeneration (dystrophy). Their average lifespan is from 14-15 years.



3. Nova Scotia Duck Trolling Retriever


The Nova Scotia Duck Trolling Retriever is a highly energetic breed. This breed excelled at duck trolling for hunters (luring curious ducks by frolicking in the river). It is also called the Little River Duck Dog and/or the Yarmouth Troller. They are very playful and willing to please. They need a long walk and a play session everyday. The coat should be brushed at least once a week. The average lifespan of a Nova Scotia Duck Trolling Retriever is from 11-13 years. They suffer from Hip Dysplasia and Progressive Retinal Atrophy. If you want an affectionate dog, buy this one. They want a lot of attention!



2. Labrador Retriever

The Labrador Retriever is a very playful dog. They come in three different colours; black, yellow and chocolate brown. They are the second most playful and affection dog breed in the world. As well as being one of the most affectionate dogs, they are also one of the most intelligent dogs, and the easiest to train. They have many, many health disorders; CRA (Central Retinal Atrophy), Corneal Opacity, Extra Lashes, Entropion, Juvenile Cataract, Retinal Detatchment (Dysplasia), Cystine Crystals in Urine, Hemophilia, Craniomadibular Osteopathy, Carpal Subluxation and Hip Dysplasia. The average lifespan is from 12-16 years.

1. Golden Retriever

The Golden Retriever is the most affectionate and loving dog breed. They are golden-coloured and have wavy fur. They are very good retrievers (hence the name). It is also one of the most intelligent dog breeds. The Golden Retriever was bred to retrieve water fowl. They will eagerly retrieve a downed bird from a freezing river, if it means pleasing their master. Yes, this breed is very willing to please. It is playful, great with kids, strangers and other pets, and requires moderate excercise. They have a variety of health problems; Cataracts, PRA (Progressive Retinal Atrophy, CRA (Central Retinal Atrophy), Extra Lashes, Entropion and Hip Dysplasia. Their average lifespan is 12-15 years.

If you want a really affectionate and loving dog, buy the Golden Retriever, or any of the dogs from this list. You will definitely have a loving friend by your side!
Visibility: Everyone

Posted: Thursday April 11, 2013, 12:57 am
Tags: [add/edit tags]
Author


Anu R.
female, age 19, single
Melbourne, VI, Australia

SHARES FROM ANU'S NETWORK
No shares