Presumptive diseases related to ionizing radiation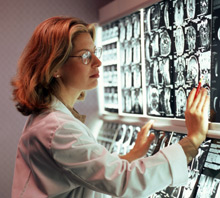 For Veterans who participated in a
radiation-risk activity
during service (including "Atomic Veterans"), VA assumes that certain cancers are related to their exposure. These are called "presumptive diseases."
Cancers of the bile ducts, bone, brain, breast, colon, esophagus, gall bladder, liver (primary site, but not if cirrhosis or hepatitis B is indicated), lung (including bronchiolo-alveolar cancer), pancreas, pharynx, ovary, salivary gland, small intestine, stomach, thyroid, urinary tract (kidney/renal, pelvis, urinary bladder, and urethra)
Leukemia (except chronic lymphocytic leukemia)
Lymphomas (except Hodgkin's disease)
Multiple myeloma (cancer of plasma cells)
These Veterans don't have to prove a connection between these diseases and their service to be eligible for
disability compensation
.
Other diseases associated with radiation exposure
All cancers
Non-malignant thyroid nodular disease
Parathyroid adenoma
Posterior subcapsular cataracts
Tumors of the brain and central nervous system
Eligibility depends on how much radiation the Veteran received and other factors, such as the period of time between exposure to radiation and the development of the disease.
VA also will consider the possibility that other diseases not listed above were caused by radiation, if supported by medical or scientific evidence. To be eligible for compensation, VA must be able to establish that it is at least as likely as not that a Veteran's disease was caused by his/her radiation exposure during service.
Amyotrophic lateral sclerosis (AL
VA presumes amyotrophic lateral sclerosis (AL
diagnosed in all Veterans who had 90 days or more continuous active military service is related to their service, although ALS is not related to radiation exposure.