This petition as been circulating for some time now, and the signatures are low.. So I am begging and Pleading that maybe some of you all will be willing to sign , crosspost, and forward this important petition. Thanks for doing what you can to help.



Save Our FL Panther, Stop the Over-development of Florida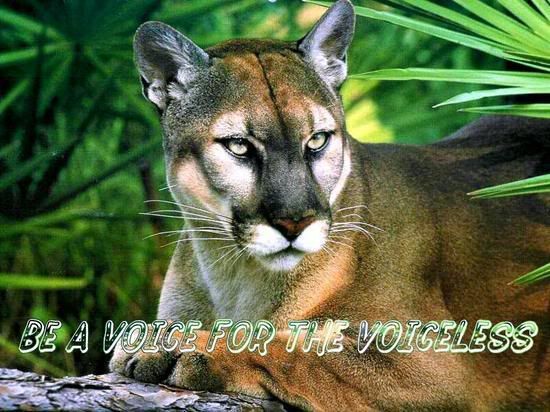 ATTN: GOVERNOR CHARLIE CRIST
FROM THE PEOPLE OF CARE2.com, THE WORLD OVER!

The purpose of this petition is to make it known to the Government of Florida that it is no longer acceptable to destroy this state. The environment, the wildlife has been put at great risk, and it is no longer a "sit back and wait" situation, we must take control and take our state back for our Florida Panthers, Manatees, Bald Eagles, Alligators, and all those suffering the effects of over-development. We know the time has come for a showdown with the developers and greedy politicians spread out all over our state. If they are allowed to continue to build uncontrollably we will no longer have the state we all know and love, but a skeleton of what once was a paradise. All that we know, all that we have loved all our lives will slowly die and disappear, including our beloved Florida Panther, as well as our Manatees, our beautiful birds, and just about every unique and special flora and fauna that reside here in this great state. Roads shouldn't drive land use decisions, and support is needed now for the Florida Forever Act (the state land acquisition program) to be funded at an increased amount during this legislative session. We also truly believe that Florida stands much more of a chance against global warming in it's most natural state, than it would as a block of cement.



Please help....
Blessings,
Debbie L.

Past Member (0)
Thursday May 17, 2007, 6:40 am
I have signed petition & written to Gov.C. Crist as well as forwarded petition, the only other thing I can think to do is send petition link to animal sanctuaries and animal welfare groups.
I will do that NOW, hope it helps increase signatures.

send green star
Author


Debbie L.
female , married, 2 children
Blairsville, GA, USA

DEBBIE'S SHARES
Jun
8

(1 comments | discussions )

Please sign Ceci's petition for the panthers! The need is truely urgent. Please crosspost, foward, and Sign. Time is growing short, no time to waste, the time is now and the need is urgent. Please help get the word out, please si...
SHARES FROM DEBBIE'S NETWORK
MORE MESSAGE
Mar 31
Message: what's going on?... by Apolonia P.
(1 comments | discussions ) — ZEN was suspended by Eric with no warning. We don't know any reasons nor how long it will last.... I asked about it on the forum but my post was immediately deleted. 2 threads and petitions about Zen also. And 2 her help-groups. :-( Untill today no... more
Feb 17
Message: Petitions that stop abuse to the speechless by Aza C.
(0 comments | discussions ) — Can someone please tell me why petitions that want to end animal abuse,end the on going pain being inflected on the poor helpless animals. Paim that only ends when the animal dies. Is it that the 23 plus million members don't care or understand that... more
Message: Thanks by Gail B.
(0 comments | discussions ) — Thank you all for the warm welcome, still learn how to use the site. May the grounds you set your feet upon be blessed every step of the way. more
Feb 15
Message: My Daughter's Friend Needs Help by Cameron F.
(0 comments | discussions ) — This is Venus Marquez's friend, Gina Arellano. Venus is a friend of my daughter Nikka. She seems to be covered in rashes/sores due to possibly chickenpox and needs to raise at least 200 Euros - about $275 US - to cover medical expenses. If you... more
Feb 13
Message: Free Puppy Ads In Terrifying Abundance! by Karen O.
(0 comments | 0 discussions ) — I was so upset, when on my homepage, in the news section...there appearred, all sorts of advertisements all over, for free puppies...these are surely going to reappear in the future, as horrific abuse cases. What is wrong with people? Do t... more