And then a few hours later like this: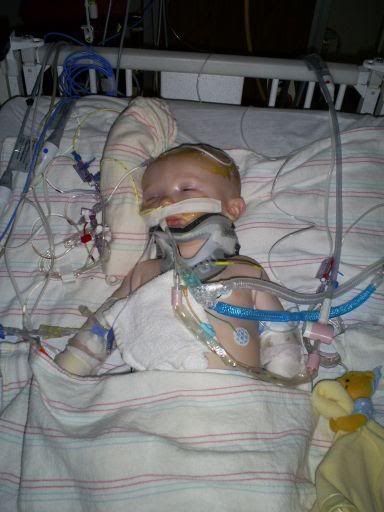 If this has moved you to a state of hope and helpfulness as it has me, there are some things you can do:
If you believe in the power of prayer – pray!

If you believe in the power of positive thinking – keep this family in your thoughts!

If you have Kristy as a friend put her site in your top ten to make others aware.

If you know how – place the below banner on your page to spread the word.

If you've ever had lawyer's fees, medical expenses, and other related expenses, you know they need financial support.

If you can afford to give something Please donating to the Help Kaleb Fund.
Make checks payable to Kristy Schwade,
PO Box 291494,
TAMPA, FL 33687-1494
You can also donate by credit card via PayPal to helpkaleb@hotmail.com (Go to http://www.paypal.com, send money, type helpkaleb@hotmail.com in the section "to".
..:namespace prefix = o ns = "urn:schemas-microsoft-com:office:office" />

This story is as real as a story can be! Here are some links that verify their story:
http://www.snopes.com/inboxer/medical/kalebschwade.asp
http://www.baynews9.com/content/36/2007/5/15/249688.html
http://www.tboblogs.com/index.php/newswire/story/day-care-worker-arrested
http://forums.swedespeed.com/zerothread?cmd=print&id=79921
http://www.myspace.com/helpkaleb

If you have ever wondered what you could do to make a difference in someone's life – think about this story. How you help is up to you – every little bit helps!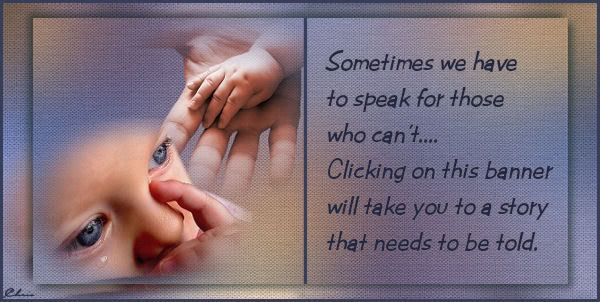 If you would like to display this banner - send me a message for the code.
For those of you who have set your mail to "can only receive mail if friend" ADD ME! Just click on the girl's hat - I will add ya and set ya up with kaleb's code.

Today is June 9th - the second day of this blog and the one month anniversary of Kaleb's shaking.
Here's what Kristy says on the subject:
Today is June 9th and it has now been one whole month since my precious Kaleb was able to smile, laugh, cry, eat, see, and jump in his jumperoo (that was his favorite) One whole month since my entire world was turned upside down and inside out. What I wouldn't give to have those BORING saturdays back... It is amazing how much you take for granted when every thing is just simply "normal", like we want things to be chaotic... Our world has taught us all that simplicity is NOT acceptable...at least that is what it taught me before this all happened. Simple...how simple things were before this. Weak...how weak I was before all of this. My Kaleb has taught me the definition of strength. He has made me stronger then I ever thought that I could be.

Kaleb is doing good today. He is moving and opening his eyes a little bit. He is on his second day of the new antibiotic, we won't find out if this is effective until the end of the treatment. Hopefully it will be. I am at the hospital right now sitting in Kaleb's Room listening to Pink Floyd's, Wish you were here. I am looking around at the walls at all of the letters and cards that we have received. I am bound and determined to hang everyone of them up. I want all the nurses and Doctors to know how much Kaleb is LOVED!!!

June 11 - WE HAVE MOVEMENT FOLKS!!!
A video bulletin was just possted by Kristy showing Kaleb rasing his arm!
I think he wants one of the "kaleb Bracelets" that are being sold here:
http://www.myspace.com/kalebbracelets

More News - Kaleb was featured on fox:
http://www.myfoxtampabay.com/myfox/pages/Home/Detail?contentId=3461335&version=1&locale=EN-US&layoutCode=VSTY&pageId=1.1.1
I want his autograph as soon as he learns to write!!!

GOD Bless ~