| | |
| --- | --- |
| Focus: | Human Rights |
| Action Request: | Write E-Mail |
| Location: | Alaska, United States |
~ From : ~
Russell R.
~ CALL THEM OUT !!! ~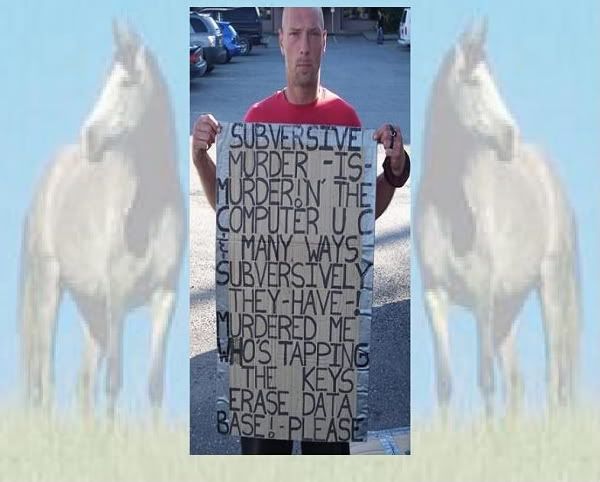 Saturday, October 20, 2007 4:07 AM



Anybody got a telephone or cellphone??? Well good... Then let your fingers do the walking!



If the police or anyone charge you with a crime - guess what...You are immediately arrested, taken to jail, magistrate to set your bail, trial date set etc... and all the press agencies release the information to the public about the crime(s) you've been charged with. You are virtually presumed "guilty" until you "prove" your innocence (even though it is suppose to be the inverse).



That said! 3 different police departments (many guilty officers) and more have tried to murder me. They are guilty of (and charged with) kidnapping, rape, assault, attempted murder, subversive murder, crimes against humanity, gross human rights violations, obstruction of justice, interferring with a criminal investigation, aiding and abedding a criminal conspiracy, ...willingly participating or actively engaging in a criminal conspiracy to commit..., hundreds of counts of criminal discrimination and harassment (which are very serious crimes), criminal gross negligence and more!



Are you hearing about this on the T.V. news? Reading about it in your local city "Daily" newspaper? No you're not! Are you? You're learning about it from ~~ GLOBAL ~ PRESS ~~
~~ YOUR SOURCE ~~ ... for the "TRUTH" that CAN'T be learned on T.V. (Read our blog files @ http://blog.myspace.com/globalpress ).

- For specific lists of some of the charges filed and case numbers to those charges read :
"More of What They Hide" http://www.care2.com/c2c/share/detail/282138 .

Impeachment Proceedings http://www.thepetitionsite.com/takeaction/784521178

Is this bothering anybody? It sure should be! It's really bothering me, my country and many of my country men! That said! There is your telephone sitting right there or the cell phone in your pocket - you could put it to work right NOW! Call your local mayor, congressman, governor etc...

EXPRESS YOUR OUTRAGE AND DEMAND THIS BE FIXED IMMEDIATELY! DEMAND that these police officers and other officials and institutions charged with these crimes be arrested, tried and prosecuted just like any other person charged with a crime ... before a jury of their peers. Help break the "code of silence". Let them all know that their cover-up scandal is unacceptable and that we all have a right to the news - politicians and police are NOT above THE LAW.




So, LIGHT THOSE PHONE CIRCUITS UP! CALL THEM ALL - MAYOR, GOVERNOR, CONGRESSMAN, LOCAL DISTRICT REPRESENTATIVES, NEWS MEDIAS ETC... Light up the postal circuits and send your letters and faxes ~ DEMANDING JUSTICE ~ to each and every one of "our employees". EXPRESS YOUR OUTRAGE AND DEMAND THEY TAKE IMMEDIATE ACTION TO BRING THE GUILTY TO JUSTICE!

I know how busy everyone is in their stress filled lives just trying to survive ... so I have done the work of providing you the information of the following list of Politicians, their offices, phone numbers and addresses ... from the President on down (with the primary focus on Representatives for Alaska since this is the State in which these crimes were committed, although we strongly urge you to send your same comments to your local reps as well). Below are a series of pics and banners that provide you the tools you need. To find your local city / state representatives just click on the Congress.org banner and you will only have to enter your zip code for the information to be displayed. So ... here they are below ... click their pics to go to their websites and click their respective banners to send them each individual e-mails.

My name is Russell Richard Robinson (I am the victim). Use my name for reference in your case mailings along with this one case number filed (although there are many others - this is one of the first and most heinous) Case 04-30221 ... filed 6-22-04 ... kidnapping, rape and assault of me on 6-18-04 ... charges against Anchorage Police Department, APD Officer Henikman, Providence Hospital and a whole list of persons inside the hospital and within their administration. You could also reference this Case I.A. 05-0026 ... filed 1-6-05 ... attempted murder and assault of me on 12-31-04 ... charges against Anchorage Police Department, APD Officers Jenson, Roberts, Kwasigroch, Sarber and Shore - and more. America thanks you, I thank you. May God bless and keep you and yours!






If you're asking "Why?"? Because you are all in danger! President Bush told you all, in his address to the Nation after 9-11-01 ... : ...."WE ARE NOT SAFE"....... as spoken by President Bush!

What he didn't tell you is; that we are in the GREATEST DANGER from OUR VERY OWN GOVERNMENT, police departments, law enforcement agencies, courts and hospitals (medical and mental institutions)!

This was just ONE of the clues we've given to all of you(s). And we have given you all a thousand clues...perhaps you'll catch these clues before we all will lose!