From:
Find LOVE in a Georgia AC
Date: 06/01/2008
BARROW COUNTY ANIMAL CONTROL
610 Barrow Park Dr.
Winder, GA 30680
OFFICE: 770-307-3012
FAX: 770-867-1660
cwatkins@barrowga.org
mburrell@barrowga.org
EUTHANASIA DAY IS WEDNESDAY, JANUARY 9
CALL BEFORE 8:30 AM on WED., JAN. 9
ADOPTION FEE IS $100 – Includes spay/neuter, basic shots, and microchipping
BARROW CO. AC IS VERY RESCUE FRIENDLY!!!
Here is an UPDATE on previous postings: The male pit bull was rescued, and large male yellow lab mix was adopted! I hope others were helped as well. I don't always hear how things turn out for every animal, but usually every week there are at least a couple of adoptions in addition to rescues. Be sure to repost! It DOES make a difference!
This week we have quite a variety of dogs, including many LAB mixes, a blue-eyed HUSKY, a DASCHUND, and several PUPPIES!
Interested in CATS? Please see the slideshow on my profile featuring this week's adoptable cats.
RUN 1 – FEMALE SHEPHERD MIX
This girl is beautiful. She's a great medium size and very friendly.
RUN 2 – THREE HOUND MIX PUPS
These three young pups are darling. One is mostly black, one is black with a white chest, and one is mostly white with small black speckles, except for the head and feet, which are black. The markings are highly unusual and very striking!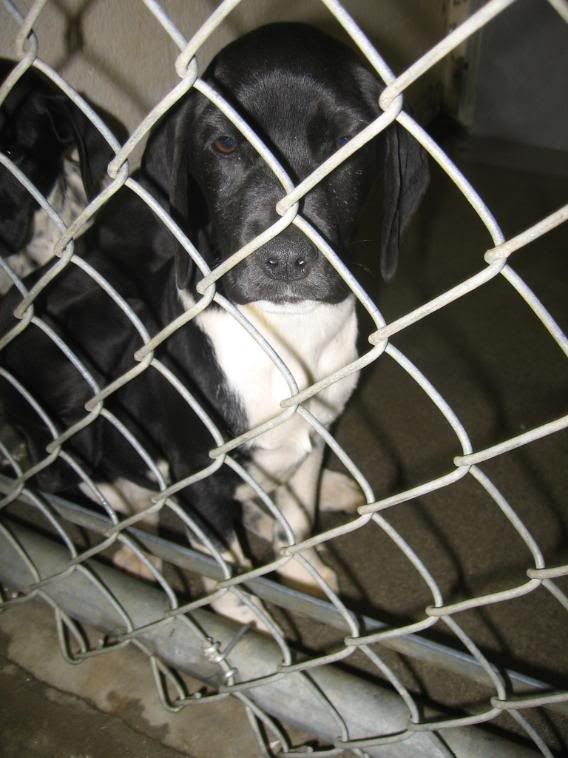 RUN 3 – MALE BLACK LAB MIX
This sweet boy has likely been through an ordeal. While friendly, he appeared to be shaking a bit and had a scab on his muzzle. I hope someone out there can show him some love.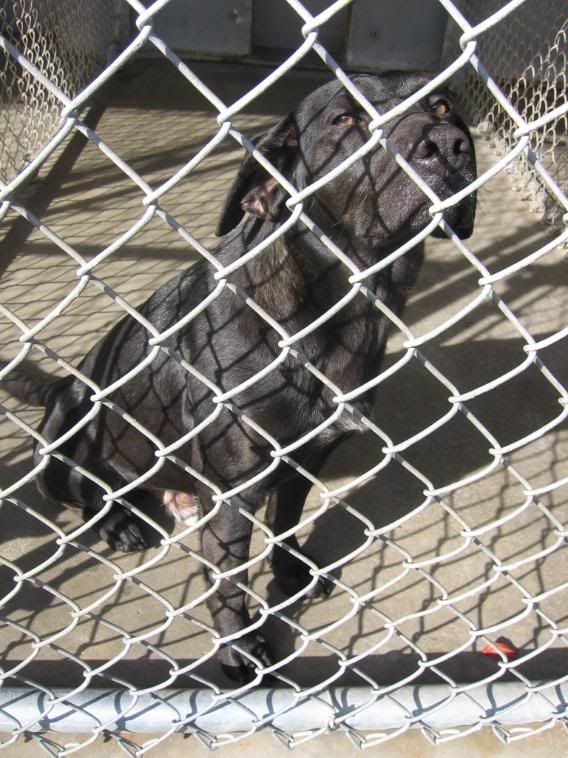 RUN 5 – MALE YELLOW LAB MIX
I had a hard time taking this boy's picture because he was so busy pacing his run. He seemed very sweet but was probably anxious to leave! Interestingly, he has some rear dewclaws.
RUN 6 – MALE CHOCOLATE LAB / SHEPHERD MIX
This boy is a BEAUTY. He has lovely light and dark brown fur with lights eyes and nose. He was quite calm and perhaps a bit sad, although he welcomed visitors. I noticed that he cried when people left his run, and at one point he began a mournful howl. I really hope rescue comes for this sweetheart.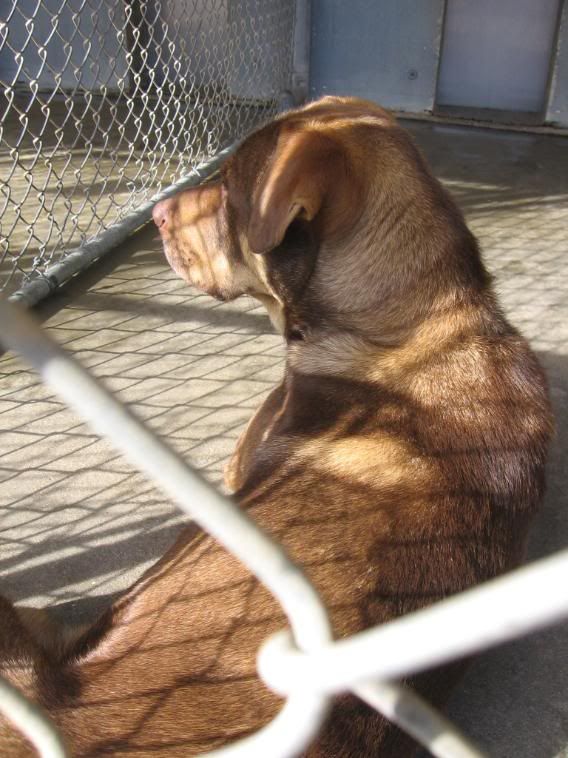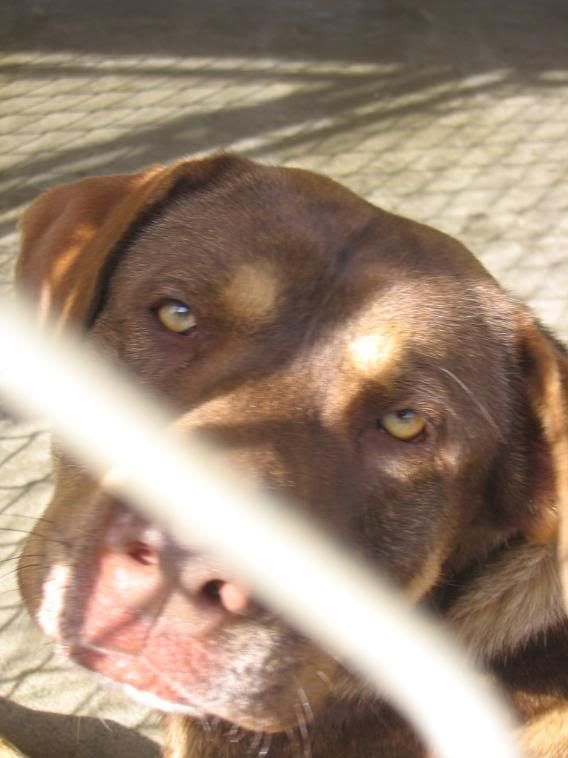 RUN 8 – MALE BLACK LAB / SHEPHERD MIX
This boy seemed pretty happy and bouncy. Just look at this SMILE!
RUN 9 – MALE BLACK LAB / BOXER (?) MIX
This very friendly boy would love to go home and PLAY!
RUN 10 – TWO FEMALE SHEPHERD MIX PUPS
These sweeties are just precious! One is predominantly blackish brown, and the other is reddish-brown. They are likely sisters. I was amazed at how calm and quiet they were!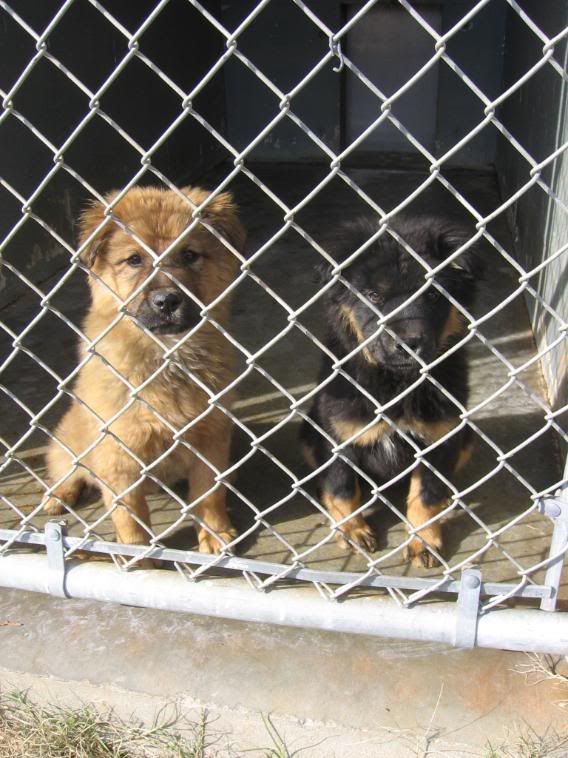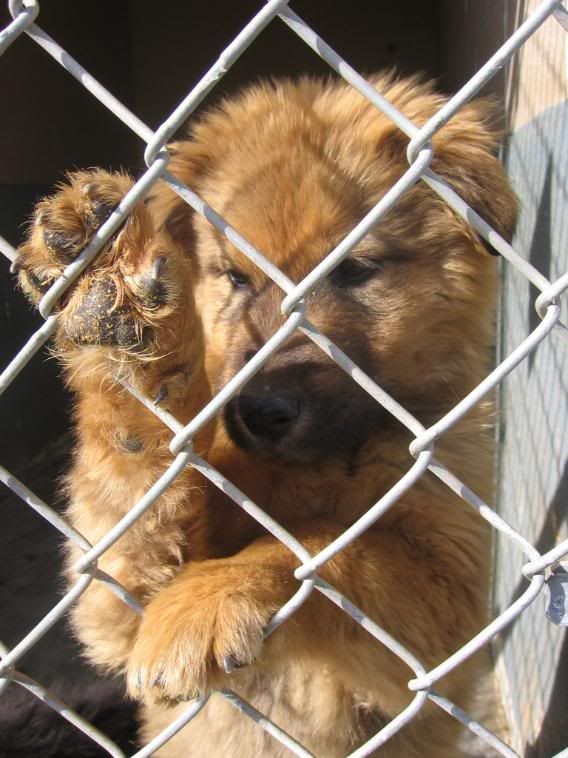 RUN 11 – FEMALE HUSKY
What a lovely lady here! She appears to be purebred, complete with two sparking blue eyes. She has a longing in those eyes, and she sits and waits for rescue to come. Every few minutes, she whimpers a bit. I do hope help comes for her.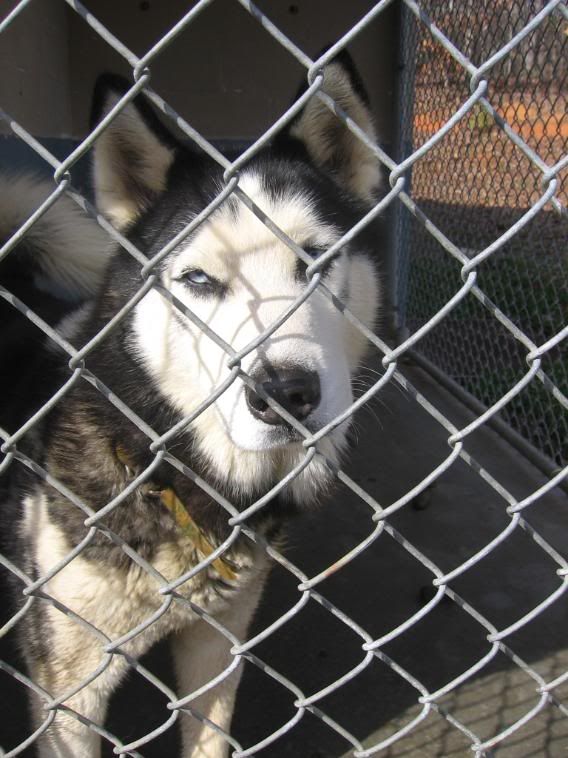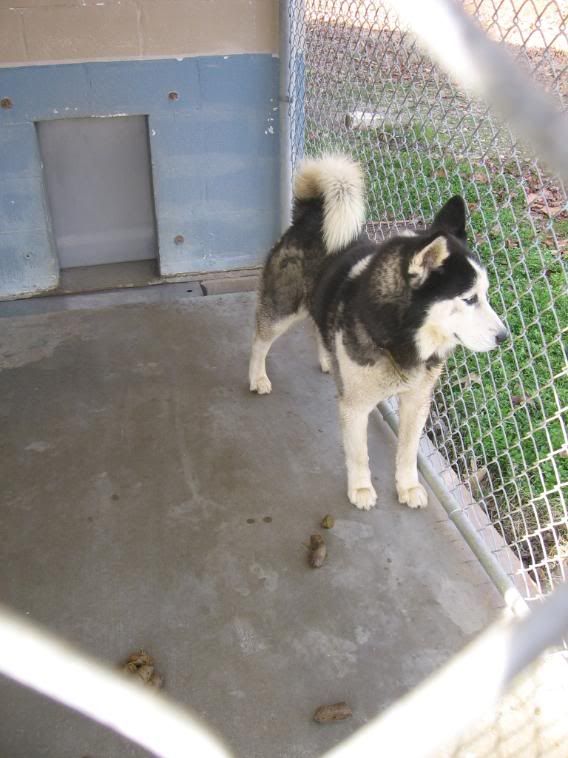 PEN 30 – FEMALE BLACK / BROWN ROTT MIX PUP (2007-12-202) @10 wks.
What a DOLL! Very gentle and friendly!
PEN 38 – FEMALE TAN LAB MIX PUP (2007-12-203) @8-10 wks.
What adorable expressions on her sweet little face! Adoption is pending on this one, but call anyway if you're interested!
PEN 46 – MALE WHITE LAB MIX PUP (2007-12-204) @10 wks.
What a gorgeous white color! Such a sweetie!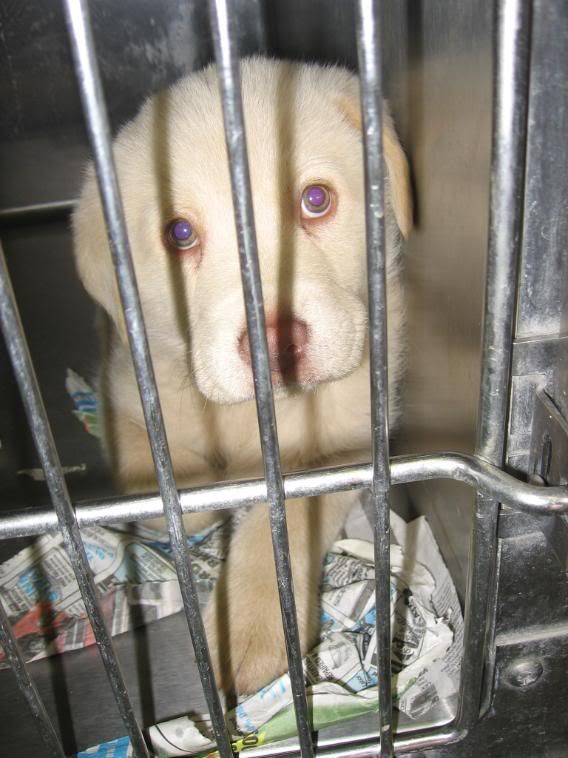 PEN 48 – DASCHUND
This sweetie appears to be a little older but still lovely. He / she was shaking a bit but seemed interested in visitors and played a little with items in the pen.
MANY sweet animals are available! ADD "Find LOVE in a Georgia AC" as a MySpace friend (www.myspace.com/georgiaacangels) to receive regular updates on Barrow Co. AC animals and others around the state. I also post special blogs on certain situations from time to time. Please subscribe! All are welcome. Also….
PLEASE REPOST AND CROSSPOST! Even if you personally can't adopt / rescue / foster, maybe someone else CAN, and it's one of the cheapest, easiest, and most effective things you can do to help. People can't act if they don't know…. THANKS! THANKS! THANKS! J
CONTACT:
KRISTIE DICKENS
BRADFORD COUNTY PAWS
WWW.BCPAWS.ORG
904.334.7319
BRADFORDCOUNTYPAWS@yahoo.com at yahoo.com
HI ALL,
THESE ARE THE DOGS SCHEDULED FOR EUTHANIZATION ON TUESDAY. YOU MAY HAVE SEEN SOME OF THESE BEFORE, BUT NOW IT IS URGENT WE ARE OUT OF TIME. I HAVE TRIED SOME BREED SPECIFIC RESCUES FOR SOME OF THESE AND THEY CAME AND WENT WITH OUT OUR LITTLE MIXED UP BABIES HERE IN BRADFORD UNFORTUNATELY, SO PLEASE GIVE THEM THE ONCE THROUGH AGAIN AND IF THERE IS ANYTHING YOU CAN DO PLEASE LET ME KNOW. WE DO HAVE TRANSPORT AVAILABLE TO HELP.
JESS - Jess is a very sweet 2 year old, unspayed female. She has a very loving nature and relaxed attitude about her. She has been very easy to handle and gets along very well with her kennel mate. She is very social and loves everyone. Jess has loads of personality and is a very loving girl. Jess is hoping for a responsible loving home, with owner's to love and care for her. Jess passed her physical exam, was dewormed and was given a Distemper/Parvo vaccine. She is currently available for adoption/rescue.
RALEIGH - Raleigh is a friendly sort of guy, who can be a little shy at first but when he gets to know you, he's a real sweetheart. When he first came to us he was very fearful and exhibited signs of fear aggression, but he has settled into the shelter now and is one of our most vocal greeters in the morning, letting us know that he is very happy to see us. Raleigh comes to the front of his kennel to greet every one with a wagging tail, begging for a pat on the head or some type of greeting. Raleigh is in need of a responsible home with a fenced yard to keep him out of trouble and give him a sense of security. Raleigh passed his physical exam, was dewormed, and did receive a Distemper/Parvo vaccine. He is currently available for rescue/adoption to the right responsible person.
SCOOTER - Scooter is a great little guy who thinks he is a big guy. HE is a very unusual looking fellow, with his short legs and bull dog head. He has a Daschund look mixed in there too. Scooter is a very friendly dog and he generally likes everyone. He has been very easy to handle and gets along with other dogs. He has a happy attitude about him and has a ton of personality to go with it. Scooter has a soft spot on his right front leg, which we think that at some time in the past his leg was broke and not set properly. It will be checked by the vet. However it does not hinder Scotter's mobility in the least. Scooter has not had a physical exam as of yet, due to the holiday schedule, but he has been dewormed and has had Advantage applied.
SHERMAN - Sherman is a great guy, who has a wonderful big dog personality. He is friendly towards everyone and hasn't met a stranger yet. Sherman is large rottweiler, hence the name Sherman (for the tank). He is a very powerful guy who will need a strong owner to hang onto him. Sherman has a wonderful attitude, and a great disposition. He has not shown any signs of aggression towards people or other dogs. He would probably make a wonderful family dog, but because of his size, he is listed for a home without small children. Sherman has not had a physical exam as of yet, due to the holiday schedule, but he has been dewormed and does appear to be healthy. He is currently available for rescue/adoption.
SUGAR - Sugar is a sweet girl, who is approxiamtely 3-4 years old. She likes to run and play, but is not recomended to a home with small kids because she likes to jump on people and would knock small children down. She has a wonderful personality and gets along very well with her kennel mate. She has been very easy to handle, with a gentle, sweet nature about her. Sugar needs a large because she does like to roam around. Sugar has not had a physical exam as of yet, but has been dewormed. She is currently available for adoption/rescue.
TYSON - Tyson is a very well behaved young guy, only 2 years old. He came from a home with small children and is used to having them to play with. He is very easy to handle and has been a gentleman since he came to us. Due to health reasons (human), the family can no longer care for him. Tyson has been taught some verbal commands and obeys reasonably well. He does appear to have been well loved and cared for. Tyson likes to drag his blanket around and play with it, but has not been seen chewing on it. Tyson has not had a physical exam yet, but has been dewormed. He is currently available for rescue/adoption.
SMOOCH - Smooch is a very unique girl, she reminds us of a hereford calf, because of her markings. She has the Boston Terrier coat pattern on a bulldog body. Smooch is a very sweet natured girl, who appears to have some manners, so far she has behaved like a lady. She loves everyone and loves attention. She is easily handled, and has not shown any signs of aggression towards people or other dogs. Smooch has had a couple of litters of pups in the past. Smooch has passed her physical exam, was dewormed, and was given a Distemper/Parvo vaccine. She is currently available for adoption/rescue
THANKS EVERYONE FOR THE HELP
KRISTIE DICKENS
BRADFORD COUNTY PAWS
WWW.BCPAWS.ORG
904.334.7319