Caution,There is a silence.A stillness, deep within.An absence of patterns,Were light and shadow blend.Hearken,To the darknessOf the Void of the Unknown.HearingTotal nothingnessThat thunders all alone.Travel into the pulsing ofSilent time or space.The quiet mindbrings calmness,Infinite, eternal grace.Born inside silence,Is the will - to be.Chaos becoming order,The holiness of life - The unfolding of Great Mystery.~ Jamie Sams, Earth Medicine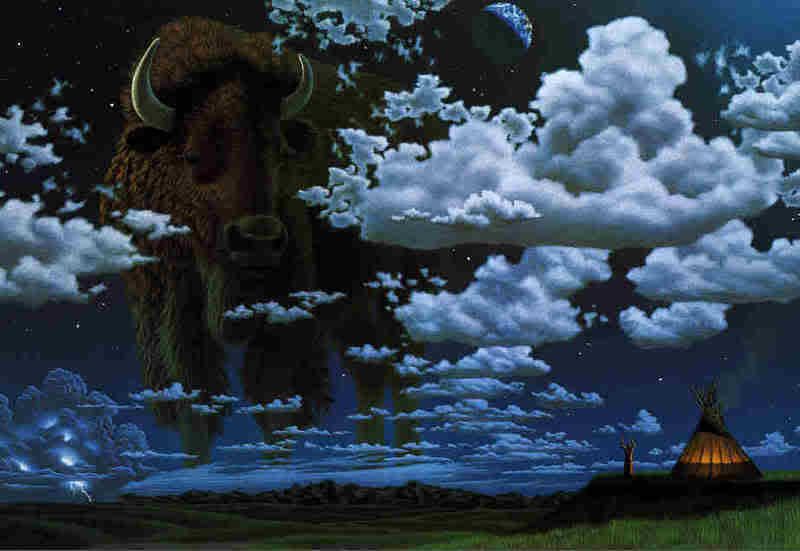 Today's Ogham: Fearn ~ Alder ~ Guidance ~ counsel, oracular knowledge, sacred word, whisperings, correct advice from a person in authority, the sage within, spirit guides, inspiration, creativity.*

Today's Medicine Card: Buffalo ~ Prayer and Abundance ~ In the Lakota tradition, it was White Buffalo Calf Woman who brought the sacred pipe to the People and taught them to pray. The bowl of the pipe was the receptacle that held tobacco, an herb with both male and female medicine. The stem of the pipe represented the male entering the female and seeding life. In the coming together of male and female, the connection of divine energy of the Great Spirit was made. The smoke of the pipe was considered to be a visual prayer and was very sacred and cleansing.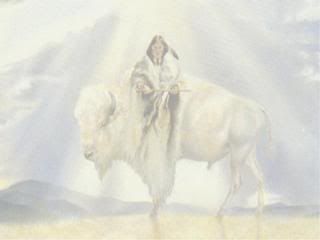 The medicine of Buffalo is prayer, gratitude, and praise for that which has been received. Buffalo medicine isalso knowing that abundance is present when all relations are honored as sacred and when gratitude is expressed to every living part of creation. To use Buffalo medicine is to smoke the pipe in a sacred manner, and to give praise for the richness of life to be shared with all races, all creatures, all nations, and all life. It means smoking for others so that their needs are met, praying for the good of all things in harmony, and accepting the Great Mystery as a part of that harmony.
In drawing the Buffalo card, you may be asked to use your energy in prayer. You may also be called upon to be an instrument of someone else's answer to a prayer. This could portend a time of recognizing the sacredness of every walk of life, albeit different than your own. It may be a time to recognize the sacredness of your own walk.

Buffalo medicine is a sign that you achieve nothing without the aid of the Great Spirit and that you must be humble enough to ask for that assistance and then be grateful for what you receive.**

Listening in the Stillness, spirit guides, prayer and abundance, connection to the Great Spirit, humility and gratitude... I know this is what I must do and what I will find. I know what I seek is already there, within me and around me. Sometimes, we look too hard and cannot see what is right in front of us. But, softening our gaze, we see it was there all along.

It is in the Silence that this new 'me' was born. And, it is in that same Silence that the birth process will continue...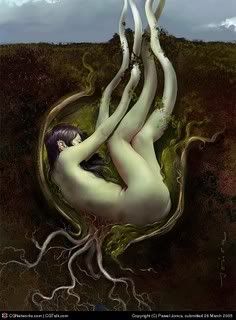 * Mountfort, Ogam ~ Celtic Oracle of the Trees
** Jamie Sams, Medicine Cards
Visibility: Everyone

Posted: Tuesday April 8, 2008, 9:35 am
Tags: [add/edit tags]
Author


wren g.
female, age 52, committed relationship, 2 children
Bishop, CA, USA

WREN'S SHARES
Apr
9

(0 comments | discussions )

The Universe is not stingy... today, declare to the Universe that you are open to receiving all the abundance it's waiting patiently to bestow. Each day offers us the gift of being a special occasion if we can simply learn that as well as giving...
Apr
7

(0 comments | discussions )

"When we listen and hear the small, still voice within our hearts, we can assess our greatest potential joy and desire. This is the heart's vision - the personal dream that will allow the individual to accomplish the things that bring happi...
SHARES FROM WREN'S NETWORK