| | |
| --- | --- |
| Focus: | Animal Welfare |
| Action Request: | Various |
| Location: | United States |

CROSSPOSTING - PLEASE CONTACT SHELTERS ASAP IF YOU CAN HELP - THEY ARE ALL VERY VERY URGENT! This is an incomplete list of German Shepherds, in kill shelters, with little or no time to live. There is ALWAYS more.. Please check http://www.petfinder.com/or your local shelter to find pets in need in your area..
PLEASE CROSSPOST IF YOU CAN! THANK YOU!!

CA Dogs!
Emery
There are always Shepherds at the Carson shelter...at least (20) need out and are all urgent!!
http://animalcare.lacounty.gov/AdoptSearch.asp or go to:

http://www.petfinder.com/

216 W.
Victoria St
Gardena, CA 90248
(310) 523-9566
Hours:
Monday – Thursday 12 PM – 7 PM
Friday and Saturday 10 AM – 5 PM
Closed Sundays and Holidays
There are always Shepherds at the Carson shelter...at least (20) need out and are all urgent!!

Sport, young male (black) in Arizona


Sport
Breed: Labrador Retriever (mix breed)
Age: Young adult
Gender: Male
Size: Medium
hasShots, noCats,
Shelter: Valley Humane Society
15699 West Aniceto Road PO Box 10480
Casa Grande, AZ
Shelter dog ID: D 7-245
Contact tel: 520-836-0904
Contact name: Lillian or Linda
Contact email: vhs@cgmailbox.com
About Sport Sport came to us July 20, 2007. His previous owners told us he was good with children and has a nice temperment. Sport has lots of energy and would enjoy someone a family that would give him lots of love. He goes out on walks and gets to run but it's not the same as being part of a family. If someone could give Sport a good home we would really appreciate it. We keep hoping before it's too late..
http://www.petfinder.com/petnote/displaypet.cgi?petid=10039704

Senior wgsd La, California


Yet another....
Animal: Dog
Breed: German Shepherd Dog
Sex: Male
Age: Senior
Size: Large
ID: A931097
From: City of Los Angeles West Valley Animal Shelter
My name is Crosby and I am an unaltered male, white German Shepherd Dog
The shelter thinks I am about 7 years old
I have been at the shelter since Mar 02, 2008.

German Shepherd
http://www.petfinder.com/petnote/displaypet.cgi?petid=10408572

Eric, young wgsd in Cal.


Euth date 3/22


Eric Lemus
Breed: German Shepherd Dog
Age: Young adult
Gender: Male
Size: Large
hasShots,
Shelter: Livingston Police Department Animal Control
Livingston, CA
Shelter dog ID: A800483
Contact tel: 209-394-5585
Contact name: Kristen
Contact email: klucas@ci.livingston.ca.us
About Eric Lemus Eric Lemus is a very sweet dog, but he's overwhelmed with being "incarcerated". I'm hoping to get some better pictures of him in the near future, but for right now I think that Eric believes that if he doesn't look at me, then I must not be there. Eric had been roaming the streets for several months eluding the animal control officer. He ended up being trapped in his favorite orchard and is now sitting in an unfamiliar shelter with scary surroundings. Eric needs somebody to show him that people are not bad and that it's possible to be loved. He doesn't stand a chance of receiving that at the shelter. Eric is about a year old and weighs approximately 50 pounds. Eric will be available for adoption March 19, 2008. For more information on Eric, please call 209-394-5585 or e-mail klucas@ci.livingston.ca.us.

!
Don't adopt just because you feel sorry for Eric Lemus!
Adoption should be a well thought out decision, it's a lifetime commitment…
http://www.petfinder.com/petnote/displaypet.cgi?petid=10438008

http://dogsindanger.com/dog.jsp?did=1205431300238

Brandy in Springfield, MO


http://www.petfinder.com/petnote/displaypet.cgi?petid=10558793
Note: Dogs are pack animals and do not do well away from the other members of their pack. The adopter is the alpha member of the pack, and the dog or puppy needs as much one-on-one contact with the alpha as possible. For this reason, all SW MO K9s dogs are adopted to inside homes only. Thank you for understanding we want only the best for the dogs we place in your home. Brandy is a victim of divorce. the home she has known for five years is no more. She and her pal, Jack, now need a real forever home. Brandy is sweet and loving although a little bewildered at what is happening. One minute she's safe and secure with her family, the next she's riding around in a car being turned down at the Humane Society, then left in a run wondering what is next. Brandy is housebroken, great with other dogs and children, and a sweet, gentle soul. Please give her security again. She needs a foster home or a forever home. To meet Brandy, please contact Debbie 417-443-0455, or Connie cfos@mchsi.com
http://www.petfinder.com/petnote/displaypet.cgi?petid=10558803


Note: Dogs are pack animals and do not do well away from the other members of their pack. The adopter is the alpha member of the pack, and the dog or puppy needs as much one-on-one contact with the alpha as possible. For this reason, all SW MO K9s dogs are adopted to inside homes only. Thank you for understanding we want only the best for the dogs we place in your home. Jack is a victim of divorce. The home he has known for six months is no more. He and his mentor and best friend, Brandy, now need a real forever home. Jack is a young wire-hair Jack Russell Terrier boy. He is laid back for his breed and sweet natured. Like his sister, he's a little bewildered at what is happening. One minute he's safe and secure with his family, the next he's riding around in a car being turned down at the Humane Society, then left in a run wondering what is next. Jack is housebroken and great with other dogs and children. Please give him security again. He needs a foster home or a forever home. To meet Jack, please contact Debbie 417-443-0455, or Connie cfos@mchsi.com

Max in KY "Rescue only"


http://www.petfinder.com/petnote/displaypet.cgi?petid=10563965
Max is a great dog with lots of energy but you would want to run around too if you'd spent most of your young life on a chain. This guy is ready for better things. He is an estimated 2 years old and weighs around 75 pounds. Max is available to rescue only. If you are interested in this pet, please contact harlanshelter@gmail.com

Harlan County Animal Shelter
West 840
Harlan, KY 40831
Email: harlanshelter@gmail.com

Murphy, NC - Young Female
Jenna

http://www.petfinder.com/petnote/displaypet.cgi?petid=10359521

* Animal: Dog
* Breed: Shepherd
* Sex: Female
* Age: Young
* Size: Large
* ID: 95736
Valley River Humane Society
Murphy, NC

Phone: 828-837-2304

Terrible photo and no information...but she looks as if she still expects something good to happen to her. I pray she isn't disappointed.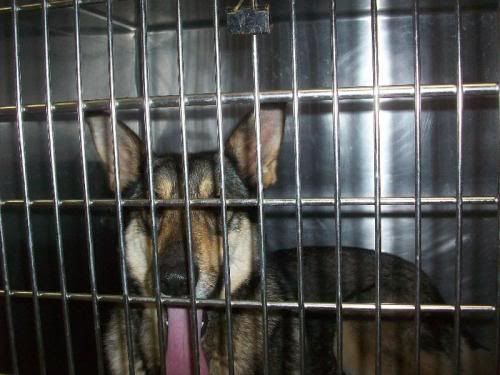 Jerry Lee Lewis, pts date 4/19, Livingston, CA
http://www.petfinder.com/petnote/displaypet.cgi?petid=10568361

Jerry is a crack up! When he was let loose in the play yard, he could've played with all of the toys that we bring for them...but instead he conquered another toy. He loves carrying abnormally large blue buckets back and forth across the yard as if he is celebrating his victory. It's actually an amazing site... seeing this gorgeous Shepherd carry a big blue bucket that was almost bigger than him! It seems like he is a happy camper no matter what he is doing.



Jerry Lee Lewis is approximately 5 years old and about 50 pounds. This dog is available for adoption March 29, 2008! Jerry lee Lewis is a tad thin and a bit timid. he is a beautiful dog who actually prances when he walks. He has a sensitive rump and doesn't like it touched. He can "sit" and is so very soft. Jerry Lee is a great dog and will make a good companion! Because this dog is a stray, it is unknown if this dog is good with children, cats or if they are housebroken. You can pay the adoption fee before then to ensure that this pet will become your family member, if not claimed. Due to overcrowding, the shelter will be forced to euthanize this pet very soon. For general information about this pet, please e-mail ddulaney@wac.com. To check on availability of this pet, you must call the shelter at (209) 385-7436. If you can help this dog please call or go to the Merced County Animal Shelter immediately. --Their hours are Mon-Fri 9:30-1:00 2:00-4:30 (closed for lunch from 1-2) and on Sat 10:00-12:00 1:00-3:00. (closed for lunch from 12-1). They are closed Sundays & holidays. -- If you are driving a distance, please call (209) 385-7436 ext 4806, and make sure this pet is still available.



HANS-PERIANAL FISTULA-LITTLE HOPE-NJ


Poor Hans was left by his owner tied to the shelter fence.Let me tell you a little bit about him. His name is Hans and he is 98#. He looks to be a red sable and he is neutered. Age wise i would have to say 5-7 years.

He is very nice
Sadly ... he will be euthanized if a rescue angel cannot be found as he has been diagnosed with a perianal fistual.

Shelter Info for Hans :
732-727-3895
Contact person : Barbara

2 yr old Annie (B&T) Pender Co near Wilmington NC
This is Annie - around 2 years old. Very sweet and high energy.

Needs rescue immediately!



Dixie+Dora jumped into ACO truck when called-NW Ga
UPDATE
ORA WAS ADOPTED AND DIXIE NEEDS A HOME ASAP OR WILL BE PUT TO SLEEP!
NW GA - Please Help Dixie the 1 YO German Shepherd
THE FOLLOWING IS A CROSSPOST. I AM NOT THE ORIGINAL POSTER. PLEASE CONTACT THE SHELTER ASAP IF YOU CAN HELP.

PLEASE CROSSPOST FOR DIXIE!

Dixie and her sister Dora ended up at Polk County Animal Control in
Cedartown, GA (which is a very rural shelter) when the Animal control officer called them over and they jumped right in his truck. Little did they know that they'd be stuck in a kill shelter facing death. Luckily someone came and adopted Dora, but Dixie was left there by herself. She is running very short on time. I am begging someone to please give poor Dixie a chance...
Polk County Animal Control
Cedartown, GA
Phone: 770-749-8908
http://www.petfinder.com/petnote/displaypet.cgi?petid=10704909




Polk County Animal Control
Cedartown, GA
770-749-8908
petadopt@polkcountygeorgia.us
TUESDAY 5/6 UPDATE:
"I spoke to Rowland at Polk Co. AC this morning. They are begging for someone to help Dixie. They say she is a wonderful, friendly girl, probably a year old. They have even taken her to a groomer for a bath and given her a 7 way vaccination. in hopes this will encourage a rescue or adoption. This is extremely unusual, and they wouldn't do it if she wasn't very special. They are unable to hold her much longer, unless someone can step up and put their name on her.

Can anyone help her? "
Pretty young female, Gallup, NM


Sheyenne
Breed: German Shepherd Dog (mix breed)
Age: Young adult
Gender: Female
Size: Large
altered, hasShots,
Shelter: Gallup-McKinley County Humane Society
P.O.

Box 550 1315 B Hamilton Road
Gallup, NM
About Sheyenne Beautiful pup who will make a loyal companion
http://dogsindanger.com/dog.jsp?did=1208801313232
Shelter dog ID: Sheyenne
Contact tel: 505-863-2616
Contact name: Donna Damon
Contact email: donnadamon1@msn.com
Came across her on DID. Says mix but I wasn't sure.

Please delete if you think she's not pb


Blackwood, NJ - 5 yr.


Male, Sarge, PTS-Soon??
http://www.petfinder.com/petnote/displaypet.cgi?petid=10746934


This good boy is Sarge! Even though Sarge can't talk to us, we know his story - It's written all over him. Sarge is about five years old and has spent his life living outside. Sarge has all of the signs - His coat is worn and beaten from the sun. His elbows are scarred from never having a soft bed to sleep on. He has patches on his back from where fleas have been left infested on him. Sarge's nails were so long, it was painful for him to walk. Dogs like Sarge break our hearts because this wonderful boy deserves to be a treasured family pet, not cast off in someone's yard. We are happy that Sarge has escaped the prison he came from, because we are going to find him his second chance! Sarge is good with everyone - He can go to a home with other dogs, kitties or kids of any age.

We want Sarge to find the sort of family that will make up for all of the years he spent on the outside looking in! You can help! Please spread the word that Sarge is CCAS and doesn't want to waste another moment of his new life!
Camden County Animal Shelter
Blackwood, NJ
Phone: 856-401-1300

Wetumpka, AL, B/T XL Male "Bear"
This handsome boy was wearing a pinch collar and a cloth collar with the name "Bear" written in permanent marker on it. No phone number and no one has claimed him. Very large male, very sweet and extremely handsome. They estimate his age at about 4 yrs. I'm not sure if he's been HW tested or not. This shelter is extremely full and they need to move some dogs out. I have absolutely no room or I'd take one or both of the boys.

Shelter contact is Rea Cord, director, or Ellen (Kennel Manager), 334 567-3377, http://www.elmorehumane.com/

No, the pictures are not on the web site but I assure you these dogs are still there, I was there at closing time today. I thought Bradley was big until I saw Bear.



MI, Clinton Township, female, "SASHA"

Ruff Ruff! My name is...
SASHA
I need a home & someone to love me.


Pet ID #: 549559-A170341
Shelter: Macomb County Animal Shelter and Animal Control
Phone: (586) 469-5115
- Let 'em know you saw "SASHA" on http://www.1-800-save-a-pet.com/
SASHA's info...
Breed: German Shepherd Dog
Size: Large 61-100 lbs (28-45 kg)
Color: Unknown
Sex: Female
Age: Adult
SASHA is: purebred
Contact this shelter to adopt SASHA ...
Shelter: Macomb County Animal Shelter and Animal Control
Pet ID #: 549559-A170341
Contact: Sue Jeroue
Phone: (586) 469-5115
- Let 'em know you saw "SASHA" on http://www.1-800-save-a-pet.com/
Website: http://www.macombcountymi.gov/index.htm
Address: 21417 Dunham Road
Clinton Township , MI
48036


Summerdale, AL, Desert, Female, Adult pts 6/1/08


http://dogsindanger.com/dog.jsp?did=1209664975106
Desert
Breed: Shepherd
Age: Adult
Gender: Female
Size: Large
No contact information given. Have to supply them with your contact information for them to return call/email. I couldn't find the shelter info.

Maybe somebody else knows?

Valpo, IN - Cage #9, F 3-4 yrs
An email from the shelter

Hello, I am a staff member at Porter County Animal Shelter. We have several German Shepherds and mixes that are in need of rescue, as this is the season for being full and unfortunately that also means that sometimes we have to euthanize due to lack of space.



Below are the dogs in need of help:

Kennel 9- Female 3-4yr old pure German Shepherd female possibly spayed, found as a stray on 3-28-08. She is a shy and quiet personality but is friendly. She possibly is able to climb 6 foot chainlink fences. She has been at the shelter quite awhile. She has received her rabies vaccination.


Petfinder link: http://www.petfinder.com/petnote/displaypet.cgi?petid=10558118


If you need any more info about any of these dogs, whether they are good with dogs, cats etc for example, please let me know and we will do what we can to provide you with that information. Also, if you need more pictures to confirm their breed, we can do that as well. Partial transport may be available depending on the distance.



Please reply to this email if you can help or call the shelter at (219) 465-3550 9am-4:30pm and ask for Katie or Nicole.



Thank you for what you do,
Katie

Elyria OH - Lorain Co.


Pound- to gas Female Senior
I'm told their petfinder is not up to date. This is apparently a gassing facility.


http://www.petfinder.com/petnote/displaypet.cgi?petid=10808979


Cage# 6 available for adoption May 10, Female
Lorain County Dog Kennel
Elyria, OH
Phone: 440-326-5995

Fulton/Atlanta-fem.


#A388889-Cinder-euth?


Poor Cinder looks very scared and stressed.


http://www.petfinder.com/petnote/displaypet.cgi?petid=10769787

Fulton County Animal Services
Atlanta, GA
Phone: 404-794-0358

Bellefontaine, OH GORGEOUS B/T FEMALE
Eva
Animal: Dog
Breed: German Shepherd Dog
Sex: Female
Age: Young
Size: Large
From: The Humane Society Serving Logan County More About Eva
My Contact InfoThe Humane Society Serving Logan County
Bellefontaine, OH
Phone: (937) 593-4277

Fulton/Atlanta-young f.


#A382063-euth? puppy?


http://www.petfinder.com/petnote/displaypet.cgi?petid=10817163

Fulton County Animal Services
860 Marietta Boulevard
Atlanta, GA 30318
(404) 794-0358
Email: info@bhvf.org

Tazewell Co.


VA-3 Females-id?-PTS? Urgent
Tazewell Co, VA: THREE female GSD beauties in need of help ASAP!
There are THREE German Shepherd girls (did not come in together) in desperate need of help at the Tazewell Co, VA shelter. If you can help one of these beautiful girls, please email Lori ASAP at lsalyer@4sw.us (@4sw. us).

The shelter is PACKED and they will need rescue fast!!
Transport help is available -- please crosspost!
THANKS!
Erin Silks/Transport Coordinator
Fairfax, VA
Sweet older black and tan female with graying muzzle. Shy but friendly.




Look at this beauty! Longer coated black and tan female, 9-12 months old. Very friendly.




This gorgeous girl is tan with a black saddle and is only 1-2 yrs old. She is very friendly.





Kathy
Date: May 8, 2008 7:38 PM




http://www.picsbycindy.com/marion_grant_dogs.htm

James
James is a very friendly, 10 month old, 45-50lb shepard mix. James lived in a foster home for several months before they moved and had to return him to the shelter. They taught James sign language and say he is very smart and trainable. His foster family also says he is house broken. He has been nuetered and is up to date on all his shots. He was raised with dogs, cats and kids. He would make a great addition to any family.


Marion - Grant Dogs
The following dogs are all urgent!
The shelter will be closing and all of the dogs need to be placed.

Please help them!

If you can help please let me know by e-mail or phone 847-371-1147 or
847-404-8143. Transport will be provided.


Thanks in advance,
Christie


GORDON CTY, GA - GSD #3
http://picasaweb.google.com/ynotga/AnimalControlMay52008
Gordon County Animal Control Department
Sue Henson, Director
790 Harris Beamer Road
Calhoun, GA 30701
Phone: 706-629-3327
Email: shenson@gordoncounty.org http://www.gordoncounty.org/
Office Hours:
Monday - Friday, 9:00 am - 5:00 pm
http://www.gordoncounty.org/Departments/PublicServices/AnimalControl/tabid/61/Default.aspx
They do not really have a contact person. You would just call and whoever answers the phone. They are not ran by police officers, it is two ladies and their family that works up there and a few inmates. They are all very nice. The shelter is VERY clean.



Cambridge, OH - Lydia, F Adult, Large Silver/Grey

http://www.petfinder.com/petnote/displaypet.cgi?petid=10863752

Thank you for looking at dogs from the Guernsey County Dog Warden Dept. We are a county run facility in Cambridge, OH, We are NOT a no kill shelter! Unfortunately we must euthanize due to illness, aggression, or overcrowding. We are located at the intersection of I70 and I77 in Southeastern OH.


Adoption fee is $60. Currently, any purebreds listed on our site for adoption MUST be spayed/neutered at adopters expense before leaving the shelter.

No exceptions!!!!
We do not have an online adoption form but we can fax you an application. You may also call the shelter between the hours of 9-5 Mon through Fri and 9-3 on Saturday, for more information. If coming from out of town, please call first to make sure the dog you are interested in is still available.


Approved rescues also welcome!!!!
Lydia is absolutely gorgeous! We don't know if she is a mix or a pure breed, and by looking at her, you probably won't know either. She is extremely sweet and well-mannered and I can't imagine anyone who loves German Shephards not falling in love at first site.


Guernsey County Dog Pound
Cambridge, OH
Phone: 740-432-2219

Jackson OH *Sheena* SENIOR-kill shelter PTS ?
http://www.petfinder.com/petnote/displaypet.cgi?petid=10815075
Hi, my name is Sheena and I am a senior just looking for a nice soft bed. If I could be the right dog for you my adoption is URGENT as I am in a kill shelter. Please spay and neuter your pets so offspring do not end up in a kill shelter like me.




Jackson County Dog Pound
Jackson, OH
Phone: 740-286-7262

RINGOLD,GA(CATOOSA CO)-MALE-2YR-BLACK
Catoosa County Animal Shelter
101 Allmond Trail
Ringgold, GA.

30736
Phone: 706-935-2454
Email: darla.proctor@ccpetkeeper.com
Catoosa County has an AKC registered black GS. I don't see him on their Petfinder page yet.


#42 KC Registered Black Shepherd - the owners said they no longer have time for him - he is 2 years old



Cape Girardeau, MO - Metsue, senior in
http://www.1-800-save-a-pet.com/pet1282618-ss.html
Pet ID #: 566305
Shelter: Humane Society of Southeast Missouri
Phone: (573) 334-5837
Email: administrator@semopets.org
METSUE's info...
Breed: German Shepherd Dog
Size: Large 61-100 lbs (28-45 kg)
Color: Tan/Yellow/Fawn - With Black
Sex: Unknown
Age: Senior
METSUE is:
purebred
METSUE's story...
VERY MELLOW AND FRIENDLY
Act quickly to adopt METSUE. Pets at this shelter may be held for only a short time.


Shelter: Humane Society of Southeast Missouri
Pet ID #: 566305
Contact: Cheryle Dillon
Phone: (573) 334-5837
- Let 'em know you saw "METSUE" on http://www.1-800-save-a-pet.com/
E-mail: administrator@semopets.org
Fax: (573) 334-4039
Website: http://www.semopets.org/
Address: 2536 Boutin Drive
Cape Girardeau , MO
63701


Greensboro, NC-Rowan-7 y/o Long Hair Shepherd

http://www.petfinder.com/petnote/displaypet.cgi?petid=10728395

Rowan is a handsome long-haired German Shepherd. He is about seven years old and he weighs about 60 pounds. Rowan is a smart boy. He walks nicely on leash and he tries to 'hold it' until he can get out of his kennel. Rowan will need to live indoors and go for leash walks, or he will need a very secure fence. He has already been neutered, so he can go home with you right now. Please ask for Rowan by ID 4591342.



Wilmington, OH, Evan, Young Black Male
I saw Even in a cross-post. At this time I have no other information.



http://www.petfinder.com/petnote/displaypet.cgi?petid=10784470


Clinton County Humane Society
Wilmington, OH
clintoncohumanesociety@yahoo.com
Phone: 937 383 0703
"evan was found as a stray. we believe he is approx. 6months old. he is current on shots, heartworm neg andon flea protection. he was neutered today. he getsalong great with other dogs male and female. he issometimes shy until he trusts you and he loves to sitin your lap. he was on the run for over a month untila concerned citizen was able to catch him. he has beena good boy since coming to the shelter and will makean excellent companion. he is not hyper and is superhandsome. please complete our pre adoption form if youare interested in meeting/adopting Evan. thank you foryour interest in adopting a homeless pet.

alicia"

Wilmington, OH, Princess, Female Black and Tan
http://www.petfinder.com/petnote/displaypet.cgi?petid=9602261


Clinton County Humane Society
Wilmington, OH
937 383 0703
clintoncohumanesociety@yahoo.com

Livingston, CA *FOXY DALLAS* F.


Adult PTS 5/23/08
Foxy Dallas



Breed: German Shepherd Dog
Age: Adult
Gender: Female
Size: Large
hasShots,

Location: Livingston, CA
Shelter dog ID: A041647
Shelter: Livingston Police Department Animal Control
Contact: Kristen Lucas
Contact Tel: 209-394-5585
Contact email: klucas@ci.livingston.ca.us

About Foxy Dallas RESCUE ONLY. Foxy Dallas is a sweet girl with a calm and gentle personality. She is excellent on leash. Foxy is rescue only because she has bad ear infections in both ears and she needs to have those cleared up before she can be adopted to a new home. Foxy Dallas is approximately 4 years old and about 60 pounds.

This dog is available for adoption April 30, 2008

http://dogsindanger.com/dog.jsp?did=1210716449403

Hartford,Ky 5-6 yr Female blk&tan EUTH 5/21
Aimee has 5 days left to live!
Euthanasia date: 2008-05-21 Reason for euthanasia: Space


email Aimee to a Friend | Printer Friendly

Aimee

Breed: German Shepherd Dog
Age: Adult
Gender: Female
Size: Large


Shelter: Ohio County Animal Shelter
1582 Country Club Lane
Hartford, KY
Shelter dog ID: 0670
Contact tel: 270-298-4499
Contact name: Gloria
Contact email: 4ocanimals@ohiocounty.net

About Aimee Aimee was running loose near a small country store. No one in the area claimed her, so she was brought in by Animal Control. She was wearing a collar, but had no tag or identification. Aimee is about 5-6 years old. She is a quiet girl who gets along well with the other dogs and puppies. She prefers to stay on the sidelines and just watch while the young ones wrestle and play. Aimee will be off mandatory stray-hold on Saturday, 4/17.

You may fill out a preadoption application by clicking the link on our home page at: http://www.petfinder.com/shelters/ockyanimals.html or come by the shelter to fill out the form. Get a head-start on the adoption process so you will be able to take Aimee home as soon as she is available.


Don't adopt just because you feel sorry for Aimee!
Adoption should be a well thought out decision, it's a lifetime commitment.



Griffith, IN - ID:GACSL, M 6 YO, Very Nice
I came across this boy on petfinder. I have contacted the shelter for more information and an update, and I will post when I hear more.


Griffith, IN is the the NW corner of Indiana, just outside of Chicago.

http://www.petfinder.com/petnote/displaypet.cgi?petid=10753315
Animal: Dog
Breed: German Shepherd Dog
Sex: Male
Age: Adult
Size: Large
ID: GACSL


Beautiful boy - around 6 years old. email us to meet him. Very Very nice dog.


Griffith Animal Control
Griffith, IN
219-922-1766
slitke1@msn.com

BECKLEY WV- M 5 yo neutred , White, Raleigh Co HS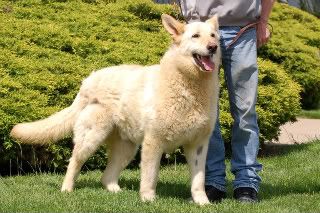 This big boy is in the Raleigh County Humane Society Shelter in Beckley WV. It is a gassing shelter. He's NOT posted on their website as I guess they are still short staffed and not posting many of their animals on the Petfinder site. The shelter called me today as he's running out of time.



Humane Society of Raleigh County Inc.


325 Gray Flats Road
P. O.

Box 115
Beckley, WV 25802
Phone: 304-253-8921

Here is a link to their website: http://www.petfinder.com/shelters/WV50.html

He is very layed back and gets along well with other dogs and everyone he's come in contact with. Poor guy has what looks to be a number of hot spots on his hind quarters that are drying up. They said when he came his fur was very damp around those areas as though he may have been laying on wet ground. He also has rubbed areas on both sides that look like he may have been left in a harness for a long time or tied out on one. He definately needs grooming!!! He's QUITE a large boy but behaves nicely on lead!! Really really sweet. I'll be glad to go back over and temp test myself with other dogs and cats... the shelter is closed on Sundays and Mondays. They estimate him to be around 5 yrs old... He's an adult, but not geriatric! There is low cost kenneling available in the Beckley area and also in Princeton and I'm available to help pull if needed.

He's just a doll! Can anyone help him??

Rockford, IL: 6 Month Old Sable Girl
This is what came from the shelter. Sounds like she's rescue-only. MVGSDR is full and cannot take her......
I've attached photos of a 6 month old female german shepherd that I'm hoping you are willing to take to rescue. She's a very active puppy, but is a little reactive to new people and dogs. I think with some training and proper socialization, she would be a great dog. We've given her vaccinations for distemper, parvo, kennel cough and rabies. We have not tested her for heartworm since she's only six months. We will spay her before she goes to rescue. I can probably have her heartworm tested to…if need be.


She's a beautiful dog!
Please let me know if you have room or not.


Thanks,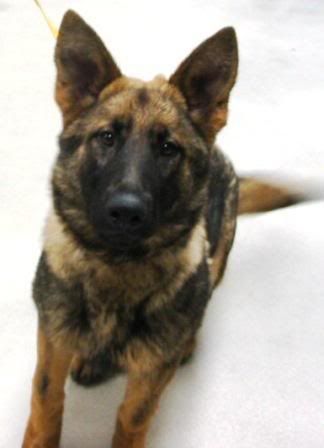 Donna Apgar, Adoption Coordinator
Winnebago County Animal Services
4517 N.

Main Street
Rockford, IL 61103
Direct Line: 815-319-4116
Main Phone: 815-319-4100
Main Fax: 815-319-4101
dapgar@co.winnebago.il.us

BECKLEY WV-BLACK GSD ADULT MALE-Raleigh County HS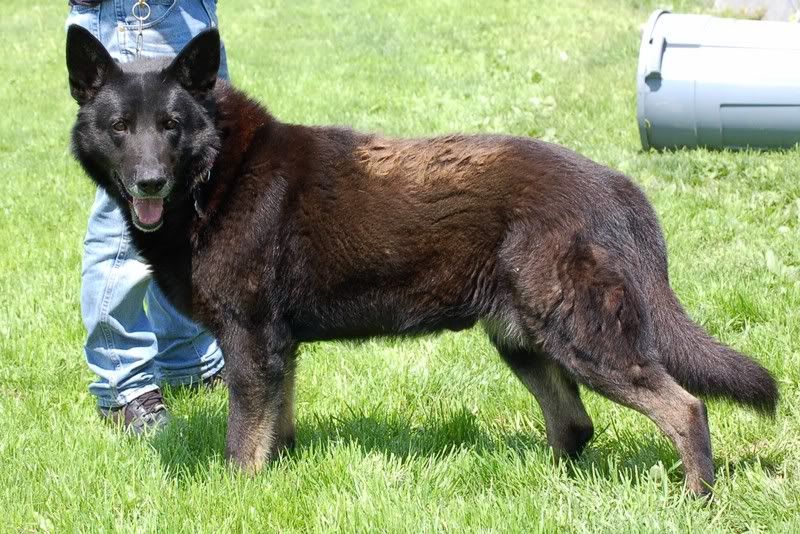 This big guy is available at the Raleigh County Humane Society Shelter in Beckley WV. It is a gassing shelter.



Humane Society of Raleigh County Inc.


325 Gray Flats Road
P. O.

Box 115
Beckley, WV 25802
Phone: 304-253-8921

Here is a link to their website: HUMANE SOCIETY OF RALEIGH COUNTY

THis is a pretty good sized fella who is very sweet. He is around 5 years of age, and adult, but not geriatric. Actually he is most likely considered a bi-color since the lower part of his legs are brown! But they said he gets along fine with other dogs and everyone he's come in contact with. Unfortunatley big boy also came in conact with a skunk somewhere in his past and still carries the remains of skunk odor on him...not overbearing but noticeable! Our local groomers could probably help get rid of that!! He's a really nice layed back dog!

He's NOT posted on their shelters petfinder site . . .as is the case with many of the other dogs they have. The shelter is closed on Sunday and Mondays.



We have low cost boarding in the Beckley area as well as Princeton and also help with pulling,etc.



Spruce Pine, NC - F German Shepherd Needs Out!
The following is a crosspost.

I have no further information:
Cherry
Animal: Dog
Breed: German Shepherd Dog
Sex: Female
Age: Adult
Size: Large
http://www.petfinder.com/petnote/displaypet.cgi?petid=10475334
Cherry needs a mircale she has been at the shelter since January and is getting kinda shy of new people but once you spend some time with her she warms up. She has been at the shelter way to long and needs a miracle. She knows how to sit, shake and lay down she loves to play with the water hose. Plese someone be her miracle today.


Hi my name is Cherry, because I'm a red German Shepherd. I am spayed and have been well cared for for three years. My family had to move and the landlord said "no dogs." I am good with other dogs and people, am well behaved but have not been around cats. I just don't pay any attention to them. I just love to play with the waterhose when it is turned on. Everyone is impressed because I can sit lay down and roll over and fetch when told.

I weigh 60 pounds


here is the shelter info:
Mitchell County Animal Rescue
Spruce Pine, NC
828-765-6952
email: MCARpets@bellsouth.net
http://members.petfinder.com/~NC149/

Princeton, WV - #810 Jade, F 18mths, PTS??
hello,

i received an email about this shelter - and the urgents listed. there is a beautiful gsd in the group. the shelter does not give dates when they euthanize - it is based on space - so this beautiful girl could be euthanized at any time.



i did not see her posted on the forum - but apologize if this is a duplicate.



here is her info:
shelter#810 Jade
Animal: Dog
Breed: German Shepherd Dog
Sex: Female
Age: Young
Size: Medium
ID: shelter#810
http://www.petfinder.com/petnote/displaypet.cgi?petid=10865060

Jade is a beauty!! estimated at 18 months of age . she loves kids and seems fine with the roomate she has at the shelter. shelter 304-425-2838 mcas@frontiernet.net

here is the shelter info:
here are SO many dogs here and some of the prettiest I've seen all in one place. Please, these dogs have no time left. Many small cuties..medium, large...all looking for a second chance. Please take a look. You won't believe how many wonderful pets are desperate for a forever family.

Please help NOW!!

Rescues, there are many highly adoptable dogs here! Even they won't have a chance if nobody knows about them.


http://petfinder.com/shelterSearc...ifier&preview=1


Mercer County Humane Society area/shelter
Princeton, WV
304-425-2838
email: MCAS@frontiernet.net
http://www.petfinder.com/shelters/WV02.html

http://photocache.petfinder.com/fotos/WV02/WV02.10865060-1-x.jpg



Ravenna, KY - 7 yr.


old Tiffany - pts thurs 5/22
This girl is in a high kill shelter which plans to kill her and 39 others at 2 pm on Thursday.



Tiffany
Animal: Dog
Breed: German Shepherd Dog
Sex: Female
Age: Senior
Size: Large
ID: 561805
http://www.petfinder.com/petnote/displaypet.cgi?petid=10843852

TIFFANY IS SEVEN YRS.

OLD AND REALLY A SWEETIE JUST DOES NOT SEEM TO CARE FOR OTHER DOGS MAYBE THAT COMES ALONG WITH HER AGE , BUT SHE NEEDS A LOVING HOME

here is the shelter info:
Estill County Animal Shelter
Ravenna, KY
606-723-3587
estillcoanimalshelter@yahoo.com

Toledo, OH-Gina,F 1 1/2y,sweet looking floppy ears



http://www.petfinder.com/petnote/displaypet.cgi?petid=10877010
Gina is about 65 lbs and very submissive to people and friendly. She will bark when on leash if a stranger appears. She needs manners and seems very tractable. Needs confinement and supervision as she is about 1 1/2 yrs old and not yet mature. Thru pound manager only. spayed 5/15.


Lucas County Dog Warden
Toledo, OH

Phone: 419-213-2800
SHARES FROM MARLA'S NETWORK
MORE ALERT
Feb 18
Alert: ATTEND TUCSON'S 32ND ANNUAL PEACE FAIR & MUSIC FESTIVAL by Stuart T.
(0 comments | discussions ) — \\r\\nCOME TO: \\r\\nTucson\\\' s 32nd Annual Peace Fair and Music Festival2014 Theme: Climate JusticeThis FREE event is Arizona\\\'s largest gathering of Peace, Justice, and Environmental groups, with Live Music, Tables, Food, Entertainment, Children\\\'s ... more
Alert: Petitions and More, Febr. 18 by Anneke A.
(0 comments | discussions ) — http://animalpetitionsand more.blogspot.nl/2014/02/ petitions-and-more-febr-1 8.html\\r\\n more
Feb 17
Alert: DEMAND ALL PUPPY MILLS BE ILLEGAL ACROSS CANADA by jill C.
(1 comments | discussions ) — \\r\\n\\r\\nDEMAND ALL PUPPY MILLS BE ILLEGAL ACROSS CANADA\\r\\n\\r\\nauthor: jill Campbell\\r\\ntarget:&nbs p;Prime Minister Steven Harper, Senators, Cabinet & Parliament Members\\r\\nsignatures:& nbsp;1,463\\r\\n\\r\\n\\r \\n\\r\\n\\r\\n1,463\\r\\ n5,000\\r\\nwe\\\'ve go... more
Alert: Petitions and More, Febr. 17 by Anneke A.
(0 comments | discussions ) — http://animalpetitionsand more.blogspot.nl/2014/02/ petitions-and-more-febr-1 7.html\\r\\n more
Feb 16
Alert: Petitions and More, Febr. 16 by Anneke A.
(0 comments | 0 discussions ) — http://animalpetitionsand more.blogspot.nl/\\r\\n\\ r\\n more