IT HAS BEEN A ROLLER COASTER RIDE FOR THE PAST FEW MONTHS, BUT I'M HOME AND ON THE ROAD TO RECOVERY!
SOME OF YOU KNOW THAT I HAVE SOME HEALTH PROBLEMS, MORE THAN I WANT TO GET INTO FOR NOW. BUT I WILL SHARE WHAT I'VE BEEN DOING WHILE I WAS AWAY.
I HAVE SEVERAL THINGS WRONG WITH MY SPINE. FOR THE PAST 5 YEARS I'VE BEEN DEALING WITH A NECK INJURY AND FINALLY DECIDED TO HAVE SURGERY!
NOW I AM NOT REAL FOND OF SURGERY, SO I HAVE DONE A LOT OF PRAYING. NOT ONLY FOR EVERYTHING TO GO WELL AND I'LL BE OK! I'VE THANKED GOD FOR BEING WITH MY DOCTORS AND NURSES THAT WERE WITH ME IN THE OPERATING ROOM. I THANKED GOD FOR GIVING ME STRENGTH, COMFORT AND PEACE. THESE PRAYERS WERE ALL PRAYED WEEKS BEFORE MY ACTUAL SURGERY.
MY WONDERFUL FRIEND FOR OVER 30 YEARS, TRUDY AND I TALKED ON THE PHONE AND SHE PRAYED THE SWEETEST PRAYER FOR ME! AS THE DAYS PASSED AND TIME GOT CLOSER FOR MY SURGERY I WAS NOT AFRAID. I HAD REALLY LET GO, AND LET GOD WORK, ON ME AND ON EVERYONE WHO WOULD BE DOING THEIR JOBS GETTING ME FIXED UP!
UP UNTIL MY SURGERY THE PAST FEW MONTHS, I HAVE NOT BEEN HERE OR TO ANY OF MY OTHER PAGES. I HAVE KEPT MYSELF BUSY WITH MY PHOTOGRAPHY, MY KIDS AND GRAND KIDS AND MY HUSBAND.
I HONESTLY COULDN'T CONCENTRATE LONG ENOUGH TO GET ANYTHING WRITTEN, SO I KEPT BUSY PLAYING GAMES ON LINE.
THE SURGERY THAT MY DOCTOR WAS GOING TO DO WAS TO FIX 2 DISCS IN MY NECK. HE SAID HE WAS GOING TO FIX ME UP WITH TITANIUM! SO I'M THINKING MY NECK IS GOING TO BE SO TOUGH, SUPERMAN COULDN'T BREAK IT!
FINALLY, THE DAY OF MY SURGERY WAS NEAR! RON, MY HUSBAND GOT US A ROOM IN CEDAR CITY FOR THE NIGHT BEFORE MY SURGERY. A NICE ROOM WITH A JACUZZI TUB, BUILD FOR TWO! WHOOO HOOO! THE MORNING OF MY SURGERY RON GOT MY TUB GOING AND THERE WAS A LITTLE BOTTLE OF SHAMPOO FOR BUBBLES! IT FELT SO GOOD, AND RELAXED ME SO MUCH! I DIDN'T WANT TO GET OUT, BUT RON HAD TO GO GET THE GUYS LINED OUT FOR THE JOB THEY WERE DOING THAT DAY; SO HE WASN'T SURE WHEN HE WOULD BE BACK. BECAUSE I KNOW I COULDN'T GET OUT OF THE TUB, BY MYSELF, I HAD TO LEAVE THE WONDERFUL RELAXING TUB! AND HEADED STRAIGHT TO THE SHOWER! THEN BEFORE I KNEW IT THE HOSPITAL WAS CALLING ME TO COME ON OVER. DR. KABINS WAS ALMOST FINISHED WITH THE PATIENT AHEAD OF ME SO WE COULD GET ME STARTED AND HAVE ME ALL READY WHEN IT WAS TIME! AGAIN, I WAS SO EXCITED!
MY SURGERY WENT VERY WELL, AND WAS IN MY ROOM BY AROUND 6:00 PM. I DID PRETTY WELL, EXCEPT FOR THE SWALLOWING, THAT WAS SCARY. BUT THE SURGERY WAS OVER AND I WAS DOING GREAT! SO THEY ONLY KEEP ME UNTIL SUNDAY AND THEN LET ME GO HOME!
AND WHAT A FASHION STATEMENT I AM! AND WILL BE FOR THE NEXT 2 MONTHS, NOW!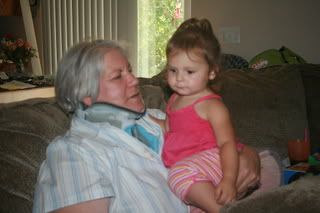 THIS IS OUR MADDY WITH ME. THIS BIG OLE C-COLLAR IS A LITTLE INTIMIDATING TO THE KIDS. BUT I TOLD THEM THAT DR. KABINS DID SOME SURGERY ON MY SPINE AND NOW , FOR A WHILE I AM GOING TO BE PART ROBOT! LITTLE ALEX THINKS THAT'S THE COOLEST THING!
THERE IS MORE TO COME, THIS LITTLE STORY ISN'T OVER YET!
GOD BLESS ~