Friday, August 15, 2008
HEY BABY LET'S GO TO VEGAS!
Current mood:
tired
Category: Travel and Places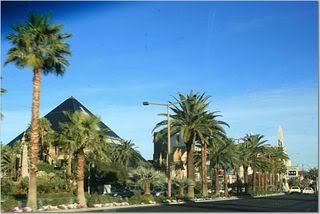 I SINCERELY APOLOGIZE FOR NOT GETTING THIS LITTLE STORY FINISHED. I HAD A COUPLE OF MY FRIENDS WRITE AND ASK ME, "HEY! WHEN ARE YOU GOING TO WRITE AND FINISH TELLING US WHAT HAPPENED? WELL WE KNOW IT MUST HAVE TURNED OUT WELL, BECAUSE YOU ARE HOME AND WRITING ABOUT IT!" THAT REALLY MADE ME FEEL GOOD. TO HAVE PEOPLE REALLY WANT TO READ WHAT I WRITE.
OK, ENOUGH OF MY BIG HEAD! LET ME FINISH THIS EXCITING STORY.......... I'M STILL AT THE ER IN MY HOME TOWN, ST. GEORGE. BUT I AM OUT , IN A DRUG INDUCED COMA.
NOW THIS PART OF THE STORY IS ALL 'HEARSAY' AS JUDGE JUDY WOULD SAY. I DO HAVE SOME MEMORIES THAT I WILL ADD , TOO.
I'M NOT REAL SURE ABOUT THE TIME I LEFT ON THE PLANE, AND NOT REAL SURE ABOUT ANYTHING THAT DAY. LISA TOLD ME THAT AFTER THEY, RON, JEFF, LISA AND GABE, JEFF'S FRIEND AND CO-WORKER, HAD FINISHED TALKING TO THE DOCTOR OR WHOEVER THEY WERE TALKING TO, LISA TOLD RON THAT SHE WOULD GO WITH HIM TO LAS VEGAS. BUT SHE NEEDED TO GET HOME AND GET READY TO GO, AND HE SHOULD, TOO.
THEY GOT TO VEGAS NOT LONG AFTER I WAS IN THE ER. LISA SAID , AND I DO REMEMBER A LITTLE BIT, THAT IN THE ER AT THE UMC I WAS KIND OF AWAKE. I COULDN'T TALK BECAUSE OF THE TUBE IN MY THROAT. BUT I HAD THINGS TO SAY, SO THEY GOT ME SOME PAPER AND A PEN SO I COULD WRITE. OF COURSE I WAS REALLY OUT OF IT AND COULDN'T WRITE VERY WELL. LISA TOLD ME THAT IF SHE DIDN'T SAY WHAT I HAD WRITTEN, IF SHE GOT IT WRONG, OH BABY! I WOULD GET SO ANGRY, AND TRY TO TALK. WHICH MADE ME GAG AND THROW UP. BUT IT WAS OK BECAUSE THEY HAD A SUCTION TUBE (WHATEVER) THAT GOT THAT TAKEN CARE OF. I ONLY REMEMBER A LITTLE TINY MOMENT OF WRITING ON THE PAPER, THE REST IS JUST BLANK.
I REALLY SHOULDN'T HAVE EVEN BEEN THAT ALERT. AND WHEN I GOT SO UPSET THE NURSE TOLD LISA THAT SHE WAS GOING TO HAVE TO CALM ME DOWN OR SHE WOULD HAVE TO GO. LISA TOLD THE NURSE IF SHE LEFT ME, AND I WAS STILL A LITTLE BIT AWAKE, I WOULD REALLY GET MAD. LISA ASKED THE NURSE IF IT WAS GETTING CLOSE TO THE TIME FOR MY MEDICINE, SO SHE CHECKED MY CHART. "OH! NO WONDER SHE IS WAKING UP! THE CHART SAYS TO GIVE HER 500 MG AND I'VE ONLY GIVEN HER 5 SO I'LL GIVE THE MEDICINE AND SHE WILL BE OK"! NOW I DON'T KNOW IF THOSE WERE THE RIGHT NUMBERS OR NOT, BUT IT WAS A HUGE DIFFERENCE IN WHAT I WAS SUPPOSED TO HAVE AND WHAT THE ER NURSE HAD GIVEN ME.
THEY MUST HAVE GIVEN ME THE RIGHT DOSE FROM THEN ON, BECAUSE I DIDN'T COME AROUND UNTIL SATURDAY, AND I'M NOT SURE IF IT WAS MORNING OR NIGHT. I CAN REMEMBER TALKING AND HEARING EVERYONE TALKING TO ME, BUT THE ONLY VISUAL PART I REMEMBER WAS JEFF, ZAC AND RON. AND A FLASH OF SAMMI & ASHLEE, 2 OF OUR GRAND DAUGHTERS. THEY LOOKED OK, VERY NORMAL!
OUR DAUGHTER, JENNIFER & OUR GRANDKIDS, TESS, JOEY & JACK CAME DOWN FROM PRICE ON FRIDAY TO SEE ME. TINA & MIKE AND ASHLEE CAME UP FROM SAN DIEGO.
YOU KNOW HOW IN THE MOVIES OR TV, THEY WILL HAVE A SCENE WHERE THERE'S A BASSINET AND SUPPOSED TO BE A BABY IN IT. THE FAMILY ALL TAKE TURNS PUTTING THEIR HEADS OVER THE BASSINET AND TALK TO THE BABY, WHICH IS JUST A CAMERA, NO BABY. WELL THAT'S HOW I FELT, LIKE THE CAMERA IN THE BASSINET. JEFF LEANED OVER AND IT SCARED ME A LITTLE BIT BECAUSE HIS FACE WAS PURPLE AND HIS LIPS WERE HUGE AND WHEN HE TALKED HIS LIPS MADE WEIRD MOVEMENTS. I THOUGHT THERE WAS SOMETHING TERRIBLY WRONG WITH MY SON! SO ZAC LEANED OVER TO TALK TO ME AND ASKED IF HE LOOKED OK. HOLEY MOLEY! HE HAD IT TOO! IT WAS LIKE WATCHING A CLAYMATION SHOW! BUT IT WAS MY FAMILY, AND NOT FUNNY! TO ME, ANYWAY.
THEN RON LEANED OVER TO TALK TO ME AND OH MY GOD! MY HANDSOME HUSBAND HAD THE SAME DISEASE THAT MY ONCE HANDSOME SONS HAVE!
IT WAS VERY UPSETTING TO ME, BUT THEN OTHER FAMILY MEMBERS THAT WERE IN MY ROOM LAUGHED AND SAID BOY I MUST BE ON SOME GOOD DRUGS. EVIDENTLY I WAS TRIPPIN'! YOU KNOW, HALLUCINATING.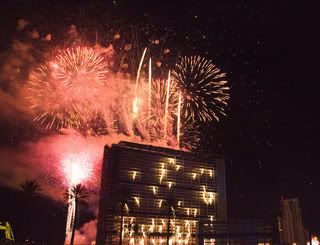 IT WAS SO WEIRD, BUT I COULDN'T SEE ANYTHING. I DO REMEMBER SOMEONE TELLING ME THAT I WAS OUT OF SURGERY AND DOING REALLY WELL. BUT THEN SOMEONE TOLD ME THAT IT WAS SATURDAY. I HAD MISSED THE 4th OF JULY! I WAS PRETTY UPSET, BECAUSE I LOVE THE 4th OF JULY! I LOVE THE WHOLE DAY. BUT THE FIREWORKS AT THE END OF THE DAY IS WHAT I REALLY LOVE! THEY ARE SO BEAUTIFUL TO ME, A KIND OF MAGICAL THING. AND OF COURSE, I CRY.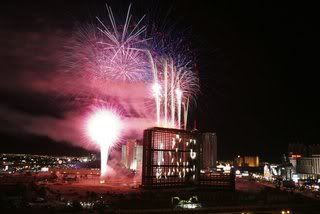 SO HERE I WAS IN LAS VEGAS, NOT TOO FAR FROM THE STRIP, WHERE THEY PUT ON A BIG SHOW WITH FIREWORKS! THE VEGAS STRIP, NOT THE UNIVERSITY MEDICAL CENTER. VEGAS PUTS ON A HUGE SHOW ALL UP AND DOWN THE STRIP. AND I SLEPT RIGHT THROUGH IT. I KNOW I HEARD MY SON JEFF SAY THAT HE HAD TAKE A PICTURE OF THE FIREWORKS FOR ME WITH HIS CELL PHONE. I JUST HAVEN'T SEEN IT YET.
RON AND LISA STAYED THE FIRST NIGHT AT THE HOSPITAL, BUT AROUND 8 THEY WERE ASKED TO LEAVE. I GUESS RON DIDN'T WANT TO BE TOO FAR AWAY IN CASE I NEEDED HIM, SO HE AND LISA SLEPT IN THE VAN IN THE PARKING LOT AT THE HOSPITAL. NO PILLOWS OR ANYTHING AND THE TEMPERATURE PROBABLY ONLY DROPPED TO 100 DEGREES. THE WEEK I WAS IN THE HOSPITAL WAS THE HOTTEST TEMPS OF THE YEAR!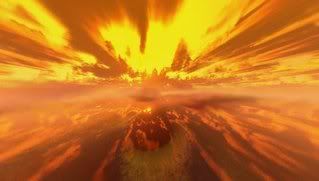 NOW I HAVE HAD MY SURGERY, AFTER WAITING FROM WEDNESDAY AFTERNOON UNTIL FRIDAY MORNING. I AND WHOEVER WAS THERE SPENT THAT TIME IN THE ER AT UMC. WHAT'S WEIRD TO ME IS I CAN'T REMEMBER ANYTHING ABOUT THE AIRPLANE, OR THE AMBULANCE TO THE UMC, OR THE NURSES OR ANYTHING, UNTIL SATURDAY NIGHT. I REMEMBER THAT I STILL HAD THE TUBE IN MY THROAT. AND A NURSE OR DOCTOR ASKING ME IF I WOULD LIKE TO HAVE IT OUT. EVIDENTLY I SAID YES; BUT HARDLY REMEMBER THAT.
OH, BEFORE THAT I REMEMBER LOOKING DOWN AT MY RIGHT HAND THAT WAS IN A RESTRAINT. AND SOMEONE ASKED IF I WOULD LIKE TO HAVE THOSE OFF.
WELL, UMMM LET ME THINK!
FOR CRYING OUT LOUD, OF COURSE I WANT THE RESTRAINTS OFF AND GET THIS STUPID TUBE OUT SO I CAN SAY SOMETHING!
I WONDER IF THE NURSES AND DOCTORS KNEW THAT I COULDN'T SEE THEM, OR ANYONE, FOR THAT MATTER. I DO REMEMBER JEFF, ZAC AND RON. HOW COULD I FORGET THOSE THREE PURPLE PEOPLE?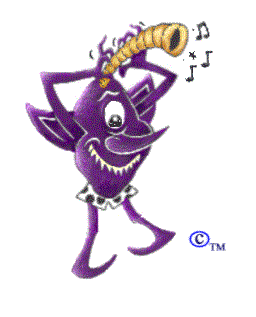 OK! NOW I CAN'T GET THAT SONG "PURPLE PEOPLE EATER" OUT OF MY HEAD! YOU KNOW, THE ONE EYED ONE HORNED FLYING PURPLE EATER?
ANYWAY I'M SURE THAT IT WAS BECAUSE OF THE INDUSTRIAL STRENGTH MEDICINE I WAS GETTING. I WAS READING ABOUT "INTUBEATION" AT WEBMD, AND IT SAID THAT THE DRUG THEY USE TO PUT ME IN TO THE COMA, ALSO ALLOWED ME TO HAVE NO MEMORY OF ANYTHING WHILE I WAS TAKING IT. WHICH IS A REALLY GOOD THING.
OK, ENOUGH ABOUT THAT! AS YOU MUST HAVE FIGURED OUT THE SURGERY WAS A SUCCESS AND THE PATIENT DID VERY WELL! ZAC SAID, MY THROAT LOOKED LIKE I HAD SWALLOWED 2 SOFTBALLS.
OH, I WAS JUST LOOKING AT THE LAST BLOG AND I DON'T THINK I'VE MENTIONED WHAT WAS WRONG AND WHY I HAD TO GO TO THE TRAUMA CENTER IN LAS VEGAS! I THINK I TOLD YOU THAT THERE WAS SWELLING IN MY THROAT, AND MY ESOPHAGUS WAS BENT. THE REASON FOR ALL THIS IS THAT I AM ALLERGIC TO THE ADHESIVE THAT DR. K USED IN MY SURGERY. I THINK THE ADHESIVE WAS PUT AROUND THE TITANIUM PIECE HE PUT IN. BECAUSE I WAS TOLD DR. K HAD TO DO A LOT OF SCRAPING TO GET ALL OF THE ADHESIVE OFF. MY INCISION IS A LITTLE BIGGER THAN I EXPECTED.
I STILL HAVE TO KEEP A BANDAGE ON OR THIS LOVELY NECK BRACE / COLLAR WOULD REALLY IRRITATE IT. I HAVE TO WEAR THE C-COLLAR 24/7 UN TILL I GO BACK TO SEE DR. K IN SEPTEMBER.
NOW THAT I AM OUT OF SURGERY AND PARTIALLY AWAKE, I WILL STOP HERE AND WRITE MORE LATER. UNTIL THEN ~
GOD BLESS ~