Jan 17, 2009


We give thanks for all those who are moved, in their lives, to heal and protect the Earth, in small ways and in large. Blessings on the composters, the gardeners, the breeders of worms and mushrooms, the soil-builders, those who cleanse the waters and purify the air, all those who clean up the messes others have made. Blessings on those who defend trees and plant trees, who guard the forests and who renew the forests. Blessings on those who learn to renew the grasslands and renew the streams, on those who prevent erosion, who restore the salmon and fisheries, who guard the healing herbs and who know the lore of the wild plants. Blessings on those who heal the cities and bring them alive again with creativity and love. Gratitude and blessings to all who stand against greed, who risk themselves, to those who have bled and been wounded, and to those who have given their lives in service of the Earth.
May all the healers of the Earth find their own healing. May they be fueled by passionate love for the Earth. May they know fear but not be stopped by fear. May they feel their anger and yet not be ruled by rage. May they honor their grief but not be paralyzed by sorrow. May they transform fear, rage, and grief into compassion and the inspiration to act in service of what they love. May they find the help, the resourses, the courage, the luck, the strength, the love, the health, the joy that they need to do the work. May they be in the right place, at the right time, in the right way. May they bring alive a great awakening, open a listening ear to hear the Earth's voice, transform imbalance to balance, hate and greed to love. Blessed Be the Healers of the Earth.

From: The Earth Path~
By: Starhawk
comments
(3) |
discussion
() |
permalink
|
send green star
|
flag as inappropriate
Visibility: Everyone
Tags:
Posted: Jan 17, 2009 6:07pm
Nov 5, 2008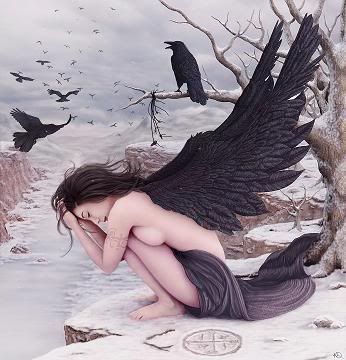 It's been exactly 6yrs today since I lost my baby girl. And yet, it still feels like yesterday. Giving birth and watching your child die right in your arms, just isn't supposed to happen. Having a baby is supposed to be a joyful time, not one that traumatizes you for the rest of your life. This day is always so difficult, and as the months have turned into years, it hasn't gotten any easier. Time heals all wounds SO does not apply here. The thing that bothers me the most, I think, is I have only two memories of Elizabeth, her birth and her death. I envy the people who had time with their children before they passed. I had 15 minutes, and 2 pictures, that's all, it's just not fair. Today also marks the day that I officially quit believing in God. I had never prayed so hard, not for myself, but for the life of my daughter. As I watched her take her last breath, I looked at my husband and told him that there's no God. No God would put a person through this. This wasn't the first time God didn't hear me, but it would be the last. God didn't hear me, as a small child, when I begged to be saved from the abuse that I suffered from my bio-father's hands for 7yrs. I was always taught that God loves the little children, just not me or mine, I guess. I have been told that "this" is all part of God's plan, that there's a reason for everything. To this day, I'm still looking for the reason. So many truly tragic things have happened in my life, and I've lost so many people that I've loved, way before their time. If that's the way that God works, I decided that I want absolutely nothing to do with him. Life has been much less painful since I stopped talking to the "Man in the Moon" and
expecting him to perform miracles.
comments
(2) |
discussion
() |
permalink
|
send green star
|
flag as inappropriate
Sep 8, 2008
Sometimes I wish I weren't the person everyone brings injured or abandoned animals to. I also, very randomly, find things that need rescuing, like birds from my cat's mouth, etc. I have had two critter deaths in the last week. The first was a baby bird who was knocked out of its nest, during a nasty thunderstorm. I was leaving and on my way to my car, I saw the poor thing, and it couldn't fly yet. I had to do something with it, or my cat WOULD!
So, here I am, chasing it around, it wasn't too hard to catch, it was rather clumsy. I put it in a cardboard box and went to the petstore to get a cage to keep it in 'til it could fly. Well, of course the thing drops dead while I'm in the store! I came home and told the kids that it flew away...
Next, comes the real heartbreaker. A few days after the bird, I receive a cardboad box from a friend containing the smallest bunny that I've seen in a loooooong time. It had a cut on its head that had scabbed over. I knew from its size, it would take a miracle, but, what the hey...someone had to take care of it. I gave it a box with a heating pad and a towel. When he was nice and warm, I took him out to feed him. He gobbled down quite a bit of milk, peed all over me, and I put him to bed thinking he'd be fine, since he ate and peed. Thirty minutes later....you know the deal!
The kids and I were heartbroken. We had already planned on where we would release him, in a few weeks, when he could fend for himself. Unlike the bird, we had to have a bunny funeral. It was actually quite beautiful...for a funeral. Upon the bunny's death, my youngest deemed him Yoshi. Yoshi's final resting place, my Daisy garden. I WAS saving that spot for my EX!!
Sep 2, 2008
Today would have been "Poppa's" 95th birthday. He was my favorite grandfather, actually he was more of a father. He was Native American and he was one helluva man. They just don't make 'em like that anymore. He taught me how to be a gentle soul, but also to fight for what's right. He was about the only person in my childhood, who was gentle with me. He passed away when I was a teenager. The event was so traumatic for me, I have totally blocked it out. I saw him just minutes before he died, and I went to his funeral and burial, but I have no memories of either. This has bothered me for many years. All of my memories of him are good ones. Like when he bought me my first horse, when I was maybe 4 or 5. I remember early morning fishing trips. I remember so much about him, except our last moments together. I don't remember what we spoke about. Knowing him, it was some of his words of wisdom, and I don't remember a fuckin' thing! There are many things in life that I'd like to forget, and this is NOT one of them...

Visibility:
Everyone
Tags:
life
Posted:
Sep 2, 2008 4:42am
Aug 24, 2008
~"Sometimes the people you think care give up on you when you need them the most; find someone who won't give up."~

Mikey Miears
7/11/86-4/25/08

Your last words are immortalized, still online and in my head. Why did you have to do it? Why did you feel so alone, when you were SO loved. Now, you've left me alone to go through what's left of my life with only memories of you. You were more of a brother to me, than my so-called-siblings. You were my heart, I helped you get ready for your prom. I have so many memories of you and it hurts so bad to know that I wasn't there, when you needed me the most.
You're a daddy now. Your little girl was born three months after you left. Just four days before your birthday. I didn't even know you were going to be a daddy, until you were gone. It seems that you had a secret life you were living, while suffering in your own private hell. Instead of picking up that gun, why couldn't you have just picked up the phone? I would have done anything for you.
You have left me with such a hole in my heart. Didn't you realize how much this was going to hurt the ones who truly loved you. You always gave more than you ever asked for. You learned early, that there weren't many people that you could really rely on. I'm sorry you had to learn that lesson.
You had the most amazing smile and bright eyes. I don't ever remember a time when you weren't smiling. A smile that once brightened my life, now breaks my heart, because it is no longer. You really fooled me, I never saw the pain behind your eyes, no one did.
Maybe now you have finally found the peace that you were looking for, though in your process, have taken away any peace I may have had. I feel so
empty and cold, damn it, I love you, and I never gave up on you...
Aug 20, 2008
Having ADD SUCKS! I'm sitting here trying to decide what to write about, and a million things are going through my mind.
Well, I guess since this started with ADD, we'll discuss that, for a moment. Having the attention span of a housefly is not much fun. Not to mention, I forget EVERYTHING, and complete NOTHING, I'm ALWAYS late, if I remember to show up at all. I tried medication for it, but after a while, it stopped working, soooo, I "smoke."
I'm very aware of it being illegal, but nothing helps the ADD quite like pot does.
It actually slows me down enough to where I can focus one ONE thing. I don't get "high," I get "normal." My parents even support my decision on this, and they don't agree with anyone one else in the family doing it. I have been allowed to smoke my "special cigarettes" in their bathroom and on their front porch. Anyone else would get a SERIOUS ass-whoppin' for this.
OK, on to something else...The relationship stuff. I am not actively looking for a relationship. I have always put my children first, and continue to do so. I don't have the time or energy to go out. I'm sure if I socialized more, I'd meet more men, but I'm just not interested. I am, however, interested in being a good mother. My main priority is raising 2 amazing boys. I just wouldn't feel right, leaving them with a sitter to go out. I don't drink and wouldn't want to meet anyone in a bar, anyway. I'm comfortable with my life just as it is....except for the NO SEX part.
I'm aging VERY well, so hopefully Nature will continue to be so kind. I have recently been asked out by college boys, so I guess that's why I'm not in a rush......

comments
(2) |
discussion
() |
permalink
|
send green star
|
flag as inappropriate
Aug 19, 2008
Not long ago, I found a great radio station. They play mostly 80's and 90's music, mixed with some great current stuff. Well, listening to music that I grew up to and came of age to, has had me flooded with memories of the past. Do you ever wish you could go back in the past and change just one thing? There are a few things I'd like to change, but, if I had to pick just one, it would be this...
It was a huge joke between my friends and my mom and I. I once said, "The perfect man would be good in bed, easy on the eyes, and dumb as a fuckin rock." Well, guess what?...That's exactly what I got! He couldn't have come at a better time, though. I had just split with my ex aka The Gorilla. He was the perfect "boy-toy." The perfect guy to party with and sleep with, he was BEAUTIFUL. And, I RARELY use that word to describe a man.
The Universe has a really screwed up sense of humor. Because the "dumb thing" REALLY got in the way. ALL the great sex in The World couldn't make up for interesting and/or intelligent conversation. I couldn't believe this Cosmic prank that had been played on me. I have chalked it up to having to pay a Kharmic debt, a really BIG one. I SO wish I could have discovered this BEFORE I married him. Granted, we made an incredible child together. But, how long should one have to suffer because of two words..."I do," and a temporarily loss of sanity? I really let my hormones rule my life back then.
I could be over analizing myself, but maybe THIS could be the root of the TORTURE I've been putting myself through for the last two years. I'm punishing myself for letting great sex get in the way of my thinking! Damn, I think I just solved the problem that my shrink has been trying to help me figure out. That bitch is fired, and I really need to have sex soon......
comments
(3) |
discussion
() |
permalink
|
send green star
|
flag as inappropriate
Aug 18, 2008
I was talking to a Care2 friend on the phone a few days ago. He insinuated, very "polite-like," that I MAY have a bitter attitude towards men and relationships. I really don't like to think of it as "bitter," I like "jaded," it just sounds better. Well, I've been thinking about this a lot the last few days. When it was discussed, I was trying to avoid the subject. So, now, that I'm prepared, I would like to respond to this friend.

Just because I haven't been laid in almost 2yrs, doesn't mean I need to be actively man-hunting. During this time, I could have gotten laid if I wanted to, but sex is a sacred thing to me. When I give my body to someone, it's a religious experience for them, as well, just kidding. (Actually, I'm VERY serious!) Unfortunately, the VERY select few men I would consider having sex with, live too far away!
You said that I must have been burned really bad in past relationships. Well, guess what? Ding, ding, ding! We have a winner! I went from one extreme to the other- From one man who tried to dominate me and control me, who screwed around on me, and left me when I was pregnant. Then on to the most spineless, pathetic, wuss of a man I have ever known. Who was afraid to initiate sex, and who was closer to his mama, than he was his wife.
If I could find a "happy medium," maybe I wouldn't feel the way I do about men. I'd like a man with balls, who would stand up to me, when need be, but lets me be myself. A man who's not afraid to have his own life and let me have mine. A take-charge kind of guy, who's not above shoving me against a wall, while kissing me, a manly man, who can fix things. I haven't found such a creature, not in my immediate area, anyways. Hell, I might actually travel to meet this guy! If you happen to run across this man, send him in my direction, then maybe I'll change my mind. Til then..."I'll stay...master of my domain."
comments
(8) |
discussion
() |
permalink
|
send green star
|
flag as inappropriate
| | |
| --- | --- |
| | Content and comments expressed here are the opinions of Care2 users and not necessarily that of Care2.com or its affiliates. |
SHARES FROM LANA'S NETWORK