Sep 6, 2008
| | |
| --- | --- |
| Category: | Cookies |
| Cuisine: | American |
Pumpkin Bars

2 C. flour
2 C. sugar
2 t.

baking powder


1 t.

baking soda


1/2 t. salt
2 t. cinnamon
1/2 t. cloves
4 eggs
2 C. pumpkin
1 C.

vegetable oil


Mix all dry ingredients and set aside. Mix wet ingredients. Make a well in the dry ingredients and add liquid mixture. Beat well. Pour into a greased and floured

jelly roll pan

. Bake at 350 for 25-30 minutes. Spread with

cream cheese frosting

when cool.

Cream Cheese Frosting
8 oz cream cheese softened
1 stick and 2 t butter
2 t. vanilla
3 1/2 C.

powdered sugar


Mix all ingredients until smooth and creamy.

Sep 6, 2008
Friday, August 15, 2008
HEY BABY LET'S GO TO VEGAS!
Current mood:
tired
Category: Travel and Places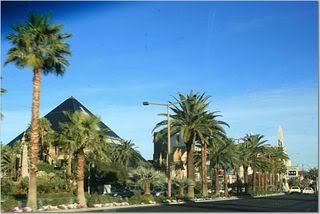 I SINCERELY APOLOGIZE FOR NOT GETTING THIS LITTLE STORY FINISHED. I HAD A COUPLE OF MY FRIENDS WRITE AND ASK ME, "HEY! WHEN ARE YOU GOING TO WRITE AND FINISH TELLING US WHAT HAPPENED? WELL WE KNOW IT MUST HAVE TURNED OUT WELL, BECAUSE YOU ARE HOME AND WRITING ABOUT IT!" THAT REALLY MADE ME FEEL GOOD. TO HAVE PEOPLE REALLY WANT TO READ WHAT I WRITE.
OK, ENOUGH OF MY BIG HEAD! LET ME FINISH THIS EXCITING STORY.......... I'M STILL AT THE ER IN MY HOME TOWN, ST. GEORGE. BUT I AM OUT , IN A DRUG INDUCED COMA.
NOW THIS PART OF THE STORY IS ALL 'HEARSAY' AS JUDGE JUDY WOULD SAY. I DO HAVE SOME MEMORIES THAT I WILL ADD , TOO.
I'M NOT REAL SURE ABOUT THE TIME I LEFT ON THE PLANE, AND NOT REAL SURE ABOUT ANYTHING THAT DAY. LISA TOLD ME THAT AFTER THEY, RON, JEFF, LISA AND GABE, JEFF'S FRIEND AND CO-WORKER, HAD FINISHED TALKING TO THE DOCTOR OR WHOEVER THEY WERE TALKING TO, LISA TOLD RON THAT SHE WOULD GO WITH HIM TO LAS VEGAS. BUT SHE NEEDED TO GET HOME AND GET READY TO GO, AND HE SHOULD, TOO.
THEY GOT TO VEGAS NOT LONG AFTER I WAS IN THE ER. LISA SAID , AND I DO REMEMBER A LITTLE BIT, THAT IN THE ER AT THE UMC I WAS KIND OF AWAKE. I COULDN'T TALK BECAUSE OF THE TUBE IN MY THROAT. BUT I HAD THINGS TO SAY, SO THEY GOT ME SOME PAPER AND A PEN SO I COULD WRITE. OF COURSE I WAS REALLY OUT OF IT AND COULDN'T WRITE VERY WELL. LISA TOLD ME THAT IF SHE DIDN'T SAY WHAT I HAD WRITTEN, IF SHE GOT IT WRONG, OH BABY! I WOULD GET SO ANGRY, AND TRY TO TALK. WHICH MADE ME GAG AND THROW UP. BUT IT WAS OK BECAUSE THEY HAD A SUCTION TUBE (WHATEVER) THAT GOT THAT TAKEN CARE OF. I ONLY REMEMBER A LITTLE TINY MOMENT OF WRITING ON THE PAPER, THE REST IS JUST BLANK.
I REALLY SHOULDN'T HAVE EVEN BEEN THAT ALERT. AND WHEN I GOT SO UPSET THE NURSE TOLD LISA THAT SHE WAS GOING TO HAVE TO CALM ME DOWN OR SHE WOULD HAVE TO GO. LISA TOLD THE NURSE IF SHE LEFT ME, AND I WAS STILL A LITTLE BIT AWAKE, I WOULD REALLY GET MAD. LISA ASKED THE NURSE IF IT WAS GETTING CLOSE TO THE TIME FOR MY MEDICINE, SO SHE CHECKED MY CHART. "OH! NO WONDER SHE IS WAKING UP! THE CHART SAYS TO GIVE HER 500 MG AND I'VE ONLY GIVEN HER 5 SO I'LL GIVE THE MEDICINE AND SHE WILL BE OK"! NOW I DON'T KNOW IF THOSE WERE THE RIGHT NUMBERS OR NOT, BUT IT WAS A HUGE DIFFERENCE IN WHAT I WAS SUPPOSED TO HAVE AND WHAT THE ER NURSE HAD GIVEN ME.
THEY MUST HAVE GIVEN ME THE RIGHT DOSE FROM THEN ON, BECAUSE I DIDN'T COME AROUND UNTIL SATURDAY, AND I'M NOT SURE IF IT WAS MORNING OR NIGHT. I CAN REMEMBER TALKING AND HEARING EVERYONE TALKING TO ME, BUT THE ONLY VISUAL PART I REMEMBER WAS JEFF, ZAC AND RON. AND A FLASH OF SAMMI & ASHLEE, 2 OF OUR GRAND DAUGHTERS. THEY LOOKED OK, VERY NORMAL!
OUR DAUGHTER, JENNIFER & OUR GRANDKIDS, TESS, JOEY & JACK CAME DOWN FROM PRICE ON FRIDAY TO SEE ME. TINA & MIKE AND ASHLEE CAME UP FROM SAN DIEGO.
YOU KNOW HOW IN THE MOVIES OR TV, THEY WILL HAVE A SCENE WHERE THERE'S A BASSINET AND SUPPOSED TO BE A BABY IN IT. THE FAMILY ALL TAKE TURNS PUTTING THEIR HEADS OVER THE BASSINET AND TALK TO THE BABY, WHICH IS JUST A CAMERA, NO BABY. WELL THAT'S HOW I FELT, LIKE THE CAMERA IN THE BASSINET. JEFF LEANED OVER AND IT SCARED ME A LITTLE BIT BECAUSE HIS FACE WAS PURPLE AND HIS LIPS WERE HUGE AND WHEN HE TALKED HIS LIPS MADE WEIRD MOVEMENTS. I THOUGHT THERE WAS SOMETHING TERRIBLY WRONG WITH MY SON! SO ZAC LEANED OVER TO TALK TO ME AND ASKED IF HE LOOKED OK. HOLEY MOLEY! HE HAD IT TOO! IT WAS LIKE WATCHING A CLAYMATION SHOW! BUT IT WAS MY FAMILY, AND NOT FUNNY! TO ME, ANYWAY.
THEN RON LEANED OVER TO TALK TO ME AND OH MY GOD! MY HANDSOME HUSBAND HAD THE SAME DISEASE THAT MY ONCE HANDSOME SONS HAVE!
IT WAS VERY UPSETTING TO ME, BUT THEN OTHER FAMILY MEMBERS THAT WERE IN MY ROOM LAUGHED AND SAID BOY I MUST BE ON SOME GOOD DRUGS. EVIDENTLY I WAS TRIPPIN'! YOU KNOW, HALLUCINATING.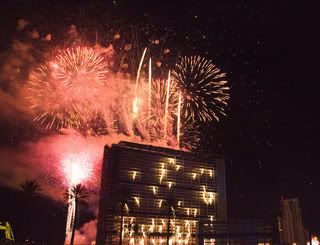 IT WAS SO WEIRD, BUT I COULDN'T SEE ANYTHING. I DO REMEMBER SOMEONE TELLING ME THAT I WAS OUT OF SURGERY AND DOING REALLY WELL. BUT THEN SOMEONE TOLD ME THAT IT WAS SATURDAY. I HAD MISSED THE 4th OF JULY! I WAS PRETTY UPSET, BECAUSE I LOVE THE 4th OF JULY! I LOVE THE WHOLE DAY. BUT THE FIREWORKS AT THE END OF THE DAY IS WHAT I REALLY LOVE! THEY ARE SO BEAUTIFUL TO ME, A KIND OF MAGICAL THING. AND OF COURSE, I CRY.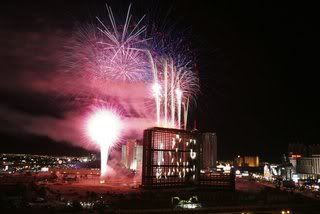 SO HERE I WAS IN LAS VEGAS, NOT TOO FAR FROM THE STRIP, WHERE THEY PUT ON A BIG SHOW WITH FIREWORKS! THE VEGAS STRIP, NOT THE UNIVERSITY MEDICAL CENTER. VEGAS PUTS ON A HUGE SHOW ALL UP AND DOWN THE STRIP. AND I SLEPT RIGHT THROUGH IT. I KNOW I HEARD MY SON JEFF SAY THAT HE HAD TAKE A PICTURE OF THE FIREWORKS FOR ME WITH HIS CELL PHONE. I JUST HAVEN'T SEEN IT YET.
RON AND LISA STAYED THE FIRST NIGHT AT THE HOSPITAL, BUT AROUND 8 THEY WERE ASKED TO LEAVE. I GUESS RON DIDN'T WANT TO BE TOO FAR AWAY IN CASE I NEEDED HIM, SO HE AND LISA SLEPT IN THE VAN IN THE PARKING LOT AT THE HOSPITAL. NO PILLOWS OR ANYTHING AND THE TEMPERATURE PROBABLY ONLY DROPPED TO 100 DEGREES. THE WEEK I WAS IN THE HOSPITAL WAS THE HOTTEST TEMPS OF THE YEAR!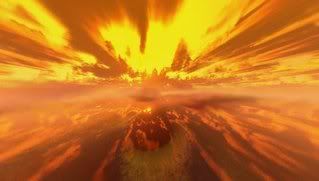 NOW I HAVE HAD MY SURGERY, AFTER WAITING FROM WEDNESDAY AFTERNOON UNTIL FRIDAY MORNING. I AND WHOEVER WAS THERE SPENT THAT TIME IN THE ER AT UMC. WHAT'S WEIRD TO ME IS I CAN'T REMEMBER ANYTHING ABOUT THE AIRPLANE, OR THE AMBULANCE TO THE UMC, OR THE NURSES OR ANYTHING, UNTIL SATURDAY NIGHT. I REMEMBER THAT I STILL HAD THE TUBE IN MY THROAT. AND A NURSE OR DOCTOR ASKING ME IF I WOULD LIKE TO HAVE IT OUT. EVIDENTLY I SAID YES; BUT HARDLY REMEMBER THAT.
OH, BEFORE THAT I REMEMBER LOOKING DOWN AT MY RIGHT HAND THAT WAS IN A RESTRAINT. AND SOMEONE ASKED IF I WOULD LIKE TO HAVE THOSE OFF.
WELL, UMMM LET ME THINK!
FOR CRYING OUT LOUD, OF COURSE I WANT THE RESTRAINTS OFF AND GET THIS STUPID TUBE OUT SO I CAN SAY SOMETHING!
I WONDER IF THE NURSES AND DOCTORS KNEW THAT I COULDN'T SEE THEM, OR ANYONE, FOR THAT MATTER. I DO REMEMBER JEFF, ZAC AND RON. HOW COULD I FORGET THOSE THREE PURPLE PEOPLE?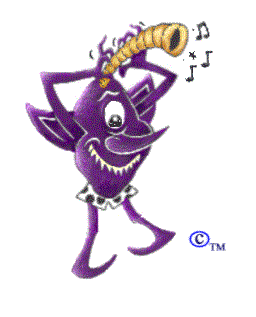 OK! NOW I CAN'T GET THAT SONG "PURPLE PEOPLE EATER" OUT OF MY HEAD! YOU KNOW, THE ONE EYED ONE HORNED FLYING PURPLE EATER?
ANYWAY I'M SURE THAT IT WAS BECAUSE OF THE INDUSTRIAL STRENGTH MEDICINE I WAS GETTING. I WAS READING ABOUT "INTUBEATION" AT WEBMD, AND IT SAID THAT THE DRUG THEY USE TO PUT ME IN TO THE COMA, ALSO ALLOWED ME TO HAVE NO MEMORY OF ANYTHING WHILE I WAS TAKING IT. WHICH IS A REALLY GOOD THING.
OK, ENOUGH ABOUT THAT! AS YOU MUST HAVE FIGURED OUT THE SURGERY WAS A SUCCESS AND THE PATIENT DID VERY WELL! ZAC SAID, MY THROAT LOOKED LIKE I HAD SWALLOWED 2 SOFTBALLS.
OH, I WAS JUST LOOKING AT THE LAST BLOG AND I DON'T THINK I'VE MENTIONED WHAT WAS WRONG AND WHY I HAD TO GO TO THE TRAUMA CENTER IN LAS VEGAS! I THINK I TOLD YOU THAT THERE WAS SWELLING IN MY THROAT, AND MY ESOPHAGUS WAS BENT. THE REASON FOR ALL THIS IS THAT I AM ALLERGIC TO THE ADHESIVE THAT DR. K USED IN MY SURGERY. I THINK THE ADHESIVE WAS PUT AROUND THE TITANIUM PIECE HE PUT IN. BECAUSE I WAS TOLD DR. K HAD TO DO A LOT OF SCRAPING TO GET ALL OF THE ADHESIVE OFF. MY INCISION IS A LITTLE BIGGER THAN I EXPECTED.
I STILL HAVE TO KEEP A BANDAGE ON OR THIS LOVELY NECK BRACE / COLLAR WOULD REALLY IRRITATE IT. I HAVE TO WEAR THE C-COLLAR 24/7 UN TILL I GO BACK TO SEE DR. K IN SEPTEMBER.
NOW THAT I AM OUT OF SURGERY AND PARTIALLY AWAKE, I WILL STOP HERE AND WRITE MORE LATER. UNTIL THEN ~
GOD BLESS ~
Sep 6, 2008
Thursday, July 31, 2008
MEANWHILE, BACK IN THE ER
Current mood:
lonely
Category: Life
BACK AT THE ER IN ST. GEORGE.....LIKE I MENTIONED IN MY LAST POST, IT TOOK A WHILE BEFORE THE DOCTOR CAME BACK. HE SAID HE HAD BEEN TALKING WITH MY SURGEON IN VEGAS AND MY FAMILY DOCTOR IN ST. GEORGE. MY SURGEON GAVE HIM INSTRUCTIONS ON WHAT HE WANTED HIM TO DO FOR ME.
AS THE DOCTOR TALKED TO LISA AND I, IT WAS KIND OF LIKE A DREAM AND I THOUGHT TO MY SELF, HE'S JUST KIDDING! AND I EVEN ASKED LISA IF HE WAS KIDDING. OF COURSE SHE SAID NO, DOCTORS DON'T KID ABOUT THINGS LIKE THIS. SO HE WAS VERY SERIOUS AS HE EXPLAINED THAT MY SURGEON IN VEGAS WANTED HIM TO PUT ME ON A RESPIRATOR OR 'INTUBATE' ME. THE SCAN SHOWED THAT MY THROAT WAS BLOCKED BECAUSE MY ESOPHAGUS WAS CROOKED AND WAS BLOCKING MY AIRWAY.
INSTANTLY THE TEARS BEGAN TO FALL FROM MY EYES. NOT ONLY WAS I A LITTLE FRIGHTENED, BUT THEN THE DOCTOR PROCEDED TO TELL ME THAT HE WAS GOING TO LIFE FLIGHT ME ON A PLANE, NOT A HELICOPTER. HE TOLD ME THAT IF I WAS HIS MOM, THIS IS THE WAY HE WOULD SEND HER. MY SURGEON WAS GOING TO HAVE TO GO BACK IN AND FIX MY PROBLEM, SO I HAD TO GO DOWN TO LAS VEGAS TO THE UNIVERSITY MEDICAL CENTER. IT IS THE BEST TRAUMA CENTER IN THIS AREA.
THIS WAS ALL REALLY NICE AND GOOD, BUT I'M SORRY, I DON'T WANT TO GO! PLEASE!
THE DOCTOR EXPLAINED TO ME ABOUT BEING INTUBATED, AND THAT I WOULD BE SOUND ASLEEP, AND WOULDN'T EVEN KNOW THE TUBE WAS THERE. HE PROMISED ME!
LISA CALLED MY SON, HER HUSBAND, JEFF AND TOLD HIM WHAT WAS GOING ON, THEN SHE CALLED MY HUSBAND RON TO LET HIM KNOW HE NEEDED TO GET THERE ASAP. AND IT SEEMED LIKE IT WAS NO TIME BEFORE THEY GOT THERE. WE DIDN'T HAVE TOO MUCH TIME FOR TALKING. THE ANESTHESIOLOGIEST IS THE ONE WHO HAS TO DO THE INTUBATION, AND HE ONLY HAD A FEW MINUTES BETWEEN PROCEDURES. SO I HAD TO GO, NOW! OMG! AS I WAS BEING WHEELED TO THE ROOM WHERE THIS WAS GOING TO BE DONE, MY HUSBAND RON AND SON JEFF, AND LISA ONLY HAD A MOMENT TO KISS ME AND TELL ME GOOD BYE. JEFF HAD BROUGHT HIS FRIEND, GABE WITH HIM TO THE HOSPITAL, AND I PUT MY HAND OUT TO HIM. BLESS HIS HEART, HE GRABBED MY HAND AND SQUEEZED IT AND TRIED TO SAY SOMETHING TO ME. I THINK HE WAS AS UPSET AS MY FAMILY WAS.
MY FAMILY WAS TAKEN TO THE FAMILY ROOM WHERE SOMEONE EXPLAINED WHAT WAS HAPPENING AND WHY IT WAS ALL HAPPENING SO FAST. I WAS GLAD THAT THINGS WERE MOVING FAST, FOR ME. BUT I WAS WORRIED ABOUT MY HUSBAND AND MY FAMILY AND I KNEW THAT THIS WAS GOING TO BE HARD ON THEM!
THE ANESTHESIOLOGIST WAS REALLY NICE AND EVEN THOUGH HE WAS IN BETWEEN PROCEDURES HE WAS VERY GENTLE WITH ME AND BEFORE I KNEW IT, HE TOLD ME GOOD NIGHT AND I WAS OUT! OFF TO DREAMLAND AND SOON TO BE ON THE JET TO LAS VEGAS. ONE TRIP THAT I WAS SO GLAD I SLEPT RIGHT THROUGH, AND REMEMBER NOTHING ABOUT!
I WILL CLOSE FOR NOW, BUT WILL WRITE MORE LATER. UNTIL THEN~
GOD BLESS
(THE PHOTO IS OF THE ROSE SAMMI, MY GRAND DAUGHTER BROUGHT TO ME AT THE HOSPITAL IN CEDAR CITY)
Sep 6, 2008
Wednesday, July 30, 2008
SOMETHING JUST DOESN'T FEEL RIGHT
Current mood:
uncomfortable
Category: Life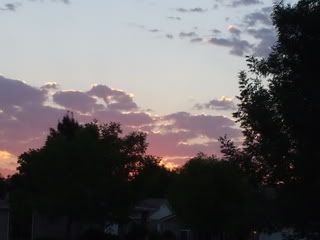 It was nice to be home. Sunday was quiet and I was tired from the ride home so I fell asleep not long after we got home.
Monday Jen brought Little Alex and Camie over to see Granny. And they brought Pizza and Cheesey Bread! Later when it was time to start taking my medicine, I noticed it was hard to swallow and choked on one of my larger pills. But I was OK. My throat just hurt and I was having a hard time swallowing.
When I had my surgery they had to move my esophagus over during the surgery, so a sore throat was normal and swallowing was not easy, which was to be expected, also.
I tried smashing up my medicine and mixing it in my pudding to get it down. It was so nasty and it took forever! Tuesday was not a good day, my throat was really hurting and taking pills smashed up and in pudding was sick! I had entertained the thought of calling my doctor and asking him if this was normal to hurt and not be able to even drink water! But I thought, don't be a baby. It's fine!
But it wasn't fine, and I had a horrible nite and couldn't sleep because I was thinking about going to the hospital and wondering what they would do to help me. By the time Lisa came over, Wednesday morning, I was ready to go to the hospital! I wanted to go, but was a little afraid, OK! I was scared to go. But I knew that this was not normal!
To be able to see what was going on with my throat, they did a scan on my throat, with the dye they injected into my IV line. Only took about 6 minutes but it was very uncomfortable!
Finally Lisa got back from running to my house to get my cell phonem and not too long after she got there the doctor came in. Yeah! He would give me some medicine or something and send me home! But it didn't exactly go that way!
I just took some pain pills and I'm not feeling to well, so I will stop here with my story and try and add some more tomorrow. The photo was taken at sunrise on the 19th.
To those who take the time to read this,
GOD BLESS ~
Sep 6, 2008
IT'S BEEN A WILD FEW MONTHS!
Current mood:
sleepy
Category: Life
LIFE'S LITTLE UPS AND DOWNS! HANG ON TIGHT AND GO WITH IT!
IT HAS BEEN A ROLLER COASTER RIDE FOR THE PAST FEW MONTHS, BUT I'M HOME AND ON THE ROAD TO RECOVERY!
SOME OF YOU KNOW THAT I HAVE SOME HEALTH PROBLEMS, MORE THAN I WANT TO GET INTO FOR NOW. BUT I WILL SHARE WHAT I'VE BEEN DOING WHILE I WAS AWAY.
I HAVE SEVERAL THINGS WRONG WITH MY SPINE. FOR THE PAST 5 YEARS I'VE BEEN DEALING WITH A NECK INJURY AND FINALLY DECIDED TO HAVE SURGERY!
NOW I AM NOT REAL FOND OF SURGERY, SO I HAVE DONE A LOT OF PRAYING. NOT ONLY FOR EVERYTHING TO GO WELL AND I'LL BE OK! I'VE THANKED GOD FOR BEING WITH MY DOCTORS AND NURSES THAT WERE WITH ME IN THE OPERATING ROOM. I THANKED GOD FOR GIVING ME STRENGTH, COMFORT AND PEACE. THESE PRAYERS WERE ALL PRAYED WEEKS BEFORE MY ACTUAL SURGERY.
MY WONDERFUL FRIEND FOR OVER 30 YEARS, TRUDY AND I TALKED ON THE PHONE AND SHE PRAYED THE SWEETEST PRAYER FOR ME! AS THE DAYS PASSED AND TIME GOT CLOSER FOR MY SURGERY I WAS NOT AFRAID. I HAD REALLY LET GO, AND LET GOD WORK, ON ME AND ON EVERYONE WHO WOULD BE DOING THEIR JOBS GETTING ME FIXED UP!
UP UNTIL MY SURGERY THE PAST FEW MONTHS, I HAVE NOT BEEN HERE OR TO ANY OF MY OTHER PAGES. I HAVE KEPT MYSELF BUSY WITH MY PHOTOGRAPHY, MY KIDS AND GRAND KIDS AND MY HUSBAND.
I HONESTLY COULDN'T CONCENTRATE LONG ENOUGH TO GET ANYTHING WRITTEN, SO I KEPT BUSY PLAYING GAMES ON LINE.
THE SURGERY THAT MY DOCTOR WAS GOING TO DO WAS TO FIX 2 DISCS IN MY NECK. HE SAID HE WAS GOING TO FIX ME UP WITH TITANIUM! SO I'M THINKING MY NECK IS GOING TO BE SO TOUGH, SUPERMAN COULDN'T BREAK IT!
FINALLY, THE DAY OF MY SURGERY WAS NEAR! RON, MY HUSBAND GOT US A ROOM IN CEDAR CITY FOR THE NIGHT BEFORE MY SURGERY. A NICE ROOM WITH A JACUZZI TUB, BUILD FOR TWO! WHOOO HOOO! THE MORNING OF MY SURGERY RON GOT MY TUB GOING AND THERE WAS A LITTLE BOTTLE OF SHAMPOO FOR BUBBLES! IT FELT SO GOOD, AND RELAXED ME SO MUCH! I DIDN'T WANT TO GET OUT, BUT RON HAD TO GO GET THE GUYS LINED OUT FOR THE JOB THEY WERE DOING THAT DAY; SO HE WASN'T SURE WHEN HE WOULD BE BACK. BECAUSE I KNOW I COULDN'T GET OUT OF THE TUB, BY MYSELF, I HAD TO LEAVE THE WONDERFUL RELAXING TUB! AND HEADED STRAIGHT TO THE SHOWER! THEN BEFORE I KNEW IT THE HOSPITAL WAS CALLING ME TO COME ON OVER. DR. KABINS WAS ALMOST FINISHED WITH THE PATIENT AHEAD OF ME SO WE COULD GET ME STARTED AND HAVE ME ALL READY WHEN IT WAS TIME! AGAIN, I WAS SO EXCITED!
MY SURGERY WENT VERY WELL, AND WAS IN MY ROOM BY AROUND 6:00 PM. I DID PRETTY WELL, EXCEPT FOR THE SWALLOWING, THAT WAS SCARY. BUT THE SURGERY WAS OVER AND I WAS DOING GREAT! SO THEY ONLY KEEP ME UNTIL SUNDAY AND THEN LET ME GO HOME!
AND WHAT A FASHION STATEMENT I AM! AND WILL BE FOR THE NEXT 2 MONTHS, NOW!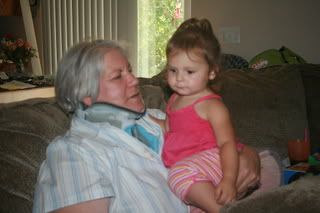 THIS IS OUR MADDY WITH ME. THIS BIG OLE C-COLLAR IS A LITTLE INTIMIDATING TO THE KIDS. BUT I TOLD THEM THAT DR. KABINS DID SOME SURGERY ON MY SPINE AND NOW , FOR A WHILE I AM GOING TO BE PART ROBOT! LITTLE ALEX THINKS THAT'S THE COOLEST THING!
THERE IS MORE TO COME, THIS LITTLE STORY ISN'T OVER YET!
GOD BLESS ~
Jun 13, 2007
Being a member of Myspace, we all get bulletins with the latest news of what's happening in our worlds.

They educate, enlighten, make us think, laugh and cry.

The other day I got a bulletin that touched my heart like no other.

It has moved me to write this blog and I hope it will move you into a state of hope and helpfulness.

The subject was – Please pray for Kaleb.
I thought of oh no here we go again – someone was in an accident and needs to be prayed for.

Since I do believe in positive thinking, I opened the bulletin and this is what I read:
Kristy Reynolds and her husband are parents to a beautiful little baby boy named Kaleb. He is 6 months and 3 days old. A couple weeks ago Kristy picked Kaleb up from home care and noticed something was wrong. She immediately took him to the hospital where he was diagnosed with Shaken Baby Syndrome. He now has meningitis in response to the surgeries on his brain, his body can't regulate his temperature, his heart rate drops every time he is moved, and he has seizures. He is also blind. His sitter shook him so hard that he is in a coma, had to have spinal fluid drained from his brain, and doctors think that if he lives he will be a vegetable for the rest of his life. Brain scans show that his brain tissue is dying and his brain is shrinking. Kristy and her husband refuse this diagnosis and pray for their little boy. I'm asking you to join them in this prayer for Kaleb.

I then went to their Myspace site – www.myspace.com/kristyreynolds and was never so touched!

There was this 21 year old mother in her first year of marriage, going through hell!!

I think this has touched me so deeply because I as a disabled mother, I know both sides of this story all too well.

I know what living with a disability is like.

Kaleb is now blind because some "woman" could not control herself!

I know what it's like to carry a child for nine months hoping the child will be healthy.

I now hope my child will stay healthy the rest of his life.

I can not begin to imagine what I would feel if one day my child looked like this: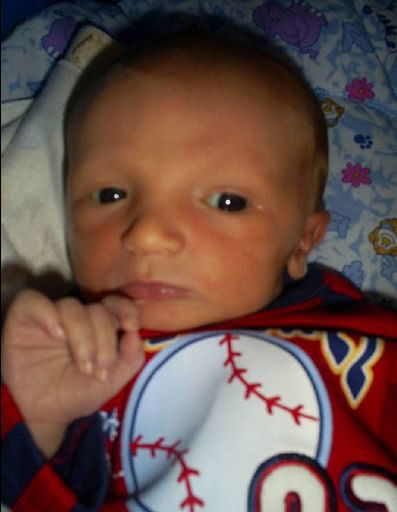 And then a few hours later like this: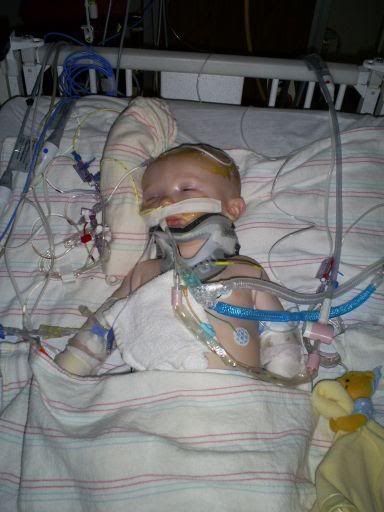 If this has moved you to a state of hope and helpfulness as it has me, there are some things you can do:
If you believe in the power of prayer – pray!

If you believe in the power of positive thinking – keep this family in your thoughts!

If you have Kristy as a friend put her site in your top ten to make others aware.

If you know how – place the below banner on your page to spread the word.

If you've ever had lawyer's fees, medical expenses, and other related expenses, you know they need financial support.

If you can afford to give something Please donating to the Help Kaleb Fund.
Make checks payable to Kristy Schwade,
PO Box 291494,
TAMPA, FL 33687-1494
You can also donate by credit card via PayPal to helpkaleb@hotmail.com (Go to http://www.paypal.com, send money, type helpkaleb@hotmail.com in the section "to".
..:namespace prefix = o ns = "urn:schemas-microsoft-com:office:office" />

This story is as real as a story can be! Here are some links that verify their story:
http://www.snopes.com/inboxer/medical/kalebschwade.asp
http://www.baynews9.com/content/36/2007/5/15/249688.html
http://www.tboblogs.com/index.php/newswire/story/day-care-worker-arrested
http://forums.swedespeed.com/zerothread?cmd=print&id=79921
http://www.myspace.com/helpkaleb

If you have ever wondered what you could do to make a difference in someone's life – think about this story. How you help is up to you – every little bit helps!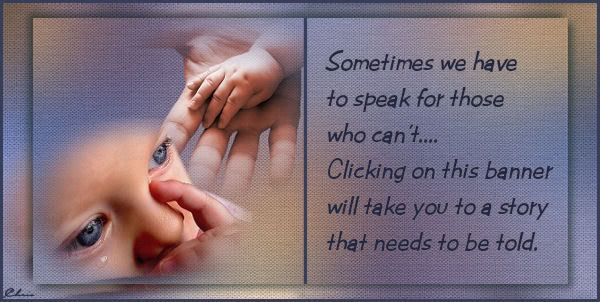 If you would like to display this banner - send me a message for the code.
For those of you who have set your mail to "can only receive mail if friend" ADD ME! Just click on the girl's hat - I will add ya and set ya up with kaleb's code.

Today is June 9th - the second day of this blog and the one month anniversary of Kaleb's shaking.
Here's what Kristy says on the subject:
Today is June 9th and it has now been one whole month since my precious Kaleb was able to smile, laugh, cry, eat, see, and jump in his jumperoo (that was his favorite) One whole month since my entire world was turned upside down and inside out. What I wouldn't give to have those BORING saturdays back... It is amazing how much you take for granted when every thing is just simply "normal", like we want things to be chaotic... Our world has taught us all that simplicity is NOT acceptable...at least that is what it taught me before this all happened. Simple...how simple things were before this. Weak...how weak I was before all of this. My Kaleb has taught me the definition of strength. He has made me stronger then I ever thought that I could be.

Kaleb is doing good today. He is moving and opening his eyes a little bit. He is on his second day of the new antibiotic, we won't find out if this is effective until the end of the treatment. Hopefully it will be. I am at the hospital right now sitting in Kaleb's Room listening to Pink Floyd's, Wish you were here. I am looking around at the walls at all of the letters and cards that we have received. I am bound and determined to hang everyone of them up. I want all the nurses and Doctors to know how much Kaleb is LOVED!!!

June 11 - WE HAVE MOVEMENT FOLKS!!!
A video bulletin was just possted by Kristy showing Kaleb rasing his arm!
I think he wants one of the "kaleb Bracelets" that are being sold here:
http://www.myspace.com/kalebbracelets

More News - Kaleb was featured on fox:
http://www.myfoxtampabay.com/myfox/pages/Home/Detail?contentId=3461335&version=1&locale=EN-US&layoutCode=VSTY&pageId=1.1.1
I want his autograph as soon as he learns to write!!!

GOD Bless ~

Apr 24, 2007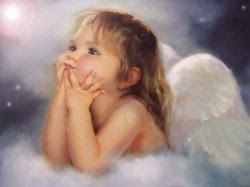 Eighty-Six years ago, today a beautiful baby girl was born to Charles A. & Rosalie (Wilson) Steen in Caddo, Texas. Her name is Maxine. She had one brother, Charles, and two half sister's Hillis & Louise.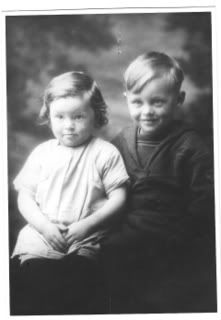 This is Maxine & brother Charles. Probably taken back in 1923 or 1924.
MAXINE & NORMAN 1941
Maxine grew up in Texas and graduated High School in Houston. Where she met and married Norman Boyd. Maxine worked as a Dental Assistant for a lady dentist, Dr. Mary. Norman worked as a Boiler Maker in the Shell oil refinery out in Pasadena, Texas.
Maxine & Norman made their home on Peas Street in Houston. After ten years of marriage they finally got a baby girl.
They named her Patricia, but called her Patti. Maxine, Norman and Patti lived in Houston for 5 years. Norman & Maxine were both very active in The First Southern Baptist Church, Lawndale Baptist Church. They were very strong Christian people and raised their little girl with love and taught her good moral Christan values. Maxine & Norman were both Sunday School teachers, and Norman was a Decon and also Song Director. Most all activities were centered around church and family.
This photo of Norman, Maxine & Patti was taken at Chruch on Valentines Day, 1954.
Maxine & Norman decided to move to Moab, Utah. Where they lived for about 25 years. Norman opened a Barber Shop and a Beauty Salon in Moab. Maxine was active in and became Worthy Grand Matron of the Oder of the Eastern Star of Utah.
Maxine & Norman helped start a Baptist Church in Moab. For the first little while they lived in Moab, they had met some friends who had moved to Moab and were also Baptists. So the few of them got together at the home of one family every Sunday to have church. They were given land from Maxine's brother, Charles Steen to build their church, and money from Maxine's mom, Rosalie to help build the church.
Maxine was involved in school and was also on the Board of Director's for the Welfare of the State of Utah, in Moab. Maxine was and still to this day, her 86th Birthday, a loving and giving person. She has always given and helped and ministered to people who needed anything. She spent many hours making and taking meals to those who were sick or just needed a good meal. Their home was always open to everyone on Thanksgiving and Christmas. And anyother day.
Maxine & Norman not only opend their hearts and their home on Holidays and special occations, they opened their home to many who had no place to live. Some stayed for a few days, some for a few years. And all were treated like family.
Norman and Maxine were married for over 61 years. They celebrated their 25th Anniversary with a huge party for anyone and everyone in Moab. It was a wonderful party with hundreds of people there to clebrate. Maxine was know for throwing wonderful, fun parties with not one drop of alcohol served!
What a wonderful person, daughter, sister, wife, mother, grandmother, great grandmother and friend MAXIE BOYD has been for the past 86 years!
So, Today, MOM, I celebrate YOU! You have been the best Mother any girl could have ever asked for. Thank you for being there for me. For teaching me wrong from right, and raising me with your strong moral and Christan values. Thank you for being my Mom, and not my friend while I was growing up! Thank you for, as you say, all those spankings that I got growing up! They worked! And I am none the worse for wear, but a better person. I have tried to live my life to make you proud to call me your daughter. And I am VERY PROUD to call you Mother!
And today you are not only my mother, you are my friend! Thank you for all your love, laughter, prayers! And letting me be the first Angel in your collection of over 3,000 Angels you have collected and been given over the years!

May GOD continue to bless you not only today, but always!

Your #1 Daughter ~ Patti
comments
(2) |
discussion
() |
permalink
|
send green star
|
flag as inappropriate
Apr 12, 2007
IT'S BEEN A GOOD WEEK
We've had some beautiful sunrises the past few days. This photo was taken yesterday morning around six am. The forecast said rain today, but only a few sprinkles so far, but the temperature has dropped down into the 60's.
Today was Groomer day for 'The Kids", Abby and Cjuo.
Cujo looking so handsome and feeling like a new guy, always loves to go to the Groomer's.
Abby Rose, not feeling to well today, and not happy about getting her pix taken. But looking so pretty!
The other night my grand daughter Sammi was in a big concert out at Tuacan Ampitheater. And got her pix in the news paper, front page!
There she is! Right on the front page! How proud I am to have my grand daughter right on the front page of our local newspaper! Oh, having a hard time picking her out? Well, I must confess that even with my reading glasses I don't know how long it would have taken me to find her! So, I cheated and asked her Aunt "WHERE'S SAMMI"? Kind like that book "Where's Waldo"? Remember that stressfull book? Kept my boys busy at the doctor's office though and they always found Waldo! But I needed help! So I will help you out, too.........
There's Sammi ! Her face is a little covered by the hand of the girl to the right of her but that's Sammi! Singing her heat out in the 2007 Holiday of Harmony at Tuacan. Sammi loves to sing and she likes to perform. As you can see these kids were all having a great time!
My grandson, Joey Marakis just got a letter from the people at "Who's Who
It is a book published of the Outstanding Students in America! They wanted to let him and his parents, my daughter Jennifer and her husband Frank know that Joey will be one of the students featured in the "2007 Who's Who Outstanding Student's in America" book! So "CONGRADULATIONS, JOEY!" Grandpa and I are so proud of you! Joey is doing great in school and is involved in sports. HIs first baseball game is this afternoon! YOU GO JOE!
Well, I have had a real up and down week! I've shed tears of sadness and tears of joy! There is always some sadness along with all the good things in life. But I choose to only write about the good things for now!
And what a wonderfull surprise, Sunday, as I was lieing in bed, resting and not feeling well at all, when in hops the cutest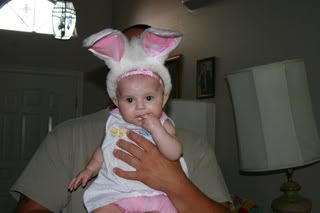 baby EASTER BUNNY I have ever seen! Madison came to brighten Granny's day and make her feel better! And it worked! Madison's mommy and Daddy came, too of course, so they had dinner with us. Dad cooked steaks! Then we went outside and had a great afternoon! Blowing bubbles and flying a tiny POOH kite!
And just being silly! It's so true, Love & Laughter are the best medicine! I sure worked for me Easter Sunday with my little Bunny Madison.

I hope that you all had a great Easter Holiday and Spring Break!

GOD Bless ~
comments
(2) |
discussion
() |
permalink
|
send green star
|
flag as inappropriate
Apr 2, 2007
Monday, April 02, 2007

RON & I WANT TO THANK YOU ALL FOR YOUR CARE AND CONCERN FOR HIM AT THE LOSS OF HIS DEAR PRECIOUS MOM!

IT WAS A QUICK AND STRESSFUL TRIP RUSHING TO VEGAS AND JUST MAKING IT TO THE PLANE BEFORE IT TOOK OFF! BUT ONCE WE GOT ABOARD, IT WASN'T SO BAD. HAD TO SIT IN DIFFERENT ROWS ON THE PLANE. BUT I MET A REALLY NICE LADY WHO SAT NEXT TO ME, SO IT MADE THE TRIP SEEM SHORTER. IT WAS A LONG DAY OF FLYING, BUT IT WAS A GOOD TRIP.

IT WAS GOOD TO SEE ALL OUR FAMILY! THIS IS DESTONY AND BETTY, AND MICHAEL.

RON~BETTY~CATHY~LOUISE (RON'S SISTER




SOME WE HADN'T SEEN IN WAY TOO MANY YEARS!

RONNIE CAME AND BROUGHT OUR BEAUTIFUL GRAND DAUGHTERS AND OUR HANDSOME GRANDSONS! IT WAS AN ANSWER TO LOTS OF PRAYERS TO HAVE THEM COME AND GET A CHANCE TO VISIT! ALEX WAS GLAD TO GET TO SEE HIS BROTHER AND HIS NIECES & NEPHEWS, TOO! IT WAS A GREAT REUNION! I'VE GOT SOME PRETTY HANDSOME MEN IN MY LIFE, DON'T I?

WE HADN'T SEEN STEVEN, WOW IN I DON'T REMEMBER HOW MANY YEARS! SO IT WAS NICE TO SEE HIM AND GET TO VISIT. HE BECAME MY NEW BUDDY, REAL QUICK! HE'S SO SWEET!

ED & BETTY'S SON, MICHAEL AND HIS WIFE, JENNY.

ED & BETTY'S DAUGHTER, DESTONY AND I

BARRY & DEBBIE, ED & BETTY'S DAUGHTER

ALEX & ROGER, ED & BETTY'S SON

ALEX & CODY, ED & BETTY'S SON.

EVERYONE IS SWEET! AND EVEN THOUGH OUR HEARTS WERE HEAVY AT THE LOSS OF THEIR MOM, THEIR GRANDMA, AND FRIEND, I KNOW THAT SHE WOULD BE HAPPY TO KNOW THAT SO MANY CAME TO PAY THEIR RESPECTS AND THAT THE FAMILY HAD A NICE TIME BEING TOGETHER. IT WAS HARD BECAUSE SHE WASN'T WITH US, BUT KNOWING THAT SHE IS WITH THE LORD MADE IT A LITTLE EASIER TO LET HER GO.

IT WAS NICE TO HAVE ALEX COME WITH US. BETTY GAVE HIM THE HONOR OF BEING ONE OF THE PALL BEARERS FOR HIS GRANDMA.

AFTER THE SERVICES ON SUNDAY WE ALL GOT TOGETHER AT ED & BETTY'S.

SO MANY SWEET FRIENDS BROUGHT MORE THAN ENOUGH GREAT FOOD AND IT WAS GREATLY APPRECIATED! GOOD FOOD, AND BEING WITH FAMILYWAS SO NICE. THIS IS RON, RON JR AND KEVIN OUR NEPHEW, ED & BETTY'S SON. KEVIN IS SO SWEET AND HE LOVES TO HUG!

THE DAY WE LEFT RON AND HIS SISTERS,

LOUISE, CATHY, BETTY & ED, RON, ALEX AND I WENT TO CRACKER BARREL AND HAD A GREAT BREAKFAST AND A WONDERFUL VISIT ONE LAST TIME. BETTY IS SO SWEET, AND HAD BEEN SO SICK THROUGH ALL OF THIS, BUT SHE WAS WONDERFUL, AS ALWAYS! I KNOW THAT GOD GOT HER THROUGH ALL THIS BECAUSE SHE IS SUCH AN ANGEL. AND I LOVE HER SO MUCH! JUST WISH THERE WEREN'T SO MANY MILES BETWEEN US!

WEST VIRGINIA IS SO BEAUTIFUL WITH ALL THE TREES AND GREEN GRASS EVERYWHERE! SO DIFFERENT FROM WHERE WE LIVE! WE GOT TO STAY IN CHARLESTON THE NIGHT BEFORE WE HAD TO MAKE OUR TRIP BACK HOME.

WE GOT TO GO TO THE STATE CAPITOL.THAT'S RON AND ALEX STANDING BY THE REPLICA OF THE LIBERTY BELL IN THE COURTYARD. WE DID DO A LOT OF WALKING AND STILL DIDN'T SEE IT ALL. THE BUILDING WE DID GET TO WALK THROUGH IS BEAUTIFUL! MARBLE EVERYWHERE! HOPE YOU GOT TO SEE THE ALBUM OF PHOTOS WE TOOK WHILE WE WERE THERE! IF NOT, LET ME KNOW.

WE SPENT THE LAST NIGHT IN A MOTEL RIGHT NEXT TO THE KANAWHA RIVER. THE MOTEL, DAYS INN, I DON'T RECOMMEND! NONE OF US SLEPT WELL THAT NIGHT! BUT ALEX AND I ENJOYED THE VIEW AND THE BOATS ON THE RIVER. THIS IS A BOAT PUSHING 3 LARGE BARGES OF COAL DOWN THE RIVER. NOW THIS IS A REAL RIVER!

OUR TRIP WAS SHORT, BUT SEEING FAMILY AND BEING TOGETHER WAS WORTH THE 2 VERY LONG DAYS OF FLYING! WE DID HAVE A LITTLE PROBLEM IN PITTSBURG. THE PLANE WE WERE SUPPOSED TO BOARD NEEDED A HYDROLIC PUMP AND THEY SAID THAT IT WOULDN'T BE FIXED UNTIL MAYBE THE NEXT DAY. SO WE WERE TOLD TO GOT TO ANOTHER GATE TO MAKE OTHER ARRANGEMENTS. IT SEEMED LIKE A LONG TIME TO WAIT, BUT WE DID LUCK OUT AND THE PLANE WAS REPAIRED AND OFF WE WENT, HEADED TO LAS VEGAS AND ALMOST HOME!

WHEN WE LANDED IN LAS VEGAS AND WENT OUTSIDE, IT WAS SO COLD AND WINDY! WHAT A DIFFERENCE FROM THE BEAUTIFUL WEATHER IN WEST VIRGINIA!

IT WAS SO HARD TO LEAVE OUR FAMILY, BUT IT'S NICE TO BE HOME. I'VE BEEN WORKING ON PUTTING MY MANY PHOTOS INTO ALBUMS SO I HAVEN'T BEEN TO ANY OF MY PAGES MUCH! BUT THEY ARE ALL FINISHED, SO I CAN RELAX AND TRY TO GET CAUGHT UP ON OTHER THINGS!

ONCE AGAIN, THANKS TO ALL WHO SENT THEIR LOVE AND WARM THOUGHTS TO RON AND I. THE MESSAGES, COMMENTS AND CARDS ARE SO SWEET AND WE APPRECIATE EACH ONE!

LET YOUR FAMILY KNOW HOW MUCH THEY MEAN TO YOU! HUG YOUR FAMILY, NEVER LET THEM LEAVE WITHOUT A HUG! AND HUG THEM FOR ME, TOO!

HAVE A GREAT DAY ~ GOD BLESS
comments
(1) |
discussion
() |
permalink
|
send green star
|
flag as inappropriate
Mar 28, 2007
RON, OUR SON ALEX AND I ARE HOME FROM OUR TRIP BACK TO WEST VIRGINIA. AS SOME OF YOU KNOW WE HAD TO MAKE A QUICK TRIP WHEN WE GOT THE NEWS THAT RON'S DEAR MOTHER HAD GONE TO BE WITH THE LORD!
I DID WRITE A SHARE ABOUT IT THE DAY BEFORE WE LEFT.
WE TOOK OFF ON FRIDAY MARCH 23RD AND JUST GOT BACK HOME LAST EVENING, TUESDAY THE 27TH!
SO IT WAS A SHORT, BUT GOOD TRIP, WE DIDN'T GET TO STAY AS LONG AS WE WOULD HAVE LIKED TO.
THE SERVICE FOR RON'S DEAR MOMMA WAS VERY NICE. LOTS OF FRIENDS AND RELATIVES WERE THERE TO PAY THEIR RESPECTS. SOME FAMILY I HAD NEVER MET BEFORE, AND SOME WE HADN'T SEEN IN YEARS! TOO MANY YEARS!
EVEN THOUGH OUR HEARTS WERE HEAVY BECAUSE WE KNEW THAT MAXINE WOULD NOT BE THERE THIS TIME, IT WAS A GOOD TRIP AND WE KNOW THAT SHE HAS GONE HOME TO BE WITH HER LORD.
TWO LONG DAYS OF FLYING, TO AND FROM WEST VIRGININA, ALL THE CATCHING UP WITH OUR FAMILY THERE HAS TAKEN IT'S TOLE ON ME. IT MAY TAKE ME A FEW DAYS TO GET RESTED.
BUT I WANTED TO THANK YOU MY DEAR FREINDS FOR YOUR CARE AND YOU PRAYERS FOR US. AND THANK YOU SO MUCH FOR YOUR WONDERFUL COMMENTS.
I HAVE HUNDREDS OF PHOTOS TO GO THRU AND WILL TRY AND GET A COUPLE OF ALBUMS ON HERE ASAP. GOT SOME PRETTY GOOD SNAPSHOTS WHILE WE WERE IN THE AIR FROM CHARLESTON, W.V. UP TO THE TIME WE LANDED IN LAS VEGAS.
THANK YOU AGAIN FOR ALL YOU PRAYERS. I WILL TRY AND GET CAUGHT UP ON HERE AS SOON AS I CAN!
JUST WANT TO LET YOU KNOW HOW MUCH I LOVE AND APPRECIATE EACH AND EVERY ONE OF YOU!

SINCERELY,
PATTI
comments
(1) |
discussion
() |
permalink
|
send green star
|
flag as inappropriate
| | |
| --- | --- |
| | Content and comments expressed here are the opinions of Care2 users and not necessarily that of Care2.com or its affiliates. |
SHARES FROM PATTI'S NETWORK