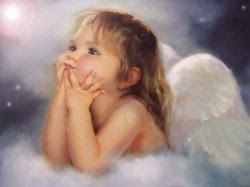 Eighty-Six years ago, today a beautiful baby girl was born to Charles A. & Rosalie (Wilson) Steen in Caddo, Texas. Her name is Maxine. She had one brother, Charles, and two half sister's Hillis & Louise.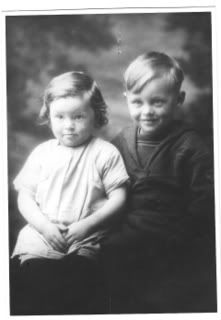 This is Maxine & brother Charles. Probably taken back in 1923 or 1924.
MAXINE & NORMAN 1941
Maxine grew up in Texas and graduated High School in Houston. Where she met and married Norman Boyd. Maxine worked as a Dental Assistant for a lady dentist, Dr. Mary. Norman worked as a Boiler Maker in the Shell oil refinery out in Pasadena, Texas.
Maxine & Norman made their home on Peas Street in Houston. After ten years of marriage they finally got a baby girl.
They named her Patricia, but called her Patti. Maxine, Norman and Patti lived in Houston for 5 years. Norman & Maxine were both very active in The First Southern Baptist Church, Lawndale Baptist Church. They were very strong Christian people and raised their little girl with love and taught her good moral Christan values. Maxine & Norman were both Sunday School teachers, and Norman was a Decon and also Song Director. Most all activities were centered around church and family.
This photo of Norman, Maxine & Patti was taken at Chruch on Valentines Day, 1954.
Maxine & Norman decided to move to Moab, Utah. Where they lived for about 25 years. Norman opened a Barber Shop and a Beauty Salon in Moab. Maxine was active in and became Worthy Grand Matron of the Oder of the Eastern Star of Utah.
Maxine & Norman helped start a Baptist Church in Moab. For the first little while they lived in Moab, they had met some friends who had moved to Moab and were also Baptists. So the few of them got together at the home of one family every Sunday to have church. They were given land from Maxine's brother, Charles Steen to build their church, and money from Maxine's mom, Rosalie to help build the church.
Maxine was involved in school and was also on the Board of Director's for the Welfare of the State of Utah, in Moab. Maxine was and still to this day, her 86th Birthday, a loving and giving person. She has always given and helped and ministered to people who needed anything. She spent many hours making and taking meals to those who were sick or just needed a good meal. Their home was always open to everyone on Thanksgiving and Christmas. And anyother day.
Maxine & Norman not only opend their hearts and their home on Holidays and special occations, they opened their home to many who had no place to live. Some stayed for a few days, some for a few years. And all were treated like family.
Norman and Maxine were married for over 61 years. They celebrated their 25th Anniversary with a huge party for anyone and everyone in Moab. It was a wonderful party with hundreds of people there to clebrate. Maxine was know for throwing wonderful, fun parties with not one drop of alcohol served!
What a wonderful person, daughter, sister, wife, mother, grandmother, great grandmother and friend MAXIE BOYD has been for the past 86 years!
So, Today, MOM, I celebrate YOU! You have been the best Mother any girl could have ever asked for. Thank you for being there for me. For teaching me wrong from right, and raising me with your strong moral and Christan values. Thank you for being my Mom, and not my friend while I was growing up! Thank you for, as you say, all those spankings that I got growing up! They worked! And I am none the worse for wear, but a better person. I have tried to live my life to make you proud to call me your daughter. And I am VERY PROUD to call you Mother!
And today you are not only my mother, you are my friend! Thank you for all your love, laughter, prayers! And letting me be the first Angel in your collection of over 3,000 Angels you have collected and been given over the years!

May GOD continue to bless you not only today, but always!

Your #1 Daughter ~ Patti