Jun 13, 2007
Being a member of Myspace, we all get bulletins with the latest news of what's happening in our worlds.

They educate, enlighten, make us think, laugh and cry.

The other day I got a bulletin that touched my heart like no other.

It has moved me to write this blog and I hope it will move you into a state of hope and helpfulness.

The subject was – Please pray for Kaleb.
I thought of oh no here we go again – someone was in an accident and needs to be prayed for.

Since I do believe in positive thinking, I opened the bulletin and this is what I read:
Kristy Reynolds and her husband are parents to a beautiful little baby boy named Kaleb. He is 6 months and 3 days old. A couple weeks ago Kristy picked Kaleb up from home care and noticed something was wrong. She immediately took him to the hospital where he was diagnosed with Shaken Baby Syndrome. He now has meningitis in response to the surgeries on his brain, his body can't regulate his temperature, his heart rate drops every time he is moved, and he has seizures. He is also blind. His sitter shook him so hard that he is in a coma, had to have spinal fluid drained from his brain, and doctors think that if he lives he will be a vegetable for the rest of his life. Brain scans show that his brain tissue is dying and his brain is shrinking. Kristy and her husband refuse this diagnosis and pray for their little boy. I'm asking you to join them in this prayer for Kaleb.

I then went to their Myspace site – www.myspace.com/kristyreynolds and was never so touched!

There was this 21 year old mother in her first year of marriage, going through hell!!

I think this has touched me so deeply because I as a disabled mother, I know both sides of this story all too well.

I know what living with a disability is like.

Kaleb is now blind because some "woman" could not control herself!

I know what it's like to carry a child for nine months hoping the child will be healthy.

I now hope my child will stay healthy the rest of his life.

I can not begin to imagine what I would feel if one day my child looked like this: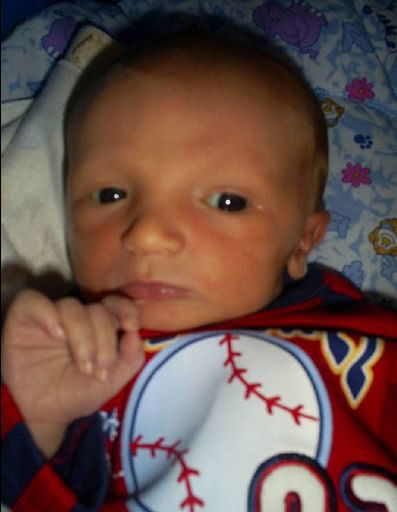 And then a few hours later like this: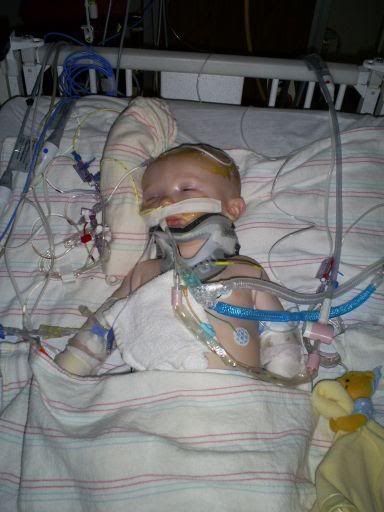 If this has moved you to a state of hope and helpfulness as it has me, there are some things you can do:
If you believe in the power of prayer – pray!

If you believe in the power of positive thinking – keep this family in your thoughts!

If you have Kristy as a friend put her site in your top ten to make others aware.

If you know how – place the below banner on your page to spread the word.

If you've ever had lawyer's fees, medical expenses, and other related expenses, you know they need financial support.

If you can afford to give something Please donating to the Help Kaleb Fund.
Make checks payable to Kristy Schwade,
PO Box 291494,
TAMPA, FL 33687-1494
You can also donate by credit card via PayPal to helpkaleb@hotmail.com (Go to http://www.paypal.com, send money, type helpkaleb@hotmail.com in the section "to".
..:namespace prefix = o ns = "urn:schemas-microsoft-com:office:office" />

This story is as real as a story can be! Here are some links that verify their story:
http://www.snopes.com/inboxer/medical/kalebschwade.asp
http://www.baynews9.com/content/36/2007/5/15/249688.html
http://www.tboblogs.com/index.php/newswire/story/day-care-worker-arrested
http://forums.swedespeed.com/zerothread?cmd=print&id=79921
http://www.myspace.com/helpkaleb

If you have ever wondered what you could do to make a difference in someone's life – think about this story. How you help is up to you – every little bit helps!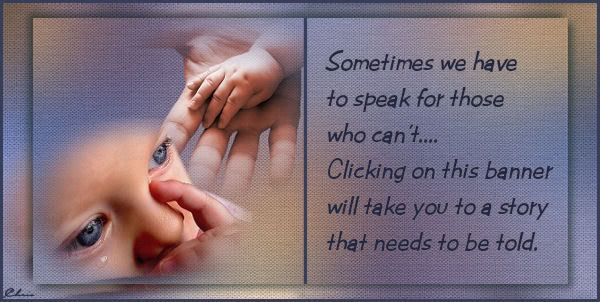 If you would like to display this banner - send me a message for the code.
For those of you who have set your mail to "can only receive mail if friend" ADD ME! Just click on the girl's hat - I will add ya and set ya up with kaleb's code.

Today is June 9th - the second day of this blog and the one month anniversary of Kaleb's shaking.
Here's what Kristy says on the subject:
Today is June 9th and it has now been one whole month since my precious Kaleb was able to smile, laugh, cry, eat, see, and jump in his jumperoo (that was his favorite) One whole month since my entire world was turned upside down and inside out. What I wouldn't give to have those BORING saturdays back... It is amazing how much you take for granted when every thing is just simply "normal", like we want things to be chaotic... Our world has taught us all that simplicity is NOT acceptable...at least that is what it taught me before this all happened. Simple...how simple things were before this. Weak...how weak I was before all of this. My Kaleb has taught me the definition of strength. He has made me stronger then I ever thought that I could be.

Kaleb is doing good today. He is moving and opening his eyes a little bit. He is on his second day of the new antibiotic, we won't find out if this is effective until the end of the treatment. Hopefully it will be. I am at the hospital right now sitting in Kaleb's Room listening to Pink Floyd's, Wish you were here. I am looking around at the walls at all of the letters and cards that we have received. I am bound and determined to hang everyone of them up. I want all the nurses and Doctors to know how much Kaleb is LOVED!!!

June 11 - WE HAVE MOVEMENT FOLKS!!!
A video bulletin was just possted by Kristy showing Kaleb rasing his arm!
I think he wants one of the "kaleb Bracelets" that are being sold here:
http://www.myspace.com/kalebbracelets

More News - Kaleb was featured on fox:
http://www.myfoxtampabay.com/myfox/pages/Home/Detail?contentId=3461335&version=1&locale=EN-US&layoutCode=VSTY&pageId=1.1.1
I want his autograph as soon as he learns to write!!!

GOD Bless ~

Aug 6, 2006
GOOD MORNING!
I KNOW, IT SEEMS AS THOUGH ALL I DO IS ASK YOU ALL TO PRAY FOR SOMEONE!
AND TODAY IS NO EXCEPTION! THERE IS A WOMAN, JEANNIE DOWN IN FLORIDA WHO IS IN ICU. AND SHE NEEDS ALL THE PRAYERS WE CAN PRAY FOR HER. SHE IS NOT DOING WELL, AND NOT EXPECTED TO EVER LEAVE THE HOSPITAL.
I DON'T KNOW ALL THE DEATAILS, BUT GOD DOES! JEANNIE IS A FRIEND OF AN OLD FRIEND OF MINE, JULIE. AND JULIE WROTE AND TOLD ME THAT JEANNIE WASN'T DOING WELL, WOULD I PRAY FOR HER? OH, YES! I WILL PRAY AND WILL ALSO PUT HER ON THE PRAYER REQUEST LIST HERE. WRITE A BLOG, AND SEND OUT E-MAILS!
PRAYER MEANS A LOT TO ME AND I KNOW THAT IT WORKS!
BECAUSE OF ALL THE PRAYERS THAT HAVE BEEN AND ARE STILL GOING UP FOR MY FRIEND KATHY, HER SURGERY WENT WELL, SHE IS RECOVERING AS EXPECTED, AND SHE IS EVEN STARTING TO GET A LITTLE GRUMPY; MY DAUGHTER IN LAW, JANUARI REPORTED TO ME YESTERDAY! SO THAT MEANS SHE MUST BE FEELING BETTER! RIGHT?
JULIE WILL BE GOING TO SEE HER FRIEND, JEANNIE TODAY AT THE HOSPITAL, SO MAYBE I WILL BE ABLE TO LET YOU ALL KNOW HOW SHE IS DOING THIS EVENING OR TOMORROW.
SO IF YOU HAVE A MOMENT, PLEASE SAY A PRAYER FOR OUR FRIEND, WHO WE MAY NEVER MEET, BUT WHO NEEDS OUR PRAYERS, JEANNIE.

MY FRIEND, MY "SIS" LORI HAS BEEN REAL SICK. SHE HAS HAD BRONCITIS AND PROBABLY WALKING PNEUMONIA. BUT WROTE AND TOLD ME SHE IS DOING A LITTLE BETTER! SHE WILL START PHYSICAL THERAPY ON HER LEG TOMORROW. SHE IS NOT LOOKING FORWARD TO THAT!

I'VE BEEN PUTTING A FEW SNAPSHOTS IN MY ALBUMS, AND MADE A NEW ALBUM, TOO. BUT I WANTED TO LET YOU KNOW THAT FOR PERSONAL REASONS I HAD TO LOCK UP SOME OF MY ALBUMS WITH PIX OF MY GRANDKIDS IN THEM.
I'VE BEEN BUSY GETTING LOTS OF ALBUMS I HAVE EITHER LOCKED UP OR HAVING TO DELET SOME PIX OFF MY OTHER PAGES, TOO. SO , HOPE YOU GOT TO SEE MY CUTE GRANDKIDS!

ON ONE OF MY OTHER PAGES WHERE I WRITE, I WROTE ABOUT MY NEW RIDE, MY JAZZY. AND THE OTHER DAY I GOT THE SWEETEST MESSAGE FROM A YOUNG MAN, 14 YEARS OLD ABOUT MY BLOG. IT WAS SHORT AND SWEET! IT SAID.... I.m sorry
(except the smiley face was sad,not like this one!)
And that's all he wrote!
That tiny little message was so powerful to me! It made me cry! To think that a young man, that age would even look twice at my page, much less read my boring blog, and then to have feelings enough to send me a message! Blew me away!
I was writing about how happy I was to have my new ride, my Jazzy, but what this young man saw was the pain that I am in, and that I can't do the things I could do just a few years ago. And that made him sad, for me! It just really touched me!
I have been to his page there, and left him a comment, and he wrote me back, just a few little words. But, he wrote me back! So I invitied him to be my friend, and you know what? He must have been online the same time as me, because before I could get my few pix uploaded on that page, there his cute little face was, in my friends list!

I hope that you are all having a good week end! Everyone around here is getting ready for school, ,which will start in a little over a week! And enjoying the last of their freedom, or boredom in some cases. It's still hot here, but cooled off for a few days! We've even had a little rain, lot's of lightning storm, which cause a lot of fires. Lots of acres have been burned this year, again!

Thank you for reading my blog! I appreciate you!

GOD Bless ~

the snapshot I choose for this blog is one of a statue, it is in front of the NU SKIN building at their plaza in Provo. I didn't realize, until I visited their website how much they do all around the world! If you are interested, it's a good site!

Jun 24, 2006
Thought I would write and let you all know that I got to talk to my "Sis", Lori last night on the phone! She didn't get to go into surgery until around 2:15 pm, instead of 11:30 am, like they planned. but she did good! The doctor had a lot more repairs to do than he anticipated. And he told Lori's husband, Jimmy, that Lori is going to have to be very careful. And she is looking at knee replacement surgery, probably in both knees! So she is kinda down about all that!
Poor girl has had so many surgeries that she is just worn out from all of it!
Other than that, Lori was in a good mood and happy that I got to call and talk to her! Of course she is on pain meds, but she talked normal and we had a wonderful visit for 85 minutes! Her daughter Kathy is taking great care of her, and even hubby came in and brought her coffee while we were talking on the phone!
She is home, and did really well after the surgery so they let her go home in an hour after she got out of recovery.
And of course, she had demanded that Kathy have donughts and Orange soda for her when she got awake enough to eat and drink. So she got her wish!
Lori told me that she knows that the surgery went well and she got to come home really quickly, and was feeling good because of all the prayers that were sent up for her! Lori told me to thank each and every one of you for your prayers! And she is go greatful for all of you! You are her angels!
Lori has a page here at Care2 but she has a lot of arthritis and elbow problems so she can't do too much on the computer. She is hoping to get one of those programs where you just speak into the mike and the computer will type what she writes! So pray she can find an inexpensive one of those! It's called a Dragon something or other. Then she promised she would get on Care2 and see all the great things and people who are on here.
If you want to send her a green star, you can find her in my friends as Lori P and she doesn't have her pix on there, it's just the siloette, from care2. I know that she would be so surprised and thrilled to get green stars from someone besides me! LOL!
I will close for now, have to pack for my trip up North for my doctor appt and my visit with my daughter, my mom and my family in Price!
Thanks from the bottom of my heart for all your prayers! You guys are the greatest!

GOD Bless ~
comments
(1) |
discussion
() |
permalink
|
send green star
|
flag as inappropriate
Jun 23, 2006
This is a pix of me and my "Twin Sis" ~ LORI !
Lori and I have known each other for over 25 years and we have become sister's and are so much alike we think of ourselves as TWINS!
IN JUST A FEW HOURS Lori will be going into surgery for her knee. It is a scope type surgery, but it is SURGERY! The doctor has some repair work to do from a fall Lori took! She just had surgery on that knee in Dec. ! So PLEASE, say a prayer for my Sis!
Thank you all!
Sincerely ~ Patti

God Bless ~
comments
(3) |
discussion
() |
permalink
|
send green star
|
flag as inappropriate
Jun 9, 2006
Wednesday was a good day for me.
I asked God to give me the strength to get some things done around the house. There were dishes that needed to be washed, laundry to be done, and my main mission was to clear off my "catch all" table which stands in the dining area of my home! Piles of this and that, papers , magazines, bills and God knows what else lies beneath all the clutter!
I must warn you that you should be careful and be specific in what you pray for!
I started off my morning praying for my sis, Lori and her husband Jimmy. They had left for Provo to get some testing done on Jimmy. He had a brain scan and CT Scan schedueled that morning.
Jimmy was in a bad accident in his mine where he works a few years ago. His neck was injured and he had to have surgery and a donor bone put into his neck. Not long after his return to work he was in another accidet which hurt another part of his neck and he has suffered terribly! So, he went to his doctor and the scanns were ordered for June 7th in the morning and he would know the results by the afternoon.
I called Lori Wednesday evening and she told me the good news, Jimmy's brain scan came back normal! She said that totally surprised her! She was expecting a blank ex-ray, I guess! : ) So we laughed about that! And of course gave God all the Glory for the good news! BUT, ( there is almost always a BUT right after the good news! Jimmy's neck between the 4th & 5th "thingy" is damaged and has developed a bone spur! So that has to be taken out and a donor bone put in. Same surgery that Jimmy had gone thru a few years ago.
This is very stressful for Jimmy and he has some fears about it knowing what he will be going through. AND! Oh no! There's more! The doctor told Jimmy that his mining days are over, he is done. Can't go back. And so close to retirement, Jimmy had decided to retire this summer! Jimmy will have his surgery on the 7th of July and will be in the hospital for about 3 days.
Please keep this family, my family in your prayers. This is not all of the story! My sis, Lori has to have another scope surgery on her right knee, on the 23rd of this month. She went through this in December of last year and said it was worse than the brain surgery ( yes! brain surgery, she had an anurisum and surgery in October of 2004!) ! She came thru the brain surgery and recovered very well, thanks to the Grace of God and all the prayers that were prayed in her behalf!
The knee surgery was really hard trying to walk and sit was very painful for Lori. But Lori fell a while back and has injured her knee again and things have to be repaired. I pray that the Lord will allow her a speedy recovery so she can feel better as she goes thru this surgery with Jimmy! I know that she will be by his side thru it all! And nothing will keep her from being there!
Alas, that is not the end of this family story.
Lori and her sister in law will be traveling to Arizona next week to visit with another of Jimmy's sister's, Kitty. Kitty is not doing well and the doctors have allowed her to go home and are keeping her comfortable. This is more stress on this family!
So many prayers are need for this family, my family! I just pray that God will get them thru these surgeries and help them to heal with his speed!

OH, Yeah! Back to me and my prayer for strength! Like I said, be real careful how you word your prayers. I may have forgotten to mention to the Lord that I didn't want to get "everything" done on my list for yesterday. I did want to make a dent in my cleaning and straightening up! I guess I didn't make it real clear that I didn't have to get it all done in 24 hours, there will be another day! But I was wound up like an 8 day clock! I puttered around and did a few dishes, did a load of laundry, worked on my computer, even got some photos scanned and put on discs. In between the things that I had to do on my feet.
I was so busy with little things here and little things there that the time just flew and before I knew it, it was 5 am and I knew Ron would be getting up soon. So I hit the start button on the coffee maker and soon we were talking and enjoying our coffee!
As tired and as much as my legs were screaming at me to go and lay down, I just knew that one cup wouldn't hurt, I would be able to fall right to sleep! I came in here and got on the computer, big mistake. I get lost in time and can't seem to pull myself away at times! Had to check my messages and write a "quik note" to this one and that one. Saw a cute photo that someone had put in the gallery at myboomerplace, so had to check it out, then the next one and the next one! Wrote a blog letting everyone at myboomerplace know that I am still alive and doing OK, and sorry I hadn't been on there for a while. Explaining about having doctor's appointments and my physical therapy for my feet which has kept me busy for the past few weeks!
It started raining, finally around 4 something yesterday morning! What a wonderful aroma, the smell of the rain. We don't get that often around here! There was some lightening and thunder and wind and then the rain. Nice and steady for about an hour and a half.
Ron was suppose to leave for work in Beaver yesterday morning, but with the rain, he didn't have to take off. So after his coffee and a chance to read the paper he was up doing some of his chores around the house. Sprinkleling the good smelling powder he puts down before he vacuums! Awwe! Another great smell! I got some packages ready to mail off and Ron said he would take care of them for me!
So, finally, after I took my morning medicines I laid down! My body was so happy! I fell asleep almost instantly! And didn't wake up for over 5 hours!
Got up and took a shower and felt a little better. But still tired and legs hurting. And was looking forward to watching CSI: , then Without a trace and My Name is Earl. And the new show, "WINFALL"!
Well I made it as far as half way thru Without a Trace and that was the end of that! So I am hoping that my dear daughter in law TiVo'd the programs for me to watch later!
I finshed a great little book that my Mom let me borrow. "THE CHOICE" by OG MANDINO. A good book about a man and a lighthouse! I reccomend it, highly! It has a great story and message, and it doesn't take long to read it!

It's been a long morning, so I will close for now!
I pray that you are having a good day! You are all in my prayers!
One more scarey little thing!

Barricaded Man Has Fired At Police In St. George
(KUTV) ST. GEORGE We have breaking news this morning out of Washington County. A police standoff is underway in St. George.

Here's what we know so far.

The suspect, Joe Watson, has been sought after by police after he walked away from a prison work site.

Authorities say Watson was incarcerated for warrants in a work release program when he simply walked away.

Police were lead to a home at 400 north 468 west in St. George. Upon arriving there they found a stolen car at the home and saw Watson look out a window.

That's when authorities say he began to barricade himself in the home.

When officers broke a window to toss a cell phone into the home Watson reportedly fired three shots.

Nearby homes were evacuated to a nearby church at 500 north and 500 west where a temporary shelter has been setup.

Watson is the only person in the home right now. His wife was taken to jail for three outstanding warrants for separate offenses. Police say she is not at home at this time.

Investigators tell us the owners of the house offered Watson the upstairs portion of the home until he and his wife could find another place to stay. CBS


Oh what an exciting life I lead! : ) I just pray that no one is hurt thru all this!

GOD Bless ~
May 25, 2006
Meet our newest addition to our family, SPAZZ! She is a precious tiny little girl that my daughter in law, Janurari adopted at our local Animal Shelter last week! Spazz is my grand kitten! And as you can see she is beautiful! She was only 6 weeks old when Januari adopted her.

She had her first visit to the Vet on Monday and was a very good girl, and they fell in love with her there. The Vet did give us some disturbing news tho, he said there is Distemper going around and there have been some cases at the Shelter!

Spazz got her distemper shot, and dewormed and the Vet told Januari that she may have some side affects. Which also are some of the signs of distemper.

Spazz has started eating and drinking more, but she had left a little something beside her litter box this morning that worried Januari. So she called the Vet and told them about it and later we went to get a liquid anti-biotic for Spazz.

I told Januari not to worry about Spazz sleeping so much, she is just a baby, and babies sleep a lot, even cute furry ones! I think she looks good, just so tiny! And she is eating and drinking water, more every day. I think she was just stressed from having to leave her sister and the new house and my 3 grand kids, going to the Vet to get the shots and "things" is all hard on a tiny little one.

I was very touched when Januari asked me to please bring my camera and take a snapshot of Spazz, so I could put her picture in my blog and ask my friends and family to pray for her!
I told Januari about all the wonderful careing people here and that I would be happy to write about Spazz and display her snapshot on here! She is my Grand kitten! And I have fallen in love with her, too! And my grand kids, Jason, Jacob and Zyanne love her so much!
When Zyanne crawls up on the couch and takes her nap, Spazz is right there! She lays right in between Zyanne's chubby little legs and rests her head on her and falls fast asleep, too!

I have taken a few cute snapshots of Spazz so guess I will have to make an album to show her off! Will do that in a little while!

So if you are reading this, please stop and say a little prayer for our new baby! And I will let you all know how she is doing!
I ask this because I know you CARE2!

GOD Bless ~
comments
(4) |
discussion
() |
permalink
|
send green star
|
flag as inappropriate
| | |
| --- | --- |
| | Content and comments expressed here are the opinions of Care2 users and not necessarily that of Care2.com or its affiliates. |
SHARES FROM PATTI'S NETWORK