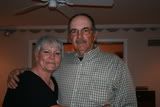 RON & I WANT TO THANK YOU ALL FOR YOUR CARE AND CONCERN FOR HIM AT THE LOSS OF HIS DEAR PRECIOUS MOM!
IT WAS A QUICK AND STRESSFUL TRIP
RUSHING TO VEGAS AND JUST MAKING IT TO THE PLANE BEFORE IT TOOK OFF! BUT ONCE WE GOT ABOARD, IT WASN'T SO BAD. HAD TO SIT IN DIFFERENT ROWS ON THE PLANE. BUT I MET A REALLY NICE LADY WHO SAT NEXT TO ME, SO IT MADE THE TRIP SEEM SHORTER. IT WAS A LONG DAY OF FLYING, BUT IT WAS A GOOD TRIP.
IT WAS GOOD TO SEE ALL OUR FAMILY!
THIS IS DESTONY AND BETTY, AND MICHAEL.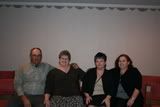 RON~BETTY~CATHY~LOUISE (RON'S SISTER
SOME WE HADN'T SEEN IN WAY TOO MANY YEARS!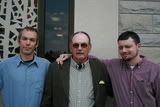 RONNIE CAME AND BROUGHT OUR BEAUTIFUL GRAND DAUGHTERS AND OUR HANDSOME GRANDSONS! IT WAS AN ANSWER TO LOTS OF PRAYERS TO HAVE THEM COME AND GET A CHANCE TO VISIT! ALEX WAS GLAD TO GET TO SEE HIS BROTHER AND HIS NIECES & NEPHEWS, TOO! IT WAS A GREAT REUNION! I'VE GOT SOME PRETTY HANDSOME MEN IN MY LIFE, DON'T I?
WE HADN'T SEEN STEVEN, WOW IN I DON'T REMEMBER HOW MANY YEARS!
SO IT WAS NICE TO SEE HIM AND GET TO VISIT. HE BECAME MY NEW BUDDY, REAL QUICK! HE'S SO SWEET!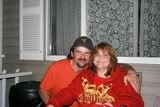 ED & BETTY'S SON, MICHAEL AND HIS WIFE, JENNY.
ED & BETTY'S DAUGHTER, DESTONY AND I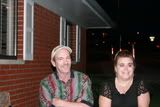 BARRY & DEBBIE, ED & BETTY'S DAUGHTER
ALEX & ROGER, ED & BETTY'S SON
ALEX & CODY, ED & BETTY'S SON.
EVERYONE IS SWEET! AND EVEN THOUGH OUR HEARTS WERE HEAVY AT THE LOSS OF THEIR MOM, THEIR GRANDMA, AND FRIEND, I KNOW THAT SHE WOULD BE HAPPY TO KNOW THAT SO MANY CAME TO PAY THEIR RESPECTS AND THAT THE FAMILY HAD A NICE TIME BEING TOGETHER. IT WAS HARD BECAUSE SHE WASN'T WITH US, BUT KNOWING THAT SHE IS WITH THE LORD MADE IT A LITTLE EASIER TO LET HER GO.
IT WAS NICE TO HAVE ALEX COME WITH US. BETTY GAVE HIM THE HONOR OF BEING ONE OF THE PALL BEARERS FOR HIS GRANDMA.
AFTER THE SERVICES ON SUNDAY WE ALL GOT TOGETHER AT ED & BETTY'S.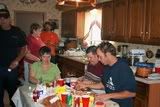 SO MANY SWEET FRIENDS BROUGHT MORE THAN ENOUGH GREAT FOOD AND IT WAS GREATLY APPRECIATED! GOOD FOOD, AND BEING WITH FAMILY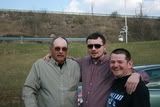 WAS SO NICE. THIS IS RON, RON JR AND KEVIN OUR NEPHEW, ED & BETTY'S SON. KEVIN IS SO SWEET AND HE LOVES TO HUG!
THE DAY WE LEFT RON AND HIS SISTERS,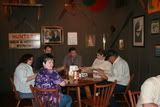 LOUISE, CATHY, BETTY & ED, RON, ALEX AND I WENT TO CRACKER BARREL AND HAD A GREAT BREAKFAST AND A WONDERFUL VISIT ONE LAST TIME.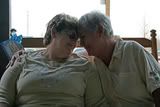 BETTY IS SO SWEET, AND HAD BEEN SO SICK THROUGH ALL OF THIS, BUT SHE WAS WONDERFUL, AS ALWAYS! I KNOW THAT GOD GOT HER THROUGH ALL THIS BECAUSE SHE IS SUCH AN ANGEL. AND I LOVE HER SO MUCH! JUST WISH THERE WEREN'T SO MANY MILES BETWEEN US!
WEST VIRGINIA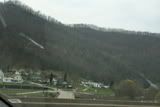 IS SO BEAUTIFUL WITH ALL THE TREES AND GREEN GRASS EVERYWHERE! SO DIFFERENT FROM WHERE WE LIVE! WE GOT TO STAY IN CHARLESTON THE NIGHT BEFORE WE HAD TO MAKE OUR TRIP BACK HOME.
WE GOT TO GO TO THE STATE CAPITOL.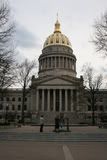 THAT'S RON AND ALEX STANDING BY THE REPLICA OF THE LIBERTY BELL IN THE COURTYARD. WE DID DO A LOT OF WALKING AND STILL DIDN'T SEE IT ALL. THE BUILDING WE DID GET TO WALK THROUGH IS BEAUTIFUL! MARBLE EVERYWHERE! HOPE YOU GOT TO SEE THE ALBUM OF PHOTOS WE TOOK WHILE WE WERE THERE! IF NOT, LET ME KNOW.
WE SPENT THE LAST NIGHT IN A MOTEL RIGHT NEXT TO THE KANAWHA RIVER. THE MOTEL, DAYS INN, I DON'T RECOMMEND! NONE OF US SLEPT WELL THAT NIGHT! BUT ALEX AND I ENJOYED THE VIEW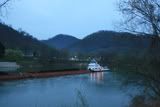 AND THE BOATS ON THE RIVER. THIS IS A BOAT PUSHING 3 LARGE BARGES OF COAL DOWN THE RIVER.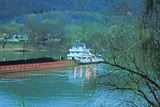 NOW THIS IS A REAL RIVER!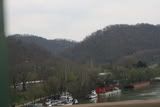 OUR TRIP WAS SHORT, BUT SEEING FAMILY AND BEING TOGETHER WAS WORTH THE 2 VERY LONG DAYS OF FLYING! WE DID HAVE A LITTLE PROBLEM IN PITTSBURG. THE PLANE WE WERE SUPPOSED TO BOARD NEEDED A HYDROLIC PUMP AND THEY SAID THAT IT WOULDN'T BE FIXED UNTIL MAYBE THE NEXT DAY. SO WE WERE TOLD TO GOT TO ANOTHER GATE TO MAKE OTHER ARRANGEMENTS.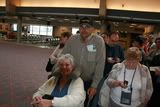 IT SEEMED LIKE A LONG TIME TO WAIT, BUT WE DID LUCK OUT AND THE PLANE WAS REPAIRED AND OFF WE WENT, HEADED TO LAS VEGAS AND ALMOST HOME!
WHEN WE LANDED IN LAS VEGAS AND WENT OUTSIDE, IT WAS SO COLD AND WINDY! WHAT A DIFFERENCE FROM THE BEAUTIFUL WEATHER IN WEST VIRGINIA!
IT WAS SO HARD TO LEAVE OUR FAMILY, BUT IT'S NICE TO BE HOME. I'VE BEEN WORKING ON PUTTING MY MANY PHOTOS INTO ALBUMS SO I HAVEN'T BEEN TO ANY OF MY PAGES MUCH! BUT THEY ARE ALL FINISHED, SO I CAN RELAX AND TRY TO GET CAUGHT UP ON OTHER THINGS!
ONCE AGAIN, THANKS TO ALL WHO SENT THEIR LOVE AND WARM THOUGHTS TO RON AND I. THE MESSAGES, COMMENTS AND CARDS ARE SO SWEET AND WE APPRECIATE EACH ONE!
LET YOUR FAMILY KNOW HOW MUCH THEY MEAN TO YOU! HUG YOUR FAMILY, NEVER LET THEM LEAVE WITHOUT A HUG! AND HUG THEM FOR ME, TOO!
HAVE A GREAT DAY ~ GOD BLESS