The last dance, Ron and his sweet momma, dancing on the porch at Betty & Ed's the night before we left, 2004.
I've always loved going back to West Virgina to be with my family there. Every trip was full of memories that will stay in my heart forever.
Not every trip was just for fun, as this one we will be taking this time.
Yesterday Ron got the call that we have dreaded. His sister, Betty called to let him know that their precious momma had passed away just 20 minutes before she called him. God planned that call so Ron would be home, and I could hold and comfort him as we both cried. As we both cried we talked and I told Ron that ths was a great day! This was the day that his mom had been waiting for, for a long long time! As a Christian we live our lives and linger for the day that when our lives here on earth are over we know that we will be in Heaven with Jesus. Maxine is in Heaven where there is no more sorrow, no more pain and no more tears! We can't even imagine what a beautiful place that God has made for us there.
I know that Maxine, Ron's precious momma is a beautiful angel because she was a beautiful precious person here her whole life! Our hearts are heavy, but it is a time of rejoicing as the Jesus welcomes Maxine home and the Angels rejoice!
She is already missed my so many who love her so much!
The Wake, ( Viewing ) will be on Saturday evening. The funeral service will be held on Sunday March 25th.
Almost heaven, West Virginia
Blue Ridge Mountains
Shenandoah river -
Life is old there
Older than the trees
Younger than the mountains
Growin like a breeze


Country roads, take me home
To the place I belong
West Virginia, mountain momma
Take me home, country roads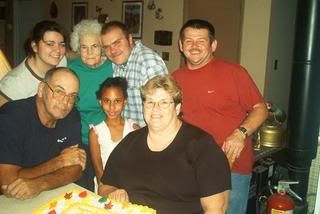 All my memories gathered round her
Miners lady, stranger to blue water
Dark and dusty, painted on the sky
Misty taste of moonshine
Teardrops in my eye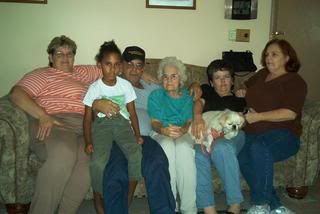 Country roads, take me home
To the place I belong
West virginia, mountain momma
Take me home, country roads

I hear her voice
In the mornin hour she calls me
The radio reminds me of my home far away
And drivin down the road I get a feelin
That I should have been home yesterday, yesterday

Country roads, take me home
To the place I belong
West Virginia, mountain momma
Take me home, country roads


Country roads, take me home
To the place I belong
West Virginia, mountain momma
Take me home, country roads
Take me home, now country roads
Take me home, now country roads

MAXINE LUCAS MILLER
APRIL 18, 1924 - MARCH 21, 2007
GOD Bless you all ~