SUNDAY WAS ONE OF THE BEST, MOST EXCITING DAYS I'VE HAD THIS YEAR! THE BEST DAY , AND THE MOST EXCITING WAS THE BIRTH OF OUR GRAND DAUGHTER! NOTHING CAN TOP THE BIRTH OF A BABY!
SUNDAY, MARCH 11th 2007 WILL GO DOWN AS A GREAT DAY! THE BEST PART WAS THAT I GOT TO SPEND IT WITH MY HUSBAND! HE GOT US TICKETS TO THE NASCAR RACE IN LAS VEGAS! WHEN HE CAME HOME THAT EVENING WITH THE TICKETS HE WAS SO EXCITED! AND IT MADE ME SO HAPPY TO SEE HIM HAPPY!
WE TOOK OFF FROM HERE AROUND 8 AM SUNDAY MORNING. THE FIRST DAY OF THE NEW DAYLIGHT SAVINGS TIME! THE MINUTE WE SAW THE SKYLINE OF LAS VEGAS THE EXCITEMENT STARTED TO BUILD EVEN MORE! I'M NOT YOUR RUN OF THE MILL RACE CAR FAN, BUT I DO LIKE TO WATCH IT WITH RON. WATCHING THE RACE ON TV CAN GET A LITTLE BORING FOR ME, BUT BEING THERE IN THE STANDS WAS A WHOLE 'NOTHER STORY! I'M GETTING A HEAD OF MYSELF HERE.
THE DRIVE DOWN TO LAS VEGAS WAS REALLY NICE. IT WAS A BEAUTIFUL DAY AND THE WEATHER WAS GREAT! DRIVING THROUGH THE GORGE IN ARIZONA WAS BEAUTIFUL. I LOVE THAT PART OF THE DRIVE, IN THE DAY TIME! MY PHOTOS TURNED OUT TO BE DARK IN SOME SPOTS BECAUSE IT WAS ACTUALLY AROUND 7 AM WHEN WE LEFT.

WE ARRIVED AND GOT PARKED. RON AND I GOT MY JAZZY CHAIR OUT OF THE VAN AND I CLIMBED ABOARD AND OFF WE WENT! THIS WAS GOING TO BE THE SUPREME TEST FOR ME AND MY JAZZY! I HAVE NEVER REALLY TAKEN IT OUT, JUST AROUND THE HOUSE. BUT IT WAS ALL CHARGED UP AND READY TO ROLL! AND I DID REALLY GOOD AT MANUVERING IT AROUND THE CROWD OF OVER 160 THOUSAND PEOPLE! WE HAD PIT PASSES SO OF COURSE, THAT'S WHERE WE HEADED! SO WE FOUND THE BUSES TO TAKE US THERE. REALLY COOL DOUBLE DECKER BUSES, BUT WE DIDN'T GET TO RIDE ON ONE OF THOSE! THEY HAD SPECIAL VANS THAT CAME AND PICKED US UP. AND TOOK US RIGHT UP AS FAR AS MICHELLE COULD TAKE THE VAN, RIGHT TO THE GATE OF THE PITS! MICHELLE WAS OUR FIRST DRIVER, AND HER SISTER, KAREN WAS THE CO-DRIVER AND SHE HELPED ME IN AND OUT OF THE VAN. THEY WERE SO NICE! BUT IN THE EXCITEMENT AND BECAUSE THEY HAD TO HURRY AND RUN TO GET ANOTHER PICK-UP, I DIDN'T GET A CHANCE TO SNAP THEIR PICTURES. SO I WILL JUST SAY THEY WERE THE GREATEST!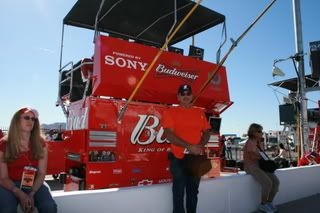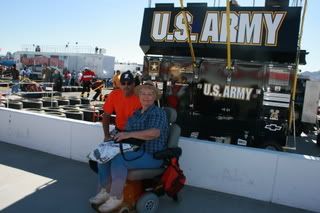 OFF TO THE PITS! SO MANY PEOPLE MILLING AROUND, WE HAD TO WAIT TO GET PHOTOS TAKEN AT THE DIFFERENT PITS AND ONE VERY NICE LADY OFFERED TO TAKE A PHOTO OF RON AND I TOGETHER. SHE WAS SHAKING SO HARD I WAS AFRAID SHE WAS GOING TO DROP MY CAMERA! SHE WAS SO SWEET TO DO IT FOR US. THEN FROM THE PITS WE GOT TO WALK PRETTY CLOSE TO THE CARS THAT WERE OUT ON THE GRASS. BUT NOT TO CROSS THE WHITE LINE! NO! NO! YOU MAY LOOK AND TAKE SNAPSHOTS, BUT YOU MAY NOT GET CLOSE ENOUGH TO TOUCH!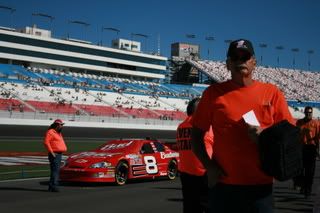 WHILE WE WERE WAITING TO GET A PHOTO OF RON STANDING IN FRONT OF JR.'S CAR, ONE OF THE SECURITY PEOPLE CAME OVER TO ME, AND I THOUGHT "OH NO! I'VE CROSSED THE LINE!" BUT HE TOLD ME THAT HE HAD BEEN WATCHING ME TRYING TO GET THRU THE CROWD, AND HOW I HAD TO WAIT AND PEOPLE ALMOST WALKING OVER ME OR BUMPING INTO ME SO HE TOLD ME THAT HE WOULD LIKE FOR ME TO RIDE ON THE OTHER SIDE OF THE WHITE LINE! JUST STAY CLOSE TO THE LINE, AND GO FOR IT! HE SAID THAT THEY USUALLY DON'T ALLOW ANYONE OVER THAT LINE, BUT ON BEHALF OF NASCAR AND THE DRIVER'S THEY WANTED ME TO BE ABLE TO ENJOY TAKING PHOTOS AND STAYING OUT OF THE CROWD. IT MADE ME FEEL SO SPECIAL! I ALMOST CRIED!
SO OFF WE WENT, AND RON DIDN'T HAVE TO STOP AND LOOK BACK TO SEE IF I WAS BEHIND HIM. HE DID THAT A LOT. IF HE COULDN'T SEE ME OUT OF THE CORNER OF HIS EYE HE WOULD STOP AND LOOK TO SEE WHERE I WAS.
THE PITS WERE PRETTY COOL AND THE CREWS WERE REALLY NICE. IT WAS FUN TO WATCH RON'S FACE, HE WAS LOVIN' IT!

WE WENT BACK UP TO THE MAIN TRACK ENTRANCE BECAUSE OUR STOMACHS WERE SCREAMING AT US, AND IT WAS GETTING TO BE QUITE THIRSTY OUT IN THE SUN. THANK GOODNESS MY SWEET DAUGHTER IN LAW LET ME BORROW HER HAT! DIDN'T EVEN NEED TO WEAR MY SUNGLASSES!
RON GOT US A CHEESE BURGER, A DIET COKE AND A LITTLE PAIL WITH 4 BEER'S IN SOME ICE WE COULD TAKE UP TO OUR SEATS. TOTAL COST OF OUR MEAL AND BEVERAGES ~ $50 !

WE CRUISED AROUND LOOKING AT ALL THE VENDERS FOR A WHILE THEN DECIDED WE BETTER GO FIND OUR SEATS. THAT PRESENTED A PROBLEM. OUR SEATS WERE FOUR OR FIVE ROWS DOWN. GOOD SEATS! BUT THE SECURITY MAN SAID I HAD TO PARK MY CHAIR IN THE HANDICAPP SPOT AND LEAVE IT THERE. WELL, I DON'T THINK SO! THE SPOTS WERE FILLING UP PRETTY FAST, SO I PULLED INTO ONE AND THOUGHT ABOUT WHAT WE SHOULD DO. AND THEN THE SECURITY MAN BROUGHT RON A CHAIR SO HE COULD SIT THERE, RIGHT BESIDE ME! WE WERE ALL SET AND READY FOR THE SHOW TO START!
THEY HAD THE BLUE MAN GROUP THERE, AND THEY WERE PRETTY GOOD! AND THEN A LOT OF TALKING AND GIVING OUT MONEY TO THE WINNERS OF THE RACES ON FRIDAY AND SATURDAY. WELCOMING SPEECHES AND THEN IT WAS TIME FOR THE NATIONAL ANTHEM! ALL THE DRIVERS AND PIT CREWS STANDING IN FORMATION WHILE WE SANG. AND AT THE VERY MOMENT THE GIRL FINISHED THE SONG......*ZOOM*! THERE CAME THE JETS! SO FAST I WAS LUCKY TO SEE THEM MUCH LESS GET A SNAPSHOT!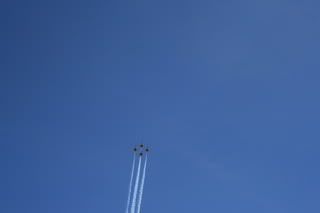 WITH NELLIS AIR FORCE BASE RIGHT ACROSS FROM THE SPEEDWAY IT WAS REALLY COOL! WAS OVER WAY TO FAST THOUGH! I COULD HAVE WATCHED A LOT MORE OF THE JETS! THEN THEY HAD A HELICOPTER DO SOME TRICKS IN THE AIR. THAT WAS PRETTY AWSOME! I DIDN'T KNOW THAT HELICOPTERS COULD DO THINGS LIKE THAT! ON PURPOSE!

THEN IT WAS TIME FOR THOSE FOUR WORDS WE HAD BEEN WAITING TO HEAR ALL DAY!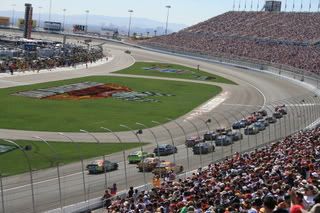 "GENTLEMEN, START YOUR ENGINES!"

YOU COULD FEEL THE EXCITEMENT IN THE AIR AND THE RUMBLE OF THE ENGINES AS THEY FIRED UP! THE SMELL OF THE FUEL MIXED WITH THE TESTOSTERONE FROM THE DRIVERS AND THE FANS WAS MIND BLOWING!
THE CROWD LITERALLY WENT WILD!
I KNOW I COULD HEAR THE BEAT OF MY HUSBANDS POUNDING HEART OVER THE ROAR OF THE ENGINES AND THE SCREAMS FROM THE CROWD!

HOLD ON HONEY! IT'S GONNA BE A WILD RIDE!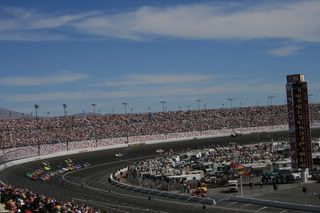 I WAS AMAZED AT HOW WOUND UP I WAS! I GUESS YA JUST HAVE TO BE THERE! WHEN RON TOLD ME THAT THEY WERE GOING TO DO AROUND 260 LAPS OR SOMETHING LIKE THAT, I THOUGHT OH MY GOD! WE ARE GOING TO BE HERE FOREVER! BUT IT SEEMS LIKE IT WAS OVER PRETTY FAST! I GUESS WHEN THE CARS ARE DOING AROUND 200 MILES PER HOUR THOSE LAPS GO FAST! WHEN THE CARS WERE RIGHT BELOW US AND I LOOKED DOWN AT THEM I GOT A LITTLE SICK AND DIZZY IF I WAS STANDING UP!
RON LISTENING IN ON THE CONVERSATION BETWEEN DALE JR. AND HIS PIT CREW.

RON DECIDED TO GO AND GET US A SNACK WHILE THINGS WERE SLOWING DOWN TO CLEAR THE TRACK OF DEBRIS FROM A LITTLE CRASH. I WAS HOPING FOR NACHOS, BUT ALL HE COULD FIND WAS SOME REALLY GOOD FRIES. BUT NO CATSUP! TOTAL COST OF TWO MEDIUM FRIES ~ $10 !
NEXT TIME THERE WAS A LITTLE SLOW DOWN ON THE TRACK I WENT FOR SOME WATER. TWO 20 OUNCE BOTTLES OF COOL WATER ~ $8 !

AND THE WINNER IS JIMMY JOHNSON DRIVING CAR #48 DOING HIS SPIN OUT AFTER THE FINISH!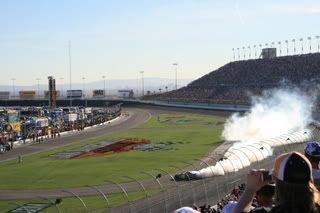 JOHNSON GOING INTO THE WINNERS CIRCLE. THIS IS HIS 3rd WIN IN A ROW AT THE LAS VEGAS SPEEDWAY. MARK MARTIN CAME IN 3rd, BUT HE IS THE OWNER OF CAR # 48 SO HE CAME OUT PRETTY GOOD! AND I THINK HE IS IN THE LEAD AS FAR AS POINTS. DALE JR., NOT A GOOD DAY FOR #8. I THINK HE FINISHED IN 13th PLACE.

NO BAD ACCIDENTS! A COUPLE OF SPINOUTS ONTO THE GRASS & FEW LITTLE CRASHES BUT NOTHING SERIOUS! THANK GOD!

IT WAS VERY EXCITING! EVEN IF THE WINNER WAS NOT ONE OF OUR FAVORITES, IT WAS STILL THRILLING AND I LOVED EVERY MOMENT OF IT! TOTAL COST OF FOOD & BEVERAGES FOR THE DAY ~ $68

THE COST OF SPENDING THE DAY WITH MY HUSBAND AT THE NASCAR RACE ~ PRICELESS!

GOD BLESS ~