Jul 15, 2008
Black Market: Animal Trade Takes a Heavy Toll
Animals

Jacquelin

- ago - msnbc.msn.com
What do elephants, rhinos, great apes, bears, big cats, sharks, parrots and marine turtles have in common? They're all threatened by the illegal wildlife trade. Everyone PLEASE watch and act!
Visibility:
Everyone
Tags:
animals
,
animal
,
wildlife
,
endangered
,
protection
,
extinction
,
trade
,
conservation
,
welfare
,
cruelty
,
poaching
Posted:
Jul 15, 2008 1:34pm
Jul 2, 2008
I had orginally planned to beg for the mama to be. But when I saw all these inncent faces, oh hell, I'm begging for them all. Please look, if you know somebody send them the info (pictures are very helpful) repost to your friends all in the hope that at least some of these get saved. Please remember a phone call does wonders. I can't remember if Barrow gasses but I do remember that pregnant dogs and puppies often don't die for a long long time
I could never work at a place like this
Tom (myspace) disables all links, so I redid the top links. They will take you straight to the dogs and kitties.
From:
Georgia AC Angels
Date: Jun 29, 2008 7:53 PM
Will Independence Day come for these animals in need?
BARROW COUNTY ANIMAL CONTROL
610 Barrow Park Dr.
Winder, GA 30680
OFFICE 770-307-3012
FAX 770-867-1660
cwatkins@barrowga.org
mbeckemeyer@barrowga.org
mburrell@barrowga.org
HOURS:
Wednesdays and Sundays – CLOSED to the public
Saturdays – OPEN 10-noon
Other week days – OPEN 8-5
The shelter will be CLOSED Friday, July 4, and Saturday, July 5.
FEES:
The process DOES NOT have to be completed in person!
Adoption – $100, INCLUDES spay/neuter, basic exam, vaccinations, and microchip!
Rescue – FREE for GA licensed rescues! Out-of-state rescues, please contact the shelter for details.
URGENCY:
Call AND e-mail BEFORE 8:30 A.M. on WEDNESDAY, JUNE 25.
See contact information above.
Generally, animals are subject to lethal injection after five (5) days of impoundment
Injections typically occur on Wednesdays, but because the shelter is SO FULL during the summer, they often occur more frequently.
Contact NOW!
UPDATES:
The lab mix with the hurt foot, the thin pointer mix, and the beagle mix are safe! Let's hope that many other animals from the previous posting were adopted or rescued as well! Please contact the shelter to find out the fate of a particular animal previously posted if he/she is not included in the current post.
Thanks!
AVAILABLE NOW:
NOTE: Pictures FOLLOW the descriptions!
THE FOLLOWING ANIMALS ARE MOSTLY "EXTRA URGENT" DUE TO THEIR BEING AT THE ANIMAL CONTROL AT OR BEYOND THEIR TYPICALLY ALLOTTED FIVE (5) DAYS AND/OR ARE OWNER SURRENDERED. THEY ARE THEREFORE SUBJECT TO LETHAL INJECTION AT ANY TIME.
RUN 2 – 06-191 F 1YR LAB/BOXER X – SPECIAL NOTICE TO RESCUES! This sweet young girl is PREGNANT and in need of help immediately! She is very quiet and gentle and will likely make a wonderful mother. She is now VERY large and starting to produce milk. An officer stated that they spared her last Wednesday in hopes that someone will be able to take this sweet girl and her family-to-be.
Could that be you?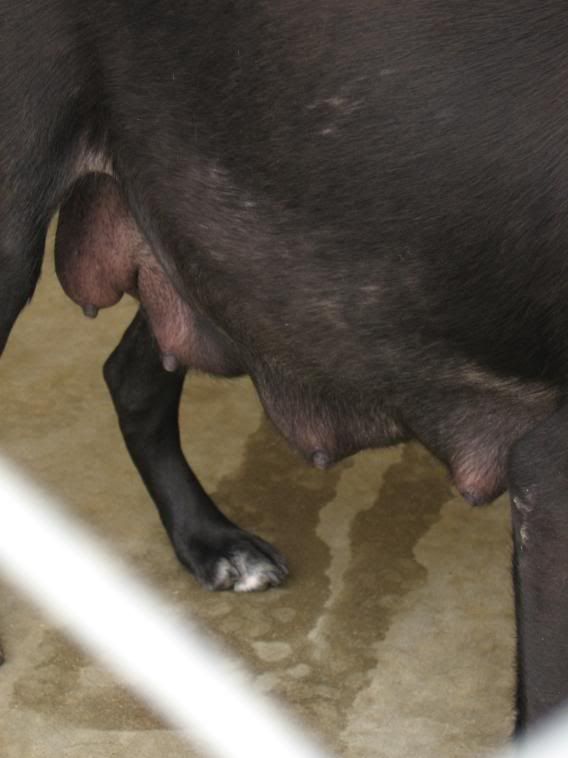 RUN 4 – 06-204 AND 06-207 BOTH M 1YR GREAT PYRENEES X'S – What a site! A set of Great Pyr X twins! The third brother posted last week is no longer available. These two remaining have really perked up since my last visit, and they just need a BATH! Anyone from GA knows what our CLAY can do to the otherwise WHITE fur of an animal. These sweet guys really are white at the roots.
Promise!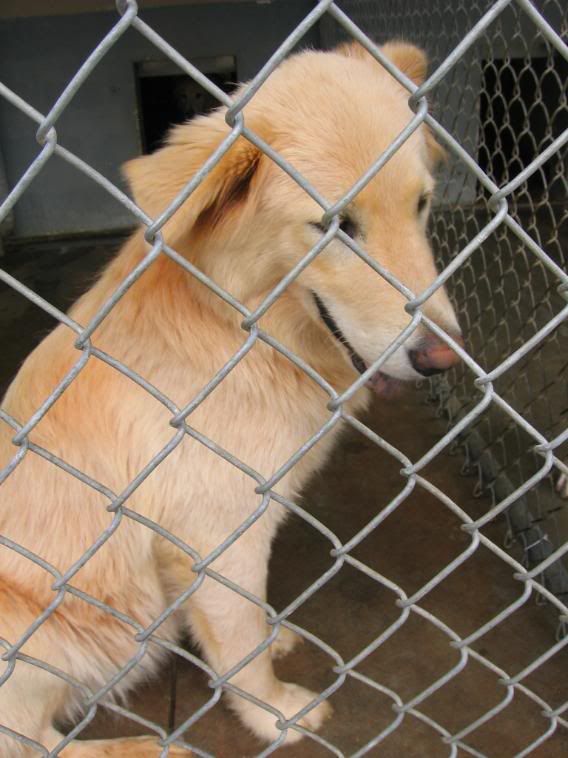 RUN 5 – 06-194 F 6-9MO BOXER X – This is a petite, quiet, alert, beautiful little girl, ready to go home with you and be loved! Look at those pleading eyes. She would be an excellent choice! She has been my MySpace default picture for a while, and I have received many comments about her, but apparently there have been no takers! She loves affection and slapped her tail loudly on the concrete when I visited. I took a couple more (kind of silly!) pictures of her.
Adorable!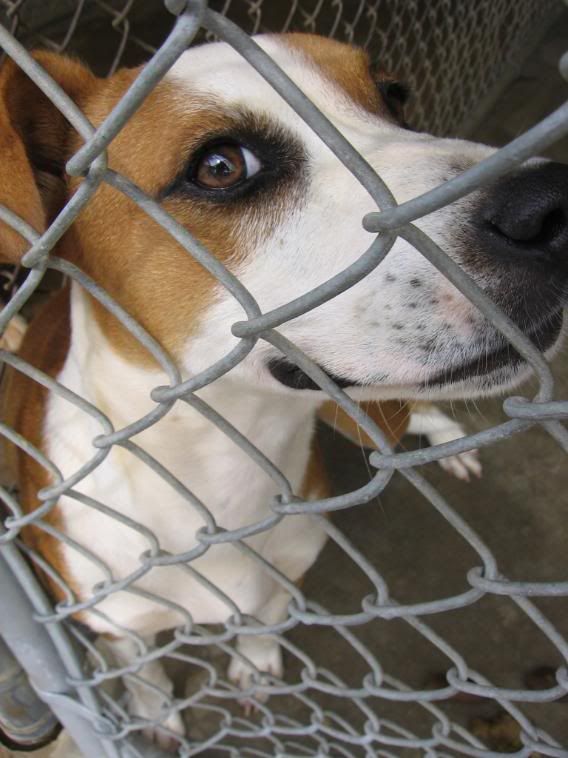 RUN 6 (was PEN 41) – 06-169 M 6-9MO LAB X – This adorable boy has been really lonely. During my last visit, I thought he was yelping in pain until I came closer and realized he was just trying desperately to attract some help. I tried my best to soothe him during my visit, but unfortunately, my visit had an end. This time, I was glad to see that the officers had moved him to a larger run with two other puppies, and he seemed to be much happier.
BUT he is STILL URGENT! HELP HIM, PLEASE!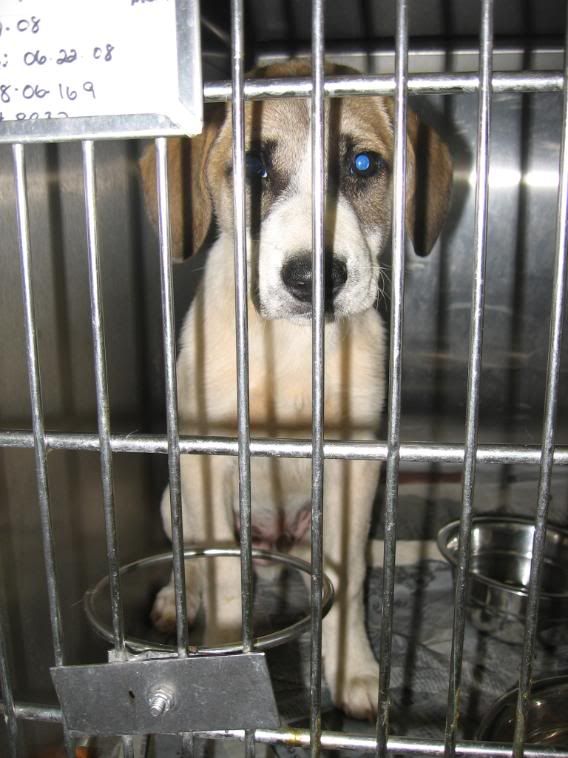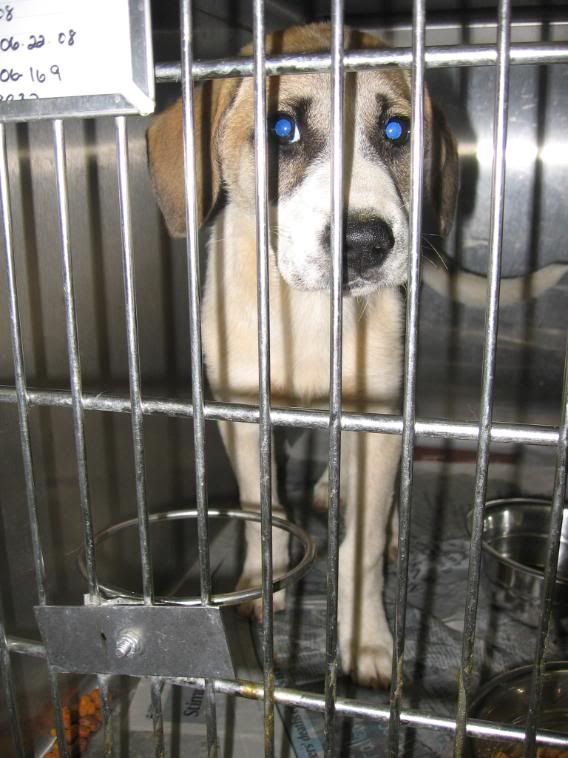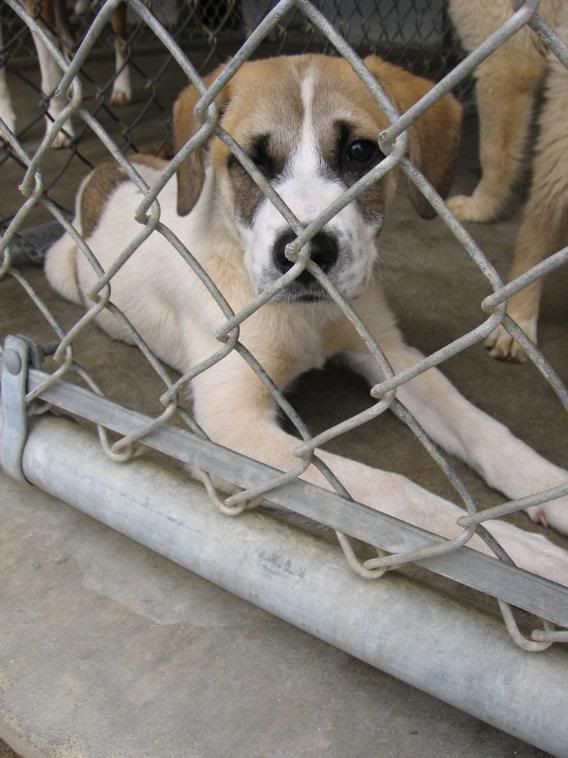 RUN 12 – 06-031 M 6MO LAB / POINTER X – Sweet boy "Dude" was at the shelter last week, but there was some confusion as to whether or not he was adoptable, especially since he is on the side away from the public, so I didn't post for him. He IS adoptable, however, and his time is up.
He is on the back side due to space issues, NOT due to temperament! He is a very friendly boy!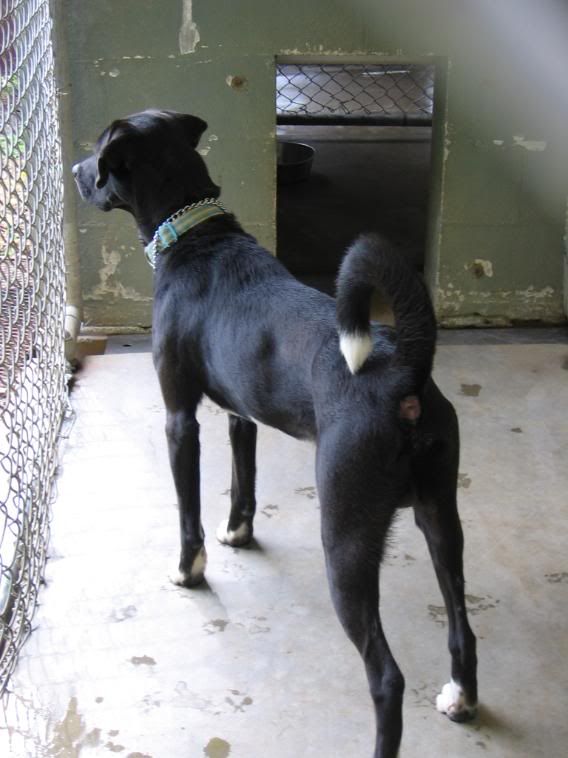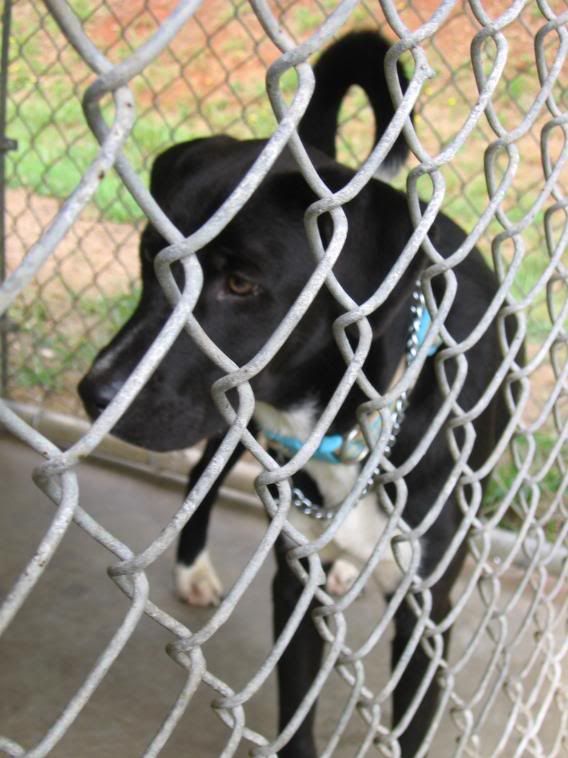 PEN 37 – 06-179 AND 06-180 BOTH M 6WKS LAB X'S – (179 is light and 180 is brown.) These little babies, likely siblings, belong on a calendar or magazine. They are CUTE, CUTE! They are also quiet, gentle, and play very well together. Can you believe no one has stepped up for them yet? There must be someone out there who is moved by these pictures and is able to help.
Maybe that person is you!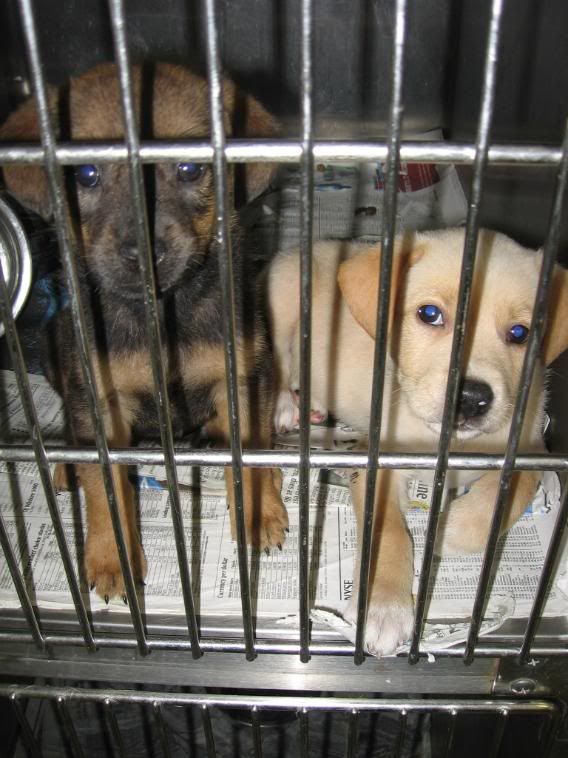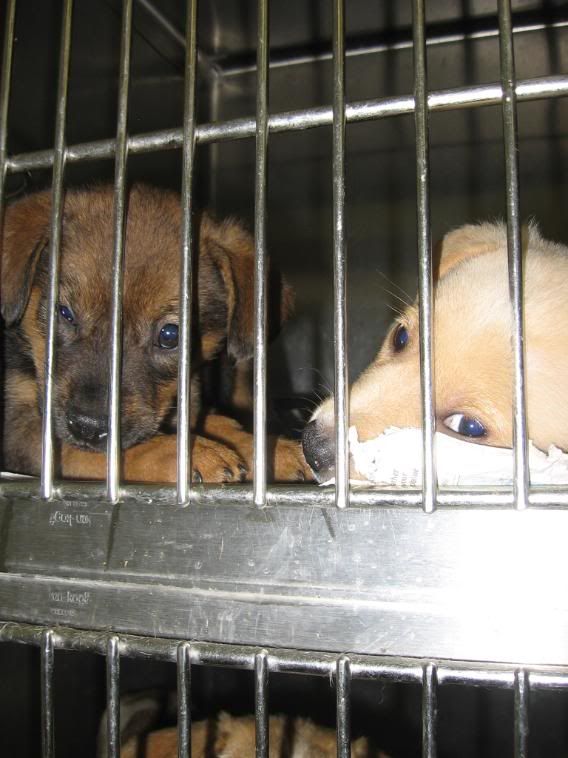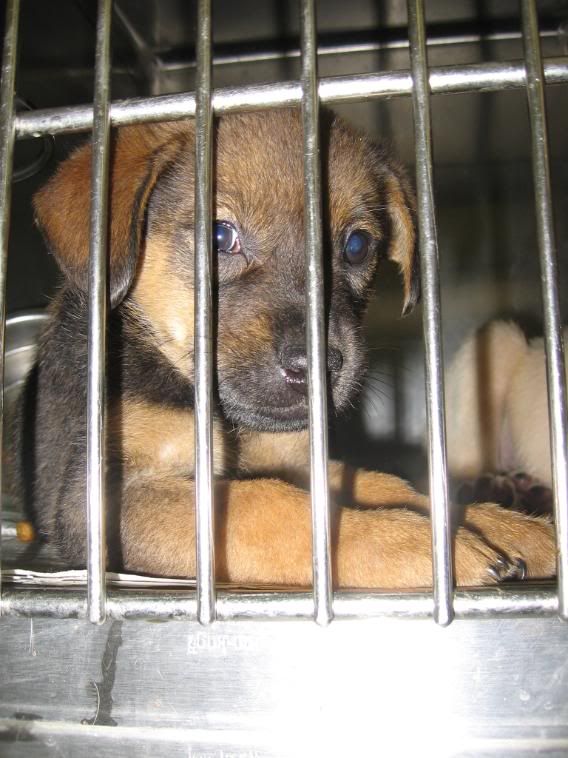 PEN 2 – 06-112 F 2MO CALICO – This little girl wants to live! The officers have given this precious girl just a few more days to find a home. She was reaching for me and meowing loudly again this week.
What a sweetheart! Can someone please help her?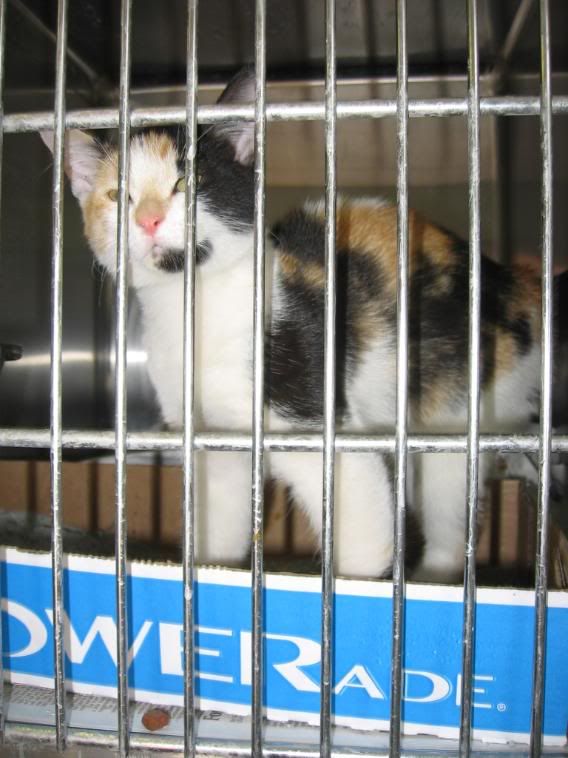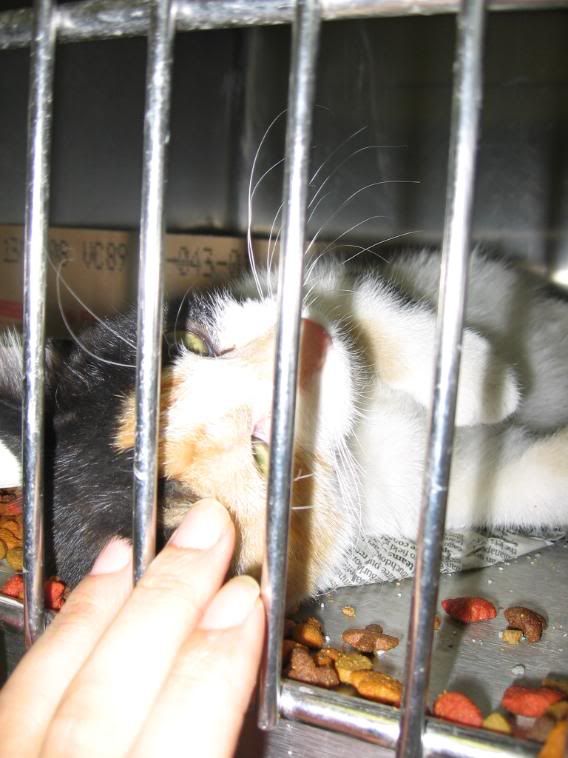 PEN 16 –06-129 F, 06-130 M, AND 06-131 F ALL 5WK – These beautiful babies are now without their mother. They need a loving home immediately! The 129 female is a calico, 131 is a dilute calico, and the brother is black / white. They are DMH or DLH.
This is a very sweet, good-looking group!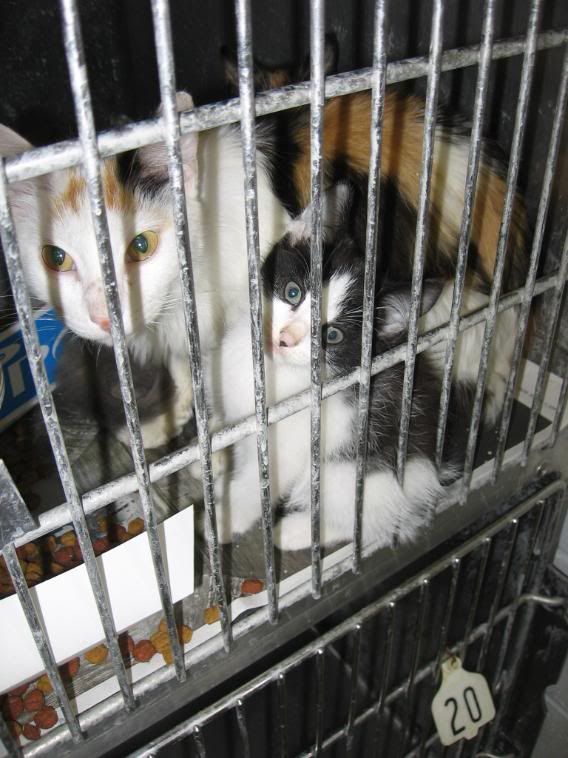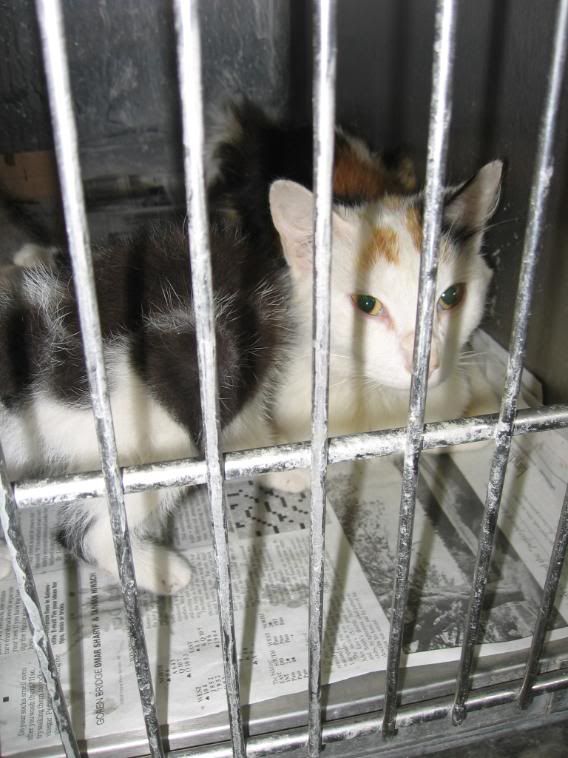 PEN 13 – 06-198 F 2-3YR; 06-199 M 8WK; 06-200 M 8WK; 06-201 F 8WKS - Mom and the two brothers are black / white, and the sister is torti. All are DSH and very sweet. They are now very urgent as their time is up! Please consider this family.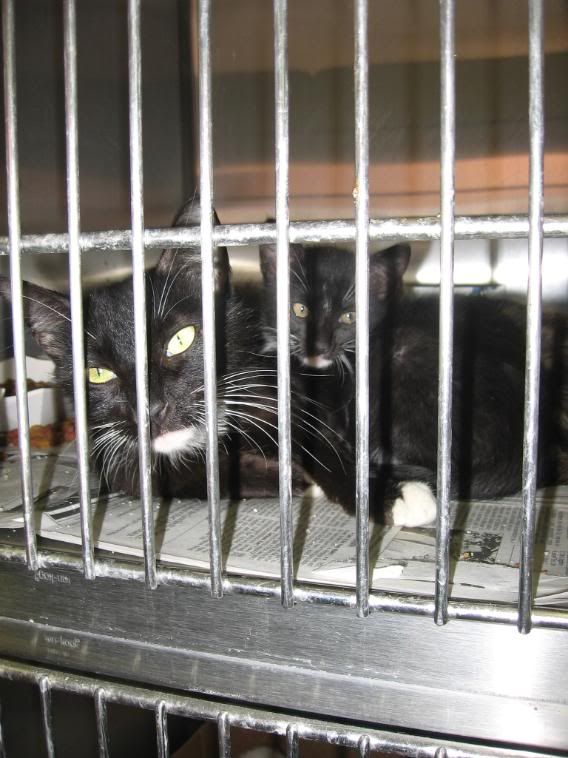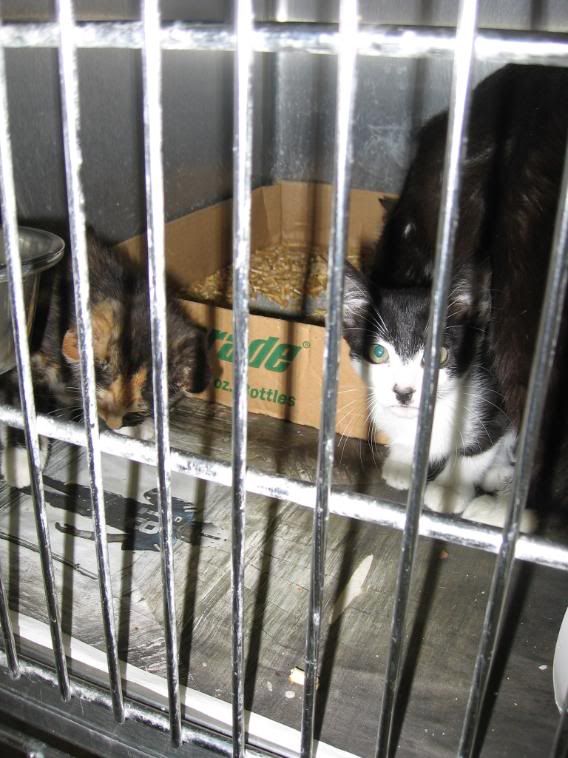 PEN 17 – 06-212 F APPROX. 10WK DSH AND 06-228 F 8WK DLH – Sweet girlie 212 is a pretty orange color and seems playful and friendly. She is sharing the pen with 228.
What a pretty black kitten! Her fur is soft and fuzzy, and she is ready to PLAY! Both girls are now very urgent as their time is up! Please consider these two!
THE FOLLOWING ANIMALS ARE NEW SINCE THE LAST POST BUT MAY STILL BE "EXTRA URGENT" DUE TO THEIR BEING AT THE ANIMAL CONTROL AT OR BEYOND THEIR TYPICALLY ALLOTTED FIVE (5) DAYS AND/OR ARE OWNER SURRENDERED. THEY ARE THEREFORE SUBJECT TO LETHAL INJECTION AT ANY TIME.
RUN 6 – 06-252 M AND 06-253 F BOTH 2+MO LAB X – These blond, fuzzy pups are likely siblings. The female has a bit more of a white stripe down her nose. Both are quiet and friendly.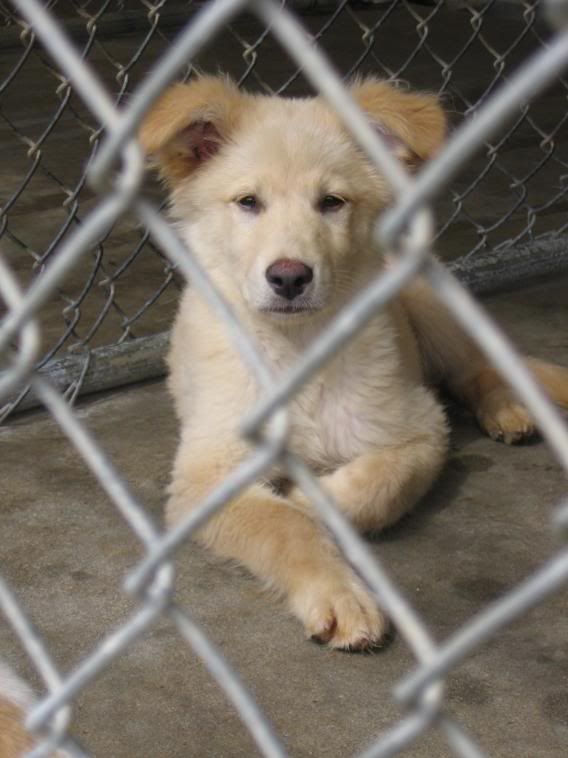 RUN 8 – 06-249 M 1-2YR LAB X – This poor boy may be passed up by many who will never know what love he appears to be capable of giving. Why? He's blind. But remember, love is, too…. As I crouched down for a visit, he instantly turned towards my voice, and he came close for a sniff. He was not startled when I reached in to pat his head, and he even began to smile at me. What a calm, gentle spirit…. (I have fostered a blind dog before who did very well at learning his way around! I have heard that most adapt adequately, unless you're the type to rearrange the furniture often.) I really didn't want to leave him. As I stood and stepped away towards the next run, he diligently ran his nose from side to side and up and down "looking" for me. Maybe in the near future his search for some company will be more fruitful. PLEASE consider this very special soul. He has so much to offer; please don't be one of the ones who pass him by.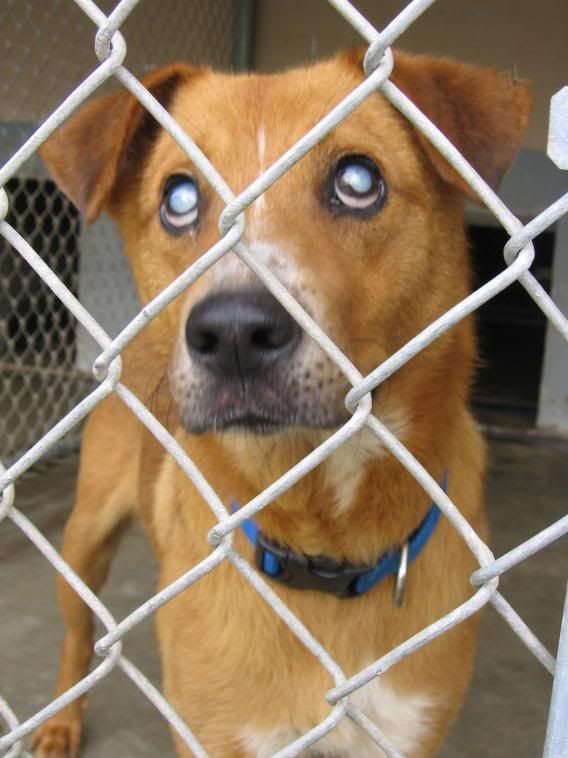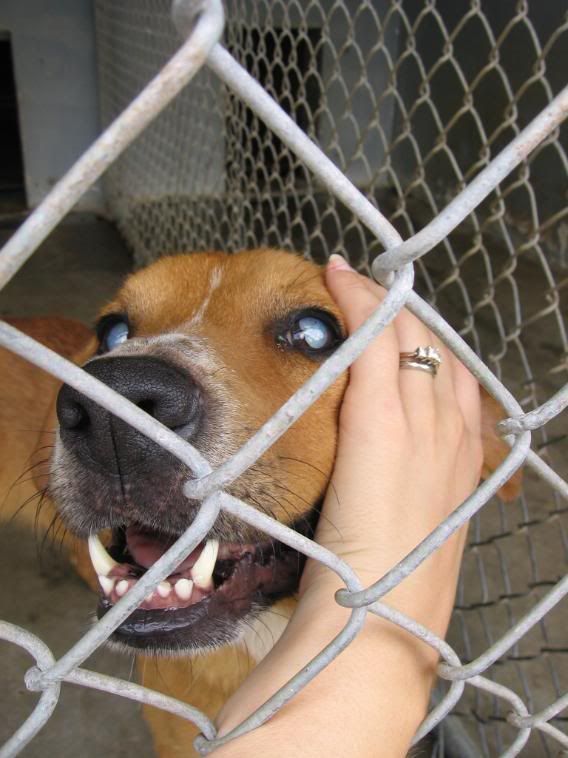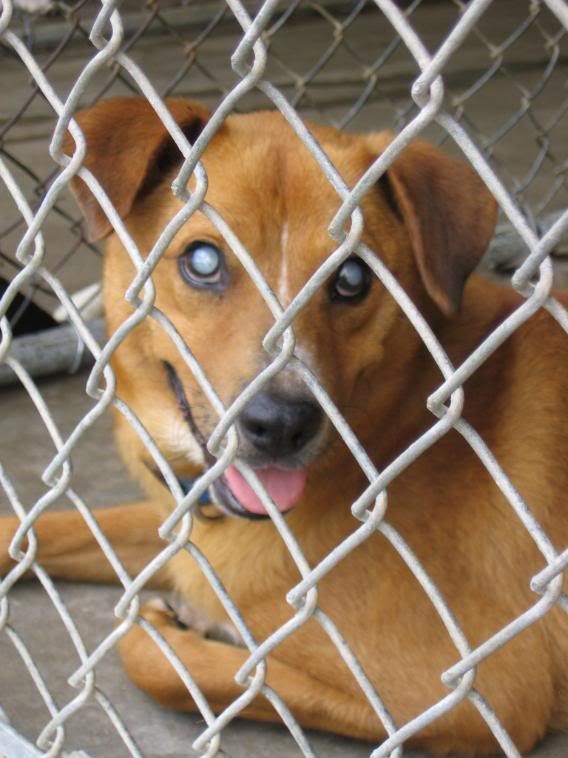 RUN 9 – 06-231 F 6MO LAB X – This sweet girl is a pretty, shiny black with a bit of white on her chest and feet.
She is calm, alert, quiet, and very friendly! A great choice!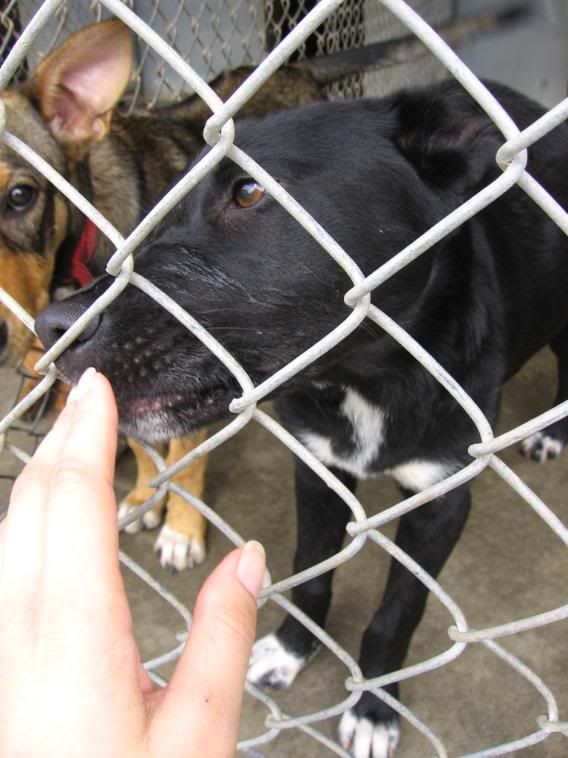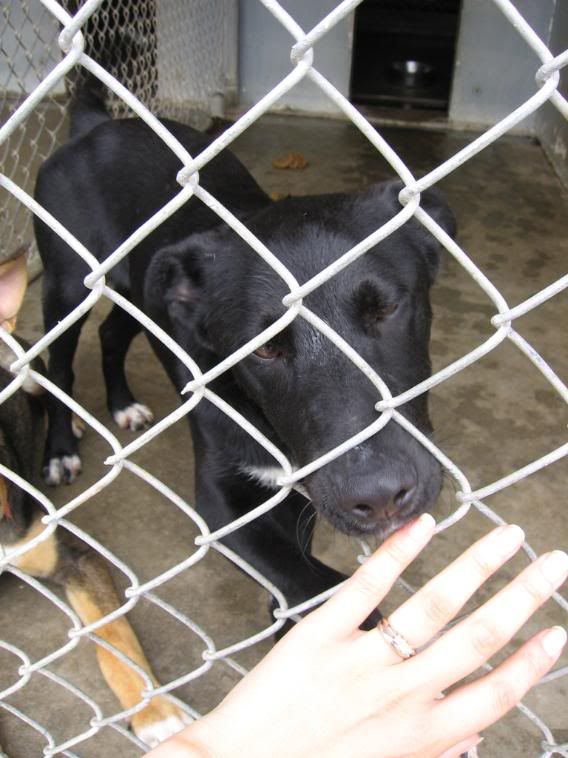 RUN 9 – 06-230 F 6MO SHEPHERD / RIDGEBACK X – This darling girl appears to enjoy cuddling! Most of the time I visited her run, she pressed herself up against the door to be as close as possible. She also gave me lots of kisses and looked up longingly at me.
What a beautiful spirit this one has!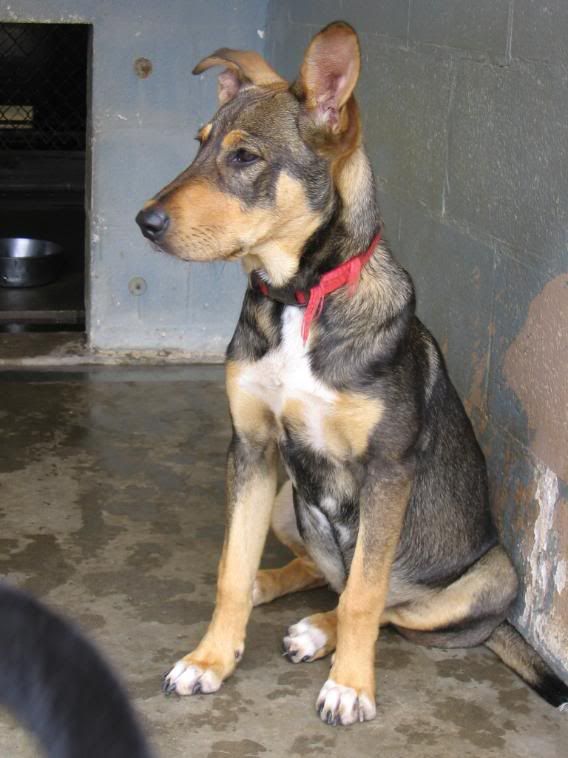 RUN 10 – 06-256 AND OTHERS – EIGHT PUPS 8WKS LAB / SHEPHERD X – Wow! OCTUPLETS! Three pups are brown and three are black. Some have longer, fuzzier fur than others, but ALL are extremely adorable and deserving of a loving home.
Can you give one or more of them such a place?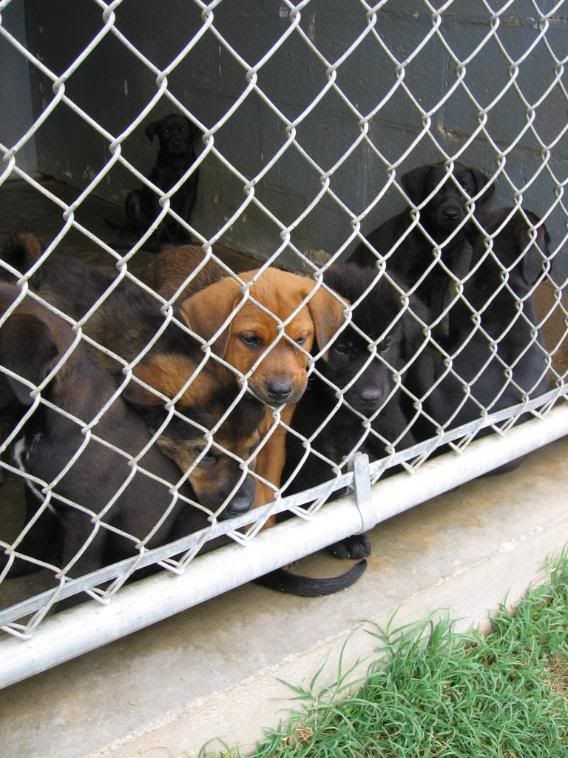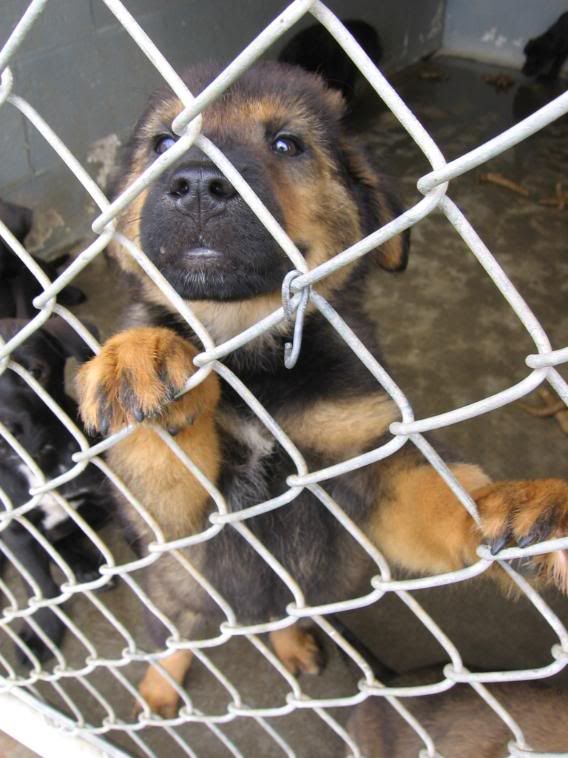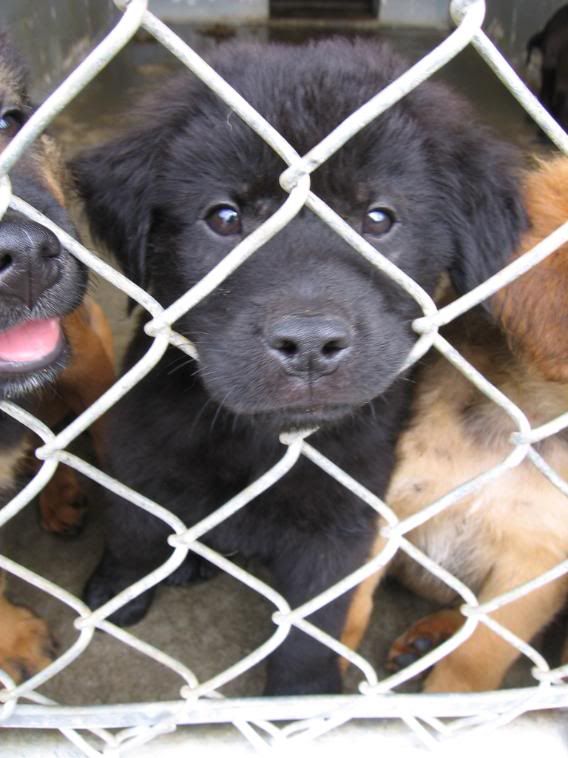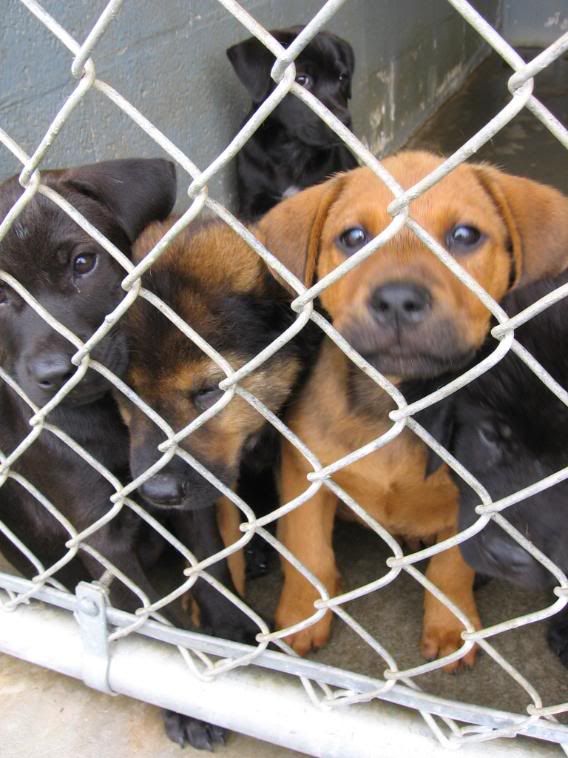 RUN 11 – 06-286 M 4-5MO RETREIVER X – This red and black pooch is extremely friendly and has a good bit to say! I was quite taken with his fur texture, as I found it to be some of the smoothest and softest I've ever felt.
What a wonderful boy he'd be to snuggle up to! Please consider!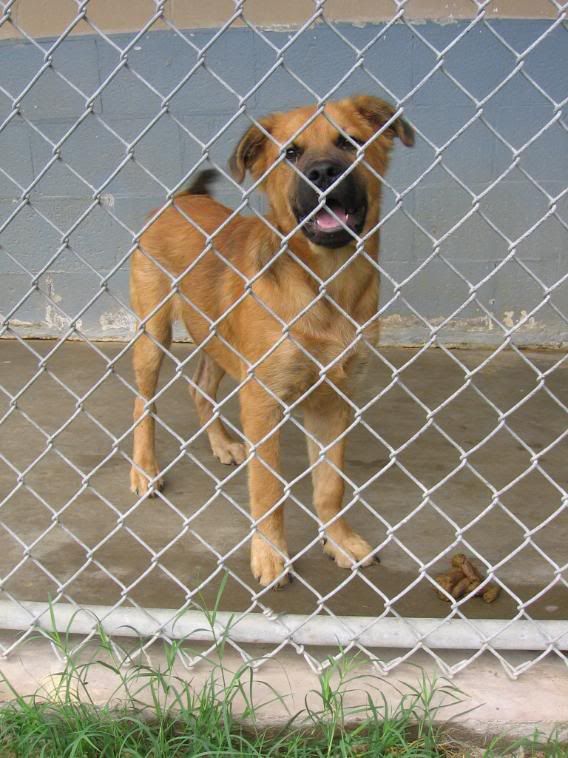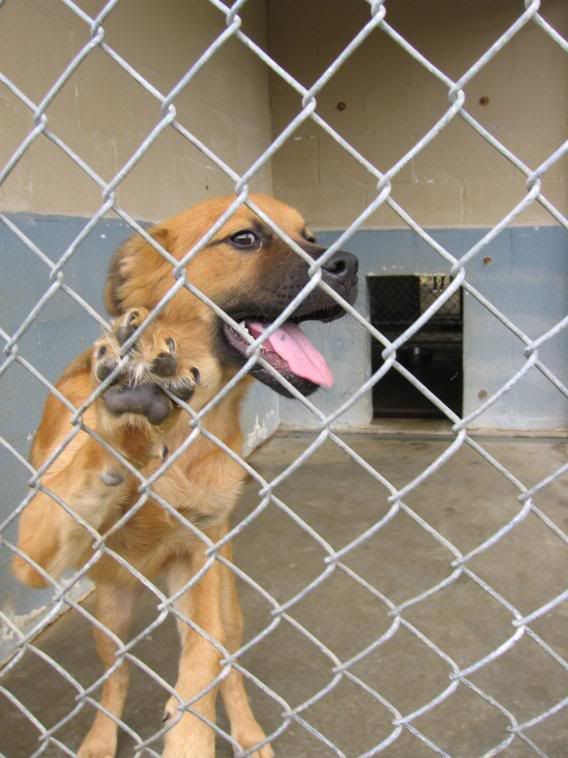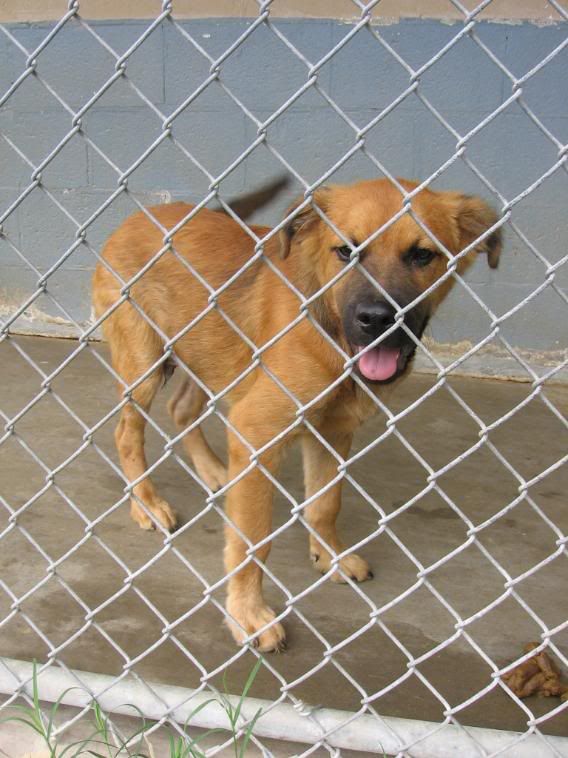 RUN 20 – 06-265 M 6MO LAB / BULLDOG X – This boy is very handsome! He also appears fairly calm and quiet. Due to space issues, he is in a run away from the public, so he may not receive too much exposure.
Please inquire about this special boy!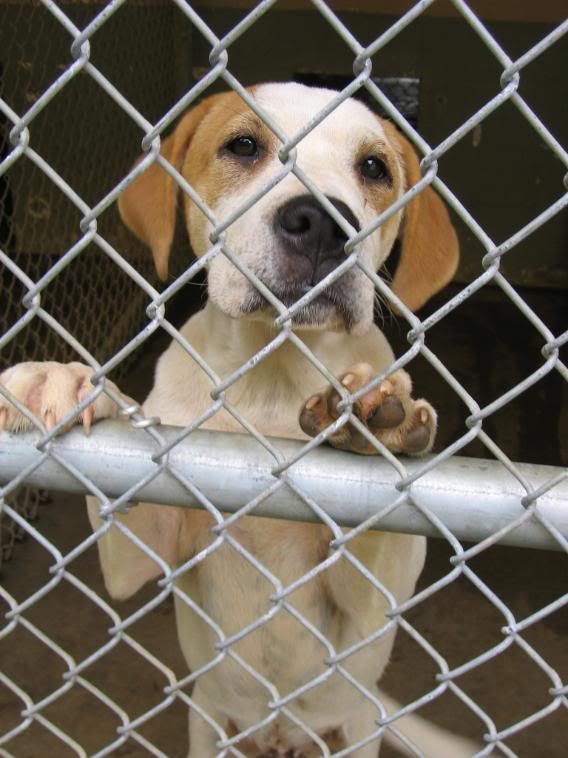 RUN 22 – 06-266 F 2YR TERRIER X – This little brindle darling is only 20 lbs, which is perfect for many types of living arrangements. She has a very slight build with big, expressive eyes and tall ears that make her appear alert and friendly. Unlike many small terriers, however, she is very quiet! This little angel would love to go home.
Can you take her?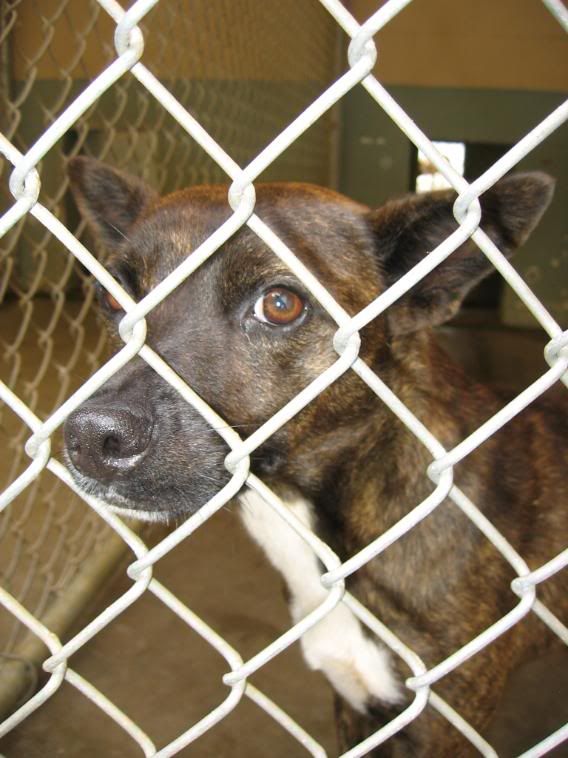 PEN 1 – 06-215 AND KITTENS 06-216 TO 06-220 – Mom 215 is a black DSH 1-2YR, and her TINY kittens are only 1WK. There are five. One is black, two are cream, and two are gray. I watched her nurse and groom the babies a bit, and she appears to be a very gentle and attentive mother. She also enjoyed some attention from me.
Someone please consider this sweet family!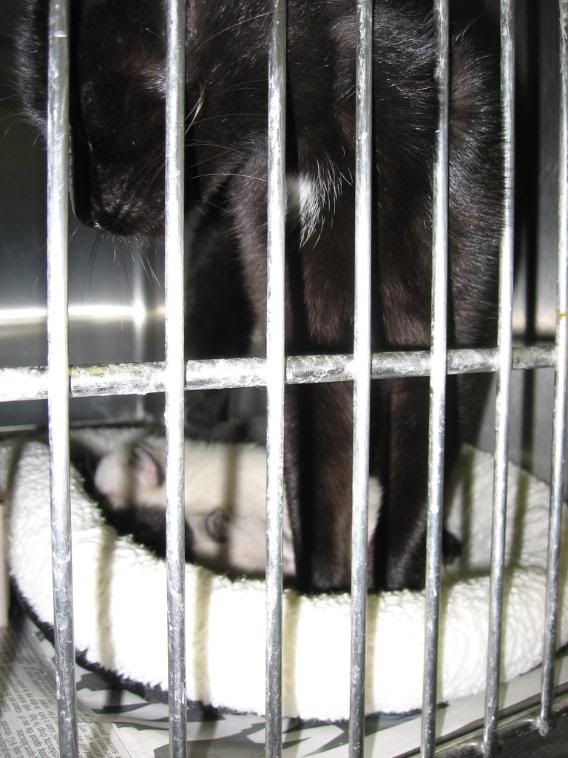 PEN 5 – 06-287 AND 06-288 BOTH YOUNG M DLH – These brothers are beautiful and friendly!
PEN 6 – 06-278 F 2YR DSH – This pretty black cat appears friendly and sweet!
PEN 7 – 06-276 F 1YR – This girl is a lovely, sweet, gray tiger.
Her markings are very bold, and she is extremely affectionate!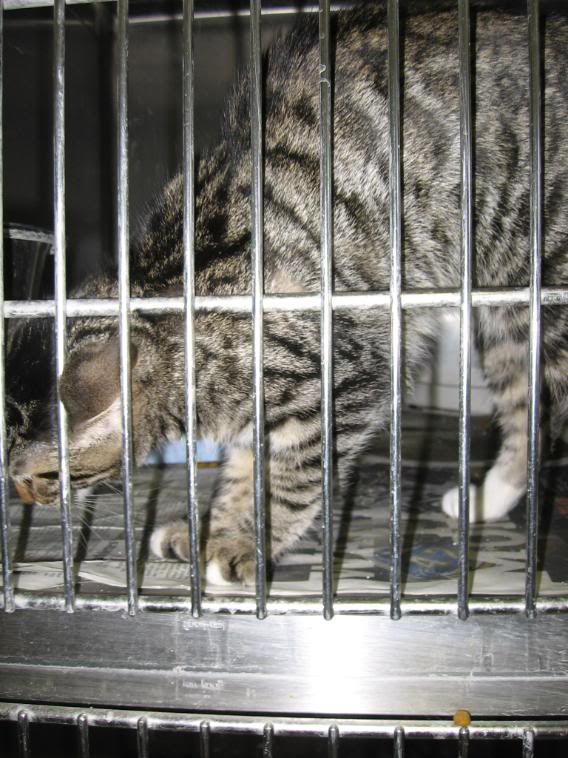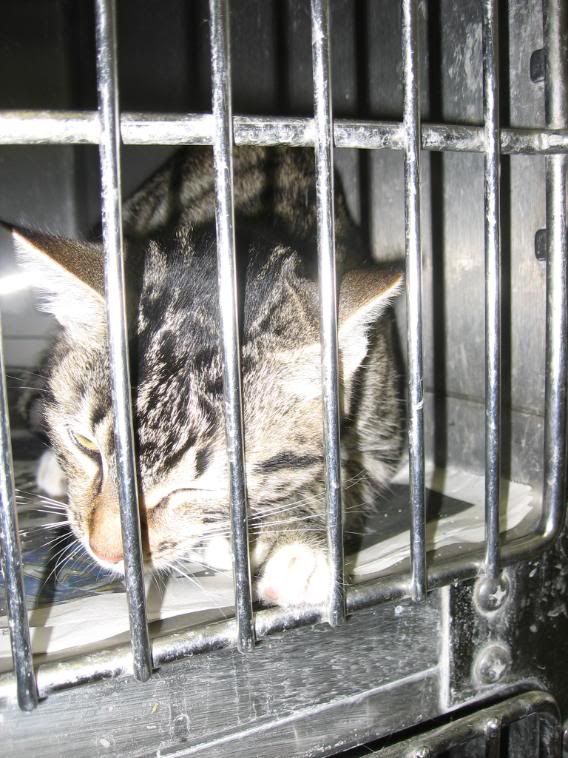 PEN 8 – 06-277 F 2YR – This tiger girl has a good bit of white on her chest, which makes for a unique appearance! She seems very sweet and alert.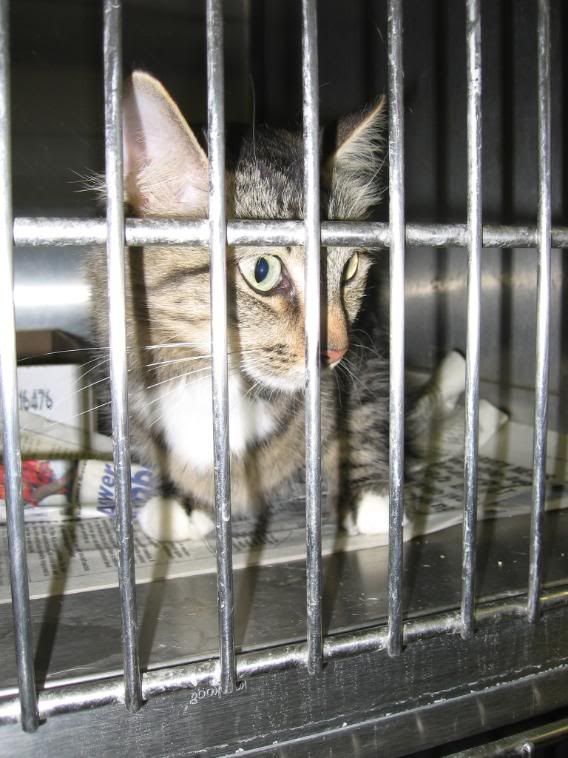 PEN 9 – 06-247 F DSH – This pretty gray tiger is a friendly girl! She's ready to play!
PEN 14 – 06-279 F 2YR DSH – Here is another pretty, friendly little tiger girl, ready to go home!
PEN 15 – 06-275 F 2YR – This sweet tiger girl has some white areas. She appears very nice but perhaps a bit shy.
PEN 18 – 06-222 AND 06-223 BOTH M 6WK – Number 222 is brown tiger, and 223 is an orange tabby. Both of these boys appear friendly and ready to go home! They are very sweet.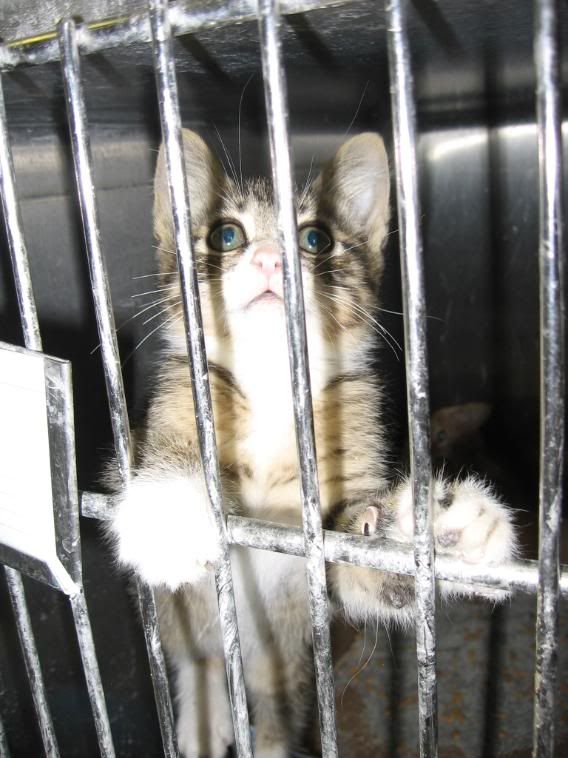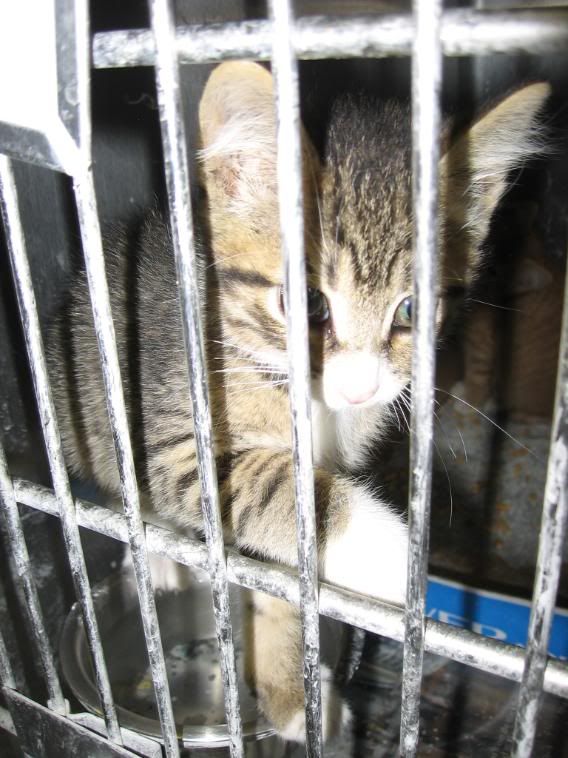 PEN 21 – 06-232 AND 06-233 BOTH F 3MO – Number 232 is DLH, and 233 is DSH. Both little girls are torti, which is very striking! They are playful and sweet and kept reaching out of the pen for me.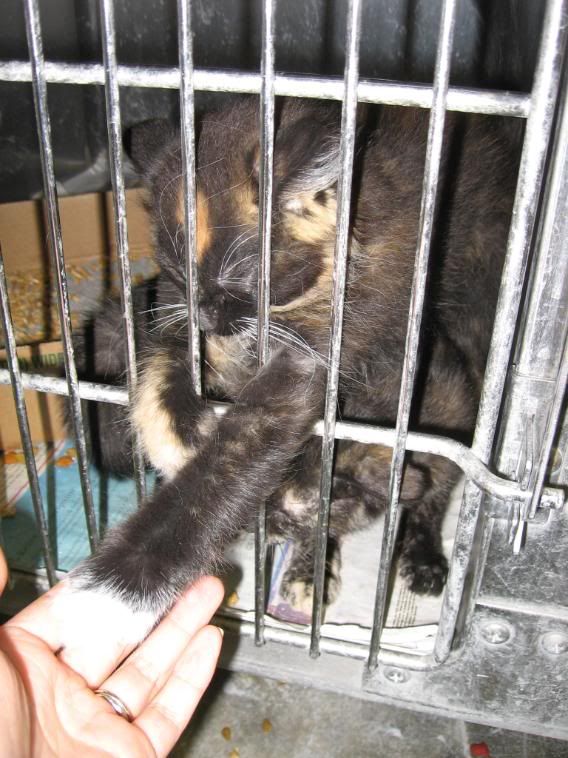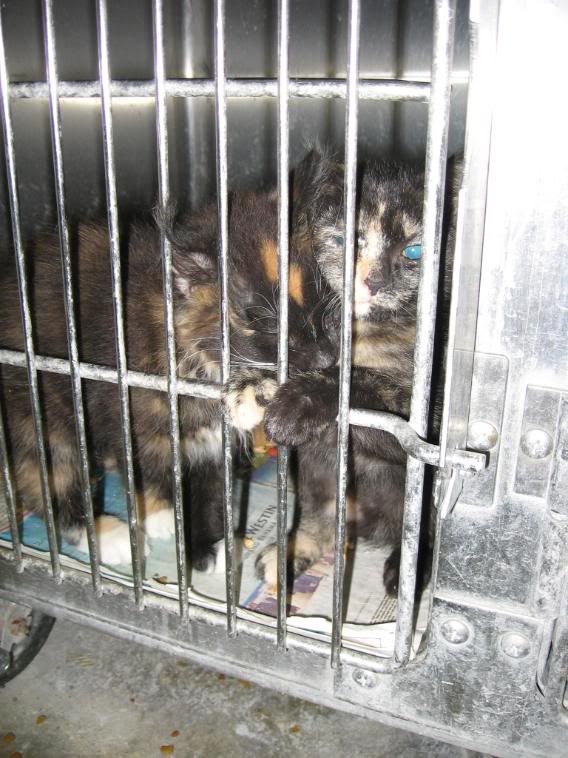 PEN 22 – 06-281 F, 06-238 F, 06-282 M, 06-284 M, AND 06-285 F ALL 6WK DMH – This cute family (although 238 may have been placed with the siblings) is mostly black, but number 284 has white feet, and 285 is torti.
They are very young, sweet, and fuzzy!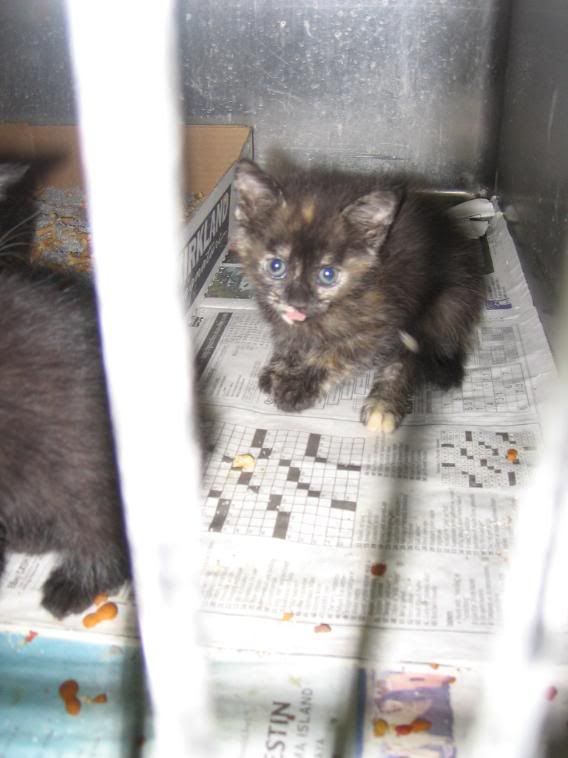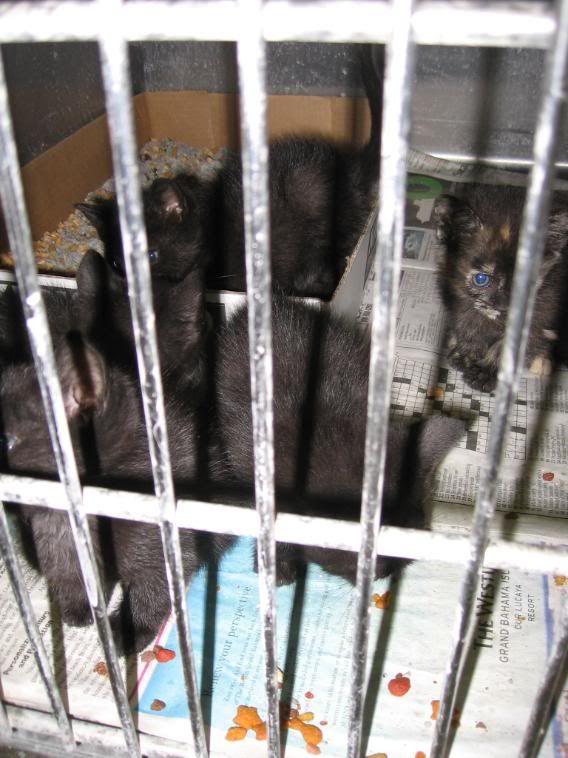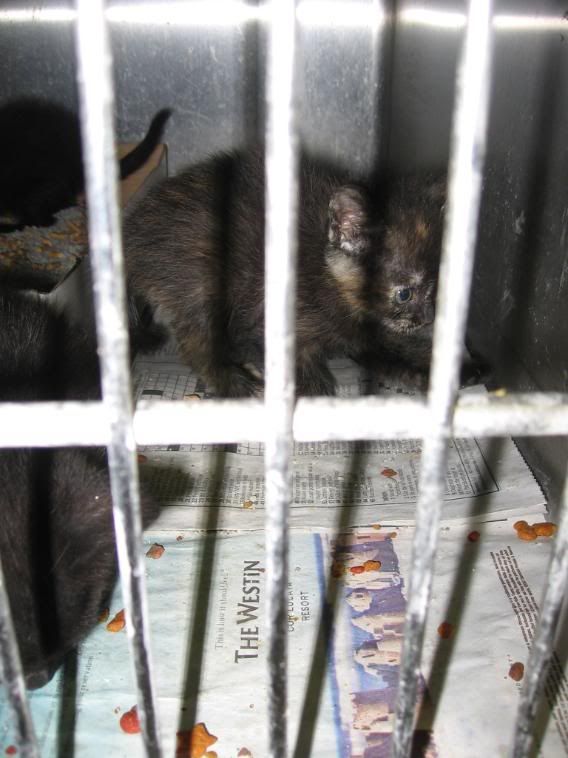 PEN 23 – 06-208 F 2YR DSM – This sweetheart wants to go home! She is a beautiful, rich, shiny shade of black.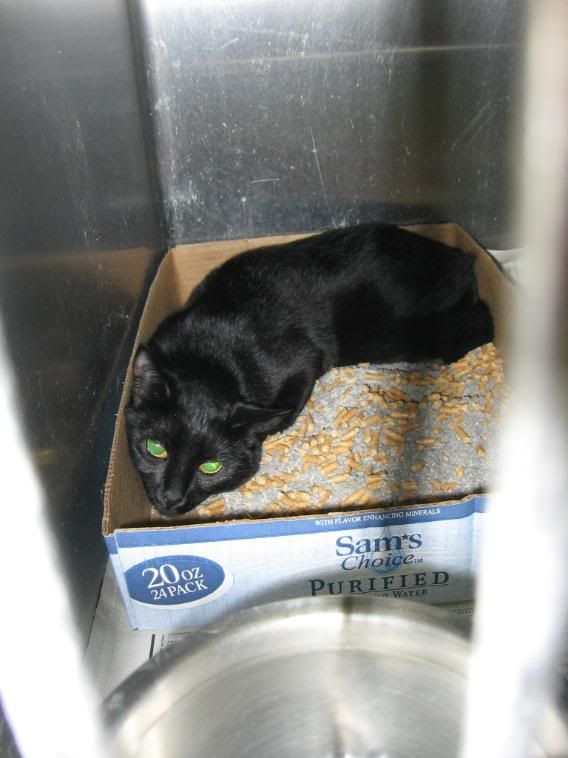 PEN 24 – ID#? SEX? DSH – This adult cat is black and white and appears fairly young and sweet. Please contact the shelter for additional information.
==========
Pictures were taken and list was compiled by Kellie Divis on 06-28-08.
ADD Kellie as a MySpace friend and SUBSCRIBE to the blog!
www. myspace. com/georgiaacangels
PLEASE REPOST! It's one of the cheapest, easiest, and most effective things you can do to help. People can't act if they don't know.
comments
(1) |
discussion
() |
permalink
|
send green star
|
flag as inappropriate
Visibility: Everyone
Tags:
Posted: Jul 2, 2008 9:06am
Jun 26, 2008
Lightning typically doesn't strike twice. And almost never three times. But it has in the meat and dairy industries, and they and government regulators need to do something about the systemic problem of downer cows.

Yesterday, The Humane Society of the United States released its latest undercover video showing abuses of dairy cows -- this time at an auction in Portales, New Mexico. The video shows workers kicking, hitting, dragging by chains, and electrically shocking cows unable to stand or walk. It sickens me to watch these images, and I know it must have the same effect on you.

This is our third exposé since January, and the horrifying cruelty we've documented shows why it's time for the USDA, the states, and the meat and dairy industries to act -- and to delay and dilly dally no longer. Watch our video, then urge the USDA to immediately adopt a comprehensive policy barring the slaughter of injured and ill cattle who cannot walk, called "downers." (The video will not start automatically if you prefer to take action without watching it.)

Our investigators visited five auctions and a slaughter plant during the course of these three investigations and found appalling mistreatment at every location -- providing irrefutable evidence that there are industry-wide problems that must be addressed.Besides fostering the terrible suffering of downers, the loophole has the potential to threaten the safety of our food supply: Downers have a higher risk of harboring foodborne pathogens such as Salmonella, E. coli, and even mad cow disease, than cows able to walk on their own. How much longer can we afford to wait?

While the USDA has committed to a ban on the slaughter of downers for human consumption, it has yet to implement it. And our latest investigation shows why USDA should not wait another day. While it's at it, the agency must broaden the ban to include downers at livestock auctions and other links in the food supply chain, too. Animals -- and the American public -- deserve aggressive action to solve this problem. There is no more time for hedging or delay. Please tell the USDA to act today.




Thank you for all you do for animals.
comments
(3) |
discussion
() |
permalink
|
send green star
|
flag as inappropriate
Visibility: Everyone
Tags:
Posted: Jun 26, 2008 8:34am
Jun 19, 2008
Name/ID: Eldin(LHC Member)(On 11/09/07 GA. Adoption fee $25)/PFAC572631
Type: Dog
Breed: Shepherd
Age: 2 years and 3 months.
Sex: Male
Base Color: Tan and Black
Markings: Shepherd mix.
Date of Birth: 03/13/2006
Details


---

Name/ID: Dingo(Adoption MUST be approved by Donna)(LHC Member)(On 11/09/07 GA. Adoption fee $25)/KHSS572564
Type: Dog
Breed: German Shepherd Dog
Age: 6 years and 2 months.
Sex: Male
Base Color: Black and Tan
Markings:
Date of Birth: 04/06/2002
Details


---

Name/ID: Ray-Ray (LHC Member)(On 11/09/07 GA. Adoption fee $25)/KHSS435035
Type: Dog
Breed: Shar Pei
Age: 8 years and 10 months.
Sex: Male
Base Color: Black
Markings: (Shar Pei/Lab Mix)
Date of Birth: 08/07/1999
Details


---

Name/ID: Faygo (LHC Member) (on 03/07/08 Guardian Angel adoption fee is $25)/SCRAPS038122
Type: Dog
Breed: Mastiff
Age: 6 years and 8 months.
Sex: Male
Base Color: Brindle
Markings: Mastiff mix
Date of Birth: 10/10/2001
Details
Name/ID: Morgan/PFAC038219
Type: Dog
Breed: Shepherd
Age: 2 years and 4 months.
Sex: Female
Base Color: Black and Tan
Markings: Shepherd mix
Date of Birth: 02/07/2006
Details
Name/ID: Tyson (real name)Guardian Angel 5/23/08.Adoption $50/KHSS048138
Type: Dog
Breed: Hound
Age: 4 years and 3 months.
Sex: Male
Base Color: Black and Tan
Markings: Walkerhound
Date of Birth: 02/27/2004
Details



Name/ID: Riley (real name)(LHC Memeber Adoption Fee $37.50)/KHSS048124
Type: Dog
Breed: Shepherd
Age: 9 years and 3 months.
Sex: Male
Base Color: Black and Silver
Markings: husky/shepherd mix
Date of Birth: 03/05/1999
Details
Name/ID: Bomber/KHSS048193
Type: Dog
Breed: Black Labrador Retriever
Age: 5 years and 2 months.
Sex: Male
Base Color: Black
Markings: lab/collie mix
Date of Birth: 04/11/2003
Details
Name/ID: Shane/RAC048312
Type: Dog
Breed: Chow Chow
Age: 6 years and 2 months.
Sex: Male
Base Color: Black
Markings: chow mix
Date of Birth: 04/01/2002
Details
Name/ID: Avery/PFAC048316
Type: Dog
Breed: German Shepherd Dog
Age: 2 years and 2 months.
Sex: Male
Base Color: Black and Tan
Markings: shepherd mix
Date of Birth: 04/01/2006
Details

Name/ID: Faith (real name)/KHSS612038
Type: Dog
Breed: Shepherd
Age: 3 years and 1 months.
Sex: Female
Base Color: Brown and Black
Markings: shepherd mix
Date of Birth: 04/15/2005
Details
Name/ID: Darcy/KHSS612301
Type: Dog
Breed: Black Labrador Retriever
Age: 7 years and 1 months.
Sex: Female
Base Color: Black
Markings: lab mix
Date of Birth: 04/24/2001
Details
Name/ID: Lucy (real name)/KHSS612332
Type: Dog
Breed: Bluetick Coonhound
Age: 1 years and 0 months.
Sex: Female
Base Color: Blue
Markings:
Date of Birth: 05/25/2007
Details
Name/ID: Rufus/KHSS411222
Type: Dog
Breed: Rottweiler
Age: 3 years and 0 months.
Sex: Male
Base Color: Black
Markings: rottweiler/lab mix
Date of Birth: 05/12/2005
Details
Name/ID: Nanuk (real name)/KHSS411305
Type: Dog
Breed: Samoyed
Age: 5 years and 3 months.
Sex: Male
Base Color: Yellow
Markings: Samoyed/Brittany spaniel mix
Date of Birth: 02/22/2003
Details
Name/ID: Dodger (Adoption must be approved by Donna)/KHSS411317
Type: Dog
Breed: Chow Chow
Age: 0 years and 6 months.
Sex: Male
Base Color: Black
Markings: possible shepherd/chow mix
Date of Birth: 11/30/2007
Details
Name/ID: Indiana/KHSS411417
Type: Dog
Breed: Yellow Labrador Retriever
Age: 3 years and 7 months.
Sex: Male
Base Color: Yellow
Markings:
Date of Birth: 10/16/2004
Details
Name/ID: Pete (real name)Has microchip/KHSS411434
Type: Dog
Breed: Chow Chow
Age: 9 years and 7 months.
Sex: Male
Base Color: Brown
Markings:
Date of Birth: 11/06/1998
Details
comments
(1) |
discussion
() |
permalink
|
send green star
|
flag as inappropriate
Visibility: Everyone
Tags:
Posted: Jun 19, 2008 9:50am
Jun 18, 2008

"Every moment was valuable. The absolutely most valuable and informative,
educational, inspiring morning of my adult life."
- Bobby Anderson, Boulder City, NV


Back by Popular Demand:
The No More Homeless Pets National Conference

Is achieving a country with No More Homeless Pets possible? You bet it is! Every day, more progress is being made, more lives are being saved. But there is still work to be done, and all of us have a part to play.
Whether you've always wondered what you as an individual could do to achieve a world of No More Homeless Pets, or always wondered what more your rescue group or shelter could do,
Best Friends invites you to join us for the much-anticipated return of the No More Homeless Pets National Conference, scheduled for October 24-26, 2008 in Las Vegas, Nevada.
Attendees will also be able to take a fun and informative trip to Best Friends Animal Sanctuary immediately after the conference as part of a special group tour.
With a focus on both tried and true lifesaving programs as well as exciting, cutting edge approaches in grassroots animal welfare, this is one event you can't afford to miss!
And this is one instance where what happens in Vegas won't stay in Vegas...you'll walk away raring to go, and well-equipped to help homeless pets in your own community.You'll learn how to:
| | |
| --- | --- |
| • | Build membership and raise funds you need |
| • | Place "unadoptable" animals |
| • | Work with government to help feral cats |
| • | Put puppy mills out of business |
| • | Rally support using the Internet |
| • | Get along with, ahem, challenging people |
| • | Develop targeted spay/neuter programs |
We'll also provide opportunities and time for you to meet with other devoted individuals and organizations from your region, as well as with many of the most dynamic, inspiring leaders of the animal welfare movement.
For the latest news on the conference, and to register online please visit www.nomorehomelesspetsconference.org.
Right now, history is being made, and every person who joins the fight brings our shared goal of No More Homeless Pets a little bit closer. We sincerely hope to see you in Las Vegas.
Beth Mersten
Best Friends Animal Society
Visibility: Everyone
Tags:
Posted: Jun 18, 2008 12:20pm
Jun 16, 2008
Perhaps surprisingly in the 21st Century, bullfights still exist in several countries of the world, much to our shame in what we commonly regard as an "enlightened" era.

These are barbaric shows, and relics of the Dark Ages.

Nevertheless, these spectacles still exist due to the powerful lobbies that support them. These lobbies maintain this bloody business for profit, at the cost of animals' pain, torment and death. They have the support of national and local governments, and receive backing from financial enterprises keen to promote their brands as having a "cultural" flavour, and from the fashion media who like to display "chic" images, regardless of the suffering involved. Despite the increase in public awareness in recent years, this minority continues to get rich by torturing bulls and horses. Several attempts to expand their dirty business to other countries are well known. Charitable bullfights to raise money for starving children of third world countries, and to fund research into serious diseases, etc, are blatant attempts to popularise their "sport" and give it a veneer of respectability. If this were not enough, even the Catholic Church does not condemn these acts. It's common to see bullfights in "honour" of saints carried out with the blessings of the clergy.

The truth is, if a creature suffers then there can be no moral justification for refusing to take that suffering into consideration. All animals are sentient beings that experience joy, happiness, fear and pain, in the same way that human beings do. We can have no right whatsoever to make them suffer for our "enjoyment". If any torture inflicted to an animal deserves condemnation, bullfights are the worst kind of torture since they are performed solely in the name of entertainment. We must end the animals' torture and stop these shows of brutality and violence. It is too small a step from the intentional infliction of pain on an animal to the torture and killing of human beings.

Jeremy Bentham once said: "It doesn't matter if they can reason; it doesn't matter if they can speak; what does matter is if they can SUFFER."


http://www.thepetitionsite.com/takeaction/841589646
Visibility: Everyone
Tags:
Posted: Jun 16, 2008 9:08am
Apr 21, 2008
There is a link to a site where this Spokane store can be reviewed. Please express your disapproval of ANY store that would sell puppies (likely from puppy mills) for thousands of dollars while shelter pets die every minute of every day!
New "Toy and Designer Dog" Pet Store in Spokane - Please Leave Comments!
Animals (tags: pet stores, designer dogs, puppy mills, abuse, abused, AnimalCruelty, AnimalWelfare, animaladvocates, animalcruelty, animalrights, animals, animalwelfare, cruelty, dogs, ethics, pets, protection, sadness, suffering )


Jacquelin

- 2 minutes ago - bizfindernw.com
Bark Avenue is a unique "Bow-tique" for every dog lover!! Accessories, pet supplies and much more. Specializing in toy & designer dog breeds. t: view phone (509) 487-4242 f: view fax (509) 487-4849 e: Johnorah@aol.com
Apr 17, 2008
Dear Sir/Madam:


Thank you for your communication regarding inhumane handling of cattle at Hallmark/Westland Meat Packing Company. The Food Safety and Inspection Service (FSI
of the Department of Agriculture (USDA) has been asked to provide you with a response, and we appreciate the opportunity to update you on how the Agency is responding to the situation. I want to assure you that USDA and FSIS are taking these allegations very seriously. FSIS and the USDA's Agricultural Marketing Service (AM
are working with the USDA's Office of Inspector General (OIG) as they conduct an investigation into this matter. The USDA investigation is ongoing, and additional actions will be taken as warranted.


FSIS is the public health regulatory agency in USDA responsible for ensuring that meat, poultry, and processed egg products are safe, wholesome, and accurately labeled. FSIS enforces the Federal Meat Inspection Act, the Poultry Products Inspection Act, and the Egg Products Inspection Act, which require Federal inspection and regulation of meat, poultry, and processed egg products prepared for distribution in commerce for use as human food. FSIS also enforces the Humane Methods of Slaughter Act, which requires that all livestock at federally inspected establishments be handled and slaughtered in a humane way.
We place a very high priority on ensuring that animals are treated humanely at all times. We have taken prompt actions. A summary of those actions is listed below.
January 30, 2008—USDA indefinitely suspended Hallmark/Westland Meat Packing Company as a supplier to Federal nutrition assistance programs. In addition, an administrative hold was placed on all Hallmark/Westland Meat Packing Company products that were in or destined for Federal food and nutrition programs.
February 1, 2008—Hallmark/Westland Meat Packing Company voluntarily stopped slaughter operations.
February 4, 2008—As a result of FSIS findings, FSIS issued Hallmark/Westland Meat Packing Company a Notice of Suspension because the establishment failed to maintain and implement controls to prevent the inhumane handling and slaughter of animals at the facility as required by FSIS regulations and the Humane Methods of Slaughter Act. The suspension will remain in effect and the establishment will be unable to operate until written corrective actions are submitted and verified by FSIS to ensure that animals at the facility are handled and slaughtered humanely.
February 17, 2008—Based on evidence obtained from the ongoing investigation, FSIS announced that Hallmark/Westland Meat Packing Company had voluntarily recalled raw and frozen beef products produced since February 1, 2006, due to non-compliance with FSIS regulations. The recall has been designated a Class II because these products represent a low risk to human health. The Federal government has an interlocking system of controls established to protect the food supply. Immediately following the recall announcement, the USDA Food and Nutrition Service (FN issued instructions for the recall and destruction of the Hallmark/Westland beef placed on hold since January 30, 2008, and for Hallmark/Westland Meat Packing Company beef dating back to February 1, 2006. Products affected by the recall are no longer being served in schools. To minimize disruption to school food service operations, USDA is working closely with States to quickly provide replacement commodity product from validated sources or credit their commodity entitlement accounts. For information or questions regarding the purchase of products for Federal food and nutrition programs, you may wish to visit the AMS Web site at http://www.ams.usda.gov/. For information or questions regarding the National School Lunch Program (NSLP), including contact information for the State agency that administers the NSLP in your State, you may wish to visit the FNS Web site at http://www.fns.usda.gov/fns/default.htm.
February 28, 2008—FSIS announced the interim actions that the Agency is taking to verify and thoroughly analyze humane handling activities in all federally inspected establishments pending the conclusion of the investigation. Details of the interim activities can be found at http://www.fsis.usda.gov/News_&_Events/NR_022908_01/index.asp.
March 18, 2008—FSIS granted the Hallmark/Westland Meat Packing Company's request for a voluntary withdrawal of inspection.

Please visit the FSIS Web site at http://www.fsis.usda.gov for updates as the investigation progresses.
Sincerely,
Kenneth E. Petersen, D.V.M., M.P.H.
Assistant Administrator
Office of Field Operations
comments
(2) |
discussion
() |
permalink
|
send green star
|
flag as inappropriate
Visibility: Everyone
Tags:
Posted: Apr 17, 2008 1:34pm
Apr 16, 2008
Dear Friends, I am sending this out to the 25 of you because it's important information that needs to be circulated and posted around the various animal welfare sites here at care2 and beyond. I just received this information from Kinship Circle and you'll find it's quite comprehensive. You have complete permission to copy and cross-post- the important thing is to get the info out. I'll be posting some of it on Voice for Change CAUSE as it pertains to a wide range of issues.

I believe there's useful information for here for most anyone with concerns for animal welfare regardless of where you live.

Best to you all.
With love,
Katia Louise



KINSHIP CIRCLE PRIMARY - PERMISSION TO CROSS-POST AS WRITTEN

When you speak for animals, speak intelligently. You are all they have!
http://www.kinshipcircle.org/fact_sheets/



DOWNLOAD THIS FACT SHEET:
http://www.kinshipcircle.org/fact_sheets/VivisectiLessonFutilityPH.pdf



DOWNLOAD THIS FACT SHEET:
http://www.kinshipcircle.org/fact_sheets/MODSacrificOneWontSaveOther.pdf


4/15/08: Red Tape Keeps Animals In U.S. Labs
ICCVAM's Legacy Of Inertia


EMAIL kinshipcircle@accessus.net FOR WORD DOC OF A FORMATTED LETTER.
Easily modify letter and copy/paste it into an email or print out to fax or mail.

===========================================================
FULL CONTACT INFORMATION. Sample letter follows.
===========================================================

Dr. William Stokes, ICCVAM Executive Director & NICEATM Director
Interagency Coordinating Committee on the Validation of Alternative Methods
NIEHS, EC-17, P.O. Box 12233
Research Triangle Park, NC, 27709
ph: 919-541-7997; email: stokes@niehs.nih.gov, iccvam@niehs.nih.gov

Marilyn L. Wind, Ph.D., Chair, ICCVAM
Deputy Associate Executive Director
Directorate for Health Sciences
U.S. Consumer Product Safety Commission
4330 East West Highway, Rm. 600
Bethesda, Maryland 20814
ph: 301-504-7246; email: mwind@cpsc.gov

The Honorable Representative [YOUR REP'S NAME]
U.S. House of Representatives; Washington, D.C. 20510

The Honorable Senators [YOUR 2 SENATORS' NAMES]
The U.S. Senate, U.S. Capitol Building; Washington, D.C. 20510

To identify your federal legislators and find contact info, try:


===========================================================
EMAIL BLOCK: All emails found for this alert.
===========================================================

FULL CONTACT INFO FOR ALL ICCVAM REPRESENTATIVES LISTED BELOW IS HERE:
http://iccvam.niehs.nih.gov/about/agencies/ni_Reps.htm

stokes@niehs.nih.gov, iccvam@niehs.nih.gov, mwind@cpsc.gov,
mohammed.mumtaz@cdc.hhs.gov, khatlelid@cpsc.gov, jmatheson@cpsc.gov,
Robert.Foster@OSD.Mil, Patty.decot@OSD.Mil,
Peter.Schultheiss@det.amedd.army.mil, harry.salem@us.army.mil,
michael.kuperberg@science.doe.gov, marvin.stodolsky@science.doe.gov,
barnett_rattner@usgs.gov, Sarah_Gerould@usgs.gov, george.cushmac@dot.gov,
steve.hwang@rspa.dot.gov, hamernik.karen@epa.gov, rispin.amy@epa.gov,
preston.julian@epa.gov, mccall.deborah@epa.gov, mcmaster.suzanne@epa.gov,
smrchek.jerry@epa.gov, suzanne.fitzpatrick@fda.hhs.gov,
lawrence.dhoostelaere@fda.hhs.gov, william.allaben@fda.hhs.gov,
david.hattan@fda.hhs.gov, paul.howard@fda.hhs.gov

robert.bronaugh@fda.hhs.gov, richard.mcfarland@fda.hhs.gov,
devaraya.jagannath@fda.hhs.gov, ying.huang@fda.hhs.gov,
cecilia.aguila@fda.hhs.gov, abigail.jacobs@fda.hhs.gov,
melvin.stratmeyer@fda.hhs.gov, paul.brown@fda.hhs.gov, polanda@mail.nih.gov,
kevin.howcroft@nih.hhs.gov, tice@niehs.nih.gov, chhabrar@niehs.nih.gov,
heindelj@niehs.nih.gov, snyderm@od.nih.gov, paul.nicolaysen@cdc.hhs.gov,
kmurali.rao@cdc.hhs.gov, goshorj@nlm.nih.gov, ahir.surender@dol.gov,
jodie.a.kulpa-eddy@aphis.usda.gov, betty.j.goldentyer@usda.gov

*Kinship Circle cannot guarantee validity of email addresses. During
campaigns, recipients may change or disable their email addresses. Emails
from government, corporate, or institute websites may be incorrect.

===========================================================
SAMPLE LETTER -- This letter is prepared to inform you about the issue.
Try to shorten and personalize your letter before sending.
===========================================================

Dear Representative, Senators, and ICCVAM Committee:

The Lethal Dose 50 Percent (LD-50) test measures the dose of a substance
needed to kill half a group of laboratory animals. For up to two years,
animals ingest chemicals via stomach tube, inhalation, spray and injection.
They vomit, convulse, become paralyzed and bleed from eyes, nose and mouth.

LD-50 tests are not as accurate as combined human cell tests. Still,
pharmaceutical, chemical and consumer firms are required to poison animals.
Companies that conduct animal-free experiments in-house must ultimately kill
animals to meet regulatory qualifications.

I respectfully ask government regulators to accelerate validation of
non-animal research tools. I also ask my elected officials to advocate
legislation mandating the use of animal-free tests.

Since the ICCVAM Authorization Act established the Interagency Coordinating
Committee on the Validation of Alternative Methods as a permanent committee
in 2000 -- ICCVAM's panel has approved just four non-animal tests (among 185
reviews). Comparatively, the European Center for the Evaluation of
Alternative Methods (ECVAM) has 34 human-focused methods in place, with 170
more under active evaluation. In 1986 the European Commission stipulated use
of animal-free tests whenever feasible and later began a phase-out of animal
experiments for cosmetics.

U.S. lawmakers must allocate funds to ICCVAM so informed scientists can
develop non-animal models as their European counterpart does. ICCVAM's
current committee clings to customary, but old-fashioned animal experiments
that haven't undergone thorough scientific analysis.

Toxicity testing in animals is "expensive, time-consuming, uses animals in
large numbers...and it doesn't always work," says Francis Collins, director
of NIH's National Human Genome Research Institute. A National Academy of
Sciences report, "Toxicity Testing in the 21st Century," calls for
non-animal methodology. According to the National Research Council, in vitro
strategy "would generate more-relevant data to evaluate risks people face."

It is indisputably cruel to pour toxins into the clipped-open eyes of
rabbits (Draize eye irritancy) or smear corrosives over an animal's shaved
skin (skin absorption tests). Human safety data should not come from
poisoning animals (LD-50) or overdosing them with drugs while locked in
metal restraints (pyrogenicity tests).

Please capitalize on strides in biology and computer automation that let
researchers gauge toxicity more reliably. I urge ICCVAM to do its job. I
urge Congress to enact funding so ICCVAM can do its job.

Thank you,

===========================================================
SOURCE OF INFORMATION / REFERENCE LINKS
===========================================================

In U.S., Few Alternatives To Testing On Animals
Panel Has Produced 4 Options in 10 Years
http://www.washingtonpost.com/wp-dyn/content/article/2008/04/11/AR2008041103733.html?hpid%3Dtopnews&sub=new


Help us print Kinship Circle literature for nationwide distribution
PLEASE DONATE:
http://www.kinshipcircle.org/donation/
Hard copies cost money and we need your help to pay the printer!
Kinship Circle is a 501c3 nonprofit. All donations are tax-deductible.


http://www.kinshipcircle.org/fact_sheets/DownedOnTheFarmPHOTOS.pdf
http://www.kinshipcircle.org/fact_sheets/fatalfights.pdf
http://www.kinshipcircle.org/fact_sheets/DyingForAHomeUnwantedCompa.pdf

http://www.kinshipcircle.org/fact_sheets/BloodPrintOnIce.pdf

...AND MANY MORE FREE DOWNLOADS: http://www.kinshipcircle.org/fact_sheets/

KINSHIP CIRCLE
Action Campaigns I Literature I Animal Disaster Aid Networking
info@kinshipcircle.org or kinshipcircle@accessus.net
http://www.KinshipCircle.org * http://www.kinshipcircle.org/disasters


SUBSCRIBE:
Kinship Circle Primary: subscribe@kinshipcircle.org
Action campaigns on animal cruelty issues worldwide
Kinship Circle Animal Disaster Relief: kinshipcircle@accessus.net
Animal rescue coordination/news in disasters + companion animal alerts

*DISCLAIMER: The information in these alerts is verified with the original
source. Kinship Circle does not assume responsibility for the accuracy of
the information or for the consequences of its use. Nothing in this email is
intended to encourage illegal action in whatever country you are reading it
in. Kinship Circle does not engage in, nor support, any form of harassment
or unlawful activity. Nothing in this alert serves to promote such conduct.
Visibility: Everyone
Tags:
Posted: Apr 16, 2008 7:39am
Apr 16, 2008
Thanks to all who forwarded this to me:
as posted from www.dawnwatch.com :

In the last few days Sea Shepherd (www.SeaShepherd.org) has been making international news, including many front pages, on two counts: The Canadian government handed the organization a wealth of publicity when it stormed and seized the group's ship, the Farley Mowat. And the Japanese Whalers are ending their hunt with half as big a kill toll as they had hoped; they blame the activists.

It is interesting to note that while the stories have made front page news in Canada, and leading news throughout Australia and the UK, both have been largely ignored by the US media. Papers such as USA Today and the Los Angeles Times have not touched on the stories this week. The New York Times did a perfunctory story on Monday April 14, headed "Bail in Canada for 2 From Protest Ship" which said only:

"A court in Nova Scotia granted bail on Sunday to two crew members of a seal hunt protest ship that was stormed and seized by the Royal Canadian Mounted Police.

"The protest ship, Farley Mowat, which is owned by the Sea Shepherd Conservation Society, was raided on Saturday after Canadian officials charged that it had endangered the lives of seal hunters off the coast of Newfoundland, interfered with fisheries officers and 'forced two collisions' with a Canadian Coast Guard icebreaker.

"The animal rights group contends that the ship, which is registered in the Netherlands, was in international waters at the time of the raid, making the police action illegal.

"There were 17 crew members, including 6 Americans, aboard the Farley Mowat when it was boarded by the police tactical squad, said Allison Lance, a spokeswoman for Sea Shepherd. However, charges were made against only the captain, a Dutch national, and his first mate, a Swede."

You'll find it on line at http://www.nytimes.com/2008/04/14/world/americas/14canada.html?ref=americas
Some letters to the editor could generate more discussion of the matter. The New York Times takes letters at letters@nytimes.com

In contrast, Canada's Globe and Mail had the story on Monday's front page, and included an editorial headed, "The seizure of the Farley Mowat," which began with:

"The boarding and seizure of the environmental vessel the Farley Mowat and the arrest of her captain and first officer is not only a grossly disproportionate response to the efforts of opponents to document the seal hunt, but it is itself an overtly political act."

It told us:
" It is also a way for the Coast Guard, which falls under Mr. Hearn's Department of Fisheries and Oceans, to redeem itself with the sealing and fishing community following the tragic sinking of the fishing vessel Acadien II while under tow by a Coast Guard ice breaker.

"Four sealers from Quebec were killed in the icy waters when their vessel overturned in that notorious incident two weeks ago. Accounts of the tragedy allege bungling by the Coast Guard crew, followed by callousness in the official response to the tragedy and search for survivors."

Today, Tuesday April 15, the Globe and Mail printed a slew of letters in response, including this one:

"Seeing my tax dollars hard at work arresting seal protesters makes me ashamed to call myself Canadian. Our government just doesn't get it. Why are we investing hundreds of millions of dollars across Canada to attract tourism when we're prepared to flush our international image down the toilet for $20-million in seal pelts? This cruel slaughter is disgusting, it's an economic disaster, and it's an embarrassment.
Craig Kelley"

But the conversation is far from over. Today's Globe and Mail also includes articles headed, "Hearn 'absolute liar,' ship's captain says; War of words continues as Fisheries Minister insists anti-sealing vessel was in Canadian waters when seized" and "Ottawa keeping observers from hunt, anti-sealers charge." (Both page A 12)
You'll find those on line at http://www.theglobeandmail.com/servlet/story/RTGAM.20080415.wseal15/BNStory/National/home
and
http://www.theglobeandmail.com/servlet/story/RTGAM.20080415.wsealobserve15/BNStory/National/home
respectively.
(Tiny URLS are http://tinyurl.com/6jz876 and http://tinyurl.com/63za3o)

The paper seems interested in keeping the story alive, so why not support the discussion? International letters can back up Canadian feelings and fears, as expressed above. The Globe and Mail takes letters at letters@globeandmail.com

Canada's National Post, Tuesday April 15, also gave the story front page billing. The article, by Don Martin and headed, "Caution: Photo op just ahead; Careless handling could give 'irate' what he wants" was blatantly slanted against Sea Shepherd, yet it made some great points.

We read:

" -- and this guy's so radical he was unanimously evicted from Greenpeace in 1978 for refusing to swear to non-violent confrontation. As he has noted in the past, 'Greenpeace protests, we intervene.'"

True.

We are told, "the lingering reaction seems to be a 'welcome to Nova Scotia' gift that keeps on giving for the captain and his crew.

"The crew's bail was posted by author and namesake Farley Mowat, who told the CBC's Nancy Wilson that Mr. Watson 'is the most heroic Canadian of recent times' while advising Mr. Hearn to 'go screw himself.'"

And also, "Naturally, Mr. Watson left room service to milk even more camera footage for the cause by paying the bail in toonies."

All true.

Then we read:

"The future ramifications appear increasingly worrisome. Beyond the possibility of a seal products import ban in Europe, this showdown puts to risk the Newfoundland travel campaign, one of the best provincial or federal efforts I've ever seen."

True. Though you may wish to debate "worrisome."

Martin then acknowledges the issue of whether the Canadian Coast Guard stormed a Dutch ship in international waters (as Sea Shepherd's Paul Watson contends, labeling the act as piracy):

"And we can only hope the Farley Mowat doesn't prove to have superior satellite location technology to a Canadian Coast Guard vessel mandated to keep track of our territorial limit. If it turns out the ship was outside of Canada's 12 nautical mile limit when it was boarded, Mr. Hearn has some serious explaining to do."

The article's dramatic finale, while negatively slanted, and underestimating Sea Shepherd in various ways, does a reasonable job of summing up the impact of the seizure:

"An organization run by a self-described pirate specializing in acts of international sabotage -- ramming whaling ships, sinking trawlers to block harbours and cutting nets, to name a few -- cannot roam around a legally sanctioned and historic hunt while illegally inside territorial waters without a challenge.

"But Canada knew days in advance they were dealing with a shipshape photo op.

"By staging a heavy-handed takedown of a vessel run mostly by youthful volunteers acting more like a nuisance than a menace, they may have inadvertently become a willing partner in an anti-sealing crusade."

You can respond to the National Post at http://tinyurl.com/3agn6t

If the story is in your local paper, please respond there!

The other big Sea Shepherd story is in the Australian, The Age, and in the UK's Independent, Tuesday, April 15, where it is headed "Japanese whalers blame 'sabotage'." (pg 24)

It tells us:

"A Japanese fishing fleet is expected to return from its latest expedition having killed just over half its target number of whales.

"The 8,000-tonne Nisshin Maru factory ship and five other whaling vessels were due to dock in Japan last night after returning from the Antarctic laden with the meat from 551 minke whales caught during a four-month 'research' voyage which was repeatedly targeted by animal rights activists.

"The catch was far below the target of 935 set by the Japanese authorities, which in turn blamed the campaigners, the American-based Sea Shepherd Conservation Society and Greenpeace, for reducing the amount of time it could devote to hunting for 'scientific purposes'".

We read that "Activists on board a vessel from the Sea Shepherd group repeatedly clashed with the Japanese fleet as it plied the Southern Ocean looking for minke whales and the much larger fin whales." And we have the following quote from a spokesman for Japan's Fisheries Agency: "Sabotage by activists is a major factor behind our failure to achieve our target. We did not have enough time for research because we had to avoid sabotage."

You'll find that article on line at http://tinyurl.com/3hemdr and can send a letter to The Independent at letters@independent.co.uk. The paper advises, "Letters for publication in the newspaper must include the sender's name, postal address and daytime telephone number."

Again, if the story appears in your local media, please take the opportunity to send a letter to the editor.
Visibility: Everyone
Tags:
Posted: Apr 16, 2008 7:32am
| | |
| --- | --- |
| | Content and comments expressed here are the opinions of Care2 users and not necessarily that of Care2.com or its affiliates. |
SHARES FROM JACQUELINE'S NETWORK