Jun 30, 2007


"Arrêt sur Images" is the only objective news broadcast on a French public TV channel. Its purpose is to give us another look on the information, show us both sides of the coin, keep us updated about what is said in other countries, let us see what is meant to be hidden from us, analyze and objectively criticize it. It is an EXCELLENT and very professional broadcast.



That broadcast is to be removed from the programs, after the Summer holidays, for no clear reason.
Our new president, Sarkozy, is imposing his censorship already, as he threatened many times the journalists to during the last presidential campaign.


Please, sign the petition for the sake of freedom of speech and information.


http://arret-sur-images.heraut.eu/index

Arrêt sur Images va disparaître du paysage audiovisuel français.
Cette décision "sans réelle explication" n'a pas lieu d'être sur une chaîne publique qui se présente comme une chaîne pédagogique.
Arrêt sur Images est une des rares émissions (si ce n'est la seule) qui exerce un regard critique sur la télévision et sur l'image en général.
Nous demandons que cette émission soit maintenue.

Arrêt sur images is to be removed from the French audiovisual area
This decision, "with no real explanation" shouldn't happen on a public TV channel, which purpose is to educate people.
Arrêt sur images is one of the rare broadcasts (if not the only one) with a critic outlook on TV and image in general.
We demand that broadcast to continue.

TO PRESERVE THE DIVERSITY OF THE FRENCH INFORMATION :


http://arret-sur-images.heraut.eu/index

To sign the petition click on "signer la pétition"
Then fill out the following :

NOM (family name)
PRENOM (surname)
Adresse électronique valide (SVP) (valid email address, please).
Then, click "signer" (sign).




You will receive an email of confirmation at the address you will have provided. Please click on the link in that email to validate your signature.


all for helping us preserve our freedom of speech and the independance of our medias.




Jun 14, 2007
My Dear Friends,

I sent you some news to note and I must do so once again.

Delara's lawyer is trying to work with the latest turn of events to create a new opening for the possibility of a proper trial.

This would actually be the very first trial Delara has ever had.

Her conviction up to this point, rested upon a false confession that she made to protect Amir Hussein.

In addition to noting these news items we are asking for everyone's help in two main areas:

First, we need to make certain that all have signed the petition to save Delara. We also need people to send letters, emails, faxes and phone calls of protest to every Iranian embassy throughout the world as well as the Iranian Judiciary.

DELARA MUST BE GRANTED A FAIR TRIAL AND AN OPPORTUNITY FOR EVIDENCE THAT PROVES HER INNOCENCE TO BE OFFICIALLY PRESENTED IN COURT ! SHE MUST NOT BE EXECUTED FOR A CRIME THAT SHE DID NOT COMMIT. IT IS A VIOLATION OF INTERNATIONAL LAW TO EXECUTE ANYONE FOR A CRIME THEY MAY HAVE COMMITED AS A MINOR. IRAN MUST ABIDE BY THIS LAW AS THEY HAVE SIGNED AND AGREED TO HONOR IT.

These are the three key points to make clear.

Please circulate this request among all of your friends.

Second, we ask all who blog and have websites to please post on behalf of Delara so as many people as possible get to learn about her case and have an opportunity to speak out while there is yet time.

Information, banners, pictures and links to the petition and to savedelara.com, are what we would ask you to post.

I will post the suggested information for your site or page on our SaveDelara Advocacy resource center here on Care2.

The thread will be simply titled : Bloggers For Delara !

This will be helpful far more than you can ever realize.

I thank each of you who have expressed such concern and kindness in both your postings on the news and privately in letters.

You are all amazing and I treasure you as friends.
Blessings,
Indigo

For Delara Darabi !

Jan 26, 2007
My friend Dariana made 2 videos. She's an active code pink member.

These videos and all comments will later be featured on CODEPINK and DOI. Please rate and comment, if you agree and haven't already. Thanks in advance.
http://www.youtube.com/watch?v=AOkUhasw_Q0
http://www.youtube.com/watch?v=eYrHm1KKaQI

I shall sure be there in spirit on January 27th.

We are packing our bags, jumping onto buses and trains and planes, flinging our pink boas around our necks, ready and excited to bring our Women Say No to War campaign to the streets of Washington, DC!

Women will be a powerful force at the massive Mandate for Peace mobilization this Saturday, January 27-before the march, too, when we will join with Jane Fonda, Susan Sarandon, Sean Penn, Eve Ensler, Q'orianka Kilcher, Rhea Perlman, Mimi Kennedy, Congresswomen Lynn Woolsey and Maxine Waters, and other amazing women for a colorful and rowdy Women Say Pull Out convergence. We hope you'll join us!

"I have been walking the halls of Congress this week with Iraq veterans to help get them the health care and benefits they need and deserve. And I'll be back on Saturday to join the anti-war march and encourage all Americans to come out and engage. Let's show we really care about our troops by bringing them home now and taking care of them when they get here."

— Susan Sarandon

President Bush's State of the Union address only drives home why we need to take to the streets this Saturday. As much as he spoke of "hope and opportunity" for America's future Tuesday night, Bush is squandering our truest hopes and opportunities by funneling so much money into an unnecessary war.

This recent graphic in the NY Times highlights how recklessly our tax dollars are being used. We are pouring $200 billion dollars into the war in Iraq, while universal health care for everyone in the country without insurance would cost just half that amount. Universal preschool would only cost our country $35 billion. Immunizing the entire world's children against diseases such as measles and diphtheria would cost $0.6 billion.

We can't let this madness continue.

Join us on January 27 to say No More Funding for War! Bring Our Troops Home Now! We will use our feet and our lungs and our signs and our outrage to let Bush and our new Congress know that we are serious about ending this war.

If you can't make it to DC, see if there is a solidarity event being planned in your area. If not, create your own, even if that means standing alone on a street corner with a sign! In lieu of lobbying, you can call your Congressperson to demand they cut the funding for George Bush's War. Our voices are powerful, wherever we may be geographically. We know peace is the only real path to hope and opportunity for this country. Together we will make it happen.

With peace and excitement,

Dec 3, 2006
For 33 days following Thanksgiving and continuing throughout the holiday season , Spryte Loriano, Founder of FEED 333, has organized a campaign to feed 3 million and more of America's hungry children in 33 days by raising $3 million. Contributions as little as $1 provide fuel to launch the program. 100% fiscal accountability ensure all proceeds count toward the actual relief effort.
Burbank, CA (PRWEB) November 22, 2006 -- How do you feed 3,000,000 starving children in the USA in 33 days? Inspired by the groundbreaking new movie, "The Secret," Spryte Loriano envisioned a world where all children receive the nourishment for their bodies, to fuel the expansion of their minds, to ignite the fires in their hearts, to live as the greatest possibility of their spirits. Therin lies the answer.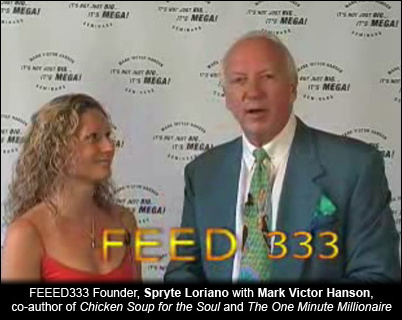 Recent government statistics and aid counsel information inform us that 13 million children in the United States go to bed hungry every night. FEED 333 is a national campaign programmed to change that, with the view that Ms. Loriano states as "one starving child is one too many".

In addition to the efforts made over the 33 days before year-end, FEED333 is assisting the "Miracle on 138th Street", an event sponsored by Feed The Children, feeding 10,000 people in New York City, December 21st.

"We are honored to be able to assist Feed the Children in their efforts" comments Spryte. "We hoped for significant reach with our program, and it's organizations like Feed the Children who have been heads-down for decades, establishing a precedence for what needs to be done. We intend to give our all to these folks, and hope to greatly extend the ripple effect".

FEED333's donations will be divided among three SELECT well-established, sound American based charities with the World Trust Foundation acting as Fiscal Sponsor. FEED 333 is partnering with The Children's Hunger Fund (Named the #1 Charity in America by Forbes Magazine), The Houston Food Bank (tied for #2 Most Effective Charity in the US by Forbes Magazine) and Feed the Children.

"Every Great story on the planet happened when someone decided not to give up, but kept going with passion and commitment, regardless of the obstacles" mentions Ms. Loriano. "We believe the seed of hope we'll plant in these children, and the positive effects it will have on their families, neighborhoods, schools and cities are significant. If you visit our web site, you'll see that we are not alone in this vision, and I am proud to be surrounded by the very best sponsors and partners".

The inception of the idea came as a result of watching a movie recently released on limited screens throughout North America. The Secret is an extension of the famous Andrew Carnegie success principles Napoleon Hill chronicled in his books regarding abundant thinking (Think and Grow Rich and Master Key to Riches among them). The movie interviews 55 credible business leaders and teachers on how they have applied and molded this basic philosophy, and where and when they found the "sweet spot" of success in their own lives.

Ms. Loriano found the movie deeply moving. Within the core of the message was a simple element that is often missing from the formula's many preach: take action. In this case, the action was to establish a big enough project that it would require intense, focused commitment, and many people with exceptional reach. Within days Spryte was able to corral luminaries including Mark Victor Hansen (Chicken Soup for the Soul) Robert Allen (Multiple Streams of Income) and Tess Cacciatore of World Trust Foundation to her cause.

"This campaign is about the beginning of the belief that it is possible to have a completely nourished world." -Spryte Loriano, Founder FEED333

Oct 28, 2006
Have you heard of that pyramid ?

Un centre de dialogue interreligieux


La Pyramide de la Paix est le nouveau centre de dialogue interreligieux d'Astana, capitale du Kazakhstan. Le bâtiment, signé Norman Foster, a été inauguré en septembre 2006.
Pyramide de la Paix © Nigel Young / Foster and Partners
La pyramide mesure 62 m de hauteur pour une base carrée de 62 m de côté également. Elle est donc bien petite à côté de la pyramide de Khéops, en Egypte, référence mondiale du modèle, qui atteint aujourd'hui 139 m de haut.
La Pyramide de la Paix abrite quatre lieux de culte pour le judaïsme, l'islam, le christianisme et le bouddhisme, mais aussi une "Université des civilisations" ou encore un Centre national des groupes ethniques.


Sorry it is in French.


That Pyramid of Peace (also called "Palace of Peace and Concord" ) has been concieved and designed by the architect Norman Foster and built up in Astana, capital of Kazakhstan. It has been inaugurated in Sept 2006.
That Pyramid countains accomodations for 4 different religions : Judaism, Islam, Christianism and Bouddhism, plus a "University of Civilizations" and the "National Center of Ethnic Groups". The purpose of that project is to favorize an interreligious dialogue, prone withdrawal from violence and promote Justice between the nations.
I thought it was a nice symbol.

Here you can see a slide show of the building.
http://www.linternaute.com/savoir/grands-chantiers/06/diaporama/pyramide-de-la-paix-norman-foster/1.shtml
Oct 17, 2006
Journée mondiale du refus de la misère
Par Martine VERON
PARIS (AFP) - Plusieurs associations françaises dénoncent, à l'occasion de la Journée mondiale 2006 du refus de la misère, mardi, et à la veille d'échéances électorales, un "recul" pour les plus démunis en matière de santé, logement ou emploi et un "manque de volonté politique" en la matière.
"Au-delà de l'affichage politique, on observe depuis plusieurs années un recul dans l'accès aux droits des plus démunis", affirme Jean Toussaint, l'un des responsables du mouvement ATD Quart Monde, dont le fondateur Joseph Wrésinski a initié en 1987 cette journée contre la misère, reconnue en 1993 par les
Nations Unies
au niveau mondial.
"La croissance bénéficie à certains, mais en parallèle la pauvreté s'accroît", dit-il, dénonçant aussi les discours visant "à stigmatiser les pauvres", les accusant d'être responsables de leur sort.
Mardi, à Paris, Amnesty International, le Secours catholique et la coalition Action mondiale contre la pauvreté se joindront à ATD pour lancer un appel afin que "l'accès aux droits fondamentaux devienne la priorité des politiques publiques, et que l'Etat n'abandonne pas sa responsabilité de garant du droit". "Nous allons vers la création d'un grand mouvement social exigeant que les lois soient appliquées", a affirmé Bruno Tardieu, délégué général d'ATD, qui annonce la présence également de plusieurs syndicats (CGT, CFDT et CFTC) lors de la lecture de l'appel sur le parvis du Trocadéro, où est scellée une dalle en l'honneur des victimes de la misère reproduite aujourd'hui dans 31 pays.
"On est en train de déraper par rapport à la pauvreté", ajoute Jean Toussaint, "depuis quelques années, une multitude de petites mesures, mises bout à bout, font que la vie est plus dure pour les pauvres".
Il évoque, en matière de santé, l'augmentation du forfait hospitalier, la difficulté pour les plus démunis d'accéder aux soins, et en matière d'emploi, la "diminution de durée d'indemnisation du
chômage
et la multiplication des contrats précaires". La politique du
logement social
est un exemple, dit ATD, d'un "retour en arrière". "On construit des logements, certes, mais beaucoup ne sont pas accessibles aux plus pauvres", dit-il, rappelant que, désormais, certains logements en accession à la propriété sont inclus dans les 20% de logements sociaux obligatoires sur une commune.
A l'occasion de la Journée du refus de la misère, la Fondation
Abbé Pierre
publie une étude qui "met en évidence l'aggravation préoccupante du poste logement dans le budget des ménages", ce poste pouvant atteindre "40%, voire 50% chez les ménages les plus modestes". ATD Quart Monde demandera mardi aux "futurs élus" de faire avancer l'idée d'un "droit au logement opposable, donc effectif", au même titre que le droit à la scolarité ou le droit à la santé.
Quelque 3 millions de personnes sont sans logement ou mal logées en France, rappelle ATD, et un million d'enfants vivent dans la grande pauvreté. Le nombre d'allocataires de minima sociaux (RMI, API, ASS...) a augmenté de 100.000 personnes (+2,9%) en 2005, pour atteindre 3,5 millions.
Plusieurs manifestations rythmeront la journée de mardi. A Aubervilliers (
Seine-Saint-Denis
), une exposition sur les "bidonvilles aux portes de Paris" évoque la population qui vit dans les terrains vagues autour de la capitale. Au niveau mondial, la réduction de moitié de l'extrême pauvreté et de la faim dans le monde est le premier des huit "objectifs du Millénaire" pour le développement à atteindre d'ici 2015, fixés par l'Onu.
Oct 10, 2006
A mature person is one who does not think only in absolutes, who is able to be objective even when deeply stirred emotionally, who has learned that there is both gA mature person is one who does not think only in absolutes, who is able to be objective even when deeply stirred emotionally, who has learned that there is both good and bad in all people and in all things, and who walks humbly and deals charitably with the circumstances of life, knowing that in this world no one is all knowing and therefore all of us need both love and charity.

Eleanor Roosevelt
comments
(2) |
discussion
() |
permalink
|
send green star
|
flag as inappropriate
Oct 2, 2006
We are all One!
Let's Bless the World Together...
Become part of a continuous stream of blessing to sweep around this beautiful planet and cradle it with loving thoughts. Think of it: if 1000, 5000, 50000 or even more people sent out this loving intention several times a day, it would become a constant wave of love and blessing sweeping around the earth!
Thoughts have power. What we think is created, so we let this blessing become our vision and our focus. And, if will be so!
Right now, please take a moment to get quiet and bless the world. Hold the image of the world as a beautiful shining blue ball in the midst of space. This is our home. In this whole vast Universe, here is an island of colour and life and creative wonder. Let a feeling of gratitude well up inside of you as you think on the wonders of this creation and your place in it.
Let this feeling of gratitude shine as a light within. Bask in this beautiful light, thinking on the earth. The magnificent diversity of people, of animals, of plants, of all living things. The ways in which your life is blessed and enriched. Let that loving feeling cradle the world, blessing it with the purity of your gratitude and joy, and offer these words:
Today, with angels at my side, I bless this world and every living creature to their highest good, and I envision:
Every heart knowing Love.
Every body being fed with good food and refreshed with cool water.
Every head having a safe and comfortable place to rest.
Every hand reaching out in love to grasp the hand of a brother and sister and find healing, help and support.
Every home being filled with an abundance of resources to empower all who dwell therein.
Every Spirit dancing in the Light of the Creator's Love.
And, today, I send the intention for all people to share their connection; to celebrate that we are one in Love, one in Spirit, each created form the same spark that called all things into being.
We are each sacred. We are one together in Love. We ARE Love.
I send my loving intentions on the wings of angels with blessings for all.
Join us in blessing! Print this sheet and put it at your workstation. Each day, whenever the thought comes to you, offer your blessing to the world. Forward this page to your email list.
Let us work with Love to bring love to the world. We can bathe the planet with our blessings and send angels to carry our intentions forth. We pray that you are blessed richly in this and are sending angels to assist as you envision a beautiful, peaceful planet.
Copyright 2006, The Angel Ladies, Deborah Vaughan and Jean Porche
comments
(1) |
discussion
() |
permalink
|
send green star
|
flag as inappropriate
Sep 29, 2006
"I think it's a great spiritual practice to turn on the TV and listen to the guy you hate most, the one who triggers you most. When you can see God there, you're getting it. If you have to turn off the TV every time you see the person, and he sends you into skyrocketing anger, you have a lot of waking up to do."--Adyashanti

Simple Solution:


Do you get upset about the news? What does Gandhi have to teach us about this? Here is an enlightened view:

Student: When I watch the news, I feel such an argument, a re-establishing of a point of view. How can I hold this truth in the face of the problems in the world?

Adyashanti: Words are such a small part of what is going on. The truth can't be put into words. It's really something that's silent and can't be explained. So, too, within ourselves, that which is very powerful and transformative affects the world in a way that our words can't. And no matter what our words are, even if we're saying, "Peace, peace, peace, world peace," or "Feed the hungry, and feed the poor," if that war is raging inside of us, with every word of peace, what's being transmitted is conflict, conflict, conflict. Even though the words don't say conflict, it is unavoidable. Who we are is what we transmit. This is so important.

I find that human beings are terrified of unity, because in this unity, there's nobody separate from the unity who is going to decide or dictate how that unity acts. And the ego knows that in unity, ego is gone. It plays zero part. None. Zip. And the ego says, "Is everything going to be okay?..."

Human beings are coming from separation, not unity, in 99 percent of the activities they do, whether they think they are doing something good or bad. When you come from separation, that's all you're transmitting. When you come from unity, you might still be called and be drawn to do the same things you were called to do when you were stuck in separation.

You still may be writing senators or flying across the world, but it's so different when it's done from unity. And when it is, you know it is because your sense is, "I don't even know why I'm doing this." That means there's no conflict motivating you anymore. Therefore you can't come up with a reason because everything is okay. And yet, from that, something moves.

Mysteriously, this movement doesn't happen for a reason. It's just the way life happens to move through you. You might be a Gandhi kind of guy or gal who is moved to take some sort of action. Or you might be like Ramana and say, "It's all the will of God, so why get involved?"

Then life is moving from its own dictates, not a me moving from your agenda. These are so different. When you look at the change that can occur, you can see one person inspiring thousands and tens of thousands. One person (Gandhi) with a single vision kicked the most powerful nation in the world out of India, actually convinced them to leave. Violence couldn't have done that. "You're rotten, you shouldn't be here" wouldn't have done it. But there is such power in seeing this Truth.

Activity flowing from Truth has such potential. Every other motivation for movement, for action, is violent.

Adapted from Emptiness Dancing, by Adyashanti (Sounds True, 2006).
comments
(1) |
discussion
() |
permalink
|
send green star
|
flag as inappropriate
| | |
| --- | --- |
| | Content and comments expressed here are the opinions of Care2 users and not necessarily that of Care2.com or its affiliates. |
Author


Dot Rose
, 5, 2 children
Montpellier, Languedoc, France

SHARES FROM DOT'S NETWORK