Aug 17, 2010
Naturally Protect Your Skin From Mosquito Bites

Taken from Care2's 'Daily Action':
Before you head for the hills or enjoy an outdoor evening BBQ, think twice about using DEET-based mosquito repellents.
Research shows that regular use of chemical repellents like DEET can:
Damage brain cells and Interact with medications.
Cause brain cell death and behavioural changes-

as observed in animals exposed to DEET after frequent and prolonged use.

*

Result in up to 15% of DEET being absorbed by the skin into the bloodstream.
Learn from Michelle Schoffro Cook how you can protect yourself and your loved ones from mosquitoes without covering your skin in dangerous chemicals.
Mosquito-Free Naturally
Here are some of Michelle's recommendations for natural mosquito repellents: (N.B. see details on each via the link supplied)
- Citronella
- Soy oil
- Catnip
- NEEM seed oil
- Lavender essential oil
- Garlic
Michelle Schoffro Cook, BSc, RNCP, ROHP, DNM
.
*This of course means that animals in laboratories suffered 'frequent and prolonged' cruel experiments.
I implore you not to reward the people making money from DEET products with your custom.
It is your choice... you can:
STOP MAKING SUCH PEOPLE RICH;
STOP DECREASING YOUR OWN QUALITY OF LIFE.
comments
(1) |
discussion
() |
permalink
|
send green star
|
flag as inappropriate
Visibility:
Everyone
Tags:
garden
,
children
,
natural
,
nature
,
outdoors
,
health
,
mosquitoes
,
wellness
,
skincare
,
deet
,
PestControl
,
repellent
,
naturalremedies
,
michelleschoffrocook
Posted:
Aug 17, 2010 5:23pm
Apr 19, 2010
"I don't know if laughter is the best medicine, but it is certainly good medicine.
"There is a lot of talk these days about positive attitude and how essential it is to coping with chronic illness. That is true, but I would add that a sense of humor may be just as important. The ability to laugh at our own foibles and missteps is sometimes just the tonic we need.
"I can come up with dozens of examples of multiple sclerosis imposing on my life in a frustrating way, and quite a few instances where strangers have had a laugh at my expense. That's no fun but, hey, that's life."
From If Laughter is the Best Medicine, I'll Be Fine | Care2 Healthy & Green Living posted by Ann Pietrangelo

(Photos added from my
Album: LAUGHTER)
The article continues:
...Then there's the time when having MS became the excuse that got me out of an absurdly awkward situation worthy of a sitcom.
My husband and I were visiting London on business, but we had several lovely social functions on our agenda. This particular evening, we were scheduled to attend a cocktail party at a small art museum. I was beside myself with excitement as I slipped my little black dress over my head and shoulders. It felt a little tight as called out for my husband to zip me up. That excitement quickly turned to panic as he let loose with a soft whistle and I realized that the dress, when zipped, barely made it over my backside! Oh, why hadn't I tried it on before packing? Just a few months ago it looked so darling on me. Amazing what two or three few pounds can do. All right, maybe five.
So there I stood in my awkwardly high heels (another foolish error on my part), leaning on my cane, and wearing a dress that was straining at the seams. We weren't about to let that stop us, so we optimistically headed out into the winter chill to hail a cab. As if having MS and walking with a cane and high heels weren't challenging enough, the tight dress exaggerated my odd gait to the point of ridiculousness.
Arriving at the museum, I carefully situated myself with my back to the wall, doing everything in my power to avoid mingling. There were very few seats around, so when a chair became available, I sat down- warily- hoping I wouldn't split my dress open and expose my backside in the process. I could almost feel the groaning of the tiny threads holding it all together. While hubby mingled, I sat.
Eventually it was announced that the unveiling of a particular piece of art — the reason for the whole affair — would take place on the second floor, and would all attendees please follow the guide upstairs. Stairs? We inquire as to the location of an elevator. No elevator? This is a definite turn for the worse.
With my MS acting up, there was no way I could possibly make it up that long, wooden staircase in this ill-fitting dress and high heels without attracting curious eyes straight to my behind. I could almost hear the sound of fabric tearing and everybody turning to laugh and stare. As it was, I was beginning to giggle at my own situation. And when I laugh, I tend to also shed tears. I was beginning to feel quite conspicuous.
I informed my hubby in no uncertain terms that I would remain glued to the chair regardless of what he or anybody else does or says. Up to this point he had been good-naturedly playing along with me, and now was barely containing his own laughter.
The moment the last of the party-goers made it to the top of the stairs, we both burst into laughter at my predicament. Courteous museum staff, spotting the cane, inquire about my difficulty with the stairs. "Multiple sclerosis" we tell them in serious voices. Tears are falling from my eyes now, due to suppressed laughter, but no doubt mistaken for despair. Drinks and hors d'oeuvres were delivered with sympathetic smiles directly to our lonely corner. Now I really felt bad… and guilty… and silly. Embarrassed and unable to control my laughing/crying, we took advantage of a moment alone and skulked out the door first chance we got.
It was a fabulous week in London, but that misadventure remains one of my fondest memories. If laughter truly is the best medicine, I'm going to be just fine.

--------------------------------
Writer Ann Pietrangelo embraces the
concept of personal responsibility for
health and wellness. As a person living
with multiple sclerosis, she combines
a healthy lifestyle and education
with modern medicine, and seeks
to provide information and support
to others. A regular contributor to
Care2 Causes.
Follow on Twitter @AnnPietrangelo
comments
(0) |
discussion
() |
permalink
|
send green star
|
flag as inappropriate
Visibility:
Everyone
Tags:
medicine
,
health
,
laughter
,
humor
,
humour
,
ms
,
blogs
,
wellness
,
mentalhealth
,
multiplesclerosis
,
naturalremedies
,
healthymind
,
chronicillness
,
annpietrangelo
,
positiveattitude
Posted:
Apr 19, 2010 4:29pm
Feb 3, 2010
Fight Cancer With Cauliflower


Raw or roasted, steamed or sauteed, it can be incorporated into delicious dishes that please the palate while promoting vibrant health.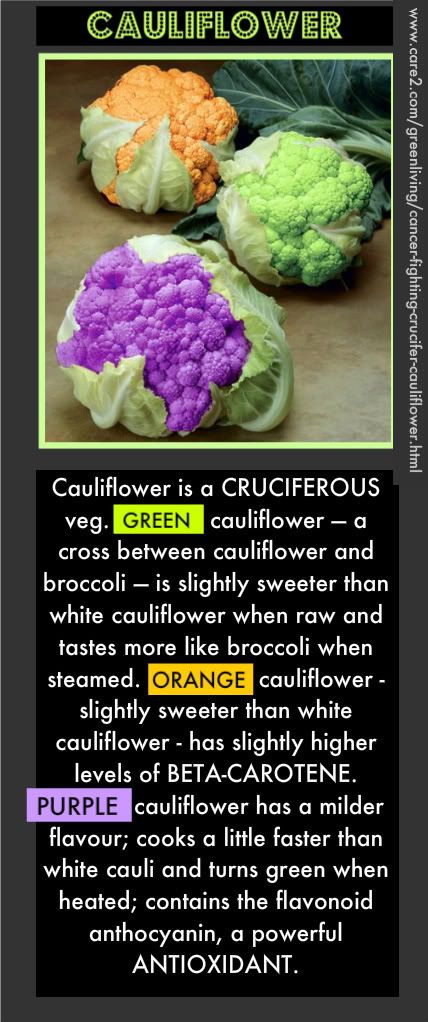 ________________________________________________


COOKING TIPS


Cauliflower can be eaten raw, and steamed, sautéed, stir-fried, fried, boiled or roasted. You can cook the cauliflower as a whole head or cut into florets.
• Cauliflower Roasted.
Cut one head into small, even florets. Toss them with olive oil, salt, pepper and dried red pepper to taste; or toss with olive oil, 1/4-cup soy sauce and a dash of pepper. Place in a single layer on a baking tray and cook at 450 F for 20 minutes or until golden around the edges.


• Cauliflower in Salads


Chop raw cauliflower into different sizes and add it to salads.
Add small florets to your favorite bean salad for extra crunch.
• Cauliflower in Stirfry
Adds texture to stir-fry dishes. Cut the whole cauliflower into 1/2-inch slices, break into florets and stir-fry according to your favourite recipe. Flat slices of cauliflower cook quickly and have more surface area for the sauce to cling to.
_________________________________________


KITCHEN TIPS


•

Fix quick, healthy snacks:

prepare cauliflower as soon as you bring it home, and store in the refrigerator ready to use.
•

Preparation:

To clean, remove the leaves and gently scrape off any brown spots with a knife. Place the cauliflower upside down on a cutting board; carefully cut around and remove the core that keeps the florets intact.
•

Storage:

store florets in a plastic bag in the refrigerator for up to four days.
•

Avoid cooking cauliflower in aluminum or iron pots

.
When chemical compounds in cauliflower come in contact with aluminum, the vegetable will yellow. When they come in contact with iron, cauliflower turns brown or blue-green.


__________________________________________
Cauliflower: The Cancer-Fighting Crucifer
click here
submitted by Care2's Megan, selected from Experience Life by Cary Neff, chef and president of Culinary Innovations, author of bestseller Conscious Cuisine. Visit

www.experiencelifemag.com

to learn more.
_________________________________________
RECIPES:

Curried Cauliflower Soup

;

Cream of Spinach Soup

;

Creamy Asparagus Soup

;

Indian Spiced Cauliflower and Potato

;

Guiltless Mashed Potatoes

.;

Savoury Cruciferous Salad
comments
(0) |
discussion
() |
permalink
|
send green star
|
flag as inappropriate
Visibility:
Everyone
Tags:
food
,
health
,
recipes
,
vegetables
,
wellness
,
phytonutrients
,
cauliflower
,
glucosinolates
,
cancer-fighting_foods
,
conscious_cuisine
,
cary_neff
,
experience_life
,
crucifer
,
thiocyanates
Posted:
Feb 3, 2010 11:41am
Jan 30, 2010

From 10 Ways Your Food Can Bring Out the Best in Your Genes | Care2 Healthy & Green Living:
There are multiple factors in your diet, environment and lifestyle that affect your genes and how you age. Many of these are within your control. Of all the factors, diet is the easiest to control and probably the most important determinant of how our genes are expressed
IN BRIEF
1. Eat real food, not junk.
2. Try to eat as close to natural as possible.
3. Select fruits/vegetables in a wide variety of colours.
4. Buy fresh, organic, local foods when possible.
5. Stop eating when 80% full.
6. Be skeptical of foods with individual
labels bearing a health claim.
7. Be wary of advertised foods.
8. Be careful of obsessive calorie counting.
9. Enjoy your food.
10. Don't waste your time feeling guilty
if you ate the "wrong" thing.
_________________________________________________
A revolutionary new science, NUTRIGENOMICS, is showing how different foods may interact with specific genes, how food "talks" to our genes and how our genes express themselves after the conversation. It is confirming that food provides potent dietary signals that directly influence the metabolic programming of our cells and modify the risk of common chronic diseases. It is telling us that food is information, that it contains "instructions" which are communicated directly to our genes.
Armed with this information, your genes commandeer various metabolic actions and affect millions of critical biological processes, including cholesterol levels, aging, hormone regulation, weight gain and loss, and much more.
___________________________________________
Eat the right foods and they will send
instructions to your genes for good health.
Eating the wrong foods however,
sends messages for disease.
___________________________________________
What we are finding out is that there is so much more to food than just the nutrients we have discovered thus far. Real food is packed with thousands of compounds which have a complex and dynamic relationship with one another and your genes. With processed foods however, these micronutrients have either been altered or are missing, and therefore they can never deliver the same beneficial messages to your genes. Just as a computer program won't function well when it gets fed bad data, neither will your body. Once you understand that food is "data" or complex information that the body uses to direct the multifaceted actions that keep us vibrantly alive, it's easy to understand that loading up on junk food is like taking the fast lane to a giant system failure.
______________________________________________
Foods containing SUGAR, TRANS FATS and
CHEMICALS, and heavily PROCESSED foods,
are simply "bad data" for human consumption.
_______________________________________________
Lipman call these food-like substances because they are not real food. If you eat these regularly, your body stops working properly. It makes perfect sense...
___________________________________________________
When you bathe your genes in an unhealthy
environment, like the one created when you eat
junk food, your genes "miscue" metabolic
actions that can trigger disease.
e.g. your body responds to food-like substances
as if they are foreign bodies. This prompts an
inflammatory response as your body tries to
protect itself.
___________________________________________________
Over time, continued consumption can lead to the development of a low grade chronic inflammatory condition which is now becoming recognized as an important precursor to a variety of more serious forms of illness.
____________________________________
Bottom line: the food you eat affects
the functioning of your genes.
____________________________________

10 ways to bring out the best in your genes
IN FULL
1. Eat real food i.e. fresh, whole, unrefined and unprocessed food. Food is more than a delivery system for nutrients containing protein, fat, carbohydrates, vitamins, minerals and phytonutrients. Real food is more than the sum of its parts, it's about how it all works together, about the integrity of the information or the total message. Although you should know how to read food labels, most real food does not come with a label — vegetables, fruits, nuts, seeds, grass fed meats, wild fish, organic chicken and eggs etc.
2. Although there is no one right diet for everyone (as we are all different), try to eat as close to nature as possible. The further removed food is from its source the less good data it will contain, and the more likely it is of being a "food-like substance" and not real food.
3. Select fruits and vegetables in a wide variety of colors. For a list of fruits and vegetables with the most and least pesticides, check out www.foodnews.org.
4. Buy fresh foods whenever you can, preferably organic and locally grown if possible. Fresh foods are better than frozen foods, which are better than canned foods.
5. Stop eating when you are 80 percent full.
6. Be skeptical of foods that come individually labeled with a health claim. Most healthy foods don't need a health claim. Have you ever seen a health claim on a bunch of broccoli or on a box of blueberries?
7. Be wary of foods you've seen advertised as the vast majority of these are processed foods.
8. Be careful of obsessive calorie counting. Figuring your diet simply in terms of calories or even percentages of protein, fat and carbohydrate, can inadvertently deprive your body of the "complete" messages that real, whole foods provide.
9. Enjoy your food, preferably in the company of people you love.
10. Don't waste your time feeling guilty if you ate the "wrong" thing. I think Michael Pollan summarizes it really well in his brilliant book, In Defense of Food: "Eat food. Not too much. Mostly plants." He too is talking about real food.
________________________________________________


LINKS


Dr Lipman on Twitter: www.twitter.com/lipmo
Nutrigenomics: http://en.wikipedia.org/wiki/Nutrigenomics
Michael Pollan: http://www.michaelpollan.com/
In Defense of Food: http://www.amazon.com/Defense-Food-Eaters-Manifesto/dp/0143114964/ref=sr_11_1?ie=UTF8&qid=1242508699&sr=11-1
Frank Lipman MD, is the founder/director of the Eleven Eleven Wellness Center-emphasis on preventive health care and patient education. He blends Western and Eastern Medicine combined with other complimentary modalities. His books: SPENT: End Exhaustion and Feel Great Again (2009) and Total Renewal; 7 key steps to Resilience, Vitality and Long-Term Health (2003)..


______________________________________________________
comments
(1) |
discussion
() |
permalink
|
send green star
|
flag as inappropriate
Visibility:
Everyone
Tags:
cancer
,
food
,
health
,
recipes
,
diet
,
stroke
,
arthritis
,
weight
,
wellness
,
nutrition
,
genes
,
aging
,
cholesterol
,
high_blood_pressure
,
heart_disease
,
whole_foods
,
adult_onset_diabetes
,
hereditary_diseases
,
nutrigenomics
,
hormone_regulation
Posted:
Jan 30, 2010 9:49pm
| | |
| --- | --- |
| | Content and comments expressed here are the opinions of Care2 users and not necessarily that of Care2.com or its affiliates. |
Author


Jenny Dooley
, 3, 2 children
Eastlakes, SW, Australia

SHARES FROM JENNY'S NETWORK
Mar
31

(1 comments | discussions )

\\nZEN was suspended by Eric with no warning. We don\\\'t know any reasons nor how long it will last....\\r\\nI asked about it on the forum but my post was immediately deleted. 2 threads and petitions about Zen also. And 2 her help-groups. :-(\\r\\nUntill to...