Mar 21, 2010

LONG LIFE PRAYER FOR JETSUNMA AHKON NORBU LHAMO
... ... ... ... ... ... ...
The Vajra AH is the unchanging foundational sphere, free from contrivance.
The unobstructed appearance of the foundation is displayed as the Three Rare Supreme Jewels, the Three Roots,
The Ocean of Dharmapalas and assemblies of male and female wealth gods.
From this moment you are beseeched to fully liberate the Doctrine and upholders
From all outer and inner obstacles,
And through your effortless and spontaneous accomplishments of the four miraculous activities,
May all beings who connect with you fulfill their purpose and achieve Buddhahood.
This was written by
Paltrul Padma Norbu Rinpoche
.
AH KON LHAMO
Goddess of the "Rare" (Three Jewels) - AH

from PalyulProductions
... ... ... ... ... ... ...
Tibetan Buddhist Altar.org
... ... ... ... ... ... ...
Jetsunma on Facebook
comments
(0) |
discussion
() |
permalink
|
send green star
|
flag as inappropriate
Feb 11, 2010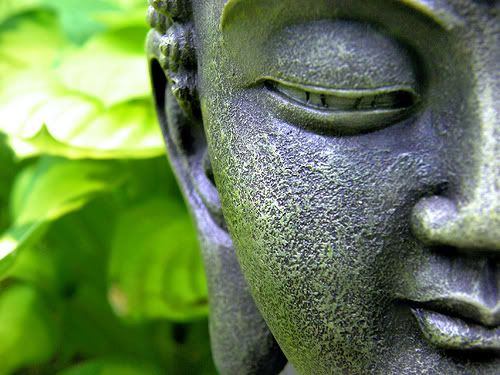 What Do Buddhists Believe?
By Barbara O'Brien, About.com
Shortly after I began to study Buddhism, someone asked me "What do Buddhists believe?" I was taken aback by the question. What do Buddhists believe? No one had told me I had to believe any particular thing. Indeed, in Zen Buddhism rigidly held beliefs are considered to be barriers to realization.

GUIDING MEANS
Beginners to Buddhism are handed lists of doctrines -- the Four Noble Truths, the Five Skandhas, the Eightfold Path. One is told to UNDERSTAND the teachings and PRACTICE them. However, "believing in" doctrines about Buddhism is not the point of Buddhism.
.
What the historical Buddha taught was a method for understanding oneself and the world in a different way. The many lists of doctrines are not meant to be accepted on blind faith.
.
The VENERABLE THICH NHAT HANH, a Vietnamese Zen master, says:
_________________________________________
Do not be idolatrous about or bound to any
doctrine, theory, or ideology, even Buddhist ones.
Buddhist systems of thought are guiding means;
they are not absolute truth.
_________________________________________
.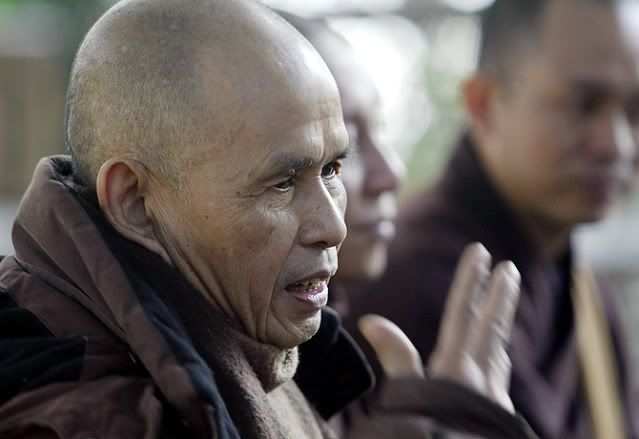 ._________________________________________________
The absolute truth of which Thich Nhat Hanh speaks cannot be contained in words and concepts. Thus, merely believing in words and concepts is not the Buddhist path. There is no point in believing in reincarnation/rebirth, for example. Rather, one practices Buddhism in order to realize a self not subject to birth and death.
.
MANY BOATS, ONE RIVER
To say that doctrines and teachings shouldn't be accepted on blind faith doesn't mean they aren't important. The myriad teachings of Buddhism are like maps to follow on a spiritual journey, or a boat to carry you across a river. Daily meditation or chanting may seem pointless, but when practiced with sincerity they have a real impact on your life and outlook.
.
And to say that Buddhism is not about believing things doesn't mean there are no Buddhist beliefs. Over the centuries Buddhism has developed diverse schools with distinctive, and sometimes contradictory, doctrines. Often you might read that "Buddhists believe" such and such a thing, when in fact that doctrine belongs only to one school and not to all of Buddhism. To compound confusion further, throughout Asia one can find a kind of folk Buddhism in which the Buddha and other iconic characters from Buddhist literature are believed to be divine beings who can hear prayers and grant wishes. Clearly, there are Buddhists with beliefs. Focusing on those beliefs will teach you little about Buddhism, however.
.
If you want to learn about Buddhism, I suggest putting aside all assumptions.
Put aside assumptions about Buddhism,
and then assumptions about religion.
Put aside assumptions about the nature
of the self, of reality, of existence.
Keep yourself open to new understanding.
Whatever beliefs you hold, hold in an
open hand and not a tight fist.
Just practice, and see where it takes you.
.

.
And remember the Zen saying --
The finger pointing to the moon is not the moon.
_______________
,
Original article here:
buddhism aboutdotcom
.
Read More:
The Life of the Buddha
What's a Buddha?
"Introduction to Buddhism: Buddhism for Beginners"

comments
(0) |
discussion
() |
permalink
|
send green star
|
flag as inappropriate
| | |
| --- | --- |
| | Content and comments expressed here are the opinions of Care2 users and not necessarily that of Care2.com or its affiliates. |
Author


Jenny Dooley
, 3, 2 children
Eastlakes, SW, Australia

SHARES FROM JENNY'S NETWORK
Mar
31

(1 comments | discussions )

\\nZEN was suspended by Eric with no warning. We don\\\'t know any reasons nor how long it will last....\\r\\nI asked about it on the forum but my post was immediately deleted. 2 threads and petitions about Zen also. And 2 her help-groups. :-(\\r\\nUntill to...