Feb 24, 2012
15 Ways to Boost Your Liver for Great Health, by Michelle Schoffro Cook, 23 February 2012


Your liver must perform over 500 functions, making it potentially one of the most overburdened organs in your body.

Our modern lifestyle + air pollution + food additives + high amounts of stress can cause the liver to become sluggish. The sluggish liver can be a factor in many health conditions,
e.g. allergies, arthritis, asthma, bad breath, chronic fatigue syndrome, cravings for sweets, depression, environmental illness/multiple chemical sensitivities, fatigue, fibromyalgia, headaches and migraines, hepatitis, high blood pressure, high cholesterol levels, hypoglycemia, hormone imbalances, immune system disorders, irritable bowel syndrome, overweight or obesity, poor digestion, recurring nausea and/or vomiting, skin diseases, and ulcerative colitis.

Of course there are other factors involved in these conditions so it is important to see a physician if you suffer from any of them.

Strengthening the liver is one of the ways to boost energy, balance weight, and strengthen overall health. Here are 15 ways to give your liver a boost:

1. VITAMINS and MINERALS- high amounts of vitamins and minerals are required by the liver.

2. FOOD ADDITIVES ARE FILTERED BY THE LIVER- When you eliminate processed foods, artificial food additives, colours and preservatives from your diet you give your liver a break.

3. CARROTS, BEETS, GREEN FOODS- Eat plenty of these powerful liver cleansing and rebuilding foods.

4. GROUND FLAXSEED- Eat two heaping tablespoons sprinkled on cereal, toast, salads, or blended into smoothies. By eating flaxseeds and flax oil you are helping your liver to filter excess hormones more effectively.

5. HERBS that help strengthen the liver: milk thistle, dandelion root, globe artichoke, turmeric, slippery elm, greater celandine, balmony, barberry, black root, blue flag, boldo, fringetree bark, vervain, and wahoo. If you are pregnant, have a serious health condition, or are taking medication, consult a qualified health practitioner before using herbs.

6. REDUCE REFINED SUGAR and AVOID SYNTHETIC SWEETENERS altogether.

7. LECITHIN helps the liver metabolize fats and reduce cholesterol; prevents fatty deposits; reduces high blood pressure. You can get lecithin in organic soyfoods like soy milk, tofu, and miso, as well as organic eggs.

8. AVOID VITAMIN and MINERAL DEFICIENCIES by taking a high quality multivitamin and mineral supplement. The liver depends on many nutrients to detoxify properly. Even a single nutrient deficiency can be harmful.

9. TAKE 1000 to 2000 mg of Vitamin C daily, even if there's vitamin C in your multivitamin.

10. GARLIC, ONIONS and BROCCOLI contain sulfur that is required to increase enzyme activity that boosts liver cleansing, so eat plenty of these. Without adequate levels of sulfur, the phase 2 of liver detoxification cannot keep pace with level 1, meaning that many toxins can become MORE dangerous in your body.

11. AVOID LARGE MEALS. Instead, eat small meals made up of easy-to-digest foods.

12. Eat steamed vegetables, raw salad greens, raw fruits, and bitter greens. The bitter greens, especially, help to cleanse the liver.

13. EAT WHOLE RAW UNSALTED NUTS and SEEDS for their essential fatty acids and protein.

14. AVOID HEAVY FATTY FOODS as they just create more work for the liver. Avoid margarine, shortening or commercial oils or any foods made with them.

15. AVOID EATING for at least THREE HOURS before BEDTIME to allow the liver adequate time during the night to perform its many functions, unimpeded by other bodily processes like digestion.

Read more: http://www.care2.com/greenliving/15-ways-to-boost-your-liver-for-great-health.html#ixzz1nNSiPynA ...
Aug 23, 2010
Dr Sandra Cabot's slimming juices
Cleanse your liver, slim your waist! Raw vegetable juices are able to speed up the repair of liver damage. Dr Cabot says these juice recipes help to repair the liver, stimulate the detoxification pathways and improve the fat burning capabilities of the liver.
... ... ... ... ... ... ... ... ... ...
Morning lemon cleanse
---½ to 1 lemon, freshly squeezed
---250ml warm water
Fresh lemon juice contains the phytochemical limonene, which improves liver function, and is used in Japan to dissolve gallstones. Morning is the best time for lemon juice because it is also a natural liver decongestant
... ... ... ... ... ... ... ... ... ...
Liver cleansing juice
---½ lemon with some peel
---2 apples unpeeled
---2 dandelion or 2 rocket or 2 cabbage leaves
---½ cup broccoli florets, chopped
---1 clove of garlic or ¼ red onion (can use less if desired)
---½ cup parsley
This is a strong mixture and may be diluted with
---1 cup water, extra celery or dandelion root tea.
... ... ... ... ... ... ... ... ... ...
Fatty Liver juice
---½ whole lemon or grapefruit, peeled
---2 carrots peeled
---1 clove garlic or ¼ red onion (optional or use less if it is too strong)
---1cm slice fennel
---¼ beetroot peeled
---2 dandelion or 2 rocket or 2 cabbage leaves
---Apples or celery may be added to improve the taste
... ... ... ... ... ... ... ... ... ...
Cholesterol-lowering juice
---2 oranges or tangerines, with some peel and white pith
---1 grapefruit, peeled
---1 tomato
---1 clove garlic or ¼ red onion (reduce amounts if stomach is sensitive)
---2 cabbage leaves or 2 dandelion or 2 rocket or 2 baby spinach leaves
---1 radish, unpeeled with tops
... ... ... ... ... ... ... ... ... ...
Low-carbohydrate slimming juice
---1 orange with ¼ peel and pith left on
---2 sticks celery ½ cucumber, peeled
---½ cup green beans
---2 spring parsley
Orange is naturally low in sugar. Cucumber, celery and parsley are natural diuretics and reduce cellulite. Green beans lower insulin and blood sugar levels
... ... ... ... ... ... ... ... ... ...
Fat-burning juice
---1 orange, peeled
---1 grapefruit, peeled
---1 carrot, peeled
---2 stalks celery with leaves removed
---1cm slice ginger root
---1 red radish
---pinch cayenne
Dilute 50% with green tea if desired.
... ... ... ... ... ... ... ... ... ...
Extract taken from Fatty Liver: You can reverse it, a new book from Dr Sandra Cabot and Dr Thomas Eanelli which explains how to reverse fatty liver disease, which Dr Cabot calls "the most common type of liver disease seen in the world today". Health page link
Feb 3, 2010
Fight Cancer With Cauliflower


Raw or roasted, steamed or sauteed, it can be incorporated into delicious dishes that please the palate while promoting vibrant health.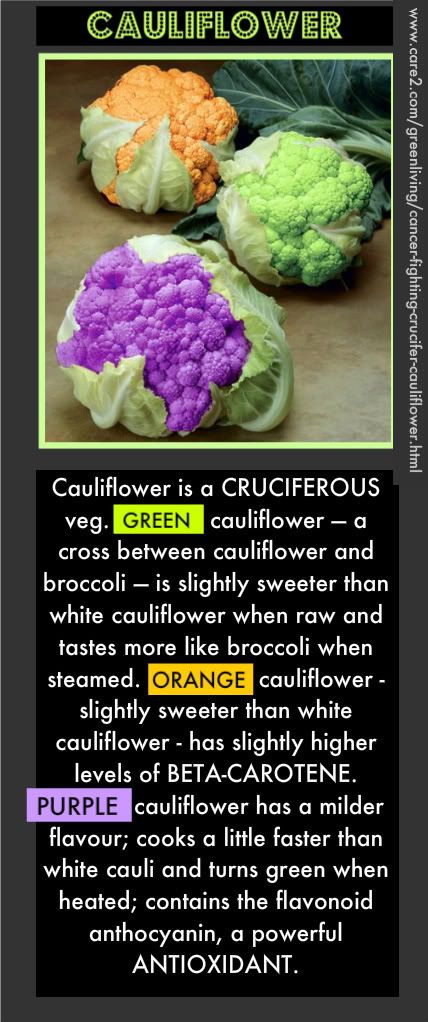 ________________________________________________


COOKING TIPS


Cauliflower can be eaten raw, and steamed, sautéed, stir-fried, fried, boiled or roasted. You can cook the cauliflower as a whole head or cut into florets.
• Cauliflower Roasted.
Cut one head into small, even florets. Toss them with olive oil, salt, pepper and dried red pepper to taste; or toss with olive oil, 1/4-cup soy sauce and a dash of pepper. Place in a single layer on a baking tray and cook at 450 F for 20 minutes or until golden around the edges.


• Cauliflower in Salads


Chop raw cauliflower into different sizes and add it to salads.
Add small florets to your favorite bean salad for extra crunch.
• Cauliflower in Stirfry
Adds texture to stir-fry dishes. Cut the whole cauliflower into 1/2-inch slices, break into florets and stir-fry according to your favourite recipe. Flat slices of cauliflower cook quickly and have more surface area for the sauce to cling to.
_________________________________________


KITCHEN TIPS


•

Fix quick, healthy snacks:

prepare cauliflower as soon as you bring it home, and store in the refrigerator ready to use.
•

Preparation:

To clean, remove the leaves and gently scrape off any brown spots with a knife. Place the cauliflower upside down on a cutting board; carefully cut around and remove the core that keeps the florets intact.
•

Storage:

store florets in a plastic bag in the refrigerator for up to four days.
•

Avoid cooking cauliflower in aluminum or iron pots

.
When chemical compounds in cauliflower come in contact with aluminum, the vegetable will yellow. When they come in contact with iron, cauliflower turns brown or blue-green.


__________________________________________
Cauliflower: The Cancer-Fighting Crucifer
click here
submitted by Care2's Megan, selected from Experience Life by Cary Neff, chef and president of Culinary Innovations, author of bestseller Conscious Cuisine. Visit

www.experiencelifemag.com

to learn more.
_________________________________________
RECIPES:

Curried Cauliflower Soup

;

Cream of Spinach Soup

;

Creamy Asparagus Soup

;

Indian Spiced Cauliflower and Potato

;

Guiltless Mashed Potatoes

.;

Savoury Cruciferous Salad
comments
(0) |
discussion
() |
permalink
|
send green star
|
flag as inappropriate
Visibility:
Everyone
Tags:
food
,
health
,
recipes
,
vegetables
,
wellness
,
phytonutrients
,
cauliflower
,
glucosinolates
,
cancer-fighting_foods
,
conscious_cuisine
,
cary_neff
,
experience_life
,
crucifer
,
thiocyanates
Posted:
Feb 3, 2010 11:41am
Nov 30, 2009
Ayurvedic Healing Foods
from Yoga Journal By Miriam Kasin Hospodar
.

Lemons are both purifying and nourishing, and they stimulate digestion. For reducing toxins, drink unsweetened lemonade as many times during the day as desired.
Ghee (clarified butter) is among the best rejuvenating and longevity-promoting foods. It aids digestion and calms the nerves. Ghee's rate of absorption is high, making it an excellent medium for transporting the nutrients of other foods to the tissues.
Dates and Figs are prized as excellent sources of energy. They also help build tissues. Eat one or two every day.
Almonds are nourishing and life-supporting. Ayurveda recommends blanching and peeling almonds because their skins are slightly toxic. Eat several almonds daily to increase strength and energy.
Mung Beans are among the best legumes for their supreme digestibility and health-giving qualities. They are beneficial when people are sick or otherwise in need of very light food. Mung beans are particularly nourishing when mixed with rice or other grains.
Ginger is often referred to as "the universal medicine." It promotes good digestion and helps remove ama. Dried ground ginger is more concentrated in its flavor and its effects. To aid digestion, sprinkle a thin slice of fresh ginger with lemon juice and salt, and eat one-half hour before a meal.
Cumin Seeds serve as a digestive aid and ama-reducer for all doshas. To help remove toxins, start the day by drinking warm water mixed with a pinch of powdered cumin and ginger.
Lassi is a beverage prepared by mixing one part yogurt into two parts water. It is an excellent nutritive digestive aid, taken during or after a meal. You can flavor lassi either with raw sugar or honey and a little ground cardamom, or with toasted ground cumin seeds and salt.
Juicy, Seasonal Fruits are both highly nutritive and purifying. Juicy fruits should be completely ripe for maximum healing value.
Green, Leafy Vegetables are both nutritive and purifying. Their bitter flavor stimulates the liver, helps balance blood sugar, and aids skin conditions. Prepare with a little ghee or oil.
Cow's Milk is considered a vitalizer by Ayurveda and recommended for those emaciated after injury. Ayurveda recommends bringing milk to a full boil to remove the qualities that can cause excess mucus. To further reduce milk's clogging qualities, add a pinch of ginger and/or black pepper. Also, milk should be imbibed separately from foods with any taste other than sweet.
Water is universally beneficial for everyone, and assists virtually all healing. It promotes digestion and, when imbibed while hot, is particularly effective for removing ama.
Jul 9, 2009
Simple changes to your cat's diet and lifestyle can minimize or prevent hairballs.


N.B.:
-(1) Conventional hairball remedies contain petroleum jelly...this can stop your cat from absorbing vital nutrients, particularly vitamins A, D, E, and K.
-(2) Too much soy (as in lecithin) can cause thyroid problems in cats. Use only tiny amounts.


Natural Ways To Prevent Hairballs:

---DAILY BRUSH your cat every day with a wire bristle brush to remove excess hair


---DIET: You can find recipes at holisticat.com. If you do buy prepared cat food, look for those with natural or organic meat


---LECITHIN: since hairballs are 15-30% fat, lecithin can effectively break up that fat–and the hairball. Give your moggies lecithin from egg yolks (not soy) Add only trace amounts. Only required during hairball season.


---FIBRE: Add one teaspoon of any of the following suggestions per meal to increase your cat's fibre intake, during hairball season... fibre helps move the hairball down and out.
- (1): vegetables e.g. mashed pumpkin, pureed prunes, or baby food vegetables
- (2): psyllium husks -mix 1/4 cup with 3/4 cup of hot water to make a gel
- (3): slippery elm -mix a teaspoon with 1/2 cup of cold water, simmer until it thickens.
If Fluffy turns up his nose at these offerings, soak them in juice from tuna packed in water.


---HOMEOPATHY: the homeopathic digestive remedy nux vomica- check with a homeopath or supplier for correct dose. One pellet every four hours for up to five days has been recommended


---VET: Don't forget regular visits to your vet


The Care2 article explains how hairballs form. Also check out Holisticat.com. Links below (see yellow highlight)

From Healthy and Green Living, Care2 by Melissa Breyer
Ask questions about your cat at holisticat.com
comments
(0) |
discussion
() |
permalink
|
send green star
|
flag as inappropriate
Visibility:
Everyone
Tags:
cats
,
cat
,
vet
,
vegetables
,
hairball
,
diet
,
homeopathic
,
fiber
,
petroleum
,
thyroid
,
fibre
,
nuxvomica
,
slipperyelm
,
psylliumhusks
,
petroleumjelly
Posted:
Jul 9, 2009 11:22am
| | |
| --- | --- |
| | Content and comments expressed here are the opinions of Care2 users and not necessarily that of Care2.com or its affiliates. |
Author


Jenny Dooley
, 3, 2 children
Eastlakes, SW, Australia

SHARES FROM JENNY'S NETWORK
Mar
31

(1 comments | discussions )

\\nZEN was suspended by Eric with no warning. We don\\\'t know any reasons nor how long it will last....\\r\\nI asked about it on the forum but my post was immediately deleted. 2 threads and petitions about Zen also. And 2 her help-groups. :-(\\r\\nUntill to...