The World's Largest Massacre of Wildlife
Kangaroos
including mothers with pouch dependent joeys
are targeted at night by shooters. Startled by the noise of vehicles and blinded by the bright spotlights that the shooters use, kangaroos are defenceless to the invasion and massacre that is about to take place. Although the shooters are supposed to lethally wound the kangaroo (by a single shot to the head) to avoid suffering, many kangaroos are shot in the jaw, neck or chest, which causes immense and often prolonged suffering.
.
The fate of orphaned joeys is equally despicable
. Once the mother has been killed, they are helpless.
The code of practice for humane shooting of kangaroos states that 'at foot' joeys should be killed by a single shot to the head or heart
, but many joeys escape and face death by starvation, cold, dehydration or predation.
Pouch dependent joeys are ripped from their dead mothers pouch and either hit over the head with a metal pipe or decapitated and discarded - a practice that is considered acceptable by the Australian government
.
.
World Famous Icon - Yet No Legal Protection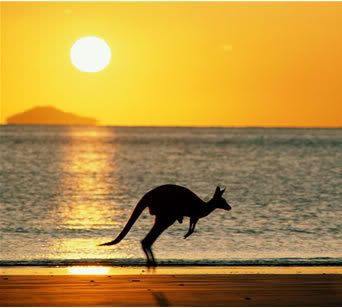 The massacre of kangaroos is not
monitored or policed by the RSPCA
or animal welfare experts. The only
&ldquo
rotection" which is afforded for
these gentle and unique animals is
a weak set of guidelines known as
the
"Code of Practice for Humane
Shooting of Kangaroos"
which is
not linked to the Prevention of
Cruelty to Animals Act.
.
Video footage has revealed serious violations

of the Code of Practice for Humane Shooting of Kangaroos including horrific abuse of kangaroos where shooters were seen slamming fully conscious joeys into their trucks, stamping on furless joeys and simply leaving them on the ground to die.

.
Unfortunately, the kangaroo means nothing to the Australian government or to the large corporations that exploit these defenceless animals for their skin and meat.
.
Act Now
Write to the Australian Government and express your opposition to the killing of kangaroos.

.
The Hon Peter Garrett
Minister for the Environment, Heritage and the Arts
PO Box 6022
House of Representatives
Parliament House
Canberra ACT 2600
.
Email:
Peter.Garrett.MP@aph.gov.au
.
Other Ways To Help Kangaroos
.
Click
here
to sign our petition
to Adidas asking them to stop using kangaroo leather.
Alternatively, please
click here
to download the petition PDF.
By signing this petition you will send a strong message to Adidas that supporting the abuse and destruction of Australia's unique wildlife is unacceptable.
.
Never buy kangaroo meat or products
sourced from kangaroos or other wildlife. If you see products made of kangaroo for sale, please take a moment to speak to the manager about the cruelty of the kangaroo industry and urge the manager to carry synthetic alternatives.
.
Encourage family and friends to boycott kangaroo products.
.
Write a letter to the editor
of your local newspaper about massacre of kangaroo. One published letter can reach thousands of people who may not know what is happening to kangaroos.
.
Read More Here