May 3, 2010


MAY IS...
-- CFS/CFIDS Awareness Day & Fibromyalgia Awareness Day 12th May
-- National (U.S.) Mental Health Month visit the Mental Health America site for information: http://www.nmha.org/ "Live Your Life Well" http://bit.ly/b4wHlb
-- May is Lupus Awareness Month - Learn about Lupus -Lupus Foundation of America site: http://www.lupus.org/ | http://www.causes.com/causes/1510 | http://www.lupus.org/newsite/pages/lupus-awareness-month.html
-- 9-17 May is European Congenital Heart Awareness Week
-- Psych Week : Awareness for Mental Disorders http://tinyurl.com/27nu3vx
-- May is Better Sleep Month - Get some sleep tips at The Better Sleep Council: http://www.bettersleep.org/OnBetterSleep/sleep-tips.asp
-- May is American Stroke Month: ...Every Minute Matters!
http://bit.ly/cp1VkF Heart Attack Warning Signs
Stroke Warning Signs Cardiac Arrest Warning Signs
-- May is National High Blood Pressure Education Month U.S.
National High Blood Pressure Education Program
National Heart Lung & Blood Institute: http://bit.ly/cjXJrd Heart and Vascular Diseases Lung Diseases Blood Diseases Educational Materials
-- BloodPressure Awareness Find out if you are at risk.
www.heartandstroke.ca/bp
http://ww2.heartandstroke.ca/hs_bp2.asp?media=bp
-- May is Better Hearing & Speech Month - The Communication Health of an Aging America: http://bit.ly/bS9yvN www.asha.org/bhsm
Warning signs of speech, language, and hearing problems http://www.prweb.com/releases/2010/04/prweb3924764.htm
-- Water Safety Month: To learn how you can protect children from drowning, go to www.joshuamemorial.org
.......................................................
Most of the above came from http://twitter.com/Care_Aware
Visibility:
Everyone
Tags:
heart
,
may
,
speech
,
stroke
,
lupus
,
awareness
,
fibromyalgia
,
communication
,
hearing
,
mentalhealth
,
watersafety
,
HeartAttack
,
chronicfatiguesyndrome
,
sleepdisorders
,
cardiacarrest
Posted:
May 3, 2010 7:50am
Apr 19, 2010
"I don't know if laughter is the best medicine, but it is certainly good medicine.
"There is a lot of talk these days about positive attitude and how essential it is to coping with chronic illness. That is true, but I would add that a sense of humor may be just as important. The ability to laugh at our own foibles and missteps is sometimes just the tonic we need.
"I can come up with dozens of examples of multiple sclerosis imposing on my life in a frustrating way, and quite a few instances where strangers have had a laugh at my expense. That's no fun but, hey, that's life."
From If Laughter is the Best Medicine, I'll Be Fine | Care2 Healthy & Green Living posted by Ann Pietrangelo

(Photos added from my
Album: LAUGHTER)
The article continues:
...Then there's the time when having MS became the excuse that got me out of an absurdly awkward situation worthy of a sitcom.
My husband and I were visiting London on business, but we had several lovely social functions on our agenda. This particular evening, we were scheduled to attend a cocktail party at a small art museum. I was beside myself with excitement as I slipped my little black dress over my head and shoulders. It felt a little tight as called out for my husband to zip me up. That excitement quickly turned to panic as he let loose with a soft whistle and I realized that the dress, when zipped, barely made it over my backside! Oh, why hadn't I tried it on before packing? Just a few months ago it looked so darling on me. Amazing what two or three few pounds can do. All right, maybe five.
So there I stood in my awkwardly high heels (another foolish error on my part), leaning on my cane, and wearing a dress that was straining at the seams. We weren't about to let that stop us, so we optimistically headed out into the winter chill to hail a cab. As if having MS and walking with a cane and high heels weren't challenging enough, the tight dress exaggerated my odd gait to the point of ridiculousness.
Arriving at the museum, I carefully situated myself with my back to the wall, doing everything in my power to avoid mingling. There were very few seats around, so when a chair became available, I sat down- warily- hoping I wouldn't split my dress open and expose my backside in the process. I could almost feel the groaning of the tiny threads holding it all together. While hubby mingled, I sat.
Eventually it was announced that the unveiling of a particular piece of art — the reason for the whole affair — would take place on the second floor, and would all attendees please follow the guide upstairs. Stairs? We inquire as to the location of an elevator. No elevator? This is a definite turn for the worse.
With my MS acting up, there was no way I could possibly make it up that long, wooden staircase in this ill-fitting dress and high heels without attracting curious eyes straight to my behind. I could almost hear the sound of fabric tearing and everybody turning to laugh and stare. As it was, I was beginning to giggle at my own situation. And when I laugh, I tend to also shed tears. I was beginning to feel quite conspicuous.
I informed my hubby in no uncertain terms that I would remain glued to the chair regardless of what he or anybody else does or says. Up to this point he had been good-naturedly playing along with me, and now was barely containing his own laughter.
The moment the last of the party-goers made it to the top of the stairs, we both burst into laughter at my predicament. Courteous museum staff, spotting the cane, inquire about my difficulty with the stairs. "Multiple sclerosis" we tell them in serious voices. Tears are falling from my eyes now, due to suppressed laughter, but no doubt mistaken for despair. Drinks and hors d'oeuvres were delivered with sympathetic smiles directly to our lonely corner. Now I really felt bad… and guilty… and silly. Embarrassed and unable to control my laughing/crying, we took advantage of a moment alone and skulked out the door first chance we got.
It was a fabulous week in London, but that misadventure remains one of my fondest memories. If laughter truly is the best medicine, I'm going to be just fine.

--------------------------------
Writer Ann Pietrangelo embraces the
concept of personal responsibility for
health and wellness. As a person living
with multiple sclerosis, she combines
a healthy lifestyle and education
with modern medicine, and seeks
to provide information and support
to others. A regular contributor to
Care2 Causes.
Follow on Twitter @AnnPietrangelo
Visibility:
Everyone
Tags:
medicine
,
health
,
laughter
,
humor
,
humour
,
ms
,
blogs
,
wellness
,
mentalhealth
,
multiplesclerosis
,
naturalremedies
,
healthymind
,
chronicillness
,
annpietrangelo
,
positiveattitude
Posted:
Apr 19, 2010 4:29pm
Mar 19, 2009
Growing older: Friendlessness Combined With Loneliness Linked To Poor Mental And Physical Health For Elderly
Although not having many close friends contributes to poorer health for many older adults, those who also feel lonely face even greater health risks.
"The relationship between social disconnectedness and mental health appears to operate through feelings of loneliness and a perceived lack of social support."

Researchers measured the degree to which older adults are socially connected and socially active. They also assessed whether older adults feel lonely and whether they expect that friends and family would help them in times of need.
However, the researchers found a different relationship between social isolation and mental health.
Older adults who feel most isolated report 65% more depressive symptoms than those who feel least isolated, regardless of their actual levels of connectedness. The consequences of poor mental health can be substantial, as deteriorating mental health also reduces people's willingness to exercise and may increase health-risk behaviours such as cigarette smoking and alcohol use.
The most socially connected older adults are three times as likely to report very good or excellent health compared to those who are least connected, regardless of whether they feel isolated.

Older adults who feel least isolated are five times as likely to report very good or excellent health as those who feel most isolated, regardless of their actual level of social connectedness.

Social disconnectedness is not related to mental health unless it brings feelings of loneliness and isolation.
Older adults who are able to withstand socially isolating circumstances or adjust their expectations so they do not develop strong feelings of loneliness may fare better... The study included interviews with about 3,000 people aged 57-85 between 2005 and 2006.
Aging often brings changes in social relationships as individuals retire, take up new activities, endure losses and experience health changes... For some older adults, a shrinking circle of friends and family can lead to feelings of loneliness or isolation.

But older people who are able to adjust to being alone don't have the same health problems.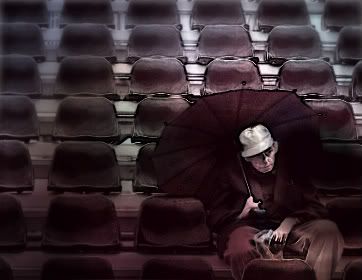 | | |
| --- | --- |
| | Content and comments expressed here are the opinions of Care2 users and not necessarily that of Care2.com or its affiliates. |
Author


Jenny Dooley
, 3, 2 children
Eastlakes, SW, Australia

SHARES FROM JENNY'S NETWORK
Mar
31

(1 comments | discussions )

\\nZEN was suspended by Eric with no warning. We don\\\'t know any reasons nor how long it will last....\\r\\nI asked about it on the forum but my post was immediately deleted. 2 threads and petitions about Zen also. And 2 her help-groups. :-(\\r\\nUntill to...