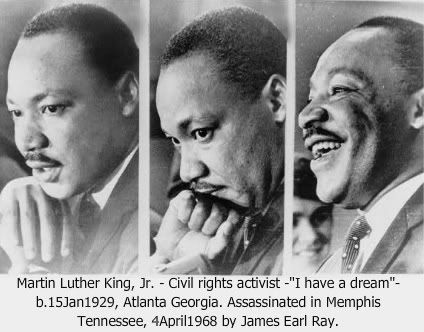 This Day in History, 4th April
WORLD HISTORY

1968 - MARTIN LUTHER KING is assassinated. Martin Luther King's life was tragically cut short when he was shot in the neck by a rifle bullet in Memphis, Tennessee, on 4 April 1968. James Earl Ray was convicted of his murder and sentenced to 99 years in prison. Ray's appeals on the basis that he was only a minor player in a conspiracy gained support from some members of King's family. Regardless, while King's life was taken from him prematurely, his legacy lives on... b. 15 January 1929 in Atlanta, Georgia, Baptist minister, African American civil rights activist. Most of the rights he fought for were successfully enacted later with the passage of the Civil Rights Act of 1964 and the Voting Rights Act of 1965.
Video:

The full version of Martin Luther King's famous "I have a dream" speech.
Comments disabled since many of them were hateful and racist

Video of

King's last prophetic speech

,


the day before he died.

---
AUSTRALIAN HISTORY

1848 - LEICHHARDT, Australian explorer, last seen 4th April 1848. Friedrich Wilhelm Ludwig Leichhardt, b. 23 Oct 1813, in Trebatsch, Prussia (now Brandenburg, Germany). He had a thirst for knowledge; studied philosophy, languages and natural sciences.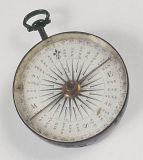 Self-taught botanist. Leichhardt arrived in Australia in 1842 and wanted to explore but lacked necessary bush survival skills. He made 3 expeditions:
[Oct 1844] set out from the Darling Downs, Qld, to find a new overland route to Port Essington, near Darwin. The 4800 km journey reached its destination 17 Dec 1845.
[Dec 1846] set out from the Darling Downs, Qld, destination Perth, WA. Wet weather and malaria forced the party to return after only 800km.
[Mar 1848] Leichhardt's final expedition, picking up where his 2nd expedition left off. The last sighting of Leichhardt and company was 4th April 1848 as they departed Roma Qld. Somewhere in Australia's vast outback, the entire party vanished.

What happened remains one of Australia's enduring mysteries.


[Leichhardt's compass pics: click for larger views.]

[8.4 Ludwig Leichhardt]
1820 - The Queen Victoria Building [QVB] Sydney: foundation stone is laid. A Victorian building of neo-Byzantine architecture, now an upmarket shopping centre. The QVB as it now stands was designed by George McRae, completed in 1898, replacing the original Sydney markets on the site. Threatened with demolition during the 1950s, it underwent extensive restoration.
Links: the grand staircase, a brief history