Jul 24, 2010
On This Day - Arthur Boyd
Born 24th July 1920: Arthur Merric Bloomfield Boyd, AC OBE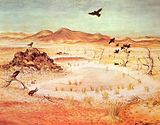 (click thumbnails to view larger images)
Arthur Boyd (24 July 1920 – 24 April 1999) was a member of the prominent Boyd artistic dynasty in Australia, with many relatives being painters, sculptors, architects or other arts professionals. His sister Mary Boyd married John Perceval, and then Sidney Nolan, both artists. His wife Yvonne Boyd née Lennie, and son Jamie and daughters Polly and Lucy are also painters.
Boyd is best known for his experimental and sometimes complex painting of figures and impressionist, pastoral landscapes. He was a member of the Antipodeans, a group of Melbourne painters that also included Clifton Pugh, David Boyd, John Brack, Robert Dickerson, John Perceval and Charles Blackman.
... Wikipedia link ...
.


Boyd Honoured By Google
C2NN submission by
Jenny from theage.com.au
.
ARTHUR Boyd today joins a club that includes Vincent Van Gogh, Andy Warhol, Norman Rockwell and Leonardo da Vinci - the Google Doodle club. To mark the 90th anniversary of his birth, Google is honouring the Aussie artist with a Boyd-inspired 'google'.
comments
(0) |
discussion
() |
permalink
|
send green star
|
flag as inappropriate
Jun 5, 2008


Here is another Vermeer painting. Another women wearing that pearl earring (see previous blog) and holding up a pearl necklace (I think - pls correct me if I'm wrong). Her eyes are turned towards the available light source and she appears absentminded.

Earlier I said (in a comment on Nanette's page) that the subject was concerned with vanity, compared to the Madonna portrait we were discussing. I have recently read that pearls were symbolicaly equated with vanity so tried to make that a fit, but I've decided that wasn't the case.

I'm sure the subject was more likely preoccupied with banal thoughts, such as, "When will Johannes finish? I have to go to the market, get the washing off the line, and answer some letters..."

I have another idea that Vermeer was obsessed with the light from that window, although it probably wasn't the same room all the time. Ok it wasn't an original idea. But I like to think of Vermeer sitting like a spider in a web, canvas, easel and paints at the ready, waiting for some poor unsuspecting female to wonder in, preferably wearing pearl earrings.

I am joking but at the same time this imagined attitude of Vermeer's strikes home. I was like that before I became too incapacitated to paint or draw anymore. I had a favourite room to paint in and a choice of two windows that shed exquisite light onto sitters and still life arrangements. The excitement, that urgent need to get what I was seeing onto paper, with inks, watercolours, crayons... I would work feverishly and get several sketches started in one sitting.

I can't paint or draw these days, but I continue to 'see' as an artist. Something will catch my eye, and I'll analyse it, enjoy an unusual juxtaposition of colours, shapes, and so on. Most of the time this is enough to satisfy me, but there are those bleak times I yearn to have paint and drawing gear in my hands, translating whatever had stolen my attention ... but that leads nowhere good...

I can thank my Buddhist teachers for showing me the difference between wrongly perceived happiness and true happiness. Most importantly they reveal to us naive creatures that the longing for the causes of temporary or false happiness leads to the absolute opposite. Wretchedness. Bitterness. Jealousy.

---


Much-welcomed comment from Nanette:

Nanette D.
Jenny, I would so love you to read that book I mentioned. "Girl With A Pearl Earing" by Tracy Chavalier. There is so much about how Vermeer worked, and about this room, and how he fixed his light, and objects on the table and around. I think you're right about his obssession with light and color. According to the book, he made his own colors to paint -- out of herbs.
---
Some Vermeer videos I need to watch...
comments
(0) |
discussion
() |
permalink
|
send green star
|
flag as inappropriate
| | |
| --- | --- |
| | Content and comments expressed here are the opinions of Care2 users and not necessarily that of Care2.com or its affiliates. |
Author


Jenny Dooley
, 3, 2 children
Eastlakes, SW, Australia

SHARES FROM JENNY'S NETWORK
Mar
31

(1 comments | discussions )

\\nZEN was suspended by Eric with no warning. We don\\\'t know any reasons nor how long it will last....\\r\\nI asked about it on the forum but my post was immediately deleted. 2 threads and petitions about Zen also. And 2 her help-groups. :-(\\r\\nUntill to...