Aug 26, 2010
WHY WATER MATTERS
Even healthy eaters often underestimate the importance of their water intake and wind up suffering from chronic, low-grade dehydration. Here are a few reasons good hydration is essential to good health:
ENERGY: Suboptimal hydration slows the activity of enzymes, including those responsible for producing energy, leading to feelings of fatigue. Even a slight reduction in hydration can lower metabolism and reduce your ability to exercise efficiently.
DIGESTION: Our bodies produce an average of 7 litres of digestive juices daily. When we don't drink enough liquid, our secretions are more limited and the digestive process is inhibited. (Note that drinking too much water all at once, particularly with food, can also dilute digestive juices, reducing their efficacy and leading to indigestion.)
REGULARITY: As partially digested food passes through the colon, the colon absorbs excess liquid and transfers it to the bloodstream so that a stool of normal consistency is formed. When the body is low on water, it extracts too much liquid from the stool, which then becomes hard, dry and difficult to eliminate. Slowed elimination contributes to bodywide toxicity and inflammation.
BLOOD PRESSURE: When we are chronically dehydrated, our blood becomes thicker and more viscous. Additionally, in response to reduced overall blood volume, the blood vessels contract. To compensate for the increased vein-wall tension and increased blood viscosity, the body must work harder to push blood through the veins, resulting in elevated blood pressure.
STOMACH HEALTH: Under normal circumstances, the stomach secretes a layer of mucus (which is composed of 98 percent water) to prevent its mucus membranes from being destroyed by the highly acidic digestive fluid it produces. Chronic dehydration, though, impedes mucus production and may irritate and produce ulcers in the stomach lining.
RESPIRATION: The moist mucus membranes in the respiratory region are protective; however, in a state of chronic dehydration, they dry out and become vulnerable to attack from substances that might exist in inhaled air, such as dust and pollen.
ACID-ALKALINE BALANCE: Dehydration causes enzymatic slowdown, interrupting important biochemical transformations, with acidifying results at the cellular level. The acidification of the body's internal cellular environment can be further worsened when excretory organs responsible for eliminating acids (e.g., the skin and kidneys) don't have enough liquid to do their jobs properly. An overly acidic biochemical environment can give rise to a host of inflammatory health conditions, as well as yeast and fungus growth.
WEIGHT MANAGEMENT: Feelings of thirst can be confused with hunger, both because eating can soothe thirst and also because dehydration-induced fatigue is often misinterpreted as a lack of fuel (e.g., sugar). Both dynamics can lead to false sensations of hunger, triggering overeating and weight gain. Inadequate hydration can also promote the storage of inflammatory toxins, which can also promote weight gain.
SKIN HEALTH: Dehydrated skin loses elasticity and has a dry, flaky appearance and texture. But dehydration can also lead to skin irritation and rashes, including conditions like eczema. We need to sweat about 24 ounces a day to properly dilute and transport the toxins being eliminated through our skin. When we are chronically dehydrated, the sweat becomes more concentrated and toxins aren't removed from our systems as readily, which can lead to skin irritation and inflammation.
CHOLESTEROL: Cholesterol is an essential element in cell membrane construction. When we are in a state of chronic dehydration and too much liquid is removed from within the cell walls, the body tries to stop the loss by producing more cholesterol to shore up the cell membrane. Although the cholesterol protects the cell membrane from being so permeable, the overproduction introduces too much cholesterol into the bloodstream.
KIDNEY and URINARY HEALTH: When we don't drink enough liquid, our kidneys struggle to flush water-soluble toxins from our system. When we don't adequately dilute the toxins in our urine, the toxins irritate the urinary mucus membranes and create a germ and infection-friendly environment.
JOINT HEALTH: Dehydrated cartilage and ligaments are more brittle and prone to damage. Joints can also become painfully inflamed when irritants, usually toxins produced by the body and concentrated in our blood and cellular fluids, attack them, setting the stage for arthritis.
AGEING: The normal ageing process involves a gradual loss of cell volume and an imbalance of the extracellular and intracellular fluids. This loss of cellular water can be accelerated when we don't ingest enough liquids, or when our cell membranes aren't capable of maintaining a proper fluid balance.
Related: Hydration Tips
Related: Common Myths about Dehydration
comments
(4) |
discussion
() |
permalink
|
send green star
|
flag as inappropriate
Visibility:
Everyone
Tags:
water
,
skin
,
health
,
cells
,
cholesterol
,
dehydration
,
kidneys
,
metabolism
,
bloodpressure
,
Hydration
,
respiration
Posted:
Aug 26, 2010 6:49pm
Apr 5, 2010

Picture: Tiger, Care2 Founder and CEO Randy Paynter's Amerecauna, with one of her eggs, along with a brown egg from another hen.
.
The following article has been adapted from 'Are Blue Eggs Lower in Cholesterol?'
.
BLUE EGGS: What's the truth?
CLAIM: Higher protein, lower cholesterol.
TRUTH: The opposite!
Results from 2 yrs' of testing show that Araucana eggs are significantly lower in protein and are consistently higher in cholesterol levels than other eggs.
.
IMPORTANT FACTS ABOUT EGGS IN GENERAL
- EGG PROTEIN is said to be the highest quality food protein known, second only to mother's milk
- Eggs provide CHOLINE, essential for brain and memory functions
- EGG YOLKS contain Vitamin D, fat, cholesterol, and a lot of important nutrients, including carotene, calcium, iron, phosphorus, zinc, thiamin, B6, folate, B12 and pantothenic acid
- EGG WHITES contain most of the protein.
.
A NOTE ON CHOLESTEROL
An increasing body of scientific research is showing that the real offender in raising blood cholesterol levels is actually saturated fat in food, not cholesterol in food. In fact, the American Heart Association has changed its guidelines on eggs to say that there is no longer a specific recommendation on the number of egg yolks a person may consume in a week.
.
HISTORY OF ARAUCANA -The name Araucana is derived from the Arauca province of northern Chile, a part of South America that was never conquered by the Spaniards.
AUSTRALIAN ARAUCANA -In Australia the majority of the Araucanas are not rumpless... known as the "Easter Egg Chicken" due to the fact that they have lost a lot of the features of the original breed except the egg colouring and ear tufts.
..........
LINKS:
The Ameraucana Club of America http://www.araucana.net/
Crested Breeds Club of Australia http://www.crestedbreeds.com/
comments
(0) |
discussion
() |
permalink
|
send green star
|
flag as inappropriate
Visibility:
Everyone
Tags:
iron
,
zinc
,
cholesterol
,
nutrients
,
protein
,
calcium
,
folate
,
carotene
,
choline
,
phosphorus
,
blue_eggs
,
araucana
,
ameraucana
,
egg_yolks
,
egg_whites
,
vitamin_d
,
thiamin
,
vitamin_b6
,
vitamin_b12
,
pantothenic_acid
Posted:
Apr 5, 2010 4:05am
Jan 30, 2010

From 10 Ways Your Food Can Bring Out the Best in Your Genes | Care2 Healthy & Green Living:
There are multiple factors in your diet, environment and lifestyle that affect your genes and how you age. Many of these are within your control. Of all the factors, diet is the easiest to control and probably the most important determinant of how our genes are expressed
IN BRIEF
1. Eat real food, not junk.
2. Try to eat as close to natural as possible.
3. Select fruits/vegetables in a wide variety of colours.
4. Buy fresh, organic, local foods when possible.
5. Stop eating when 80% full.
6. Be skeptical of foods with individual
labels bearing a health claim.
7. Be wary of advertised foods.
8. Be careful of obsessive calorie counting.
9. Enjoy your food.
10. Don't waste your time feeling guilty
if you ate the "wrong" thing.
_________________________________________________
A revolutionary new science, NUTRIGENOMICS, is showing how different foods may interact with specific genes, how food "talks" to our genes and how our genes express themselves after the conversation. It is confirming that food provides potent dietary signals that directly influence the metabolic programming of our cells and modify the risk of common chronic diseases. It is telling us that food is information, that it contains "instructions" which are communicated directly to our genes.
Armed with this information, your genes commandeer various metabolic actions and affect millions of critical biological processes, including cholesterol levels, aging, hormone regulation, weight gain and loss, and much more.
___________________________________________
Eat the right foods and they will send
instructions to your genes for good health.
Eating the wrong foods however,
sends messages for disease.
___________________________________________
What we are finding out is that there is so much more to food than just the nutrients we have discovered thus far. Real food is packed with thousands of compounds which have a complex and dynamic relationship with one another and your genes. With processed foods however, these micronutrients have either been altered or are missing, and therefore they can never deliver the same beneficial messages to your genes. Just as a computer program won't function well when it gets fed bad data, neither will your body. Once you understand that food is "data" or complex information that the body uses to direct the multifaceted actions that keep us vibrantly alive, it's easy to understand that loading up on junk food is like taking the fast lane to a giant system failure.
______________________________________________
Foods containing SUGAR, TRANS FATS and
CHEMICALS, and heavily PROCESSED foods,
are simply "bad data" for human consumption.
_______________________________________________
Lipman call these food-like substances because they are not real food. If you eat these regularly, your body stops working properly. It makes perfect sense...
___________________________________________________
When you bathe your genes in an unhealthy
environment, like the one created when you eat
junk food, your genes "miscue" metabolic
actions that can trigger disease.
e.g. your body responds to food-like substances
as if they are foreign bodies. This prompts an
inflammatory response as your body tries to
protect itself.
___________________________________________________
Over time, continued consumption can lead to the development of a low grade chronic inflammatory condition which is now becoming recognized as an important precursor to a variety of more serious forms of illness.
____________________________________
Bottom line: the food you eat affects
the functioning of your genes.
____________________________________

10 ways to bring out the best in your genes
IN FULL
1. Eat real food i.e. fresh, whole, unrefined and unprocessed food. Food is more than a delivery system for nutrients containing protein, fat, carbohydrates, vitamins, minerals and phytonutrients. Real food is more than the sum of its parts, it's about how it all works together, about the integrity of the information or the total message. Although you should know how to read food labels, most real food does not come with a label — vegetables, fruits, nuts, seeds, grass fed meats, wild fish, organic chicken and eggs etc.
2. Although there is no one right diet for everyone (as we are all different), try to eat as close to nature as possible. The further removed food is from its source the less good data it will contain, and the more likely it is of being a "food-like substance" and not real food.
3. Select fruits and vegetables in a wide variety of colors. For a list of fruits and vegetables with the most and least pesticides, check out www.foodnews.org.
4. Buy fresh foods whenever you can, preferably organic and locally grown if possible. Fresh foods are better than frozen foods, which are better than canned foods.
5. Stop eating when you are 80 percent full.
6. Be skeptical of foods that come individually labeled with a health claim. Most healthy foods don't need a health claim. Have you ever seen a health claim on a bunch of broccoli or on a box of blueberries?
7. Be wary of foods you've seen advertised as the vast majority of these are processed foods.
8. Be careful of obsessive calorie counting. Figuring your diet simply in terms of calories or even percentages of protein, fat and carbohydrate, can inadvertently deprive your body of the "complete" messages that real, whole foods provide.
9. Enjoy your food, preferably in the company of people you love.
10. Don't waste your time feeling guilty if you ate the "wrong" thing. I think Michael Pollan summarizes it really well in his brilliant book, In Defense of Food: "Eat food. Not too much. Mostly plants." He too is talking about real food.
________________________________________________


LINKS


Dr Lipman on Twitter: www.twitter.com/lipmo
Nutrigenomics: http://en.wikipedia.org/wiki/Nutrigenomics
Michael Pollan: http://www.michaelpollan.com/
In Defense of Food: http://www.amazon.com/Defense-Food-Eaters-Manifesto/dp/0143114964/ref=sr_11_1?ie=UTF8&qid=1242508699&sr=11-1
Frank Lipman MD, is the founder/director of the Eleven Eleven Wellness Center-emphasis on preventive health care and patient education. He blends Western and Eastern Medicine combined with other complimentary modalities. His books: SPENT: End Exhaustion and Feel Great Again (2009) and Total Renewal; 7 key steps to Resilience, Vitality and Long-Term Health (2003)..


______________________________________________________
comments
(1) |
discussion
() |
permalink
|
send green star
|
flag as inappropriate
Visibility:
Everyone
Tags:
cancer
,
food
,
health
,
recipes
,
diet
,
stroke
,
arthritis
,
weight
,
wellness
,
nutrition
,
genes
,
aging
,
cholesterol
,
high_blood_pressure
,
heart_disease
,
whole_foods
,
adult_onset_diabetes
,
hereditary_diseases
,
nutrigenomics
,
hormone_regulation
Posted:
Jan 30, 2010 9:49pm
Sep 13, 2009
10 Spices That Heal: Cancer, Diabetes, and More
[link to original article]
Research consistently shows that many spices and herbs have medicinal qualities and can help prevent everything from cancer to the common cold. Two experts–Glen Aukerman, MD, medical director of the Center for Integrative Medicine at Ohio State University Medical Center, and Ruth Knill, PhD, LAc, a Chinese herbalist–have picked the spices and herbs that best improve overall health, plus easy ways to work them into your diet.
.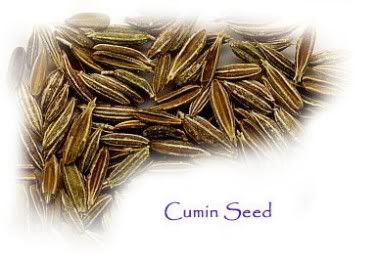 Cumin: to prevent Cancer
HOW IT WORKS: Cancer rates are lower in India, where cumin is a diet staple. Studies show that the curcumin in this spice inhibits the enzymes that help cancer cells invade healthy tissue and also keeps tumours from developing the new blood vessels that help them grow.
TRY TO GET: 6 teaspoons of seeds or 1/2 teaspoon of powder a day.
USE IT: Toss a bowl of root veggies, such as sweet potatoes, parsnips, cauliflower, and turnips, with olive oil and 1 teaspoon cumin powder. Bake at 300 degrees for 25 minutes or until tender, and add salt, pepper, and chopped cilantro to taste before serving.
.

Ginger: to calm Nausea
HOW IT WORKS: Chinese medicine texts from 4th century BC tout ginger's antinausea properties, and modern clinical studies have proved this scientifically–a substance in ginger shuts down a nerve receptor in the body that triggers the vomiting reflex.
TRY TO GET: Juice from 1 tablespoon fresh grated ginger or 1/2 teaspoon dried ginger four times a day.
USE IT: Add 1/2 teaspoon grated ginger and a few drops of toasted sesame oil to your usual tuna salad recipe for an Asian-style flavour.
.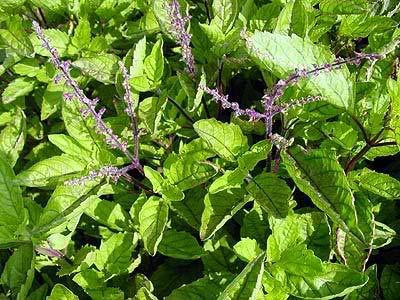 Basil: to combat Colds
HOW IT WORKS: Basil is rich in antioxidants, which help boost immunity. It's also an antimicrobial, which fights the germs that can cause colds.
TRY TO GET: 1 to 2 tablespoons a day.
USE IT: Toss 1 tablespoon chopped basil into a shrimp stir-fry during the last 3 to 5 minutes of cooking. Or slice strawberries, toss with honey, and set aside for 15 minutes until juicy. Then top with a few tablespoons of finely chopped basil.
.

Cinnamon: to fight Diabetes
HOW IT WORKS: People with type-2 diabetes have difficulty processing insulin, the hormone that tells cells to remove excess sugar from the bloodstream. But studies show that cinnamon contains a substance that can help cells respond to insulin, resulting in a reduction of blood sugar levels by about 20%.
TRY TO GET: 1/4 to 1/2 teaspoon (or one stick) a day.
USE IT: Mix 1/2 teaspoon cinnamon into 2 tablespoons peanut butter, and spread over apple slices.
.

Rosemary: to improve Memory
HOW IT WORKS: "There's rosemary, that's for remembrance," Ophelia said to Hamlet. More than 400 years later, a variety of studies back up Ophelia's claim. The ursolic acid in rosemary inhibits the breakdown of a neurotransmitter essential for memory.
TRY TO GET: 1 to 2 teaspoons a day.
USE IT: Make a rosemary-infused simple syrup by mixing 1 cup water, 1/2 cup sugar, and 2 sprigs rosemary. Bring to a boil so sugar dissolves, and let sit for 10 to 15 minutes. Drizzle over a fall fruit salad of chopped apples, pears, and red grapes. Use 1 cup syrup to 4 cups fruit.
.

Garlic: to reduce Cholesterol
HOW IT WORKS: A review of studies conducted by the Linus Pauling Institute found that people who took garlic for three months had a 6-11% reduction in total cholesterol. Because garlic is an antioxidant, it may prevent the oxidation of cholesterol in the arteries.
TRY TO GET: 3 to 5 crushed cloves a day.
USE IT: Roast up to 5 garlic cloves, and add to homemade hummus before pureeing.
.
Nutmeg: to lower Blood Pressure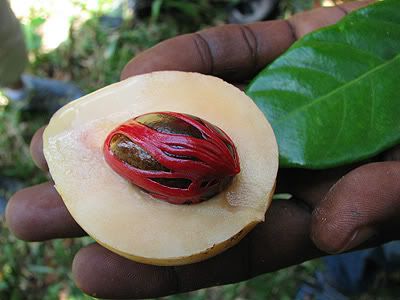 HOW IT WORKS: "Warming spices" like nutmeg can bring blood from the center of the body to the skin. This helps disperse the blood more evenly throughout the body, reducing overall pressure.
TRY TO GET: 1/2 to 1 teaspoon a day.
USE IT: Steam 1 head of broccoli and one potato until soft, and then puree with 1/4 cup butter and 4 to 5 gratings of fresh nutmeg or 1/4 teaspoon of ground nutmeg.
.

Cloves: to relieve Arthritis Pain
HOW IT WORKS: According to Chinese medicine, cloves have hot and moving properties that relieve arthritis pain caused by cold and stagnation. Cloves contain a phytochemical that interrupts the pathways of a protein complex in the body that's been linked to inflammatory diseases such as arthritis.
TRY TO GET: 1/2 teaspoon a day.
USE IT: Saute 1 cup fresh parsley (finely chopped), 1 clove garlic (crushed), 1 teaspoon salt, 1 teaspoon pepper, and 1 teaspoon cloves in 1 tablespoon olive oil. After 3 minutes, add 4 cups shredded rhubarb chard, and fry until soft and tender, about 5 minutes. Serve hot with chicken or fish.
.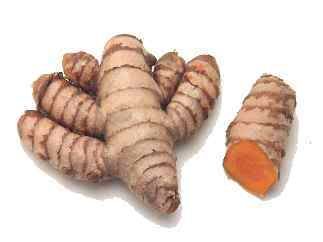 Turmeric: to curb Inflammation
HOW IT WORKS: An ancient spice that gives curry its deep golden-orange color, turmeric reduces the inflammation in the body that causes pain. Curcumin, a component in turmeric, inhibits cell enzymes that contribute to inflammation.
TRY TO GET: 1/2 to 1 teaspoon a day.
USE IT: Add a dash to organic canned soups, such as tomato, lentil, or black bean varieties.
.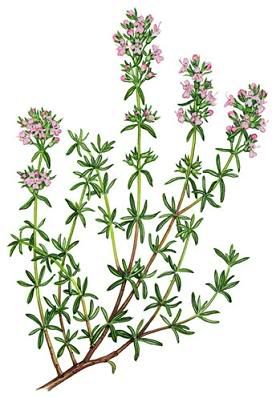 Thyme: to ease Coughs
HOW IT WORKS: Thyme is an antispasmodic, which helps with bouts of nonstop coughing. Thyme's antiseptic properties also make it very effective against inflammation of the throat, which can cause coughing.
TRY TO GET: 2 to 3 teaspoons a day.
USE IT: For a simple vinaigrette, whisk together 1 tablespoon coarsely chopped fresh thyme leaves with 1 tablespoon white wine vinegar, 1 teaspoon honey, 1/2 teaspoon salt, and 3 tablespoons extra-virgin olive oil.
...............................................................................
Recipe ideas from Dana Jacobi, author of The Essential Best Foods Cookbook (Rodale, 2008).
[link to original article]
comments
(0) |
discussion
() |
permalink
|
send green star
|
flag as inappropriate
| | |
| --- | --- |
| | Content and comments expressed here are the opinions of Care2 users and not necessarily that of Care2.com or its affiliates. |
Author


Jenny Dooley
, 3, 2 children
Eastlakes, SW, Australia

SHARES FROM JENNY'S NETWORK
Mar
31

(1 comments | discussions )

\\nZEN was suspended by Eric with no warning. We don\\\'t know any reasons nor how long it will last....\\r\\nI asked about it on the forum but my post was immediately deleted. 2 threads and petitions about Zen also. And 2 her help-groups. :-(\\r\\nUntill to...