Jun 20, 2010
| | |
| --- | --- |
| Category: | Barbecue |
| Prep Time: | Less than 2 hrs |
| Special Considerations: | Vegetarian |
MELISSA BREYER'S MARINADES for GRILLED VEGGIES


Here are a few of Care2 Blogger Melissa Breyer's favourite marinades. Simply let your vegetables marinate in a shallow dish 30mins-1hour before grilling or barbecuing. For larger quantities, double the ingredients.
.
SPICY ORANGE & CILANTRO MARINADE
2 tablespoons olive oil
1 tablespoon orange juice
1 tablespoon orange marmalade
1 tablespoon chopped fresh cilantro
1 teaspoon red pepper flakes
.
ASIAN MARINADE
2 tablespoons light soy sauce
2 tablespoons seasoned rice wine vinegar
2 teaspoons minced fresh ginger
1 teaspoon sesame oil
.
BROWN SUGAR & BOURBON MARINADE
2 tablespoons soy sauce
2 tablespoons bourbon
1 tablespoon brown sugar
1 teaspoon cayenne pepper
.
LEMON & GARLIC MARINADE
1 tablespoon olive oil
2 tablespoons lemon juice
1 tablespoon lemon zest
1 teaspoon minced garlic
Salt and freshly ground pepper to taste
.
*MAPLE & WASABI MARINADE
2 tablespoons maple syrup
2 tablespoons olive oil
1 teaspoon wasabi
.
NOTES FROM JENNY DOOLEY
*Maple syrup is very expensive in Australia, and not within the budget of this disabled pensioner. I wonder what a good alternative would be?
.
MORE RECIPES:
Grilled Peaches with Bitter Greens, Grilled Corn, Make Your Grilling Greener
Jan 30, 2010
| | |
| --- | --- |
| Category: | Breakfast & Brunch |
| Cuisine: | Tropical |
| Prep Time: | Less than 30 min |
| Special Considerations: | Vegetarian |
from Not Quite Nigella's -Australian food blog, click here
.

Adapted from the Masterchef Cookbook, makes approximately 12 pancakes
____________________________
For Pancakes
•3/4 cup (105g) plain flour
•1/2 teaspoon salt
•3 tablespoons sugar
•3 eggs
•3/4 cup (180ml) coconut milk
•oil to grease pan for frying
____________________________
For White Nectarine & Nashi Pear Salad
•4 white nectarines cut into small pieces
•1 large nashi pear cut into batons
•2 tablespoons honey
•1/2 teaspoon ginger finely diced
___________________________
1. Whisk flour, salt, sugar and eggs in a large jug until smooth. Add coconut milk and whisk until the consistency is like that of a pouring cream. Sieve the mixture through a fine sieve. Make a pouring vessel for the batter by cutting a 3mm diameter corner off a small, clean milk or cream carton. If the hole is too small the mixture will not pass through smoothly, if too large, it will pour too quickly resulting in thick pancakes and not the thin lace textured ones pictured. Pour batter into the milk carton.
2. Heat the frypan and add some oil to grease. Pour two circles around the outside to help hold it all together and then in a tight zig zag pattern motion pour a thin stream from one side of the pan to the other reaching the outer circles. Repeat at a right angle so that you form a cross hatch pattern.
3. When the inside appears to be lightly browning, with a thin eggflip, pick up the corner and then flip over the pancake carefully (it will be delicate) to cook on the other side for just a few seconds. Then fold it over and place on a plate to cool slightly where you can then fold it once more into quarters.

comments
(3) |
discussion
() |
permalink
|
send green star
|
flag as inappropriate
Nov 2, 2009
Climate-Change Authority Advocates Vegetarianism
Adapted from post by Heather Moore of Care2's 'Causes'- click
.It might take a while for Al Gore and other noted "environmentalists" in the U.S. to branch out from "safe" advice like "use energy-efficient light bulbs" and "recycle"—and American politicians may not even be all that quick to promote an official meat-free day—but one of the top climate chiefs in the U.K. is taking the lead. Lord Stern, the author of the 2006 Stern Review on global warming (Wikipedialink), recently told The Times in "Climate chief Lord Stern: give up meat to save the planet" (link to article)
.


.This issue will hopefully now be a key topic of discussion at the Climate Change Conference in Copenhagen in December. As The Times noted, Stern is in favour of a "successful deal" that will send the cost of meat and other foods that generate lots of greenhouse gases, soaring.
.A recent World Watch Magazine article by Robert Goodland and Jeff Anhang indicates that the livestock sector is responsible for 51% of global greenhouse gas emissions each year. The article, Livestock and Climate Change, calls cows, chickens, and pigs "key actors" in climate change.
.Many people are quick to point the finger at Hummers and power plants, but when researchers compared the amount of fossil fuel necessary to produce various foods, they found that...
...switching to a vegan diet is even more effective in countering climate change than switching from a gas-guzzler to a hybrid.
If you measured power plants by CO2 alone, they would appear to emit more greenhouse-gas emissions than animal agriculture does. However, power plants don't generate energy for their own sake, but rather to provide power for industrial and consumer purposes—like operating factory farms.
.In fact, the meat, egg, and dairy industries use enormous amounts of electricity from power plants to process feed crops; to provide ventilation, lighting, and heat for factory farms; to operate slaughterhouses and processing plants; and to refrigerate animals' flesh, eggs, and milk for transportation around the country. Overall...
...it takes 11 times as much fossil fuel to produce a gram of animal protein as it does to produce a gram of plant protein.
When responding to criticism that measures to tackle climate change are partly to blame for the rise in food and energy costs, Yvo de Boer, the head of the United Nations climate agency, said, "The best solution would be for us all to become vegetarians."
.As I've mentioned before, other environmental experts are onboard with this idea, including Dr. Rajendra Pachauri, the chair of the United Nations Intergovernmental Panel on Climate Change, who implores people to...have at least one meat-free day a week to help halt climate change, but ultimately to go vegetarian.
Lord Stern predicts that people's attitudes will evolve until meat eating becomes unacceptable.
--------------------------------------------------
http://en.wikipedia.org/wiki/Stern_Review
http://www.timesonline.co.uk/tol/news/environment/article6891362.ece
Jul 15, 2009
Animal Rights, Veganism and the Importance of Non-Violence
David Horton's indefatigable energy and excellent public speaking skills for animals is well known right around Australia. Here he speaks with Claudette Vaughan on how to live the non-violent animal rights philosophy.

Page for Cher's article:
http://www.care2.com/news/member/100041282/1194238
Cher Please note this news. To visit original article, click the green button.
---
Another site to reference:
http://www.abolitionist-online.com/07l_horton.shtml
---
David answers the question "What are some of your favourite vegan cuisines, vegan/AR authors and why?"
.
I use a lot of energy as a manual worker so I like solid food. I want more burgers, pies and cakes. I wish they sold nutritious, yummy, vegan pastries, but they don't. So I have to make them myself. I like cooking but I'm not much good at it, but with practice … even my cakes and pies can turn out okay, sometimes. As for reading matter, apart from some home grown magazines and web sites I like hard copy to read in the bath or under a tree. My favourite author at the moment is Will Tuttle, for his World Peace Diet. I can't stop re-reading it. I'm looking forward to read the Endgame books by Derrick Jensen. I'm hoping to get into Francione soon, I like Neal Barnard and Michael Klaper and have learnt so much from them as I have from Gill Langley's book Vegan Nutrition and Amanda Sweet's The Vegan Health Plan. And I think we should all learn by heart John Waddell's book But You Kill Ants.
.
For a full list of David's books please contact David Horton at:
.
Tel (02) 9356 4752
63/2 Ithaca Road
Elizabeth Bay NSW 2011
Australia
Email: dhortoninoz@hotmail.com
comments
(1) |
discussion
() |
permalink
|
send green star
|
flag as inappropriate
Visibility:
Everyone
Tags:
animals
,
australian
,
animalrights
,
vegan
,
vegetarian
,
violence
,
nonviolence
,
veganism
,
davidhorton
,
publicspeaker
Posted:
Jul 15, 2009 4:40pm
Sep 6, 2008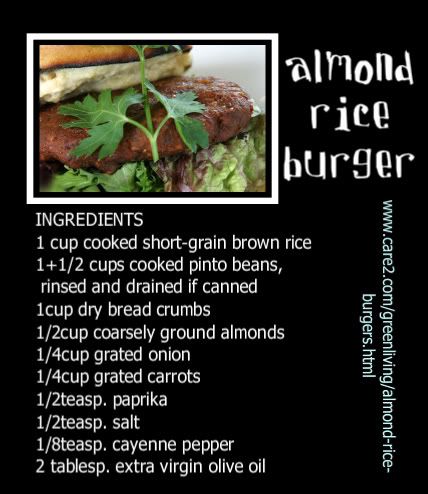 Adapted from One-Dish Vegetarian Meals, by Robin Robertson (The Harvard Common Press, 2007).
Almonds are being known as the supernut that helps people who have "metabolic syndrome" resulting in insulin sensitivity. Supernut or not, they are also delicious. These burgers are quick and flavourful. Short-grain brown rice holds together well and adds a nutty flavor that complements the almonds in these tasty burgers. Serve on their own with a sauce or chutney, or on burger rolls with all the trimmings.
METHOD:
1. In a large bowl, combine the rice, beans, bread crumbs, almonds, onion, carrots, paprika, salt, and cayenne and stir until well blended. Or combine the ingredients in a food processor and process until blended. Shape the mixture into four ½-inch-thick patties.
2. Heat the oil in a large skillet over medium-high heat. Add the patties and cook for about 5 minutes per side, until golden brown. Serve immediately.
Serves 4. http://www.care2.com/greenliving/almond-rice-burgers.html
| | |
| --- | --- |
| | Content and comments expressed here are the opinions of Care2 users and not necessarily that of Care2.com or its affiliates. |
Author


Jenny Dooley
, 3, 2 children
Eastlakes, SW, Australia

SHARES FROM JENNY'S NETWORK
Mar
31

(1 comments | discussions )

\\nZEN was suspended by Eric with no warning. We don\\\'t know any reasons nor how long it will last....\\r\\nI asked about it on the forum but my post was immediately deleted. 2 threads and petitions about Zen also. And 2 her help-groups. :-(\\r\\nUntill to...