Jan 1, 2010
Scientific Breakthrough May Help Save Tasmanian Devils From Bizarre, Contagious Cancer

C2NN item submitted by Cher
Visit original story in LATimes here



Fierce as they are, Tasmanian devils can't beat a contagious cancer that threatens to wipe them out. Now scientists think they've found the disease's origin, a step in the race to save Australia's snarling marsupial. The furry black animals spread a fast-killing cancer when they bite one another's faces.
Since the disease's discovery in 1996, their numbers have plummeted by 70%.
Last spring, Australia listed the devils as an endangered species. There's no treatment and little hope of finding one until scientists better understand this bizarre "devil facial tumour disease." So an international research team picked apart the cancer's genes and discovered that it apparently first arose in cells that protect the animals' nerves. The surprise finding, reported in Friday's edition of the journal Science, has led to development of a test to help diagnose this tumour.
Next, scientists are hunting the mutations that turned these cells rogue, work they hope could one day lead to a vaccine to protect remaining Tasmanian devils, or perhaps treatments.
"The clock's ticking," lead researcher Elizabeth Murchison of the Australian National University said by phone from Tasmania. "It's awful to think there could be no devils here in 50 years because they're dying so quickly."

The devils, known for powerful jaws, fierce screeches and voracious consumption of prey, are the world's largest marsupial carnivores. They don't exist in the wild outside Tasmania, an island south of Australia.
What triggered this cancer, which causes tumours that grow so large on the face and neck that the animals eventually can't eat?
It didn't jump from another species, said Murchison. Tasmanian devils, for unknown reasons, are prone to various types of cancer. This tumour's genetic signature suggests that probably no more than 20 years ago, mutations built up in some animals' Schwann cells -- cells that produce the insulation, called myelin, crucial for nerves -- and the first devil fell ill with this new type.
Those mutations went far beyond a typical cancer. When one sick animal bites another, it transplants living cancer cells that form a copy of the first animal's tumour.
Murchison's team tested 25 tumours gathered from devils in different parts of Tasmania and found the tumours were essentially identical to one another. It's one of only two forms of cancer known to spread this way, Murchison said; the other is a sexually transmitted cancer in dogs. (That's quite different from people's transmission of a few cancer-causing viruses, including the human papillomavirus that causes cervical cancer.)
The researchers created a diagnostic test, based in part on a myelin-related protein called periaxin that was present in all the facial tumours but not in other cancers.
Also, the team compiled a catalogue of Tasmanian devil genetic information. Among the next goals is to determine which of those genes most influence the spread and severity of this cancer.
-- Associated Press
___________________________________________
Top photo: A Tasmanian devil at Healesville Sanctuary. Credit: Cameron Wells / Walter and Eliza Hall Institute
Bottom photo: A Tasmanian devil reacts in its enclosure at the Taronga Zoo in Sydney. Credit: Mark Baker / Associated Press
__________________________________________
More C2NN items submitted by Cher
here
Jan 1, 2010
Endangered Species: The Good News and the Bad News

from C2NN, submitted by
Cher

Let's start off the new year with some good news: usually when we talk about extinction, we're building a list, but in the last century, thirteen animals were removed from the list.
Thirteen species that were believed to be extinct, some for millions of years, were rediscovered. These so-called "Lazarus species" baffle scientists, who don't tend to declare extinction lightly. With an estimated average that we're losing a plant or animal species every 20 minutes (which is significantly higher than the naturally occurring rate of extinction), these guys are barely a blip on the radar. 4 hours and 20 minutes. Yet, their comeback gives us hope that maybe some of the damage we've done isn't permanent.
.
Who are the Lucky 13? They range from birds to rodents to bugs:
the Coelacanth (a huge fish),
Bermuda Petrel,
Chacoan peccary (looks a bit like a wild boar),
Lord Howe Island stick insect (larger than your average stick insect and sometimes referred to as "walking sausages"),
Monito del Monte (an adorable little marsupial),
La Palma giant lizard,
Takahe (a flightless bird),
Cuban solenodon (who has the distinction of being a rare venomous mammal),
New Caledonian crested gecko,
New Holland mouse,
Giant Palouse earthworm,
Large-billed reed-warbler,
Laotian rock rat, who is from a family of rodents believed to be extinct for over 11 million years.
It's a pretty amazing group of creatures -- check out their photos
.
See more of Cher's stories here
comments
(1) |
discussion
() |
permalink
|
send green star
|
flag as inappropriate
Visibility:
Everyone
Tags:
bird
,
mice
,
lizard
,
gecko
,
marsupial
,
extinction
,
flightless
,
coelacanth
,
petrel
,
earthworm
,
peccary
,
stick_insect
,
rockrat
Posted:
Jan 1, 2010 6:53pm
Dec 9, 2008
From Koalas to get cane farm land in $12m plan | The Courier-Mail:
CANE farming land could be seized and reforested in the State Government's plans to save southeast Queensland's declining koala population.
The Environmental Protection Agency will have the power to acquire land outside the urban footprint, provided it is for koala habitat.
Sustainability and Climate Change Minister Andrew McNamara yesterday unveiled the State Government's $12 million koala action plan.
It was important to take over land so there were more areas for koalas, he said.
The Government also will spend $2 million to map koala habitats and another $10 million to make road hotspots "koala friendly".

continued below...
Thanks to Jacqueline V for bringing this news to our attention (link) Please go to C2NN via link provided and note/comment/send a green star. Jacqueline works tirelessly for animals and deserves kudos!
Photos shows koala present while announcement is read.
New main roads and road upgrades in koala habitat areas must have safe crossing points and fencing. New developments will have to offset any tree loss. A freeze has also been placed on all State Government land until the koala mapping is complete.
But Wildlife Preservation Society Queensland president Simon Baltais, who was part of Premier Anna Bligh's recent koala taskforce report on which the measures are based, said:
"The Government should be congratulated on taking strong steps, but they can go further."
Australian Koala Foundation CEO Deborah Tabart described the move as political rhetoric.
"I believe that Premier Bligh fears what happened to Premier Goss," she said. (A Goss Government plan to put a road through koala habitats on Brisbane's southside lost it seats and cost it an election.)
"I can promise you there will be no koalas left by 2020 in southeast Queensland. Everything that has been announced is just a Band-Aid on a major problem that will not go away." She said there were only about 4000 koalas, and the figure was already below the critical population threshold.
The new measures might be enough to protect hundreds of koalas from a proposed $1 billion rail track between Rosewood and Beaudesert.
The Sunday Mail reported in October that campaigners feared the line would threaten a large koala population and a koala rescue and rehabilitation clinic.
Darren Yarrow, of Community action group Fair Go, said the corridor, which would be up to 200m wide, would destroy "the largest and most healthy koala population on the south side of Brisbane".
A spokesman for Transport Minister John Mickel said the study of the 55km corridor would be adjusted to accommodate koala-friendly laws
May 29, 2008
News from the Sydney Morning Herald 29 May 08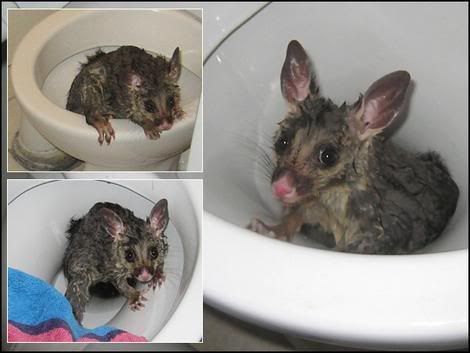 One lucky marsupial emerges from the toilet.
Photo by Tim Fraser (owner of the toilet)
Brisbane, Queensland Australia
...

When it comes to toilets, there's a simple directional rule: everything goes downstream. When things move against the tide, then you have problems. So as Tim Fraser was doing some laundry in his bathroom last Friday night, he became a wee bit disturbed when his toilet started spontaneously gurgling.

...
"I could see bubbles coming up and I thought
'what the the hell is happening?'"
...
Then he caught sight of a grey, furry head with a pair of pointy ears and saucepan eyes emerging on this side of the s-bend. Moments later there was a half-drowned possum sitting in his Fowler toilet bowl.
"It was like the toilet had given birth," Fraser said
Fraser, 39, lives just north of the Brisbane CBD in an area near a large colony of the creatures. So he's used to crossing paths with possums, but never quite like this before... the only way the critter could have climbed in was through a 100mm-wide breather pipe for the toilet line. This runs from the roof of his house, down the back wall before joining the sewage pipe at basement level and turning back up to the toilet - a distance of over 10 metres.
....................
It's not clear who was more startled,
man or marsupial. Video coverage

Possum takes wrong turn
Tim Fraser couldn't believe his eyes when he saw
a pair of pointy ears emerge from his toilet bowl
..............

The final leg of the possum's fantastic voyage would have involved wriggling through the s-bend - a set-up that creates a water-filled seal between flushings.

"He was close to death and lucky that no one had used the toilet recently."

Once clear of its porcelain prison, the possum made a dash for freedom. Hissing and snarling at its rescuers, it eventually bolted through an open door and back into its suburban habitat.
...

Fraser uploaded four short clips of the possum on to YouTube. Surprisingly, the videos - Possum Climbs up through Pipe to Toilet - have not taken off, each only collecting a few hundred views.
...

In February, EnergyAustralia had to "wildlife-proof'' up to a dozen sub-stations after a possum knocked out power at a substation in Avalon (Sydney) and left 15,000 homes without power. The possums had been using overhead powerlines as highways to safety from cats and foxes.
| | |
| --- | --- |
| | Content and comments expressed here are the opinions of Care2 users and not necessarily that of Care2.com or its affiliates. |
Author


Jenny Dooley
, 3, 2 children
Eastlakes, SW, Australia

SHARES FROM JENNY'S NETWORK
Mar
31

(1 comments | discussions )

\\nZEN was suspended by Eric with no warning. We don\\\'t know any reasons nor how long it will last....\\r\\nI asked about it on the forum but my post was immediately deleted. 2 threads and petitions about Zen also. And 2 her help-groups. :-(\\r\\nUntill to...