Nov 23, 2009
A Few Hunger Facts
(taken from the list at www.Bhookh.com -click daily to donate food, free)
1. Hunger remains the No.1 cause of death in the world. Aids, Cancer etc. follow.
2. There are 820 million chronically hungry people in the world.
3. 1/3 of the world's hungry live in India.
4. 836 million Indians survive on less than Rs.20 less than half-a-dollar a day.
5. 10 million people die every year of chronic hunger and hunger-related diseases. Only 8% are the victims of hunger caused by high-profile earthquakes, floods, droughts and wars.
6. 99% of the 1000 Adivasi households from 40 villages in the two states, who comprised the total sample, experienced chronic hunger (unable to get two square meals, or at least one square meal and one poor/partial meal, on even one day in the week prior to the survey). Almost as many, i.e. 24.1%, had lived in conditions of semi-starvation during the previous month.
7. Over 7000 Indians die of hunger every day.
8. Despite substantial improvement in health since independence and a growth rate of 8% in recent years, under-nutrition remains a silent emergency in India, with almost 50% of Indian children underweight and more than 70% of the women and children with serious nutritional deficiencies, such as anemia.
9. The 1998–99 Indian survey shows 57% of the children aged 0–3 years to be either severely or moderately stunted and/or underweight.
10. In 2006–2007, malnutrition contributed to 7million Indian children dying, nearly 2million under 1yo.
11. 30% of newborns are of low birth weight, 56% of married women are anaemic and 79% of children age 6-35 months are anaemic.
12. The number of hungry people in India is always more than the number of people below official poverty line (while around 37% of rural households were below the poverty line in 1993-94, 80% of households suffered malnutrition).
..................................................

Sources
-UN World Food Programme
-UN World Health Organization: Global Database on Child Growth and Malnutrition, 2006
-UN Food and Agriculture Organization: SOFI 2006 Report
-National Commission for Enterprises in the Unorganized Sector (India)
-National Family Health Survey 2005 – 06 (NFHS-3) (India)
-Centre for Environment and Food Security (India)
-Rural 21 (India)
-http://www.bhookh.com/hunger_facts.php
comments
(1) |
discussion
() |
permalink
|
send green star
|
flag as inappropriate
Visibility:
Everyone
Tags:
food
,
health
,
hunger
,
environment
,
anemia
,
emergency
,
malnutrition
,
starvation
,
enterprise
,
donattions
,
united_nations
,
nutritional_deficiencies
Posted:
Nov 23, 2009 3:25am
Mar 21, 2009
From Brazilian City Makes Food A Basic Right And Ends Hunger : TreeHugger:
In 1993, the newly elected city government of Belo Horizonte, Brazil declared that food was a right of citizenship. At that time, the city of 2.5 million had 275,000 people living in absolute poverty, and close to 20 percent of its children were going hungry.
The city agency developed dozens of innovations to assure everyone the right to food, especially by weaving together the interests of farmers and consumers. It offered local family farmers dozens of choice spots of public space on which to sell to urban consumers, essentially redistributing retailer mark-ups on produce-which often reached 100 percent-to consumers and the farmers. Farmers' profits grew, since there was no wholesaler taking a cut. And poor people got access to fresh, healthy food.

Three large scale "People's Restaurants" [see photo above] serve healthy meals to 12,000 people a day for the equivalent of $0.50, and innovative school programs ensure that students are well fed. [Top Photo: Belo Horizonte school lunches]
In just a decade Belo Horizonte cut its infant death rate—widely used as evidence of hunger—by more than half, and today these initiatives benefit almost 40 percent of the city's 2.5 million population. One six-month period in 1999 saw infant malnutrition in a sample group reduced by 50 percent.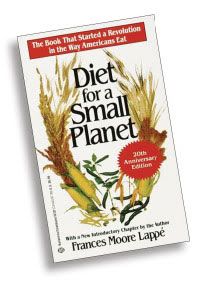 And between 1993 and 2002 Belo Horizonte was the only locality in which consumption of fruits and vegetables went up.
The last word goes to Frances Moore Lappé [author of 'Diet for a Small Planet'] who recently wrote about Belo Horizonte in Yes! magazine. She says,
"Hunger is not caused by a scarcity of food but a scarcity of democracy."
[from C2NN news submitted by John -please note]

comments
(0) |
discussion
() |
permalink
|
send green star
|
flag as inappropriate
| | |
| --- | --- |
| | Content and comments expressed here are the opinions of Care2 users and not necessarily that of Care2.com or its affiliates. |
Author


Jenny Dooley
, 3, 2 children
Eastlakes, SW, Australia

SHARES FROM JENNY'S NETWORK
Mar
31

(1 comments | discussions )

\\nZEN was suspended by Eric with no warning. We don\\\'t know any reasons nor how long it will last....\\r\\nI asked about it on the forum but my post was immediately deleted. 2 threads and petitions about Zen also. And 2 her help-groups. :-(\\r\\nUntill to...