Feb 28, 2012
Meditation on the Sound of Praise and Criticism
Excerpted from Lama Zopa Rinpoche's How to Practice Dharma: Teachings on the Eight Worldly Dharmas, edited by Gordon McDougall. Forthcoming 2012 from the Lama Yeshe Wisdom Archive.
---
Pictured at right: Lama Zopa Rinpoche, Lake Arrowhead, 1975.
Photo: Carol Royce-Wilder.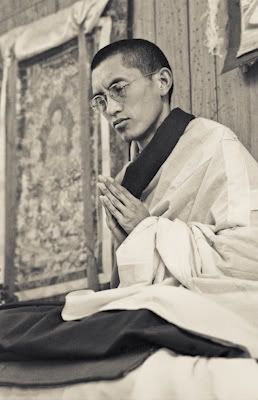 You can learn much about your mind by being aware of how it reacts to praise and criticism. How pleased are you when somebody praises you? How depressed are you when you are criticized? Even if you logically know that neither the praise nor the criticism is justified, it is very difficult to separate your mind from the situation and have a more realistic attitude to these two worldly dharmas. Here is a meditation that will help.
---
Think of a compliment or some praise that you've recently received. Don't worry whether you feel you deserved it or not, just concentrate on the way your mind reacted to it. Were you genuinely pleased to receive that praise without any exaggeration of the mind or did your mind immediately become attached to it? Explore how much you need praise.
---
Perhaps somebody has praised your wisdom--"How wise you are." Immediately your mind wraps itself around this sentence and you feel very happy. But really, where is the real happiness in those four words? They are just sounds hitting your ears. If they were a true source of happiness then every time you heard them you would be as happy. If there were some absolute existence in that sentence, then just saying "How wise you are" to yourself would have exactly the same effect. Does it?
---
It could be your mantra. You could repeat it over and over to yourself, counting your mala-how wise you are, how wise you are, how wise you are. If it were real happiness, the more you repeated it the happier you would become. You could record it and play it back to yourself all day every day and you would be the happiest person in the world. But of course it is not like that.
---
Take each word and see whether there is happiness there. Is there some intrinsic happiness in "how" or in "wise," in "you" or in "are." Of course not. The individual words themselves are no reason for attachment, so why is the whole sentence?
---
Experiment like this and see how the happiness you feel when praised does not come from the side of the words themselves. The words themselves are empty sounds; the meaning comes from your own mind.
---
In the same way, if you check whether "You are so terrible" really exists, you will find that what you believe to exist is utterly nonexistent. You get angry and upset when somebody says that, the actual sentence brings pain to your heart, but really it's only a group of sounds hitting your ear. How can it have that effect? You believe the sentence, but examine each word. Do you get angry with the "you" of "you are so terrible?" There's no point in getting angry at a "you." And there's no point in getting angry at the word "terrible." Does just hearing the sound "terrible" make you angry?
---
If you add a "no" to "you are good" you get a negative sentence, "You are no good." Those two letters "n" and "o" change the sentence around. The first sentence doesn't have "no"; the second one does. You don't get angry when you hear the word "no" alone, so why get angry at the whole sentence? Is it because the combination of words is related to you? If this is so, then when you tell yourself you are no good, it should cause you to get angry in exactly the same way.
---
The moment you discover the emptiness of the object that you believed in before, your feeling changes. There's no problem in your mind, no confusion. All of a sudden, by checking like this, your attachment or aversion diminishes and your mind becomes much more relaxed and happier than before. The wrong conception that held the truth to be in that group of sounds simply vanishes, and with it the attachment or aversion you felt because of those words. You can't find the truly-existing object of your negative emotion, so it is naturally dispelled. This way you keep your mind peaceful. You become your own doctor, psychologist and psychiatrist and bring peace to your own life.
---
Connect with LYWA
Visit LYWA website
http://www.lamayeshe.com/index.php

Become a fan on Facebook
http://www.facebook.com/pages/Lama-Yeshe-Wisdom-Archive/197994450850?ref=mf

Follow LYWA on Twitter
https://twitter.com/#!/LYWA


comments
(1) |
discussion
() |
permalink
|
send green star
|
flag as inappropriate
Jul 3, 2010

(image: Zen painting of Hakuin).
Hakuin, the fiery and intensely dynamic Zen master, was once visited by a samurai warrior.
"I want to know about heaven and hell," said the samurai. "Do they really exist?" he asked Hakuin.
Hakuin looked at the soldier and asked, "Who are you?"
"I am a samurai," announced the proud warrior.
"Ha!" exclaimed Hakuin. "What makes you think you can understand such insightful things? You are merely a callous, brutish soldier! Go away and do not waste my time with your foolish questions," Hakuin said, waving his hand to drive away the samurai.
The enraged samurai couldn't take Hakuin's insults. He drew his sword, readied for the kill, when Hakuin calmly retorted, "This is hell."
The soldier was taken aback. His face softened. Humbled by the wisdom of Hakuin, he put away his sword and bowed before the Zen Master.
"And this is heaven," Hakuin stated, just as calmly.
We create our own heaven and hell.
http://www.facebook.com/BuddhaGroove#!/notes/wwwbuddhagroovecom/zen-story-heaven-and-hell/404528272876
comments
(2) |
discussion
() |
permalink
|
send green star
|
flag as inappropriate
Apr 20, 2010

Thanks to Sophie for submitting this in C2NN
.
50 Enlightening Buddhist Blogs - With so much cluttering our minds, hearts, and souls, the teachings of Buddha have a lot to offer. But if you live in a small town with no Buddhist temple or even a large city where the nearest temple is hours away, resources are limited. Turning to the internet can help...50 blogs full of inspiration, relaxation, and teachings.
.
Buddhist Blogs by a professional -These bloggers have some form of formal training in Buddhism.
1. The Buddhist Blog : James Ure is a Zen Buddhist in the tradition of Thich Nhat Hanh; also influenced by Taoism, Hindu, and secular humanism...the blog regularly addresses Buddhism in current events.
2. The Stupid Way : Irish blogger who formally studied Buddhism and was later ordained as a Buddhist monk in Japan...includes how to do Zazen, articles, talks, and more.
3. Danny Fisher : professor and Coordinator of the Buddhist Chaplaincy Program at University of the West in Rosemead, California; a lay Buddhist minister; posts on Buddhism in everyday life, along with causes, writings, and interviews.
4. The Buddha Diaries : Peter Clothier -author of "Persist" which praises creative spirits in a world gone mad with commerce; a regular contributor to The Huffington Post; gets to the heart of the matter from a Buddhist's perspective.
5. The Naked Monk : Stephen Schettini's blog focuses on Buddha and on the Pali canon.
6. The Ino's Blog
7. Zen The Possible Way : Markus "Uku" Laitinen is a Soto Zen Buddhist monk, founder and leader of Dogen Sangha, Finland; also studying comparative religions and social psychology.
8. Dogen Sangha Blog : Master Gudo Nishijima- practicing Buddhism for more than 60 years; student of Master Kodo Sawaki, an itinerant priest famous for his efforts to restore Zazen to its rightful place at the center of Buddhism. Recent posts are on examinations of doctrines and the twelve fold Chain of Cause.
.
Buddhist Blogs by an Individual - These individual bloggers have made Buddhism their passion.
9. American Buddhist : This blog is by a student who believes all beings should be free from suffering. The blog also focuses on Buddhism, philosophy, ecology, life, and politics. A recent entry was on death meditation.
10. Notes on Samsara : Taking the Buddhist name of Mumon, this blog focuses on the religion. The blogger works in communications systems in Vancouver, Washington. Buddhism, news, politics, and more are featured.
11. Smiling Buddha Cabaret : Marnie Louise Froberg is a Canadian writer and lives mostly in northern India. She has been a Buddhist practitioner for nearly 30 years and wants to share her perspective. Topics include 8 Fold Path, compassion, ego, and many others.
12. Buddha, Buddhism and India : This blogger is an Indian but non Buddhist.
13. The Reformed Buddhist : Get Zen from inside a particle accelerator...the blog speaks on wisdom, practice, compassion, and squirrels.
14. Big Happy Buddha : from Wisconsin, works in the internet industry; his blog is for people curious about Buddhism to come and learn.
15. Buddha Space : G lives in Thailand where interests include Buddhism, philosophy, and psychology.
16. Water Dissolves Water : Read about the life and strange times of a typical 50 something Zen Buddhist living in Atlanta. Shokai longs to be both different and original. There is also a live show that is linked to.
.
Dharma Buddhist Blogs - An essential principle to Buddhism, these blogs focus on Dharma.
17. Digital Dharma : Links to Dharma resources and more; help for those facing addiction problems; includes prayers.
18. The New Dharma Bums : Three bloggers write about Dharma, Buddhism, and more. They are recently in the process of moving and tell all about it.
19. Christopher's Dharma Blog : reflections, notes and articles, past and present; Christopher Titmuss, a former Buddhist monk in Thailand and India, teaches awakening and insight meditation around the world.
20. The Dharma Blog : DharmaBuilt is a freelance web analytics and online marketing consulting group. Their blog focuses on many aspects of Dharma and Buddhism. Many useful teachings are featured.
21. Dhamma Blog : Stop here for posts on Dharma, Thai, and Buddhism.
22. Sustainability Dharma : This blog is about finding ways to live peacefully and sustainably on a global, communal and, most importantly, personal level; the posts are also massively commented on and you can join in.
23. Dharma Brother Pete : Pete Hoge used to by a devout Buddhist. However, he had an enlightening religious experience on June 26, 2009. Read all about it and how he started a new blog.
24. Zen Under the Skin: A Dharma Blog : Get the reflections of an African American practitioner here. Although there hasn't been a new post in a while, the blog still has useful resources. They include how-to's, an FAQ, and resources for black Buddhists.
.
Zen Buddhist Blogs
25. Zen Habits : tips for simple productivity; how to share with the world; the lost art of solitude; updated regularly.
26. Zen Family Habits : how to Zen your family from the same people as the above e.g. eight things people never tell you about having kids and birthday parties.
27. Hardcore Zen : Brad Warner- Zen monk, writer, bass player.
28. Goodlife Zen : practical inspiration for a happier life; e.g. seven sources of deep clutter.
29. Zen Filter : Zen Buddhist websites, news, discussion, books, meditation and loving openly.
30. The Zen Site : critiques of Zen practices, essays, articles, dogen teachings, studies, and more.
31. Everyday Zen : Although there hasn't been a recent entry, Norman's knowledge of Zen is worth a look.
32. Presentation Zen : tips for your professional and educational life; professional presentation design, what you can learn from children.
33. The House of Zen : how to Zen your house; fashion for the Zen minded.
34. Zen Books That Don't Suck : a list of recommended books
.
Buddhist Sites
35. Buddhanet : for everyone from beginners to advanced Buddhists: online magazine, large eLibrary, meditation, publishing, more.
36. His Holiness the 14th Dalai Lama : The official website of the spiritual leader of the Buddhists; video and audio teachings, schedule, photo gallery, news, messages, and more.
37. BeliefNet : many religions all on one site.
38. Tricycle Magazine : Buddhism articles, archives, online retreats.
39. Buddhist Geeks : Vince Horn et al host this podcast for Buddhists.
40. Elephant Journal : Eastern philosophies; yoga, sustainability, politics, and spirituality.
41. Illuminated Mind and Body : seven keys to discovering your passion by entering your name and email; recommended tools and books; a blog for Buddhists.
.
New Age Buddhist Blogs - These blogs don't necessarily focus on Buddhism -include new age perspective.
42. Stillness Speaks
43. The Christian Universalist
44. New Age Journal
45. Monkey Mind : James Ford, ordained Soto Zen priest and Unitarian Universalist minister; religion, politics, and culture.
46. Liberal Faith Development
47. Speed of Life : A studio painter; notes on everyday life, art
48. You Are Truly Loved
49. Wandering Monk
50. Thank God For Evolution
comments
(3) |
discussion
() |
permalink
|
send green star
|
flag as inappropriate
| | |
| --- | --- |
| | Content and comments expressed here are the opinions of Care2 users and not necessarily that of Care2.com or its affiliates. |
SHARES FROM JENNY'S NETWORK
Mar
31

(1 comments | discussions )

\\nZEN was suspended by Eric with no warning. We don\\\'t know any reasons nor how long it will last....\\r\\nI asked about it on the forum but my post was immediately deleted. 2 threads and petitions about Zen also. And 2 her help-groups. :-(\\r\\nUntill to...