Feb 3, 2010
Fight Cancer With Cauliflower


Raw or roasted, steamed or sauteed, it can be incorporated into delicious dishes that please the palate while promoting vibrant health.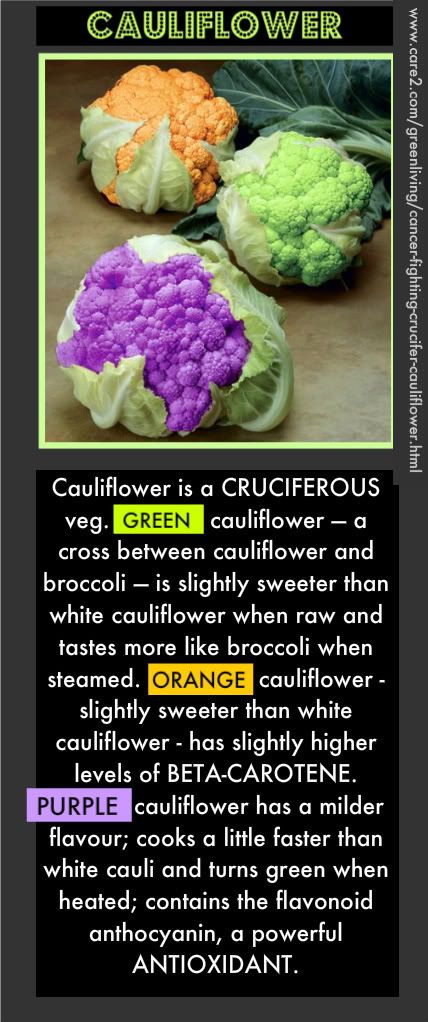 ________________________________________________


COOKING TIPS


Cauliflower can be eaten raw, and steamed, sautéed, stir-fried, fried, boiled or roasted. You can cook the cauliflower as a whole head or cut into florets.
• Cauliflower Roasted.
Cut one head into small, even florets. Toss them with olive oil, salt, pepper and dried red pepper to taste; or toss with olive oil, 1/4-cup soy sauce and a dash of pepper. Place in a single layer on a baking tray and cook at 450 F for 20 minutes or until golden around the edges.


• Cauliflower in Salads


Chop raw cauliflower into different sizes and add it to salads.
Add small florets to your favorite bean salad for extra crunch.
• Cauliflower in Stirfry
Adds texture to stir-fry dishes. Cut the whole cauliflower into 1/2-inch slices, break into florets and stir-fry according to your favourite recipe. Flat slices of cauliflower cook quickly and have more surface area for the sauce to cling to.
_________________________________________


KITCHEN TIPS


•

Fix quick, healthy snacks:

prepare cauliflower as soon as you bring it home, and store in the refrigerator ready to use.
•

Preparation:

To clean, remove the leaves and gently scrape off any brown spots with a knife. Place the cauliflower upside down on a cutting board; carefully cut around and remove the core that keeps the florets intact.
•

Storage:

store florets in a plastic bag in the refrigerator for up to four days.
•

Avoid cooking cauliflower in aluminum or iron pots

.
When chemical compounds in cauliflower come in contact with aluminum, the vegetable will yellow. When they come in contact with iron, cauliflower turns brown or blue-green.


__________________________________________
Cauliflower: The Cancer-Fighting Crucifer
click here
submitted by Care2's Megan, selected from Experience Life by Cary Neff, chef and president of Culinary Innovations, author of bestseller Conscious Cuisine. Visit

www.experiencelifemag.com

to learn more.
_________________________________________
RECIPES:

Curried Cauliflower Soup

;

Cream of Spinach Soup

;

Creamy Asparagus Soup

;

Indian Spiced Cauliflower and Potato

;

Guiltless Mashed Potatoes

.;

Savoury Cruciferous Salad
comments
(0) |
discussion
() |
permalink
|
send green star
|
flag as inappropriate
Visibility:
Everyone
Tags:
food
,
health
,
recipes
,
vegetables
,
wellness
,
phytonutrients
,
cauliflower
,
glucosinolates
,
cancer-fighting_foods
,
conscious_cuisine
,
cary_neff
,
experience_life
,
crucifer
,
thiocyanates
Posted:
Feb 3, 2010 11:41am
| | |
| --- | --- |
| | Content and comments expressed here are the opinions of Care2 users and not necessarily that of Care2.com or its affiliates. |
Author


Jenny Dooley
, 3, 2 children
Eastlakes, SW, Australia

SHARES FROM JENNY'S NETWORK
Mar
31

(1 comments | discussions )

\\nZEN was suspended by Eric with no warning. We don\\\'t know any reasons nor how long it will last....\\r\\nI asked about it on the forum but my post was immediately deleted. 2 threads and petitions about Zen also. And 2 her help-groups. :-(\\r\\nUntill to...