Mar 4, 2010
From National park closed for brumby cull - Care2 News Network:
"shoot and shoot again" must be replaced with non-lethal measures of brumby control, an alliance of wild horse advocates says. The Australian Brumby Alliance was commenting as Queensland's
National Park Closed for Brumby Cull
Simone
- horsetalk.co.nz
The Australian Brumby Alliance was commenting as Queensland's Carnarvon Gorge National Park was closed for several days from Monday for a cull of feral animals, including horses, was undertaken.
The alliance said little information on the cull had been available from Queensland National Parks and it was unclear how, and how many animals would be targeted.
"While we do not know for sure, aerial shooting cannot be ruled out as a method of control," spokeswoman Jill Pickering said.
"Previous Government culls have shown that animal welfare protocols are not always followed in aerial shooting and the RSPCA's Code of Practice states that it is not possible to humanely kill a moving target from a moving platform such as a helicopter."
The alliance and the RSPCA in Queensland had been trying to work with the Queensland Government to ensure that management of wild horse numbers is humane.
"The cycle of 'shoot and shoot again' must be replaced with non-lethal control methods such as passive trapping handling and re-homing programs used in other states, and fertility control trials using vaccines already used in the US," Pickering said.
News of the cull was originally tipped off by Queensland property owners offering to take as many as 200 horses a year, as they reported high demand in Northern Queensland for the type of sure-footed and robust horses found in Carnarvon.
"But such programmes cost money and while members of the public are willing and able to help, they need financial assistance to get started.
"While governments argue that they do not have funds for this, they continue to find money from taxpayers to pay for aerial culls.
"The last major Carnarvon cull cost Queensland taxpayers in excess of $A200,000 for helicopters, snipers and 20,000 rounds of bullets."
Pickering said the alliance had been told by Queensland Government officials that they wanted to reduce the horse numbers in the park to a manageable level, at which point other methods might be used.
"To date, the alliance has not seen evidence that this will be the case. If the Government is serious about this, a proper steering committee to develop sound and humane management plans must be established with all key stakeholders."
In November last year, the alliance hosted a seminar in Brisbane on fertility control for wild worses. It was the first time a wide range of key players had met to discuss the potential for fertility control on brumbies.
The forum established a working party to explore how to progress fertility control for wild horses under Australian conditions so Australia could develop practical experience of vaccines, their durability, remote application methods and impact on herd behaviour, instead of relying on American scientific studies.
The seminar also provided information on passive trapping and re-homing as another non-lethal alternative.
The Australian Brumby Alliance was formed in 2008 by several wild horse rescue organisations throughout Australia to focus on the promotion, protection and humane management of brumbies.
comments
(1) |
discussion
() |
permalink
|
send green star
|
flag as inappropriate
Nov 2, 2009
Dog Honoured for Saving Owner's Life: Australia
from C2NN, posted by Maria
.
Teka, a 3-year-old cattle dog, is credited by the Royal Society for the Prevention of Cruelty to Animals (RSPCA) with helping save the life of owner Jim Touzeau after he collapsed two years ago.
"My heart had definitely stopped," the 71-year-old widower said at the Maryborough, Queensland, awards ceremony. "I don't know if she actually kick-started my heart, but the doctors said that if I hadn't come to and called for help the chances are I would be dead."
Doctors said the Teka treatment was enough to give Touzeau enough consciousness to phone for help.

"She was really thumping on my chest with her two front feet," he said. "She must have been thinking 'I'd better wake this fellow up or I won't get any dinner.'"

The canny canine's ministrations didn't stop there: Teka raced out on to the street and barked and jumped up and down to attract the attention of passers-by.

Touzeau told the Brisbane Times that the pair were fast friends. "I got Teka three years ago and she's a terrific companion. She just never leaves my side. Because it's just the two of us, I rely on her and she relies on me," the self-employed glass blower said.

RSPCA Queensland spokesman Michael Beatty said Teka was now in the running for a Purple Cross, a national award for animals that have shown outstanding service to humans. "She is yet another example that animals have a sixth sense that we'll probably never understand but can certainly be grateful for," Beatty said.
http://www.care2.com/news/member/951765832/1289485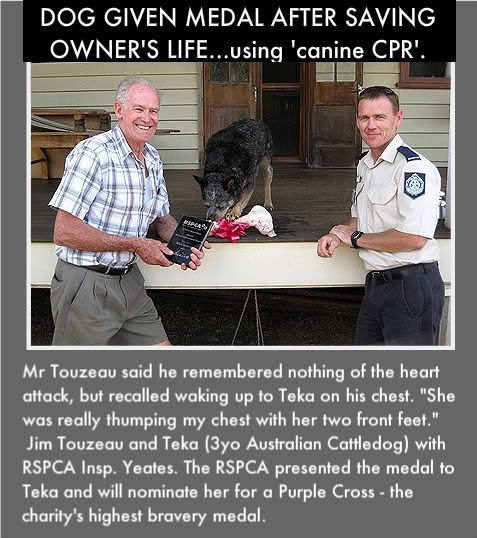 http://www.brisbanetimes.com.au/queensland/dog-given-medal-after-canine-cpr-20091028-hjx7.html
comments
(2) |
discussion
() |
permalink
|
send green star
|
flag as inappropriate
Dec 9, 2008
From Koalas to get cane farm land in $12m plan | The Courier-Mail:
CANE farming land could be seized and reforested in the State Government's plans to save southeast Queensland's declining koala population.
The Environmental Protection Agency will have the power to acquire land outside the urban footprint, provided it is for koala habitat.
Sustainability and Climate Change Minister Andrew McNamara yesterday unveiled the State Government's $12 million koala action plan.
It was important to take over land so there were more areas for koalas, he said.
The Government also will spend $2 million to map koala habitats and another $10 million to make road hotspots "koala friendly".

continued below...
Thanks to Jacqueline V for bringing this news to our attention (link) Please go to C2NN via link provided and note/comment/send a green star. Jacqueline works tirelessly for animals and deserves kudos!
Photos shows koala present while announcement is read.
New main roads and road upgrades in koala habitat areas must have safe crossing points and fencing. New developments will have to offset any tree loss. A freeze has also been placed on all State Government land until the koala mapping is complete.
But Wildlife Preservation Society Queensland president Simon Baltais, who was part of Premier Anna Bligh's recent koala taskforce report on which the measures are based, said:
"The Government should be congratulated on taking strong steps, but they can go further."
Australian Koala Foundation CEO Deborah Tabart described the move as political rhetoric.
"I believe that Premier Bligh fears what happened to Premier Goss," she said. (A Goss Government plan to put a road through koala habitats on Brisbane's southside lost it seats and cost it an election.)
"I can promise you there will be no koalas left by 2020 in southeast Queensland. Everything that has been announced is just a Band-Aid on a major problem that will not go away." She said there were only about 4000 koalas, and the figure was already below the critical population threshold.
The new measures might be enough to protect hundreds of koalas from a proposed $1 billion rail track between Rosewood and Beaudesert.
The Sunday Mail reported in October that campaigners feared the line would threaten a large koala population and a koala rescue and rehabilitation clinic.
Darren Yarrow, of Community action group Fair Go, said the corridor, which would be up to 200m wide, would destroy "the largest and most healthy koala population on the south side of Brisbane".
A spokesman for Transport Minister John Mickel said the study of the 55km corridor would be adjusted to accommodate koala-friendly laws
Dec 8, 2008
An Unexpected Stripe-Faced Flying Fox in Ice Age Rock Art of Australia's Kimberley
Authors: "Jack" Pettigrew, Marilyn Nugent, Anscar McPhee, Josh Wallman
An ancient cave painting from northern Australia depicts a previously unknown species of large bat. The team thinks the rock art from Australia's Kimberley region could date to the height of the last Ice Age - about 20-25,000 years ago.
The keen observation and accurate depictions of the natural world shown here, as well as the extraordinary longevity of the stains used, all tend to support the side of the controversy that posits a distinct cultural entity. We describe a painting unmistakably depicting flying foxes with features not found in bats presently found in Australia. Thermoluminescence dating of wasp nest overlying the art suggests an ice age migration to Australia, either of the bats or of the artists who painted them, a more likely scenario biologically than younger dates.
The bat depictions were found on a sandstone wall protected by overhangs, near Kalumburu (14.30 °S; 126.64 °E), amongst other walls showing characteristic "Bradshaw" art.
The depiction shows eight roosting "megabats" (flying foxes, Family Pteropodidae, sub-Order Megachiroptera) hanging from a slender branch, or more likely, a vine. Each bat has a distinctive white facial stripe and pale underbelly.
Identification of the animals depicted as 'pteropodids' is unmistakable because of their elongated faces, simple ears, flexed head postures (which all contrast with the smaller insect-eating microbats.)
http://www.uq.edu.au/nuq/jack/Antiquity.pdf University of Queensland, "Antiquity" 2008
Visibility:
Everyone
Tags:
painting
,
rock
,
ice
,
university
,
art
,
cave
,
australia
,
kimberley
,
age
,
queensland
,
bradshaw
,
megabats
,
pteropodids
Posted:
Dec 8, 2008 10:29pm
May 29, 2008
News from the Sydney Morning Herald 29 May 08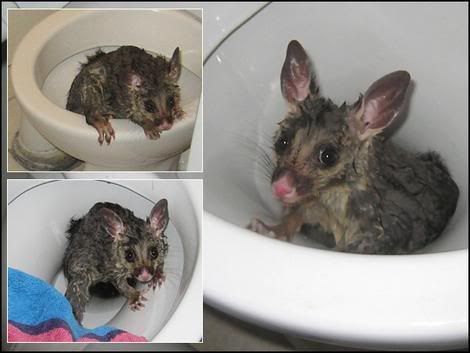 One lucky marsupial emerges from the toilet.
Photo by Tim Fraser (owner of the toilet)
Brisbane, Queensland Australia
...

When it comes to toilets, there's a simple directional rule: everything goes downstream. When things move against the tide, then you have problems. So as Tim Fraser was doing some laundry in his bathroom last Friday night, he became a wee bit disturbed when his toilet started spontaneously gurgling.

...
"I could see bubbles coming up and I thought
'what the the hell is happening?'"
...
Then he caught sight of a grey, furry head with a pair of pointy ears and saucepan eyes emerging on this side of the s-bend. Moments later there was a half-drowned possum sitting in his Fowler toilet bowl.
"It was like the toilet had given birth," Fraser said
Fraser, 39, lives just north of the Brisbane CBD in an area near a large colony of the creatures. So he's used to crossing paths with possums, but never quite like this before... the only way the critter could have climbed in was through a 100mm-wide breather pipe for the toilet line. This runs from the roof of his house, down the back wall before joining the sewage pipe at basement level and turning back up to the toilet - a distance of over 10 metres.
....................
It's not clear who was more startled,
man or marsupial. Video coverage

Possum takes wrong turn
Tim Fraser couldn't believe his eyes when he saw
a pair of pointy ears emerge from his toilet bowl
..............

The final leg of the possum's fantastic voyage would have involved wriggling through the s-bend - a set-up that creates a water-filled seal between flushings.

"He was close to death and lucky that no one had used the toilet recently."

Once clear of its porcelain prison, the possum made a dash for freedom. Hissing and snarling at its rescuers, it eventually bolted through an open door and back into its suburban habitat.
...

Fraser uploaded four short clips of the possum on to YouTube. Surprisingly, the videos - Possum Climbs up through Pipe to Toilet - have not taken off, each only collecting a few hundred views.
...

In February, EnergyAustralia had to "wildlife-proof'' up to a dozen sub-stations after a possum knocked out power at a substation in Avalon (Sydney) and left 15,000 homes without power. The possums had been using overhead powerlines as highways to safety from cats and foxes.
| | |
| --- | --- |
| | Content and comments expressed here are the opinions of Care2 users and not necessarily that of Care2.com or its affiliates. |
SHARES FROM JENNY'S NETWORK
Mar
31

(1 comments | discussions )

\\nZEN was suspended by Eric with no warning. We don\\\'t know any reasons nor how long it will last....\\r\\nI asked about it on the forum but my post was immediately deleted. 2 threads and petitions about Zen also. And 2 her help-groups. :-(\\r\\nUntill to...