May 7, 2010
From Spring Cleanse Your Liver: 6 Foods, Nutrients, and Herbs | Care2 Healthy & Green Living:
THE LIVER: this overworked organ is responsible for over 500 different functions, including: detoxifying environmental chemicals, storing certain vitamins, controlling cholesterol levels, metabolizing fat, and even regulating hormones.
Your liver may need cleansing to help it detoxify alcohol, tobacco smoke, environmental pollutants, food additives, pesticides, and hidden chemicals in your personal care products.
1. WATER with LEMON JUICE (fresh juice of one-half to one LEMON)
Your body needs water to flush out toxins in your bowel movements and urine. The addition of fresh lemon juice helps to stimulate your liver to produce bile that helps flush out toxins.
.
2. GARLIC and ONIONS
Garlic and Onions contain important phytonutrients that break down fatty deposits in the body. Also, they kill viruses, bacteria, and fungi and protect against heart disease too.
.
3. MILK THISTLE EXTRACT
Milk thistle contains a potent substance called silymarin that protects the liver by inhibiting damaging substances that can cause liver cell damage. Silymarin also prevents the depletion of the nutrient glutathione–one of the most critical nutrients for liver detoxification. Both alcohol consumption and exposure to various types of synthetic chemicals can deplete glutathione in the liver. A typical dose for liver cleansing is about 140 mg of silymarin.
.
4. VITAMIN C (1000 mg)
While glutathione supplements are available, the best way to boost this important nutrient is to supplement with vitamin C. Give your liver an extra boost of glutathione by supplementing with vitamin C.
.
5. DANDELION EXTRACT
The Australian Journal of Medical Herbalism cites research supporting the liver-regenerating properties of dandelion. Due to pesticides and pollutants I don't recommend picking dandelion root from your lawn.
Take 1-2 teaspoons of dandelion root extract or supplement with 500-2000 mg daily in capsules for two weeks to help cleanse your liver.
.
6. EAT INDIAN CURRIES for TURMERIC
Turmeric, one of the main spices used in Indian cuisine, adds a yellow-orange colour to curry dishes along with a potent healing boost.
Turmeric decreases cholesterol levels, lowers inflammation in the body, and protects the liver from free radical damage.
Add turmeric powder to soups, stews, and curries or supplement with 50 mg of curcumin (turmeric's active ingredient) to bolster your liver's cleansing abilities.
........................................................................................
Always consult a qualified health professional before taking any herbs or nutrients.
Michelle Schoffro Cook, RNCP, ROHP, DAc, DNM, doctor of natural medicine, author of: The Life Force Diet, The Ultimate pH Solution, and The 4-Week Ultimate Body Detox Plan.
Learn more at: www.TheLifeForceDiet.com.
comments
(0) |
discussion
() |
permalink
|
send green star
|
flag as inappropriate
Visibility:
Everyone
Tags:
water
,
dandelion
,
alcohol
,
onions
,
garlic
,
chemicals
,
liver
,
Detoxification
,
HeartDisease
,
turmeric
,
milkthistle
,
vitaminc
,
glutathione
,
lemonjuice
,
silymarin
,
pesticid
Posted:
May 7, 2010 5:05am
Aug 3, 2008
Kakadu Plum or Billy Goat Plum
(Terminalia ferdinandiana)

.
When I was in Darwin last year with Jan I bought some little jars of things I hadn't tried... kakadu plums. It's a delicious taste!
-------
According to the website of Kakadu Wild Harvest, Kakadu Plums are the world's richest source of Vitamin C...
.
"The Kakadu Plum has been identified world wide as the single natural food source with the highest vitamin C content on the planet! It contains 3000mg of vitamin C per 100g of fruit. Oranges, on the other hand, contain just 50mg of vitamin C per 100g fruit."
--------
Billy Goat Plum?
The following is from NT Wildlife Management:
.
"The name was changed for marketing purposes, because people associated the Billy Goat Plum with billy goats. So the name was changed to Kakadu Plum. A deciduous tree, spreading up to 10 m, very common in savannahs in the top end. A pale green to yellow fruit, with a pleasant flavour and high content of Vitamin C, higher than oranges.

"The fruit are produced in the late wet to early dry season, March to June. They are used extensively in the Bush food industry, for jams and chutneys. Fruit is generally sourced from uncontrolled wild harvest. Some plantations have been established the Northern Territory.
.
"This plant is also widely used medicinally. The gum that exudes from the bark is also edible. A preparation from the inner bark is used to treat sores, boils, backache, ringworm. In the past it was used for leprosy."
.
.
When not fully ripe the seeds can be bitter.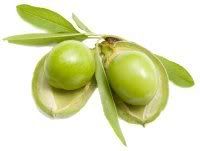 comments
(0) |
discussion
() |
permalink
|
send green star
|
flag as inappropriate
| | |
| --- | --- |
| | Content and comments expressed here are the opinions of Care2 users and not necessarily that of Care2.com or its affiliates. |
Author


Jenny Dooley
, 3, 2 children
Eastlakes, SW, Australia

SHARES FROM JENNY'S NETWORK
Mar
31

(1 comments | discussions )

\\nZEN was suspended by Eric with no warning. We don\\\'t know any reasons nor how long it will last....\\r\\nI asked about it on the forum but my post was immediately deleted. 2 threads and petitions about Zen also. And 2 her help-groups. :-(\\r\\nUntill to...