Jun 20, 2010
| | |
| --- | --- |
| Category: | Barbecue |
| Prep Time: | Less than 2 hrs |
| Special Considerations: | Vegetarian |
MELISSA BREYER'S MARINADES for GRILLED VEGGIES


Here are a few of Care2 Blogger Melissa Breyer's favourite marinades. Simply let your vegetables marinate in a shallow dish 30mins-1hour before grilling or barbecuing. For larger quantities, double the ingredients.
.
SPICY ORANGE & CILANTRO MARINADE
2 tablespoons olive oil
1 tablespoon orange juice
1 tablespoon orange marmalade
1 tablespoon chopped fresh cilantro
1 teaspoon red pepper flakes
.
ASIAN MARINADE
2 tablespoons light soy sauce
2 tablespoons seasoned rice wine vinegar
2 teaspoons minced fresh ginger
1 teaspoon sesame oil
.
BROWN SUGAR & BOURBON MARINADE
2 tablespoons soy sauce
2 tablespoons bourbon
1 tablespoon brown sugar
1 teaspoon cayenne pepper
.
LEMON & GARLIC MARINADE
1 tablespoon olive oil
2 tablespoons lemon juice
1 tablespoon lemon zest
1 teaspoon minced garlic
Salt and freshly ground pepper to taste
.
*MAPLE & WASABI MARINADE
2 tablespoons maple syrup
2 tablespoons olive oil
1 teaspoon wasabi
.
NOTES FROM JENNY DOOLEY
*Maple syrup is very expensive in Australia, and not within the budget of this disabled pensioner. I wonder what a good alternative would be?
.
MORE RECIPES:
Grilled Peaches with Bitter Greens, Grilled Corn, Make Your Grilling Greener
Mar 13, 2010
| | |
| --- | --- |
| Category: | Desserts |
| Prep Time: | Less than 1 hr |
PECAN CRANBERRY CHEW

posted in Care2 by Delia Quigley,
click here
Yields: 3 cups
INGREDIENTS
2 cups pecans
1/3 cup raisins
1/2 cup dried cranberries
(fruit juice sweetened)
2 tablespoons xylitol
(made from Birch Bark)
1-1/2 teaspoon cayenne pepper
1/4 teaspoon sea salt
1/3 cup brown rice syrup
METHODS
1. Preheat oven to 350F. Cover a baking sheet with parchment paper and spray lightly with oil. Place the pecans on the parchment paper and bake for 8 minutes. Remove from oven and increase the temperature to 375 degrees.
2. In a medium bowl combine the raisins, cranberries and hot, cooked pecans.
3. In a small bowl combine the xylitol, cayenne and sea salt, and mix into the pecans/fruit. Add the rice syrup and stir to coat the mixture.
4. Spread the mixture onto the parchment paper and bake in the oven for 10-12 minutes or until pecans are done and syrup is bubbling.
5. Remove and allow to cool. (Placing the pan in the freezer for 10 minutes makes it easier to peel off the parchment paper.)
6. Store in a container in the refrigerator and try not to eat it all at one sitting.
NOTE ON INGREDIENTS
Birch Bark Xylitol: I have used a birch bark xylitol rather than a corn based product. When purchasing make sure to read the labels. Xylitol is known for its ability to metabolize in the body without using insulin, benefits teeth and gums, and has shown to have other health benefits as well. You can purchase Xylitol via the internet.
Brown Rice Syrup: A mild tasting liquid sweetener only 20 percent as sweet as sugar. It metabolizes slowly in the body, however, diabetics should use with caution. It has a soft caramel flavour, which comes from cooking brown rice and barley malt and reducing the resulting mash to a syrup. Great substitute for corn syrup and the like.
.............................................................
Delia Quigley is an author, holistic health
counselor, natural foods chef, yoga instructor,
energy therapist and public speaker.
Delia's blogs: brcleanse.blogspot.com and
brokenbodiesyoga.wordpress.com.
Delia's website go to www.deliaquigley.com
Check out http://www.care2.com/greenliving/pecan-cranberry-chew.html
Jan 30, 2010
| | |
| --- | --- |
| Category: | Breakfast & Brunch |
| Cuisine: | Tropical |
| Prep Time: | Less than 30 min |
| Special Considerations: | Vegetarian |
from Not Quite Nigella's -Australian food blog, click here
.

Adapted from the Masterchef Cookbook, makes approximately 12 pancakes
____________________________
For Pancakes
•3/4 cup (105g) plain flour
•1/2 teaspoon salt
•3 tablespoons sugar
•3 eggs
•3/4 cup (180ml) coconut milk
•oil to grease pan for frying
____________________________
For White Nectarine & Nashi Pear Salad
•4 white nectarines cut into small pieces
•1 large nashi pear cut into batons
•2 tablespoons honey
•1/2 teaspoon ginger finely diced
___________________________
1. Whisk flour, salt, sugar and eggs in a large jug until smooth. Add coconut milk and whisk until the consistency is like that of a pouring cream. Sieve the mixture through a fine sieve. Make a pouring vessel for the batter by cutting a 3mm diameter corner off a small, clean milk or cream carton. If the hole is too small the mixture will not pass through smoothly, if too large, it will pour too quickly resulting in thick pancakes and not the thin lace textured ones pictured. Pour batter into the milk carton.
2. Heat the frypan and add some oil to grease. Pour two circles around the outside to help hold it all together and then in a tight zig zag pattern motion pour a thin stream from one side of the pan to the other reaching the outer circles. Repeat at a right angle so that you form a cross hatch pattern.
3. When the inside appears to be lightly browning, with a thin eggflip, pick up the corner and then flip over the pancake carefully (it will be delicate) to cook on the other side for just a few seconds. Then fold it over and place on a plate to cool slightly where you can then fold it once more into quarters.

comments
(3) |
discussion
() |
permalink
|
send green star
|
flag as inappropriate
Nov 4, 2009
| | |
| --- | --- |
| Category: | Desserts |
| Prep Time: | Less than 1 day |

Wattleseed Ice Cream with Homemade Macadamia Nut Biscuits
Recipe by

Emeril Lagasse, foodnetwork.com




Prep Time

: 8 hr 10 min

Cook Time

: 25 min
.


Ingredients




For the Biscuits:


• 6 ounces macadamia nuts
• 3/4 pound (3 sticks) unsalted butter, at room temperature
• 1 cup plus 2 tablespoons granulated sugar
• 6 large egg yolks
• 1 teaspoon pure vanilla extract
• 2 cups plus 2 tablespoons bleached all-purpose flour
• 3/4 teaspoon salt
.


For the Ice Cream:


• 4 cups half-and-half
• 2 tablespoons ground wattleseed
• 1 teaspoon vanilla extract
• 1 teaspoon wattleseed extract
• 1 cup sugar
• Pinch salt
• 5 egg yolks (or 5 tabs soy yoghurt, for vegetarians?)
.
Directions
Preheat the oven to 400 degrees F.
.
For the biscuits:
Place the nuts on a small baking sheet and place in the oven. Roast until golden, about 4 to 6 minutes. Remove from the oven and cool.
Using a small food processor, grind the nuts.
Cream the butter and sugar in the bowl of an electric mixer filled with a paddle on medium speed, scraping down the sides of the bowl as necessary. Cream the mixture until it is smooth and fluffy.
Add the egg yolks 1 at a time, mixing in between each addition.
Scrape down the sides of the bowl. Beat for 1 minute and add the vanilla. Combine the flour, ground nuts and salt in a medium-size mixing bowl and mix well. Add to the butter mixture and mix on low speed until it is fully incorporated. Increase the speed to medium and mix until the batter is thick and creamy, about 2 minutes. Scrape down the sides of the bowl and paddle. Generously dust a large sheet of parchment or waxed paper with flour. Spoon the dough down the center of the paper, fold the paper tightly over the dough, and roll into a cylinder about 3 inches in diameter and 12 to 14 inches long. Refrigerate for 8 hours.

Reduce the heat of the oven to 350 degrees F. Line a baking sheet with parchment or waxed paper. Remove the dough from the refrigerator and peel away the paper. Using a sharp knife, cut the dough crosswise into 1/2-inch thick slices. Place them on the baking sheet about 2 inches apart. Bake until lightly golden, about 20 minutes. Remove the cookies from the oven and let cool completely in the pan. Remove the cookies from the pan using a spatula or thin knife. Repeat the process until all of the dough is used.


Yield

: 2 1/2 dozen
.
For the ice cream:
In a nonreactive saucepan, combine the half-and-half, powdered wattleseed, vanilla, wattleseed extract, sugar, and salt, over medium heat. Bring the cream to the boiling point and scald it. Remove from the heat. Beat the egg yolks in a bowl. Add the cream mixture, about 1/4 cup at a time, to the beaten eggs, whisking in between each addition, until all is used. Pour the mixture into a saucepan, and cook, stirring, over medium heat, for 2 to 3 minutes, or until the mixture becomes thick enough to coat the back of a spoon. Strain the mixture through a fine mesh sieve. Pour the filling into the ice cream machine and follow the manufacturer's instructions for churning time.


Yield

: about 1/2 gallon
.
Spoon the ice cream into serving dishes and serve with the biscuits.
Oct 26, 2009
| | |
| --- | --- |
| Category: | Halloween |
| Cuisine: | American |
| Special Considerations: | Low Fat |
from About.com: This Week, 10 Low Fat Pumpkin Recipes


Low Fat Pumpkin Pancakes
.
If you like pancakes, you'll love pumpkin pancakes.
Throw in some chopped apple, or a handful of raisins
or even some chopped cranberries if you like.
Enjoy with warm maple syrup.
Prep Time: 15 minutes Cook Time: 15 minutes
.
Ingredients:
1 cup all-purpose flour

1/4 cup packed brown sugar

1 1/2 tsp baking powder

1/4 tsp salt

1/2 tsp cinnamon

1/2 tsp ground ginger

1/4 tsp nutmeg

1 large egg, lightly beaten

1 tbsp canola oil

1 cup nonfat milk

1/3 cup puree pumpkin
Preparation:
.
Whisk flour, sugar, baking powder, salt, cinnamon, ginger and nutmeg together in a medium bowl.
Combine egg, oil, milk and pumpkin in a small bowl.
Stir pumpkin mixture into dry ingredients.
Leave to stand for five minutes.
For each pancake, scoop 1/4 cup of batter on to a hot griddle or nonstick skillet sprayed with cooking spray.
Turn pancakes when bubbles appear and edges are cooked, after about 2 minutes.
Cook for 1 1/2 minutes on second side.
Makes 8-10 pancakes.
.
Per two pancake serving:
Calories 226, Calories from Fat 46, Total Fat 5g (sat 0.6g), Cholesterol 53mg, Sodium 414mg, Carbohydrate 40g, Fiber 1.6g, Protein 4.9g
.
http://lowfatcooking.about.com/od/breakfastandlunch/r/pumpkinpancakes.htm
Oct 26, 2009
| | |
| --- | --- |
| Category: | Halloween |
| Cuisine: | American |
| Special Considerations: | Low Fat |
from About.com: This Week, 10 Low Fat Pumpkin Recipes



Pumpkin Cranberry Muffins
Not too sweet, these delicious pumpkin cranberry muffins
would make a great snack or brunch offering.
They're best served warm, and freeze well.
Prep Time: 10 minutes Cook Time: 25 minutes
.
Ingredients:
2 cups all-purpose flour

3/4 cup sugar

1 tsp baking soda

1/4 tsp salt

1 tsp cinnamon

1/2 tsp ginger

1/4 tsp nutmeg

1 cup pumpkin puree

1 large egg, lightly beaten

1/4 cup canola oil

1 cup nonfat milk

1 cup fresh cranberries, chopped
Preparation:
.
Preheat oven to 350 degrees.
Coat a muffin pan with nonstick cooking spray. In a large bowl, combine flour, sugar, baking soda, salt, cinnamon, ginger and nutmeg.
Combine pumpkin, beaten egg, oil and milk in a medium bowl.
Make a well in dry ingredients; add pumpkin mixture and stir until just combined.
Fold in chopped cranberries.
Fill muffin cups and bake for 22-25 minutes.
.
Makes 12 muffins
.
Per Muffin: Calories 193, Calories from Fat 48, Total Fat 5.2g (sat 0.4g), Cholesterol 18mg, Sodium 171mg, Carbohydrate 32.6, Fibre 1.7g, Protein 3.6g
.
http://lowfatcooking.about.com/od/fall/tp/top10lowfatpump.htm
Oct 20, 2009
| | |
| --- | --- |
| Category: | Sauces and Condiments |
INGREDIENTS:
The fruit of 2 pomegranate
2 medium oranges
3/4 cups sugar
2 tbsp Calvados or Apple Brandy
1/4 cup finely chopped pecans
½ tsp Chinese 5 Spice
.
METHOD:
Finely shred one table spoon orange peel.
Peel and section oranges.
Using a food processor or blender, process orange sections and pomegranates.
Stir in sugar, brandy, pecans, Chinese 5 Spice and orange peel.
Cover and store in the refrigerator up to 2 weeks or freeze up to 6 months.
.
'Terrific on toast', according to the website here
Please note Julie's news for this recipe on c2NN here
Sep 6, 2008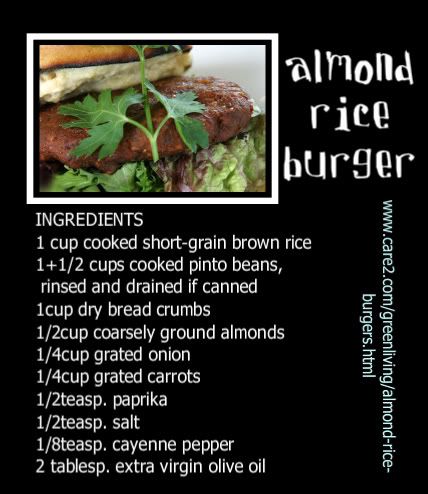 Adapted from One-Dish Vegetarian Meals, by Robin Robertson (The Harvard Common Press, 2007).
Almonds are being known as the supernut that helps people who have "metabolic syndrome" resulting in insulin sensitivity. Supernut or not, they are also delicious. These burgers are quick and flavourful. Short-grain brown rice holds together well and adds a nutty flavor that complements the almonds in these tasty burgers. Serve on their own with a sauce or chutney, or on burger rolls with all the trimmings.
METHOD:
1. In a large bowl, combine the rice, beans, bread crumbs, almonds, onion, carrots, paprika, salt, and cayenne and stir until well blended. Or combine the ingredients in a food processor and process until blended. Shape the mixture into four ½-inch-thick patties.
2. Heat the oil in a large skillet over medium-high heat. Add the patties and cook for about 5 minutes per side, until golden brown. Serve immediately.
Serves 4. http://www.care2.com/greenliving/almond-rice-burgers.html
| | |
| --- | --- |
| | Content and comments expressed here are the opinions of Care2 users and not necessarily that of Care2.com or its affiliates. |
Author


Jenny Dooley
, 3, 2 children
Eastlakes, SW, Australia

SHARES FROM JENNY'S NETWORK
Mar
31

(1 comments | discussions )

\\nZEN was suspended by Eric with no warning. We don\\\'t know any reasons nor how long it will last....\\r\\nI asked about it on the forum but my post was immediately deleted. 2 threads and petitions about Zen also. And 2 her help-groups. :-(\\r\\nUntill to...