Dec 5, 2012
Check this out! Amazing view of our plant (video)
peace,
Karen
Dec 1, 2012
... and let's plant some trees!
May 7, 2012
Being an artist, I thought this article was very interesting:
Your Favorite Color: What it Says About You

Whether we're a vibrant Orange, or a peaceful Blue, our color preferences are a key to understanding our personalities. Find out what this color expert has to say about your favorite color. What does it reveal about who you really are?

White: Symbolic of purity, innocence and naivete, white has strong connotations of youth and purity. If you are an older person, your preference for white could indicate a desire for perfection and impossible ideals, maybe an attempt to recapture lost youth and freshness. It may also symbolize a desire for simplicity or the simple life.

Red: The color of strength, health, and vitality, Red is often the color chosen by someone outgoing, aggressive, vigorous and impulsive—or someone who would like to be! It goes with an ambitious nature but those who choose it can be abrupt at times, determined to get all they can out of life, quick to judge people and take sides. Red people are usually optimistic and can't stand monotony; they are rather restless and not at all introspective, so they may be unaware of their own shortcomings. They find it hard to be objective and may blame others for any mishaps. Quiet people with a preference for red may feel the need for the warmth, strength and life-giving qualities of the color, or they blanket their true feelings under a sober exterior. Red is usually chosen by people with open and uncomplicated natures, with a zest for life.

Maroon: Harsh experience has probably matured the Maroon person into someone likable and generous. It is often a favorite color of someone who has been battered by life but has come through. It indicates a well-disciplined Red personality—one who has had difficult experiences and has not come through unmarked but who has grown and matured in the process.

Pink: This color embodies the gentler qualities of Red, symbolizing love and affection without passion. Women who prefer Pink tend to be maternal. Pink desires protection, special treatment and a sheltered life. Pink people require affection and like to feel loved and secure, perhaps wanting to appear delicate and fragile. Pink people tend to be charming and gentle, if a trifle indefinite.

Orange: This color of luxury and pleasure appeals to the flamboyant and fun-loving person who likes a lively social round. Orange people may be inclined to dramatize a bit, and people notice them, but they are generally good-natured and popular. They can be a little fickle and vacillating, but on the whole they try hard to be agreeable. Orange is the color of youth, strength, fearlessness, curiosity and restlessness.

Yellow: The color of happiness, wisdom and imagination, Yellow is chosen by the mentally adventurous, searching for novelty and self-fulfillment. Yellow usually goes with a sunny and shrewd personality, with a good business head and a strong sense of humor. It is the color of intellectuality and all things to do with the mind. Yellow folks are usually clear and precise thinkers who have a good opinion of their own mental capacities and who have lofty ideals. They may at times tend to shun responsibility, preferring freedom of thought and action.

Green: The color of harmony and balance, Green symbolizes hope, renewal and peace, and is usually liked by the gentle and sincere. Greens are generally frank, community-minded people, fairly sociable but preferring peace at any price. Green people can be too self-effacing, modest and patient, so they may get exploited by others. They are usually refined, civilized and reputable.

Blue: Soft, soothing, compassionate and caring, Blue is the color of deliberation and introspection, conservatism and duty. Patient, persevering, conscientious, sensitive and self-controlled, Blues like to be admired for their steady character and wisdom. They are faithful, but are often worriers with somewhat inflexible beliefs and can be too cautious, and suspicious of flamboyant behavior.

Blue-Green: Exacting, discriminating, poised and attractive, the Blue-Green person tends to be sensitive, intellectual and refined, persevering and stable if rather detached. Blue-Greens have excellent taste, and are usually courteous and charming, capable but often refusing help or guidance.

Turquoise: Complex, imaginative and original, Turquoise people drive themselves hard and may be in a state of turmoil under their outwardly cool exterior.

Lavender: This is often chosen by a person who lives "on a higher plane," who never notices anything sordid and who is always impeccably and beautifully dressed. Lavender people may be on a continual quest for culture and the refined things of life, high and noble causes but without the necessity of getting their hands dirty. A Lavender person is usually creative, charming, witty and civilized.

Purple: Purples are highly individual, fastidious, witty and sensitive, with a strong desire to be unique and different. Temperamental, expansive and artistic, a Purple person may become aloof and sarcastic when misunderstood. If you chose Purple, you tend to be unconventional, tolerant and dignified, likely to achieve positions of authority.

Brown: A Brown person has stamina and patience, tending to be very solid and substantial, conscientious, dependable, steady and conservative. Browns are not impulsive, and may be inarticulate and tactless but they love responsibility and are reliable and kindly. If you chose Brown, watch out for a tendency to be obstinate and inflexible.

Gray: The color of caution and compromise, diligent Grays search for composure and peace and often work hard without reward. Older Grays like life to run on an even keel with few ups and downs. Young Grays may be withdrawing from life and suppressing their personalities. Grays often have good business ability and tend to work too much.

Black: Dignified and impressive without being showy, Black people want to give the appearance of mystery, but their preference may also indicate a suppression of desires and worldly aims, suggesting hidden depths and inner longings.

Adapted from 'The Healing Power of Color' by Betty Wood (Inner Traditions, 1998).


comments
(1) |
discussion
() |
permalink
|
send green star
|
flag as inappropriate
Visibility:
Everyone
Tags:
colors
Posted:
May 7, 2012 8:52am
May 4, 2012
These are some YouTube videos that I've collected for meditation, hope they may help you as they have helped me!

Meditation Music -

http://www.youtube.com/playlist?list=PL69038F86C91B26D2&feature=view_all

Guided Meditation -

http://www.youtube.com/playlist?list=PL9C73317FC139C9FA&feature=view_all

~~~~~~~~~~~~~~~~~~~~~~~~~~~~~~~~~~~~~~~~~~~~~~~~~~~~~~~~~~~~~~~

This guy is a great encouragement!

~~~~~~~~~~~~~~~~~~~~~~~~~~~~~~~~~~~~~~~~~~~~~~~~~~~~~~~~~~~~~~~

The 5 Healing Colors
According to Chinese medicine, the "Five Healing Colors" can purify and heal all the pathways in the body, and the colors are traditionally used to harmonize the organs. When you visualize these universal energetic color forces, the organs become purified.
Even if you don't have organs in stress, this is a wonderfully cleansing and preventative exercise for your whole body:
Use this guided meditation using any one of the organs using the appropriate color:
1. Sit calmly but alertly.
2. Pay attention to the calm place behind your mid-brow.
3. Think of something you love, and relax.
4. Bring your attention to the organ in need of attention.
5. Picture the organ, feeling the love you experienced in #3.
6. Picture the organ as a rose that is the color required, and imagine the rose slowly opening.
Repeat until the color radiates through and from the organ.
7. Breath out the colored light
Blue: The healing color of the kidneys.
Red: The healing color of the heart.
Green: The healing color of the liver.
White: The healing color of the lungs.
Yellow: The healing color of the spleen.

Read more: http://www.care2.com/greenliving/the-five-healing-colors.html#ixzz2DoqdAYU8


May 4, 2012
I really liked this article so I thought I'd share it here:
Do you need a miracle in your life?
The Miracle Question
Suppose that tonight while you sleep, a miracle happens and all of your problems are solved. But since you were asleep when the miracle occurred, night, you aren't aware that it even happens. When you wake tomorrow morning, how are you going to discover evidence of that miracle? What will you see yourself doing, thinking, or believing about yourself that will tell you a miracle has happened in your life or business?
May 4, 2012
Grow Your Own Sprouts

- For hygiene's sake, wash your hands before handling seeds. Use seeds, grains, nuts, or legumes. For simplicity, I'll be referring to any of these items as seeds throughout the instructions.
- Remove any broken or discolored seeds, stones, twigs, or hulls that may have found their way into your sprouting seeds.
- Place one type of seed in the jar. Use about a teaspoon of seeds or one-third cup of beans. Remember they will grow in size during the soaking and sprouting process.
- Cover the seeds with pure water. If you are using a few tablespoons of seeds, cover with at least one cup of water. If you are using beans, nuts, or grains, use at least three times the water of the amount of seed. In other words, one cup of water for one-third cup of mung beans, for example.
- Allow the seeds to soak for about 6 to 12 hours. I find it easiest to start them before going to bed. They absorb the water while I'm sleeping and are ready to start sprouting in the morning.
- Cover the jar with the sprouting lids or cheesecloth. If you're using cheesecloth, secure over the top of the jar with a rubber band. Drain off the water.
- Rinse thoroughly with fresh water and drain off the water again. Set upside down in a clean, cool spot in your kitchen area, preferably on a slight angle to allow excess water to drain off. Alternatively, use a stainless steel dish drying rack which gives the sprout jars the perfect angle for draining.
- Rinse the sprouts a few times a day. Be sure to drain them well each time.
- Once the sprouts are ready to be harvested (this amount of time differs for each variety; alfalfa or mung bean sprouts are ready in about a week), place them in a large bowl of cool water and stir them around to loosen hulls and skins from the seeds (this is an optional step). They'll usually come to the top so you can remove them. Don't worry about removing every hull. Doing so helps prevent spoilage so the sprouts will last longer. Drain sprouts well and store in the refrigerator covered for a week to 10 days, depending on the sprout type.

TIP: To increase the mineral content of your sprouts, add a piece of kelp or other type of seaweed to the water while the seeds are soaking.

Read more: http://www.care2.com/greenliving/grow-your-own-sprouts.html#ixzz1tuuJIWHk
Sprouts truly are the best locally-grown food, yet not enough people eat or grow them. Considering there many health and environmental benefits, it's time to consider adding sprouts to your diet. Here are 10 reasons to eat more sprouts:
1. Experts estimate that there can be up to 100 times more enzymes in sprouts than uncooked fruits and vegetables. Enzymes are special types of proteins that act as catalysts for all your body's functions. Extracting more vitamins, minerals, amino acids, and essential fatty acids from the foods you eat ensures that your body has the nutritional building blocks of life to ensure every process works more effectively.
2. The quality of the protein in the beans, nuts, seeds, or grains improves when it is sprouted. Proteins change during the soaking and sprouting process, improving its nutritional value. The amino acid lysine, for example, which is needed to prevent cold sores and to maintain a healthy immune system increases significantly during the sprouting process.
3. The fiber content of the beans, nuts, seeds, or grains increases substantially. Fiber is critical to weight loss. It not only binds to fats and toxins in our body to escort them out, it ensures that any fat our body breaks down is moved quickly out of the body before it can resorb through the walls of the intestines (which is the main place for nutrient absorption into the blood).
4. Vitamin content increases dramatically. This is especially true of vitamins A, B-complex, C, and E. The vitamin content of some seeds, grains, beans, or nuts increases by up to 20 times the original value within only a few days of sprouting. Research shows that during the sprouting process mung beansprouts (or just beansprouts, as they are often called) increase in vitamin B1 by up to 285 percent, vitamin B2 by up to 515 percent, and niacin by up to 256 percent.
5. Essential fatty acid content increases during the sprouting process. Most of us are deficient in these fat-burning essential fats because they are not common in our diet. Eating more sprouts is an excellent way to get more of these important nutrients.
May 4, 2012
I'm totally sold in this product! I haven't had so much as a cold or the flu
in the eight years that I've been taking it! - Karen
May 2, 2012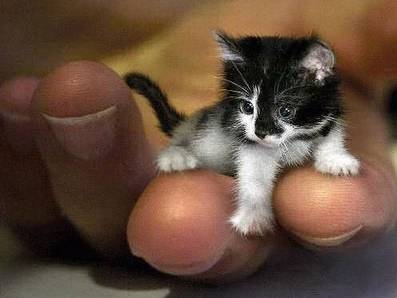 Smallest Cat
Mr Peebles may look like a kitten, but he is actually 2-year-old. The tiny cat got its size from a genetic defect that stunts growth. At just 6.1-inch (15.5 cm) high and 19.2-inch (49 cm) long, he currently holds certification from The Guinness Book of World Records as the world's smallest cat.


| | |
| --- | --- |
| | Content and comments expressed here are the opinions of Care2 users and not necessarily that of Care2.com or its affiliates. |
Author


Karen R.
, 5, 8 children
Dayton, OH, USA

SHARES FROM KAREN'S NETWORK