The largest massacre of land animals in the world happens in Australia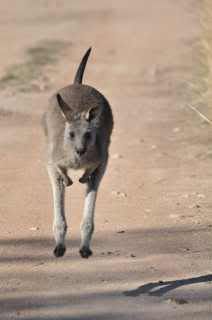 The National Kangaroo Protection Coalition is an alliance of Australian and overseas Wildlife and Animal Protection groups, who are committed to closing down the commercial and non-commercial kangaroo kill. Currently 33 Australian and several overseas groups make up the Coalition.


Question;

Why do we need the Kangaroo Protection Coalition to protect kangaroos? Why doesn't the Government protect them?

Answer;

Australia's unique heritage of indigenous animals has been treated with contempt and brutality since white man arrived. Australia is a nation led by soul-less politicians whose only concern is money, power and the ability to destroy this continent's ecology behind a protective wall of propaganda and extraordinary irresponsible legislation, which guarantees extinction.


The first thing that needs to be said about the betrayal of the kangaroo is that the sell out has not been confined to government, industry, politicians, media and some scientists…the kangaroo has also been sold out by the environmental movement both nationally and internationally.

Over the years, millions of dollars were raised overseas to help the kangaroo. Millions and millions, money that never came back to Australia so that desperately needed legal action could be taken, or professional campaigns funded. In spite of the mountains of evidence that the kangaroo industry is robbing Australia of a critical component of its wildlife heritage, the major Australian conservation groups have by and large ignored the plight of the kangaroo.

The kangaroo is a symbol of Australia. The bloody symbol of a nation whose leaders turned away from their moral, social and environmental responsibility. The kangaroo's fate will also be shared by the remaining unique wildlife in this great continent. Deliberate, politically induced extinction so that a few may gain from the death of a species.

A survey of tourists arriving in Australia showed that the two most favored tourism icons anywhere in the World were the Statue of Liberty, followed by the Kangaroo! Another survey taken when tourists were leaving Australia showed many were disappointed they didn't see any wild kangaroos!

You can help the National Kangaroo Protection Coalition to save the kangaroos!


How?

By supporting the National Kangaroo Protection Coalition!

Many items are made from kangaroo leather. Adidas football boots, coin purses, some baseball gloves, shoes and wallets. If in doubt, ask what sort of leather is used. If they don't know, and you think it may be kangaroo leather, don't buy it. If you want to save kangaroos, don't buy kangaroo products!

If you want to save wildlife, don't buy any wildlife products!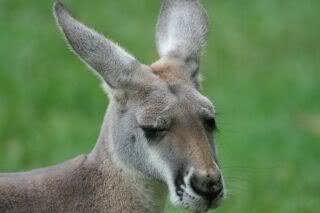 Kangaroo Facts

The killing of kangaroos is the largest terrestrial wildlife slaughter in the world. 2001 saw the highest quota ever set, with an estimated population of 69 million. This figure was later revised down to 57.4 million, with the Government saying "they made a mistake!" The quota is set at 15% of estimated grey kangaroo numbers, and 17% to 20% of estimated red kangaroo numbers. In spite of crashing kangaroo numbers in every State, the quotas for 2003, 2004, 2005, 2006, 2007, 2008, and 2009 were set at the same percentage of the estimated reduced population.

Kangaroo numbers are estimated by flying over the countryside, counting some of the animals visible from the air, and using a complicated computer model to arrive at an "estimate" of kangaroo numbers Australia-wide. Each year the process is changed, so it becomes useless for gathering real data on population trends. They count also the kangaroos in National Parks to boost numbers. No details of the process are publicly available for an independent review of the process. According to the Australian Government, population figures are below:

2001 57,430,026
2002 43,845,532
2003 28,214,521
2004 25,314,921
2005 24,636,291
2006 23,606,929
2007 24,008,610
2008 25,896,505

The annual quota does not take into account the cruel killing of millions of orphaned joeys which die each year, or road kills, or non-commercial shooting, or the effects of drought and bushfires.

Each female kangaroo shot usually has two dependent joeys, one in the pouch and one at foot. Both joeys also die when the mother is killed. The dependent ex-pouch joey flees in terror when it's mother is killed, and dies of exhaustion and exposure.

The Code of Practice that the Industry operates under recommends that in-pouch joeys (baby kangaroos) be decapitated, or have their heads crushed with a heavy object such as an iron pipe. No other baby animal in the world, except the harp seals in Canada, are treated this way.

The Code of Practice has recently been reviewed - by the same bureaucrats who run the kangaroo management programs! The Review was underfunded, bogged down, and although it had been sitting (mid-2004) for over a year, has produced no public recommendations for change until 2008.

In early 2008 the Review Committee released a Draft Code of Practice that was worse than the original one. Now Tasmanian shooters can shoot wallabies with .22 rifles so they can kill wallabies and pademelons with cheap ammunition in Tasmania so their skins can be sold to Italy to make fur coats! The non-government community based Animal Welfare organisation involved in the process has denied any support for the Code of Practice.

No monitoring or policing takes place at the point of kill. While the government departments use terms like "take", "cull" and "harvest" to describe the slaughter, the simple reality is the kangaroos are killed. They even describe the shooters as "trappers" to try to make it sound nice to potential overseas buyers. The commercial kangaroo Industry is full of such mis-information. The kangaroos are shot in the middle of the night, hung on the side of truck, sometimes still alive.

Their helpless joeys are brutally killed.

The bodies are driven around a dusty paddock in the middle of the night, and next day are taken to a chiller box, and stored for up to two weeks in fluctuating temperatures. Every time the chiller box is opened to admit new fresh carcases, the temperatures goes up.

From there the carcases are eventually collected and taken to another factory, where they are skinned, boned, and packaged and gassed with preservative for human consumption and dog food.

Some rural politicians waffle on about how the kangaroo killing Industry provides jobs for rural residents. However in Charlesville (Qld) and in Walgett (NSW), the processing plants employ Brazilian workers, because they work for less, and in poorer conditions than Australian workers will endure.

Using native animals as a scapegoat for land mismanagement is a common occurrence in Australia. European farming practices devastate fragile Australian topsoil as well as native flora and fauna. Vast areas are turning to desert in Australia each year because of overgrazing and clear felling. The last 50 years of consistent and determined killing of our kangaroos has not contributed in any way to reducing soil erosion.

The kangaroo industry has boomed to become a $60 million a year industry based on the myth that killing kangaroos will reduce the population and thereby help graziers. Wildlife based (kangaroo watching) tourism has the potential to bring many more millions of dollars into Australia than any other rural Industry.

The kangaroo killing is industry driven. The killing quotas have risen steadily over the past 10 years which reflects the needs of the industry. Only since 2002 the quotas have been slowly reduced because the populations have crashed. The Government is clearly on the side of the industry because of the export dollars earned.

The Australian government in 2006 told us there were 23 million kangaroos in Australia, and in 2008 tells us there are 25 million. However, no-one can find them. By August 2008 there were only a handful of full-time professional kangaroo shooters in NSW. All the rest have dropped out because they can't find enough kangaroos to shoot. However at this time there are around 2000 licensed part-time shooters, who just shoot kangaroos at the weekends for "fun" and a few dollars.

Attempts to promote kangaroo meat in the United Kingdom failed because of widespread publicity about the cruelty which shocked Britons and also the health risk.

In 2010 Russia banned the import of kangaroo products quoting consistent contamination. They also expressed concern about the inhumane treatment of the joeys (baby kangaroos).

Kangaroo meat carries high burdens of internal abdominal and muscular parasites. Kangaroo meat has to be undercooked because it is tough and inedible when cooked thoroughly. This gives rise to more chance of a wide range of illnesses, some life threatening.

Kangaroo meat was the cause of Australia's first recorded outbreak of the potentially fatal disease toxoplasmosis that infected twelve people including a pregnant woman which caused her baby to be born blind.

Doctors have publicly warned Australians against eating undercooked kangaroo meat after discovering what they believe to be a new parasite found in two people who suffered long term illness after eating kangaroo meat.

There is high demand for kangaroo meat overseas because it is lean and cheap. Even more in demand is manufacturing meat. This is offal, trimmings, including bruising, and forequarter bones, which is put through a big grinder and ground into a paste. This is sent to Europe and turned into salamis and other small goods. Salamis are not cooked, but cured by a process of fermentation.

In 2008-9, in every State, kangaroo populations have never been so low. Drought, wild fires, road kills and shooting have been blamed. New commercial shooting areas have been opened up because the Industry has shot out the large kangaroos in most areas. In South Australia where few kangaroos are left, markets for meat and skins are being sourced from NSW and Queensland. In NSW and SA the kangaroo populations in many rural areas, in 2008, are now known as quasi-extinctions, or regional extinctions.

In 2009 another new commercial shooting area was been opened from Bathurst thru Mudgee to Musswellbrook, because shooters have run out of kangaroos in the other shooting zones. Wildlife groups campaigned unsuccessfully to stop this new Zone from being opened.

Only 7% of NSW is protected kangaroo habitat. Kangroos can be shot anywhere they appear in the other 93% of NSW.

Some States including South Australia and Western Australia also shoot kangaroos in National Parks and Reserves. There is no refuge for kangaroos in these States, and little refuge elsewhere, with most of Australia zoned agricultural. In South Australia in 2004, 51% of kangaroos reaching the slaughterhouses are females.

In Queensland in 2004, 39% of kangaroos killed are females. Wildlife experts (Hugh Lavery) have predicted that removing 50% of females from any wildlife population is a recipe for extinction.

We have evidence to show that in 2006 and 2007, in NSW, up to 80% of kangaroos shot are females.

The average age of red kangaroos reaching the processing plants in NSW is two years, when they can grow to 25 years of age, and the average weight of red kangaroos is 20 kgs, when they can reach 65 kgs. These are government figures. Credible research shows the red kangaroos are being killed at 6 times the recruitment rate.

In 2001, some States set a minimum acceptable weight for shot kangaroos at 20kgs, which is barely breeding age. Other States have not. Since 2001, minimum weights have been reduced as kangaroos become more scarce. Kangaroos as little as 15 kg's are being killed, before even reaching breeding age. In Queensland in 2006 the minimum size accepted by the processing plans was 15 kg, in NSW it was 13kg, but has in 2009 been increased to 16kg. Underwieght kangaroos shot in Queensland were often taken to NSW and sold. Any kangaroos shot under the minimum weight are skinned, then the bodies taken away and dumped.

In 2008 some processors decided to pay shooters a Premium for larger carcasses, in an attempt to avoid the smaller females being shot. They have clearly have concerns about the long-term viability of the Industry too.

Decades of shooting the largest and fittest of the kangaroos has raised very real concerns about the loss of the natural selection process, and impoverishment of the gene pool. There is already plenty of evidence of declining genetic strength in kangaroo populations.

In 2003 WA overshot the approved quota by 15000 kangaroos, before the environment department realised it. Queensland also overshot, as did South Australia.

It's hardly a well-run Industry! Imagine what would happen if a similar mistake occurred in private Industry, heads would roll, but in government departments they have a job for life, regardless of such mistakes!

Most community groups working with kangaroos expect the red kangaroos to disappear within the next 10 years, unless they stop shooting them now.

Some people argue that kangaroo skins are a byproduct of the Industry and its okay to use them. However, its not a by-product, skin only shooting takes place in Queensland. The Industry has said many times that without Adidas buying the skins to make shoes, the Industry would collapse.

In spite of 30 years of repeated attempts by wildlife groups to encourage the State and Federal governments to stop shooting kangaroos before they disappear, they are not listening, and refuse to even consider our requests. They know about the problems but refuse to accept them, and refuse to act.

As at March 2008, of 75 chiller boxes in NSW, 34 were empty and not being used because the shooters can't find enough kangaroos!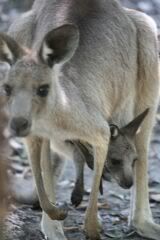 Message to Kangaroo shooters from the National Kangaroo Protection Coalition.



Our advice to you blokes is to sell your guns while there is still a market, buy a good camera, trade in your 4WD trayback, get a 4WD troopcarrier with seats in the back, and start taking tourists out to see our kangaroos while there are still a few left! Build a sustainable business based on kangaroo watching. Get out before the Industry crashes. That's really good well meant advice, from us to you.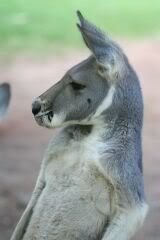 Words and images from the National Kangaroo Protection Coalition