Jul 25, 2011
Please vote for Turkish Animal Rescue Organisation.They have been shortlisted and could win £200 ! It would make such a difference to the strays in Turkey!!
They could help so many more if they win this!!

Please also share .. they need this so much!
Thank you!
You need to register to vote..this takes less than a minute.
STEP 1
STEP 2. Log back in to the Site.
Important!
Please remember to go to this link where you will find the list of shortlisted charities, and place your vote for 'Turkish Animal Rescue Organisation'
http://www.easyfundraising.org.uk/blog/cause-of-the-month-shortlist-2011/>
Feb 1, 2011
~TAKE ACTION AGAINST BULL TORTURE~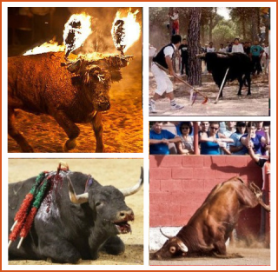 In addition to Bullfighing, known as the major festivals, bulls are also victims of popular festivals (known as minor festivals ), which sometimes are even more cruel. In Spain alone, It is estimated that there are some 3,000 different forms of maltreatment towards bulls.

Spain and many other countries around the world, EXCLUDE the bulls used in fiestas and bullfights, from their animal protection laws - 'legally' infliciting the most barbaric and horrific torture onto these defenseless animals
ACTIONS AND PETITIONS

http://www.thepetitionsite.com/1/bulls/
http://www.thepetitionsite.com/1/firebull---stop-the-burning-of-live-bulls/
http://www.thepetitionsite.com/5/stop-bullfighting-coruna/
http://www.thepetitionsite.com/takeaction/638/133/842/
http://www.thepetitionsite.com/2/murder-is-not-sexy-and-neither-is-loewe/
http://www.thepetitionsite.com/1/no-more-bullfights
http://www.thepetitionsite.com/223/justice-for-the-little-bull-tortured-in-alhaurin
http://www.thepetitionsite.com/1/say-no-to-bloody-san-fermin
http://www.thepetitionsite.com/4/bullfighting-no-patrimonies-of-colombia
http://www.petitiononline.com/abcdzxqk/petition.html
http://www.thepetitionsite.com/3/end-bullfighting---quesero---the-martyred-bull-of-tafalla/
http://www.thepetitionsite.com/1/espaa-deja-de-torturar-y-matar-a-inocentes-escoja-lifespain-end-torturing-and-killin-inocent/
http://www.thepetitionsite.com/3/ban-bullfights-in-mexico/
http://www.thepetitionsite.com/1/anti-bullfightings-international-campaign/
http://www.thepetitionsite.com/1/tell-coca-cola-to-stop-supporting-bullfighting/
http://www.thepetitionsite.com/1/ukweshwama-bull-will-die-tortured-today-next-year-he-has-not-to-do/
End the Cruel Ukweshwama Ritual
Petition-For the Abolition of Bullfights and the Prohibition of festivals using bulls and other animals
ASANDA PETITION to Coca Cola regarding their continued sponsorship of Bullfighting Events
POLLS
Should there be a ban on bullfighting in Mexico City-Vote YES
Vote Against the Indian Bull Abuse Event of Jallikatu
USEFUL WEBSITES TO HELP BULLS:
CAS International
F.A.A.C.E
I.M.A.B
~CHANGE Petitions~
Bullfighting In Spain
Loewe Promotes Bullfighting as Heroic
STOP!! The Brutal Bare-handed Killing of the Bull-South Africa
End Bullfighting in Mexico
Bulls on Fire-Stop Spains Sadistic ritual
End the Cruelty of Spain's Speared Bull
Stop Using Tax Dollars to Sponsor Cruel Bull Riding Events
PETA Email Campaigns
Ask the Government of Tamil Nadu to Ban the Cruel 'Game' of Jallikattu
Help Ban the Running of the Bulls
Help Stop the Glorification of the Running of the Bulls on the Big Screen
Stop the 'Festival of Blood'
Help Us to End Bullfighting
Stop the Sadistic Fire Bull Fiesta in Soria
LACS Campaigns
Stop EU Subsidies to the Bullfighting Industry
Help to End the Sufffering of Bulls in Nimes
SIGN THE WORLDWIDE BULLFIGHTING PLEDGE
HSI
End Firebull Fiesta Torment
Animalsaustralia
S
top Bull Being Killed with Bare Hands!


Stop the mass slaughter of animals in NEPAL (including bulls).
This horror will be repeated in 2014.


Please sign the petitions.




Stop the Gadhimai Massacre 2014
Stop Animal Sacrifice in Nepal
Sep 30, 2009
| | |
| --- | --- |
| Focus: | Animal Welfare |
| Action Request: | Petition |
| Location: | Spain |
LIVE BULL TO BE SET ON FIRE, PLEASE TAKE ACTION.
In Early November in Soria, Spain, a sadistic festival is to take place, Toro Jubilo, during which a live bull will be set on fire:

"The panic-stricken bull tosses his head in terror as jeering men turn him into a sickening live firework display.
Blood pours from his nostrils and the acrid smell of his burning horns fills the air. He rushes about bellowing in agony for 30 horror-filled minutes. "
In his agony he will throw himself against the walls as his pain becomes unbearable!!!!
All he wants is a quick end to his ordeal. The onlookers enjoy the spectacle, they will taunt him, laugh and jeer, as they watch this poor animal slowly burn ...."
The true horror of this sadistic Fiesta:
http://www.youtube.com/watch?v=OgDhOvy6NwY
WHAT YOU CAN DO TO STOP THIS:
Please sign, and, share this petition:
http://www.thepetitionsite.com/1/firebull---stop-the-burning-of-live-bulls
Join the group here at care2 that's fighting against this, and take more action:
http://www.care2.com/c2c/group/FireBull
REMEMBER.. THERE IS VERY LITTLE TIME, THIS PETITION NEEDS 10,000 SIGNATURES.
THE FIESTA IS DUE TO TAKE PLACE IN EARLY NOVEMBER.
PLEASE HELP TO STOP A LIVE ANIMAL BEING SUBJECTED TO UNSPEAKABLE TORMENT .......AND SUFFERING!!!!
THANKYOU.
comments
(5) |
discussion
() |
permalink
|
send green star
|
flag as inappropriate
May 28, 2009
SKITTLES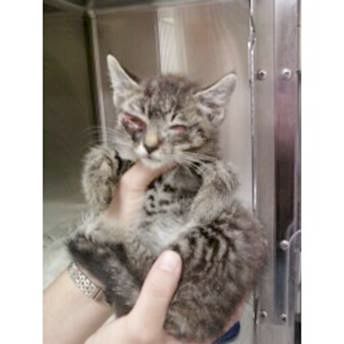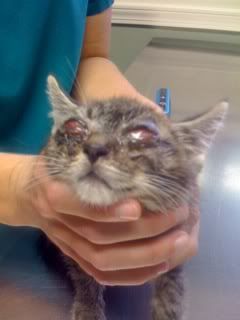 This sweet adorable kitten was brought to the Emergency Clinic in Greenville, SC after a good samaritan found him wandering around the streets. He has the worst infection in his eyes we have ever seen. He was either abused because someone did something to his eyes or because he got infection that was never treated. He is in unbelievable pain and is still sweet. He just wants someone to look after him. He is completely blind. One eye is totally gone and the other we are trying to save but are not hopeful. Right now we are doing our best to not let the infection spread any further. It will be weeks before we will be able to remove the eyes because the infection has to be cleared up.

Help us change the way Skittles sees the world. Up to now, it has been full of pain and suffering.

Please, help us help her by donating below.
We are a 501c3 and all donations are deductible.

http://www.noahs-arks.net/RESCUE/SKITTLES.html
Thankyou.
comments
(2) |
discussion
() |
permalink
|
send green star
|
flag as inappropriate
Apr 7, 2009
| | |
| --- | --- |
| Focus: | Animal Welfare |
| Action Request: | Write E-Mail |
| Location: | India |
Barbaric Killing of Dogs Continues in Meerut, India

PLEASE SEND EMAILS AND CROSSPOST .



http://meerut-incident.synthasite.com/



Meerut Dog killing..... Follow link to view photos ( GRAPHIC )

Meerut, India
India is the only country in world that provides in its Constitution for mercy and care of the animals.
BUT ......
Here's proof that the Meerut administration has unleashed shocking brutality on the stray dogs in the area to protect & shield the ILLEGAL CATTLE SLAUGHTER HOUSES.
For the government of Uttar Pradesh state, India and its functionaries it seems like a perfect solution that people are venting out their anger by killing ALL and INNOCENT dogs. It suits the bureaucracy as it does not to bother the SLAUGHTER HOUSES and STOP the EVER FOURISHING TRADE OF Illegal CATTLE MEAT INDUSTRY in Meerut.
In a tragic incident, a five-year-old boy who had gone out in search of his mother in a field, has been attacked and bitten to death by a pack of street dogs at Kazipur, Meerut. As a result the villagers are eliminating each stray by brutally killing them.

They are ostensibly 'remedying' the situation that led to death of two children in village Kazipur, Meerut, allegedly due to stray dog attacks. In fact, there is an illegal abattoir in village Kazipur, which is violating every possible norm - pollution control, animal waste disposal, etc. Apparently, 5000 animals, mainly cattle, INCLUDING COWS are slaughtered in the abattoir every day - and then, the animal parts that are not used, and blood, bones, etc., are all allowed to flow into an open nullah adjacent to the abattoir, that flows through village Kazipur and beyond. The strays of the area feed on these animal remains as a consequence ; or attacked children who ventured too close to the nullah that is their food source.
THIS IS THE REAL CAUSE OF THE PROBLEM .


THE ADMINISTRATION TURNS A BLIND EYE TO THIS WHILE PEOPLE TAKE LAW IN THEIR HANDS. PEOPLE ARE ENJOYING THE ACT OF KILLING DOGS AS AN ENTERTAINMENT FOR THEM (see pictures).

In any event, what has followed, and continues to unfold every single day, is murder, and cruelty beyond belief. They are caught, they are cornered, many have been viciously beaten to death.
The dogs are caught in the most brutal manner possible, kept without food and water for 2 - 3 days until a sizeable number are 'collected', and then - mainly released into the forest, or surreptitiously put down or beaten to death

AS NO LAW AND ORDER IS RESPECTED IN MEERUT anymore.


INCLUDING THE POLICE, D.M., MAYOR, or U.P. GOVERNMENT, no one is bothered to stop/ control people from taking the law in their hands and brutally slaughtering dogs using innovative methods, which also includes use of arms and weapons.


All this despite the SUPREME COURT of INDIA has put a STAY AGAINST ANY KIND OF KILLING OF DOGS ALL OVER THE COUNTRY.


series of photographs are attached, forwarded by Jeev Karuna Sanstha, Meerut. Some of them are 15 - 25 days old, and some as recent as 3 - 5 days.

The Animal Welfare Board of India has written thrice to various functionaries within the administration. They have advised the administration regarding the correct method of controlling stray dog population. They have apprised them as to the law - the PCA Act, the ABC Rules, etc. They have offered help and guidance, for setting up the requisite sterilization, immunization infrastructure within Meerut. Eventually, they have threatened legal action, but to no avail.
PLEASE lets all write to them & Let them know that we know what is going on and we condemn the government and their functionaries for loosing the control over law and order in their state & one small city and for protecting an ILLEGAL SLAUGHTER HOUSE of CATTLE.



* Chief Minister of UP,
* Kamini Chauhan, the D.M.
, Meerut ;
* Municipal Commissioner ;
* Mayor ;
* Meerut Police ;
* Rakesh Jolly, the S.P.
, Meerut ;
* Mr. Alok Ranjan, who is a Secretary in the U.P. Government, probably in charge of urban development or urban affairs in U.P.


The e-mail address of are :

* D.M. : dmmee@up.nic.in
* Mr. Alok Ranjan is : aranjan78@up.nic.in
* IG Zone Meerut igzonemrt@up.nic.in
* DIG Range Meerut digrmrt@up.nic.in
* Superintendent of Police Meerut sspmrt@up.nic.in, ssp_meerut@yahoo.com
* CHIEF MINISTER of U.P. cmup@up.nic.in
* The Prime Minister of India

( to contact him you can go through

http://www.pmindia.nic.in/write.htm

.

OR
copy paste following in BCC and send your emails :

dmmee@up.nic.in, aranjan78@up.nic.in, igzonemrt@up.nic.in, digrmrt@up.nic.in, sspmrt@up.nic.in, ssp_meerut@yahoo.com, cmup@up.nic.in

We can also simply address letters to the
'Municipal Commissioner,
Nagar Nigam,
Meerut,
U.P.

India
Fax : 01212663676

or

'Shri Rakesh Jolly,
Superintendent of Police,
Meerut,
U.P.

India

or

Mr Snajya Krishna

Fax 0121665809


HOPEFULLY A WORLDWIDE PROTEST WILL PUT THE U.P. TO SOME SHAME AND THEY WILL PUT AN END TO THIS OPEN TORTUROUS KILLING OF INNOCENT ANIMALS AND WILL ALSO.


PLEASE TAKE ACTION..SPREAD THE TRUTH AND SHARE WE NEED TO EXPOSE THIS HORROR...THANKYOU



comments
(4) |
discussion
() |
permalink
|
send green star
|
flag as inappropriate
Jan 20, 2009
In recent few days, members of hunt society in Banovici have been killing stray dogs in the most brutal way, by fire weapons, and this horrible action is to be continued in future. Citizens of Banovici are horrified by these actions, which have support of mayor of Banovici. Those action not only that they are cruel and brutal to animals, they also expose people to danger and they are against article 318 (Killing and torturing of animals) and 323 (Exposing people to danger) of Criminal Law.
PLS SEND YOUR COMMENTS TO, AND SIGN SARAJEVO ONLINE NEWSPAPERS:
http://www.sarajevo-x.com/clanak/090116023

PETITION!!
first box: full name
second box: email address
third box: comment
POSAUI = send
PLS SEND PROTEST MAILS, PLEASE, please get involved and send LETTERS AND MAILS TO SHOW YOUR DISGUST AT THESE BRUTAL KILLINGS. TO:
mps@mps.vladars.net, gordana.slavnic@parlament.ba, branka.todorovic@parlament.ba, igor.bajic@parlament.ba, merdzana.iglica@parlament.ba, emira.cesljar@parlament.ba, zeljko.kosmajac@parlament.ba, ahmed.jalovicic@parlament.ba, davorin.semenik@parlament.ba, milan.zjajic@parlament.ba, marin.vukoja@parlament.ba, zijad.hasic@parlament.ba, nenad.pandurevic@parlament.ba, davorka.caplinski@parlament.ba, office@minpolj.sr.gov.yu

aljosa.campara@parlament.ba, samir.buljina@parlament.ba, dragica.hinic@parlament.ba, sadka.djonko@parlament.ba, amer.bekric@parlament.ba, vlatka.dangubic@parlament.ba, emina.jahic@parlament.ba, mirjana.crnjak@parlament.ba, zeljko.ivankovic@parlament.ba, sena.bajraktarevic@parlament.ba, mirsada.bukaric@parlament.ba, edina.adilovic@parlament.ba, press@parlament.ba,info@fbihvlada.gov.ba
THESE KILLINGS WILL CONTINUE UNLESS WE TAKE ACTION, PLEASE SEND MAILS NOW.......THANK YOU.
THANK YOU TO VERONICA L for the information.
comments
(4) |
discussion
() |
permalink
|
send green star
|
flag as inappropriate
Jan 5, 2009
The following is from Vesna of GREEK ANIMAL RESCUE CHARITY:
On Tuesday 23rd December 2008, I received the following email from someone who had been alerted to an appalling act of animal abuse in Thessaloniki.

Hi Vesna,
It's Christmas in two days but that didn't stop the person who did this. No words can describe how I'm feeling after seeing this.

Yesterday (Monday 22 Dec.), a man phoned me to say he had seen 5 puppies running near a stream on Sunday night while walking his dog.

I was in Thessaloniki all day so I asked him if he would go and put some food and water for them. I would then go on Tuesday to see how I could help.
After two hours the man phoned me;
I could tell by his voice how upset he was. Some ******** had tied the puppies in a rubbish bag and beaten them to death.......
One puppy had managed to get out of the bag before it died. The area is farming land so the puppies were not disturbing anyone.

There is one photo with a small church in the background to prove to people that this happened in Greece Halkidiki. Not that the sight of the church helped them.

Please post the photos on your website, myspace & facebook!!
J.T.
Please spare a moment to sign a petition urging the Greek Government to implement animal welfare laws.

http://www.thepetitionsite.com/1/greece-ignoring-animal-welfare-laws
Thank You..
comments
(6) |
discussion
() |
permalink
|
send green star
|
flag as inappropriate
Nov 3, 2008
| | |
| --- | --- |
| Focus: | Animal Welfare |
| Action Request: | Write E-Mail |
| Location: | Spain |
Our taxes are being used to subsidise Bullfights. Please copy and send this letter:
Please add a message and send it to the members of the European Parliament you will find in the links.
Austria Belgium Bulgaria Cyprus Czech Republic Denmark Estonia Finland France (1) France (2) Germany (1) Germany (2) Greece Hungary Ireland (Republic of) Italy (1) Italy (2) Latvia Lithuania Luxemburg Malta Netherlands Poland (1) Poland (2) Portugal Romania (1) Romania (2) Slovakia Slovenia Spain (1) Spain (2) Sweden UK (1) UK (2)
Dear Sirs,


I, the undersigned, do not want my tax money to subsidise the abuse and

torture that happens during bullfights and 'blood fiestas'. Bullfighting

is based on stressing, exhausting, injuring and/or killing bulls and

results in over 40.000 bull deaths per annum in the EU.Opposition to

bullfighting is mounting both in Spain and elsewhere. In April 2004, the

Barcelona City Council declared Barcelona an anti-bullfighting city in

an effort to eventually ban this primitive blood sport. Since then, 38

other Catalan municipalities have followed suit. I call on the

Commission to take further steps to ensure that EU farm subsidies cannot

begiven to farmers who breed bulls to
be used in bullfighting.
I urge

the Commission to work toward an EU-wide ban on bullfighting.


Sincerely.
Aug 3, 2008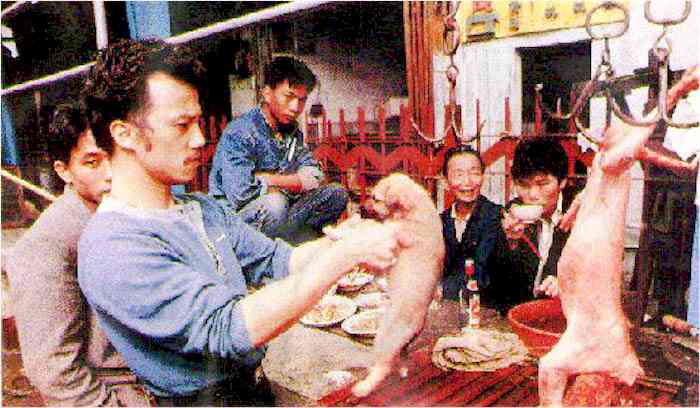 China is hosting the 2008 Olympic Games in August. In an effort not to offend civilized human beings arriving in China for the event, 112 designated Olympic restaurants have been ordered to remove dog meat from restaurant menus until after the civilized human beings have returned to their civilized countries. The Beijing Catering Trade Association will blacklist those restaurants that fail to cooperate, however they'll make an exception for dog meat "for medicinal purposes." Dog has been eaten in China for at least 7,000 years. It is sometimes referred to as "fragrant meat" or "mutton of the earth." An estimated 300,000 dogs are killed in China annually and processed for meat. Some of it is exported to Korea.
Factory farms import large, docile breeds, particularly St. Bernards, which are then cross-bred with local dogs, and raise them under horrendous conditions, grouped extremely tightly in stacked cages. Rather than simply killing the dog for processing, they slowly torture it to death over a long period of time, claiming the adrenalin rush gives the meat more flavor.
Estimates put the number of dogs slaughtered each year in China at around 20 million. As a result of the country's rapid economic growth, dogs are now mass-market products, and government subsidies for private dog fattening facilities are driving this trend. There are currently around 100 dog farms in China, and the number is rising. Plans have already been drawn up for one new farm with some 10,000 dogs.
In the past, dog meat was seen as a luxury in China and unaffordable for the majority of the population. It was eaten almost exclusively in winter, as it was thought to warm the body from within. But living standards are improving rapidly, and dog meat is more and more a part of the middle class diet throughout the year. Among younger Chinese, dog meat has a trendy reputation.
A dog is a domestic animal whose main purpose in life is to love and please their human companions.
Anyone who would do such a thing to such a wonderful, loving creature should be slowly tortured to death using a baseball bat, a blow torch and a rusty screwdriver. After all, it gives the meat more flavor.
Rather than put an end to such barbaric behavior, the Chinese government merely halts the practice of serving dog meat for a couple of months, then it's back to business as usual. In a country ruled by mindless bureaucrats, the perception of goodness is more important than actually doing the right thing.
It's bad enough that human beings use animals as circus performers or rodeo attractions or game to be hunted or as clothing items or objects of experimentation or stuffed decorative items or whatever. But when a human being is deliberately cruel to an animal, it becomes an earth-shattering event to everyone who understands that animals are defenseless creatures requiring the appreciation and protection of humanity.
When thousands of innocent, lovable dogs are slowly tortured to death, in an unspeakably horrific manner, day after day after day, sanctioned by the culture of a society, we all suffer. It's a cancer on all of humanity and it must not be allowed to continue.
Rather than presenting a false image, China should live up to the bogus perception it has tried to create. Stop pretending to be civilized human beings and actually become civilized human beings.
THANK YOU TO DAPHNE D. for this Info.



Aug 2, 2008
PLEASE FORWARD THIS VERY URGENT APPEAL TO ALL YOUR CONTACTS IN THE USA AND ALSO GOOD RESCUES WORLDWIDE

INTERNATIONAL APPEAL

600 GREYHOUNDS IN DANGER IN THE USA- deadline 24th August- this is a dire emergency. Fosters/forever homes, rescue spaces (including international rescues)/transport needed etc. Please forward this appeal to every contact you have, we must try to save as many lives as possible.
Please read this extremely urgent appeal below and if you can help to save any of these greyhounds please call or email immediately- REGAP can be reached at 816-763-3333 email contact is: LHolloway1948@aol.com
Many thanks for your support
Greyhound Crusaders/SWAP team UK
'Every life counts'

From: Tres CanineCare Pet Health Web
To: Tres CanineCare Pet Health Web
Sent: Tuesday, July 29, 2008 5:07 AM
Subject: 600 Greyhounds need to be rescued!!!

PLEASE HELP!!! CONTACT INFO IS BELOW - DO NOT REPLY TO THIS EMAIL AS IT IS A XPOSTING> THANKS~!!

PLEASE HELP! WE NEED TO SAVE ALL these dogs! HELP IS NEEDED FROM ACROSS THE ENTIRE USA!
After racing their entire lives, now they'll be put to sleep because ..... There's too many of them?????? This is unacceptable! These dogs are sooooo sweet natured!!! Maybe some folks up in Canada would be able to take some of them?????

Please circulate across the country. This is a crime. DEADline is August 24th!! Please get the word out BIG TIME .... this will be a monumental task

If you know anyone that would be willing to help one of these retired greyhounds, please read email below. Please crosspost.

Here is the number to call if you need more information

REGAP can be reached at 816-763-3333 email contact is: LHolloway1948@aol.com

The Woodlands Racetrack in Kansas City is closing August 24th. I have spoken with REGAP (Retired Greyhounds as Pets) here in Kansas City.

There are 600 Greyhounds at the track

Greyhound rescue estimates they will be able to get 200 into the rescue network.

The Woodlands is one of the last stop race tracks in the Greyhound racing industry, the remaining 400 will be 'returned' to the breeders and likely put-to-sleep.

They need as much help as they can get for fosters, adoptions, transports, etc. PLEASE contact them if you can help and forward to friends you know who may be able to help, as well.

REGAP can be reached at 816-763-3333.
Thanks!
comments
(1) |
discussion
() |
permalink
|
send green star
|
flag as inappropriate
| | |
| --- | --- |
| | Content and comments expressed here are the opinions of Care2 users and not necessarily that of Care2.com or its affiliates. |
Author


Anne T.
, 2
Lancashire. England, United Kingdom

SHARES FROM ANNE'S NETWORK