Dec 7, 2011
Hey, everyone!
Please click this link & help me win a $20 gift certificate to the Big Cat Rescue Store! This link serves also as a way of raising awareness for the big cats worldwide. If you give me your own personal link, I'll help you out too-just let me know!
http://bcw.bigcatrescue.org/count?cu=3950
Peace & Love,
Denise
Jun 10, 2010
| | |
| --- | --- |
| Focus: | Environment |
| Action Request: | Other |
| Location: | United States |
I have a favor to ask of you that's for a good cause: Please go to http://www.kindmovement.com & click "I've been KINDED" (using my code "Centauress" ). Do a not so random act of kindness for someone & give them my code "Centauress", then track the KIND acts attached to this code & pass it on! I'm doing this to win $25,000 for the Surfrider Foundation! If any of you already have a Kind card, let me know & I'll help you & your cause out too!
Thanks!
Peace & Love,
Denise
Apr 1, 2010
| | |
| --- | --- |
| Focus: | Animal Welfare |
| Action Request: | Other |
| Location: | United States |
Hey, everyone!
If you live in the US (or know someone who does-pass it on), there is an organization that collects coupons for cat & dog food/treats. These coupons are given to pet guardians who are struggling to pay for their pets' care & the rest go to shelters. It's a great organization-I even go to http://www.coupons.com & http://www.redplum.com to print out more coupons for them! If you are interested in participating, send your clipped coupons to:
Friends of Cats & Dogs Foundation
c/o Ms. Jessica Wallace
2990 Rhodes Cir. South #213
Birmingham, AL 35205
Please pass this on-the more coupons, the better! Have a wonderful Passover, Easter, or (if you don't celebrate either holiday-I apologize if I missed one) enjoy the Spring!
Peace & Love,
Denise
P.S. Although it's April Fool's Day, this is NOT a joke!
Sep 14, 2009
| | |
| --- | --- |
| Focus: | Animal Welfare |
| Action Request: | Write E-Mail |
| Location: | United States |
Last night, I thought I was having a nightmare…I was watching Golden Girls on the Hallmark Channel &, lo & behold, was an ad with a cancer survivor who is also a scientist promoting animal research. She was even holding a poor rat in her hands, smiling, & being all cutesy with the rat, when we all know what happens to the poor animals in labs.
Please contact them & express your disgust & outrage, like I just did:
http://www.hallmarkchannel.com/Others/UserApply/Default.aspx
Let them know that a "feel good" channel shouldn't be promoting animal abuse. Tell them that animal research is inaccurate, barbaric, & unnecessary, despite what the commercial says!
Thank you for all you do!
Peace & Love,
Denise
Visibility:
Everyone
Tags:
cancer
,
animalabuse
,
animalcruelty
,
animaltesting
,
animalrights
,
advertisement
,
vivisection
,
animalwelfare
,
animalresearch
,
Hallmark
,
CancerResearch
,
hallmarkchannel
Posted:
Sep 14, 2009 2:19pm
Jun 18, 2009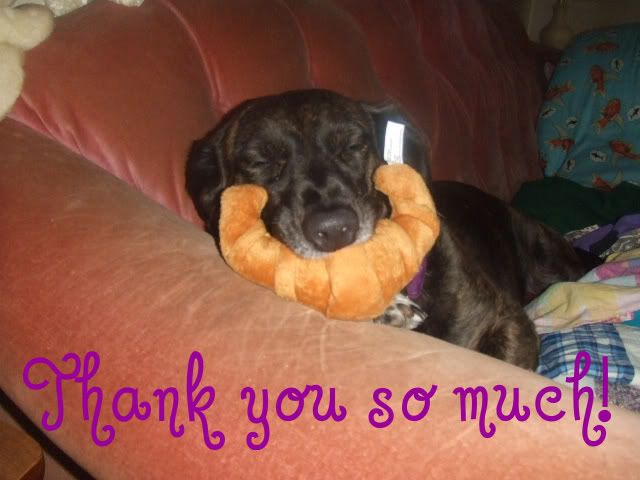 Kali does NOT have cancer! I had to hold back tears of joy when my sister told me at work! She has splenic congestion & nodular hyperplasia, which is still serious, but nowhere near as bad as cancer & she has more of a chance to live to her full life span with treatment. Poor thing has to take a huge blue pill every day, but it's already starting to work! I also know that she's feeding off of our happy energy (she's such a sensitive little girl)….we're all so relieved it's not cancer! The vet said she will be fine!
Thank you all for your prayers, lit candles, positive energy, love, & healing light….it has & still is working!!! My family (including Kali & Brandy, of course) are so grateful!
Peace & Love,
Denise
Jun 9, 2009
The vet said she might have lymphoma. She has gone through blood & urine analysis, x-rays, & an abdominal ultrasound. Tomorrow night she'll go through a clotting profile & then Friday they will take biopsies of her liver &, possibly, her spleen. The vet thought at first it was Cushing's Disease (which I hope it actually is, as it's easier to treat). It's so hard to leave her yet again at the vet's, but it's for her benefit (although she probably doesn't think so & thinks that we're abandoning her. How do you reassure a paranoid, previously abused dog?). This time its overnight-the 2 other times were just during the day.
My heart is so broken right now. She's my baby girl & we've had her for only about 4yrs. (she was about 2 when we adopted her). She's has been through hell & has some many emotional/mental issues because of it. We found out from the x-rays that she has been shot twice with .22 caliber bullets (from before she was rescued) & she's very lucky that they aren't anywhere near her organs (one along the outside of her ribcage & another in her shoulder). We now completely understand why she's so afraid of thunderstorms, fireworks, & firecrackers. She's still afraid of men overall, as it must've been men who abused my poor little girl.
Right now, I'm so torn…I refuse to accept that she has cancer (the vet said her blood cell count was OK, no diabetes, but the ultrasound looked suspiciously like cancer). Her symptoms point to either Cushing's or lymphoma, but we won't really know until the biopsy is done. The vet did say that lymphoma was one of the easier cancers to treat & that, with treatment, she could live another few yrs….but what does he mean by a few yrs.? I'm scared because my sister looked it up & the site said that most dogs live a yr. or 2 with treatment…my poor baby girl can't possibly go through more hell. My sister said that we should look at her as a gift (which she is & more). If it is cancer, it was probably from what she ate at the garbage dump where she was found (which could be rat poison, herbicide, etc.) & we're all very lucky that she has lived so long afterwards. But we also tend to think it might be Cushing's because it takes so long to progress…it just doesn't seem right that it would be cancer (& not just because we love her so much).
Despite all the heartbreak, I will always find that adopting rescues is rewarding & the best way to go with all involved. I know that she has had the happiest yrs. of her life with us (& Brandy too, she's been through her own hell before we adopted her-we adopted her as a senior dog & we're all lucky she's lived with us for about 3yrs. so far). I've always felt bonds with my dogs, but Kali is my heart. We adopted her while my ex-boyfriend was giving me problems & she wouldn't leave my side (especially the night before something happened...she must've known). We have helped each other through own personal hells…it's almost like we grew up together (I was 24 when we adopted her). She made me want to stand up for the underdog (I use this term in more ways than one) even more than before. She made me champion my anti-BSL views even more because she's part pit bull. Even my hair matches her fur (I've been dying mine black since about 2000 & leave the front pieces my natural light brown color…what a coincidence that Kali is a reverse brindle pit mix). She is my daughter & I refuse to let her go through more hell!
I thank you all for reading my rambling & I ask that you pray (or light a candle, etc.), send healing light, & positive energy to my Kali. I beg God, if it has to be an illness, let it be Cushing's Disease…she'll suffer a lot less.
Peace & Love,
Denise
Visibility:
Everyone
Tags:
dog
,
cancer
,
pet
,
pray
,
health
,
prayers
,
mutt
,
pitbull
,
kali
,
pitbullterrier
,
mixedbreed
,
cushingsdisease
,
dogcancer
,
petcancer
Posted:
Jun 9, 2009 4:56pm
May 2, 2009
My sister has updated her Café Press store & has added a store on Etsy.com, so if you have some extra moolah & want to get something unique & whimsical, why not check these links out:
http://www.cafepress.com/happyharpy
http://www.etsy.com/shop.php?user_id=7113778
Please pass these links on!
Peace & Love,
Denise
Mar 21, 2009
Here's a really interesting article for you to note, comment on, & forward:
http://www.care2.com/news/member/510787306/1090210
Peace & Love,
Denise
| | |
| --- | --- |
| | Content and comments expressed here are the opinions of Care2 users and not necessarily that of Care2.com or its affiliates. |
SHARES FROM DENISE'S NETWORK