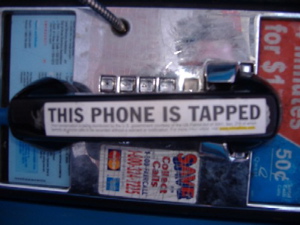 My home phone is tapped to prevent my sharing information about The (Johnnie) Cochran Firm fraud and other injustices against poor and middle class Americans, especially minorities and people who have disabilities. The illegal phone tap that is on my phone prevents incoming and outgoing calls according to the will of those administrating the illegal attack on our communication.

Today I was speaking with an online acquaintance, Gary, about The (Johnnie) Cochran Firm fraud against the family of Kathryn Johnston, the 92-year-old woman who former Atlanta police officers killed in the world's worst no-knock warrant case in November 2006. We were immediately disconnected, which is what usually happens when I attempt to share information about the fact that The Cochran Firm never really filed suit for Sarah Dozier, Kathryn Johnston's niece, but pretended to do so to trick its client, millions of concerned people, and the United States District Court ( USDC ). We were immediately disconnected, which is what usually happens when I attempt to share information about the fact that The Cochran Firm never really filed suit for Sarah Dozier, Kathryn Johnston's niece, but pretended to do so to trick its client, millions of concerned people, and the United States District Court ( USDC ). The Cochran Firm filed fraudulent documents in USDC falsely claiming to have e-filed the Dozier vs. City of Atlanta November 21, 2007. The court of jurisdiction should be Fulton County Superior Court. That court does not accept e-filed Complaints. The lawsuit was supposedly removed to federal court from Georgia State Court. Effective August 18, 2010, that court had no record of Dozier vs. City of Atlanta. To be valid, a Complaint has to be filed in a court with jurisdiction then served to defendants within 30 days of court filing. It appears that NO complaint was filed and served in Dozier vs. City of Atlanta; therefore, the lawsuit could not have been "removed" to Federal Court from like those bogus documents in United States District Court claim. All of the attorneys on that case know that. This particular Cochran Firm fraud was done to prevent Kathryn Johnston's wrongful death case against the City of Atlanta from going to a jury where Sarah Dozier would undoubtedly have been awarded the entire $18 million that The Cochran Firm PRETENDED to demand in the lawsuit that was never actually filed in the court with jurisdiction.
I called Gary back after being rudely disconnected by those who illegally tap my phone and control our communication. On the second call, I could hear my voice echoing, which indicates that our conversation is being taped and possibly broadcast to those who tap our phone. Gary asked if I was calling from a different phone, and I replied "no."
Gary said, "I am looking at your caller I.D., Mary. Your first call came from your home number, (678)531-0262. But this call is coming from Global Telephone no. (786)377-7101."
Again, we were cut off. I called the Global Telephone number Gary gave me and heard only static and a whinning sound. Then I called DeKalb County Police about the illegal phone tap, and the officers said I must report the interference to my phone service provider, which I will do. DeKalb Police said that if my phone service provider verifies that my phone has an illegal tap, police will investigate it. I have been through this same interference with phone service through ATT, Bell South, Vorizon, and MajicJack over the last few years - ever since my family discovered that we had been defrauded by The Johnnie Cochran Firm to protect Memphis Shelby County Jail after the secret arrest and murder of my mentally, physically disabled brother, Larry Neal, and that his murder was covered due to government corruption (2003). It does not matter who the Neals have phone service with, because the interference continues regardless.
In addition to the tapped phone, computers are not allowed to go online from my home address even if they are brand new and equipped with a wireless Internet receiver. When the computers leave my home, they are able to go online again. Over the last couple of years, six of my home computers were put on an illegal workgroup domain over which I am not the administrator. That is done to monitor and control my Internet access, and we must continually have computers wiped clean and Windows re-installed to rid our PCs temporarily of the spyware and network administrators' control. I have reported the illegal censorship against my family's use of phones and computers to police, FBI, Homeland Security, U.S. Attorneys Office, DeKalb CEO, individual congressmen, senators, civil liberties groups and civil rights organizations, as well as all major broadcast media affiliates and the general public. I would not mind as much if the censorship force simply listened to what we say on the phone and watch what I publish online, but I object to them preventing our phone calls, deleting our voicemail messages, and preventing computers from going online from our home address.

Ironically, President Obama will address the nation today about the Iraq War and troop withdrawal. That war supposedly started because of human rights abuses - Iraq citizens were reportedly slautered by their own government. My disabled brother, Larry Neal, and elderly Kathryn Johnston were both American citizens. Yet, I am prevented from notifying the world that their lynchings were met with cover-up by authorities and fraud by The Cochran Firm working on behalf of government entities to prevent justice to the survivors. In Larry's case, the U.S. Department of Justice and Shelby County Jail refuse to answer federal subpoenas or Freedom of Information Act requests for records and accountability about his secret arrest and murder, and they may be who authorized The Cochran Firm to defraud my family and ordered the fraud to be enabled by the courts. At the end of Tennessee's statute of limitations for wrongful death lawsuits, The Cochran Firm's file regarding Larry's murder was EMPTY. The law firm contracted with my family, then sent us lying updates (through U.S. Mail fraud) about work that was not really being done to reconcile Larry's murder by police. The Cochran Firm fraud is a conspiracy against minority citizens across the nation to help government entities avoid heafty payouts after murders-by-police and other matters.

Plaintiffs' attorneys generally work on a contingency fee basis and are only paid when and if their clients are paid. Consider the millions of dollars The Cochran Firm seemingly forfeits by defrauding its minority clients on a continual basis, because minorities have a misplaced trust in the law firm that wears Johnnie Cochran's name. Who pays The Cochran Firm to "take a fall" on certain cases? See this link for three examples of fraud against black and Latino clients:
THE COCHRAN FIRM DEFRAUDS LATINO CLIENT AND SUES ITS INSURERS http://freespeakblog.blogspot.com/2010/07/johnnie-cochran-firm-defrauds-another.html

If the government wishes to minimize the amount of damages being paid after abuses of power, etc., it should (1) institute a policy of zero tolerance for police abuse, and (2) go through the proper procedures to place legal limits on wrongful death payouts by government entities. Defrauding black families through The (Johnnie) Cochran Firm after lynchings is not the answer. Neither is it acceptable to monitor and control my communications to prevent spread of information about The Cochran Firm fraud.

"They're not really citizens; they're negroes." ~ Quote from The Resurrectionist, by Mark Graham

NOTE: I am frequently given an html screen for input at Care2 instead of a screen where my links appear live. That is probably done to dissuade readers from accessing the data at my links, which can also be accomplished by copying the link and placing it in a Google browser field. If you find links in my Sharebook that are not live or do not lead to the targeted data, copy and paste them into Google. The truth goes marching on!
Mary Neal
http://wrongfuldeathoflarryneal.com/
Website: http://freespeakblog.blogspot.com/
.