Mar 26, 2007

GLOBAL PRESS RELEASE
Nov 24, 2006 3:36 AM
THEY STOLE - "GOD BLESS ORIENTAL EXPRESS" SIGN
THEY STOLE THE "GOD BLESS ORIENTAL EXPRESS" SIGN...while loading truck on trailer in Sams Club parking lot - had the sign tied off to N.E. corner light pole @ 88th/Old Swrd...between 8 pm - 10:40 pm (11-1-06):


Hosted By SparkleTags.com
Case...06-52878 filed 11-1-06 ~ 11pm THEY STOLE THE "GOD BLESS ORIENTAL EXPRESS 344-9989 8010 OLD SEWARD HWY" S.I.G.N.!

And what you all need to know : written on the back of the sign was a mass of intel, information, lic plate nmbrs etc...of suspects, guilty ones that attacked JOE and what not...& "THEY" ... knew that I had been writing this info down on that sign...

Of course...that is now the 3rd sign stolen from us & they vandalized one. In REALITY...it's all about "ATTACK JOE"!

@@@@@@@@@@@@@@@@@@@@@@@@@@@@@@@@@@@@@

From: GLOBAL PRESS RELEASE

Date: Nov 24, 2006 2:47 AM

Subject ATTACK (s) REPORT ...(cumulative build)...

Body: 10-31-06...Incident Report : A06-3040391

Lured out a couple more attackers today...@ 2 Go Mart on Tudor & Wright st...female employee Carrie Harris (who has previously attacked JOE @ 6th & Muldoon 2 Go Mart with another female name Isa ???) and this other big heavy set lady today - JOE went there bought fresh cup coffee, check cig deals (none I was interested in - so I told lady just the coffee, I'll be back for gas in a minute)...I stepped outside to enjoy some fresh coffee & a smoke : all of a sudden big lady bangs on window @ me telling me I have to leave...I go to door & tell her I need to get gas - she says no you have to go now...then Carrie Harris shows her face again & I advised them both of their attack on me, they're under investigation/facing criminal prosecution etc...I walked over to Holiday across st & bought gas then left & went to call local police to report the CRIMINAL DISCRIMINATION/HARASSMENT ATTACK ON ME & both females are guilty of ...willingly participating or actively engaging in a criminal conspiracy to commit...Then I went back over to the area to "flag" that 2 Go Mart while waiting for officers to respond...calling out mayor/gov/news...

Responding officers Delesline, Fifer & C. Evans...were most disrespectful & discriminating against JOE...they did virtually nothing about the attack on me - refused to criminally charge or arrest these guilty ones & would only give it an incident report - number I.R. - A063040391. I advised these officers they too are now under investigation & guilty of ...aiding & abedding a criminal conspiracy...(just keep attacking JOE & letting all the other attackers get away with attacking JOE...)...they then "verbally" advised me that I am now "trespassed" from that 2 Go Mart & then went & told the females to "stay away from me" (I guess - like Oh Boy...that means jack shit!). So I stayed "flagging" that guilty location for a while & while there some man was ?"sent"? to me to attack me some more...he & female passenger in truck lic plate EZH436...pulled up to gas while I was on sidewalk... female psngr was reading my sign...I gave her website address & the man started talking stupid shit / calling me "crazy JOE" kind of stuff...I advised him he better cease with that line of "trash talking" me or he will find himself under investigation as well... then he threatened me with "kicking my ass" (physical felony assault)...I invited him to carry on with that shit & then he started making & throwing snowballs @ me (which is techinically assault in & of itself, because we weren't "friends" having a "snowball fight" in fun...he was assaulting me...everybody there witnessed it too! There were people @ Holiday witnessing, people @ 2 Go Mart, the Anch Rescue Mission, Subway...plus the lady psngr with him (& she was rather disgusted with his behavior)...I didn't call police about that assault on me - I let it go & report it to all of you & then to our organization!

Be it advised that I am only "trespassed" from the 2 Go Mart ... which means I could go into subway & (I advised the officers) I'd be willing to bet that these guilty ones would try to sick the cops on me for violating the "trespass" when I'm at subway...we'll test that out later on in the operation & see if I can lure out that attack from them there next... I'll just happen to go in for a sandwich @ the Subway shop there in that little strip mall & wait & see if they attack! We'll put that into "play" when I return into this city in a month or so...perhaps!
~~~~~~~~~~~~~~~~~~~~~~~~~~~~~~~~~~~~~~~~~~

"IMPEACH MARK BEGICH NOW -!- IMPEACHMENT PROCEEDINGS @ http://www.thepetitionsite.com/takeaction/784521178"

~~~~~~~~~~~~~~~~~~~~~~~~~~~~~~~~~~~~~~~~~~

9-11-06 ... "flagged" Sams Club strip... ~ 10 pm we lured out couple more attackers... JOE saw these 2 white guys coming down sidewalk towards me ... figured they were sent to attack = I watched them close ... as they approached I said howdy... one asked for cigarette standing now in front of me ... the other sat on curb by Taco Bell ... I gave smoke bag to one for him to get some out ... other guy approached now to my left side asking for smoke ... as I handed him the bag - he was in close - he tried to snatch the cash ($15) ... I let him get his hand on the gift locker then I took his head & brought him to the ground...he started yelling for his buddy to help...I told his buddy...don't you even make a move - I'll let you guys go...so I secured signs & cash then let the guys go...as I did so I advised them "I am going to let you live...but you better go back where you come from...whoever sent you...and fix it, fix it FAST...." .... of course how many of these I have "let live" now & told the same thing to...but I sure don't see them "fixing it" very fast. I did not care about reporting this one to the police because I was busy working ... there were plenty of people around that saw what went down ... Whether or not those attackers or anyone else tried to "TELEPHONE ATTACK" = SICK THE COPS ON JOE ... I don't know ... an officer did drive by shortly after the scene, but did not approach me & I did not flag them over....that can all be figured out later. If those guys did call the cops then the cops better have arrested them...just like the cops are "suppose" to be arresting every single person that calls the cops on me...but the police are guilty as shit and involved in this whole mess so, of course, they haven't been arresting these "guilty ones" like they have been ordered to...
~~~~~~~~~~~~~~~~~~~~~~~~~~~~~~~~~~~~~~~~~~

In addition to these : GUARDIAN SECURITY has been "stalking" on and "attacking" JOE the past couple days ... there is a new guy working there they are using to do this...

9-10-06...late night ... JOE was working A st & N.lights ... truck parked in Key bank parking lot ... I finished working & walked over to 2 Go Mart to get gas & coffee ... as I did the GUARDIAN SECURITY OFFICER pulled in "stalking" on my truck...I was walking back across street & got in my truck to leave...I just spoke out to him "that's my rig there"... he left & no other words were spoken... Then :

9-11-06 ... ~ 1:30 am ... I was working Spenard & N. lights ... just arrived - parked in N.lights Center lot across from Brown Jug & "flagged" that sector from the S.E. corner by Blaines Arts... Same guy from GUARDIAN SECURITY...comes in to lot "stalking" on my truck...I was talking with man on street corner @ time...I called out to Security guy..."that's my rig"...he stayed "stalking it" so I walked over to talk with him...He was very much DISCRIMINATING, HARASSING & THREATENING ME ... telling me I have to move my truck ... I said no I don't ... I'm working right now, why don't you go harass those other vehicles parked in public parking lot... he said - well they're "working out" (at gym)... I said well I'm working out too...leave me alone...then he started off on this "SUBVERSIVE MURDERING" SHIT about my truck is a suspicious looking vehicle - I said there is nothing "suspicious" about my truck...then he went off about well there are "dogs in there..." I told man don't even go there with that shit...those dogs are on guard duty...they're fully commanded soldiers protecting my rig while I'm over here working...so you can quit with your "SUBVERSIVE MURDERING SHIT"...we are conducting a major criminal investigation ... it is already globally broadcasted -
GUARDIAN SECURITY - IS - UNDER INVESTIGATION...and if you are going to continue to discriminate against, harass & threaten me then you will be "personally" under investigation as well & I'll advise you of such NOW...I have a job to do...SIGNWALKER...got a job to do...OUR INVESTIGATION TEAM FOLLOWS MY LEAD ALL OVER THE GLOBE...(PLUS GOD BLESS ORIENTAL EXPRES
...then I told him - if you want to use your "radio" for something ... then call the mayor, governor, news medias, chief of police and tell them they are all lying sacks of shit & they need to get there ass out here FAST!!!...now, may I go back to work without being attacked & harassed by you....he said okay and left....
~~~~~~~~~~~~~~~~~~~~~~~~~~~~~~~~~~~~~~~~~~

9-10-06 ... "flagged" Muldoon ( Fred Meyer & 2 Go Mart )... Got some good work done...passed out all the flyer sets ... lured out one attacker set and one kid stalkin on me finally made the move when he was behind me as I'm facing HEAD-ON traffic... on a run he snatched the cash & hauled ass for the trees... I let him run & BROADCASTED the attack to everyone there = they all saw... couple cops came to scene, I "flagged" them over to me - although I think they were already on their way over to me due to a likely "TELEPHONE ATTACK" on me timed with the theft of $30 from the gift locker....OFC's responding...not "good ones"... Treated JOE with disrespect & discrimination... they are :

Female ... Okamoto ? APD car number 35845 ?....

Black Male (Ofc taking report of theft) = Ofc. Mahlatini...
Case number = 06-43379

The Female Okamoto was / has been "suspect" - this was the first "personal encounter" JOE has had with her & was NOT IMPRESSED...she was disrespectful & attacking on JOE...she wouldn't even take a website flyer set about THE INVESTIGATION TO SECURE MY NATION...there's more...I'll leave that unsaid for now...

The male Mahlatini....first encounter JOE has ever had with him...
Though he wasn't "blatantly" disrespectful...he was smurking and not taking these very real matters SERIOUS.....

JOE did receive replenishments from a couple good ole boys there to get some gas etc.....
~~~~~~~~~~~~~~~~~~~~~~~~~~~~~~~~~~~~~~~~~~

9-9-06...while "flagging" Spenard & N.lights...a couple guys were sent at JOE ... they came on bicycles...one man was masked and had a baseball bat...the other unmasked with no obvious weapons in hand...they were Middle Eastern looking with a dark skin tone...it is likely they were trying to sneak attack me, but I 'made' them coming down the road & was watching them close...since they knew they'd been 'made' they rode past me... but they circled back and tried to come at me from another angle, I saw there moves and they knew it so they rolled in on me at the corner ... they started talking stupid shit & hanging out (trying to stir a scene)...I hung for a while to see if they'd make a move...they didn't jump right away...so after some time engaged with them they wouldn't leave...& I had to go to the bathroom & it was time for coffee break so I said goodbye to them & left...


----------------------------------------------------------------------------------
----------------------------------------------------------------------------------
Body:....INCIDENT REPORT NUMBER 692 on 6-9-06 :

ASIA GARDENS attacked on JOE last night....yep, that's right... about 8:50 pm Fri night JOE was working street promo "GOD BLESS ORIENTAL EXPRESS" on sidewalk near ASIA GARDEN and guess what...we lured out some guilty ones that attacked JOE.... started with some of their crew coming around disrespecting & hatin' on JOE then Asian man came out from their business...(this guy attacked on JOE long while back, but that incident back then was an "insignificant" - especially compared to what went down last night) ... instantly dude is in my face...violent, aggressive, loudly, verbally assaulting me - disrespectin me, violating me in many ways...my personal space & comfort zone most critically, he was screaming obsceneties at me & discriminating against me kept gettin in my face trying to "start some shit"...he proceeded with blocking my sign from traffic passers by...another asian man came out and another....then a lady stayed her distance standing by their entry doors - JOE & attacker dude on sidewalk - (already under investigation lic plate "BINGOS" pulled in simultaneously as attacker dude repeatedly threatened JOE with violence....screaming all these cursings at me and saying how they were going to "BEAT THE FUCK OUT OF ME IF I DON'T LEAVE" ETC......forced JOE into a point of choice - choose to engage with them in violence, or let them violate me...walk away ...We came real close to some - SERIOUS VIOLENCE & BLOODSHED ON THE STREETS LAST NIGHT!
... so JOE chose to avoid the violence and left the scene...called A.P.D. just to log the report of attack...technically the responding officers should have charged/arrested (especially the one ring leader man) with "verbal assault, threatsof assault & battery, disorderly conduct"....but the responding officers .... well we flushed out some more "GUILTY ONES" (one already suspect Ofc Earl L. Earnest) two others new to JOE - Ofc Espinoza & Ofc Bell.....all of these responding officers violated / discriminated JOE...they took report (disrespectfully & discriminatorily - filled with insolance) wouldn't give me case.., officers names, didn't take any steps to bring justice to individuals attacking JOE....basically tried telling me that (in Ofc Earnests' words) the ones attacking me "have right under -1st ammendmant Free Speech- to do this to me"... like it's all okay to attack on JOE any & every day but if JOE barely steps out on street with sign cops are there to take JOE down all the time....I guarantee if I would have been threatening those people like they did me FUCK...they'd have came with a gang force of police to TAKE ME DOWN...and the cops would have charged me : "DISORDERLY CONDUCT / ATTEMPTED ASSAULT / THREATS OF VIOLENT ASSAULT & BATTERY / VERBAL ASSAULT and anything else they could FABRICATE UP!!! AND JOE THEY WOULD HAVE TAKEN TO JAIL!!!! but they did nothing and actually violated ME even further...CLEARLY INDICATING now three more "COPS ON THE TAKE" connected directly to ASIA GARDENS!!!!

So....we effectively "FLUSHED OUT" :

ASIA GARDEN (owners / employees of - within) - the attackers refused providing info to JOE as to their names etc....

OFC EARL L ERNEST, APD
OFC ESPINOZA, APD
OFC BELL, APD

After incident concluded I went to another pay phone to call APD (their supervisors etc..) obtained from dispatch the incident report .. 692 on 6-9-06 ... that responding officers wouldn't give me and further reports made against now these three officers officially...& they were notified they are under investigation...I, SUBSEQUENTLY REPORTED ALL THIS TO OUR AGENCIES AS WELL! A lot of these I only report to Local Police once in a while - to aid in effectively "flushing out" "guilty ones" in the department and to see where A.P.D. 's behavior/attitudes are at present time of shift on duty etc....FURTHER ACTION NEEDS TO & WILL BE TAKEN ON/AGAINST THESE RESPONDING OFFICERS!!

........................................................................................................



May 27, 2006 3:31 PM

Subject:
HOT ZONE..-76th/Old Swrd-.. JOE IS ATTACKED REPEATEDLY

Body:
76th / Old Seward (N.W. corner - 2 Go Mart Bldg)....
There have now been several attacks being launched on JOE @ this location...there is the one from bulletin posting 5-21-06 (included @ end of this msg)...several others as well now...some I won't really get into describing or listing specifically, but these last couple Thursday night & Friday night need to be known & stated :

Thursday 5-25-06 ~ 8-9 pm(ish)...they sent some white lady out to attack on JOE while I was "flagging" that corner...She came from the area of Asia Gardens....when she first engaged with me it was her screaming obsceneties at me, verbally assaulting me, Discriminating me and also telling me to kill myself...jump into traffic...shit like this....She left then came back ... started in with more of the same crap....really "pushing my buttons" then -
SHE herself actually tried pushing me out into traffic...no bullshit, man! This lady talking all her trash came up to me, put her hands on me, in fact tried to force run herself into me to push me into traffic a couple of times....then she left finally....back towards Asia Gardens...I advised her she's under investigation may face criminal prosecution....etc....

Friday 5-26-06 ~ 7:30 pm.....they sent some more shit @ me....Dogs & truck across street by Mr Prime Beef....man comes up to me on street corner and launches in to me with one of their ..."old - outdated - subversive murdering tricks" about my dogs... "oh it's too hot in there you better do something....blah F'n blah I'm going to call the police / animal control etc....." he's telling me. I told him my dogs just fine...we just got there...& you're busted! I advised him he just "flushed himself out" as a guilty one...thanx,
please do call police/pound...use your phone as leathal weapon against me ... YOU'RE UNDER INVESTIGATION I told him...we will put surveillance on you.....thank you very much.... Well I went across street to truck...check shit out...log attack in notebook etc... Man they sent at me on street was younger white male, and he was the passenger in an Older model Ford Truck dingy yellow 2wd(I think) with an older white male driver and older white female passenger...License Plate 8643BG....they were parked near my truck by the Mr Prime Beef. As I mentioned...this tactic of attack pattern is seriously old hat shit man...they've been workin that trash for long time...using my dogs (which by the way are fully commanded SOLDIER
as a means to attack me...oh dogs too cold...oh dogs too hot...oh he can't take care of his dogs....are his dogs okay in that truck... This is one of the "SUBVERSIVE MURDER" forms they have been using all over the place to keep attacking JOE...my dogs are like police canines only better....military grade....fucking idiots....

THEY ARE ALL GOD DAMN - BUSTED, BUSTED ...BAAADD!!!!
IN FACT ALL THESE ARE GUILTY OF :
.....WILLINGLY PARTICIPATING, OR ACTIVELY ENGAGING IN A CRIMINAL CONSPIRACY TO COMMIT....THAT, MY FRIENDS, - IS SOME SERIOUS FUCKING SHIT......

.......****************************************.......
"IMPEACH MARK BEGICH NOW -!- IMPEACHMENT PROCEEDINGS @ http://www.thepetitionsite.com/takeaction/784521178"
~~~~~~~~~~~~~~~~~~~~~~~~~~~~~~~~~~~~~~~

From: ** HOMELESS JOE **

Date: May 21, 2006 3:25 PM
Subject: JOE...IS ATTACKED AGAIN

Body:
Well, we "flushed out" some more "GUILTY ONES"
This one was another of their "Subversive Attacks"....the attack was launched on JOE Saturday 5-20-06 ~ 7:15 pm... by a man identifying himself as the "owner of parking lot, property etc" on the North-West corner of 76th / Old Seward (where 2 GO Mart is located)....His Lisence Plate Number is : ESM867...surveillance on his ass for sure...and the whole group of guys he had with him behind the 2 Go Mart store when he launched said Attack...Now, he didn't trespass me...just said I can't park my truck there....so here is where we see if they try the "TRESPASS ATTACK" on me next....ha ha ha, hee hee hee...they are BUSTED!! you see

ESM867....& GROUP OF GUYS (UNKOWN @ TIME) will wait for investigator report to come in to update later / VERIFY... We've had our eyes on this guy for a while now...been expecting him to attack....This is what went down :

Joe was in 2 Go Mart getting coffee...truck was parked behind the store by the creek....As I came out of store approaching vehicle I noticed man standing by my rig (stalking my rig)...he asked me ; "is this your car?"....I replied, "the truck, motorhome? yes"... @ that point he walked away....I went to rig, pet dogs, sip coffee & get the "GOD BLESS ORIENTAL EXPRESS" S.I.G.N. to go do my work for Mr. Lee...as I started walking toward street corner this man approached me and began violating me threatening to "sik the cops on me"....he told me "move your truck...you can't park here, don't want your truck here, don't want your dogs here..." & was instantly attempting to use his cell phone as a leathal weapon against me ... I told him please do call the police..their under investigation and so are you....I asked him why he was violating me...he never would answer....just kept on with his assault / discrimination / harassment / violation of me.... I advised him he's under investigation and is facing criminal prosecution and serious litigation etc... I moved my truck to the front of the store where I just bought coffee....and as I went to the street he came around from behind the store attacking me again....same scenario and he of course had a group of guys with him that were still behind the store...he was "telephone attacking" me ...
I again said please do I'll be right here waiting for the police...and I again further advised him of his criminal violations against me and he is facing criminal prosecution etc....I moved truck across street then went back and "flagged" that corner.....Put it in his face he / they are busted and a fucking DISGRACE...I told them all they are under investigation & I already have your license plate number, I will be putting surveillance on you etc....
Police never showed up....which, really, they should have come to arrest that man, but here again...I did not report this to local police (yet) or file any formal charges against this man (yet).... We let him run....& follow the trail he leads....because I guarantee this man will lead a trail to many of the "GUILTY"....
~~~~~~~~~~~~~~~~~~~~~~~~~~~~~~~~~~~~~~~~~~

LOTS MORE INFO STILL TO COME ...

"IMPEACH MARK BEGICH NOW -!- IMPEACHMENT PROCEEDINGS @ http://www.thepetitionsite.com/takeaction/784521178"

COMING SOON....to a computer near you!

GOD BLESS = LOVE ................... JOE
Visibility:
Everyone
Tags:
law
,
war
,
military
,
impeach
,
conspiracy
,
corruption
,
enemy
,
terrorism
,
impeachment
,
legal
,
crime
,
enemies
,
cops
,
discrimination
,
criminal
,
courts
,
invasion
,
harassment
,
detectives
,
investigations
,
attorneys
,
lawyers
,
investigators
,
prosecutors
,
prosecution
,
infiltration
Posted:
Mar 26, 2007 9:17pm
Mar 16, 2007
| | |
| --- | --- |
| Focus: | Government |
| Action Request: | Petition |
| Location: | United States |
Hi Friends,

I have just read and signed the petition: "IMPEACHMENT PROCEEDINGS"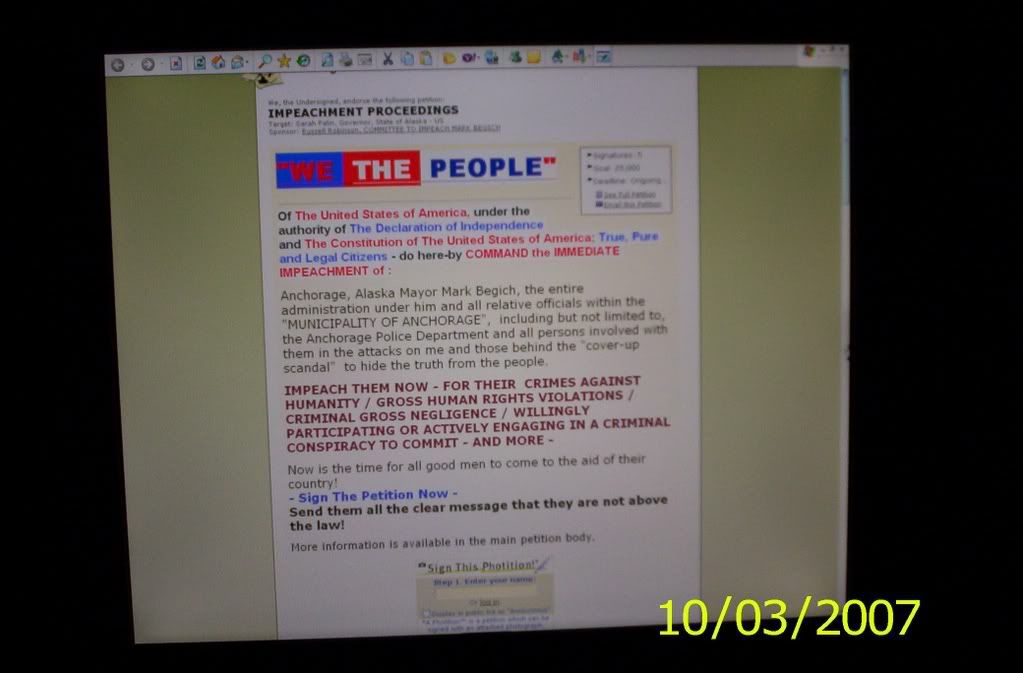 Please take a moment to read about these very important issues, and join us in signing the petition.
It takes just 30 seconds, but can truly make a difference.

The Security of America and the Safety of HER PEOPLE are counting on YOU!
Please sign here :
http://www.thepetitionsite.com/takeaction/784521178

Thanks! The Committee To Impeach Mark Begich

(PASS THIS ALONG - POST IN BULLETINS - SHARE IT WITH YOUR FRIENDS - LETS GET THE MESSAGE OUT)


Visibility:
Everyone
Tags:
law
,
police
,
justice
,
impeach
,
activism
,
conspiracy
,
corruption
,
rape
,
murder
,
humanrights
,
indictments
,
civilrights
,
trial
,
impeachment
,
assassinations
,
crime
,
guilty
,
politicians
,
cops
,
criminal
,
courts
,
assault
,
prosecute
,
attorneys
,
lawyers
,
judges
,
governments
,
grandjury
Posted:
Mar 16, 2007 5:56pm
Mar 6, 2007
| | |
| --- | --- |
| Name: | Anonymous Sponsor |
| Type: | Tribute (for the living) |
| To Honor: | Individual(s) |
| Location: | North Pole, Alaska United States |
A gracious sponsor has donated a new computer system to the Foundation. They wish to remain anonymous so I'm unable to formally honor them - however, I can report that it was a White Man that made this donation.


We have been in need of a new system for our operations. Our old system was extremely inadequate for our needs. This upgrade is awesome. It handles all of our basic needs for data base, records keeping, accounting, running all of our websites, organizations and e-mails from one place. It has the capability to run several programs simultaneously - a great assett in speeding up our operations and saving me a ton of time.

Plus ... the system also incorporates a variety of programs and components for our video and movie making productions. It's great!


We only need a few more pieces of hardware and some program / software upgrades to add to the configuration and we're set - we'll be able to make some excellent video, and, DVD quality movie productions.
Thanx So Much to our ANONYMOUS SPONSOR!

Anyone else wishing to make contributions to the Foundation - please contact us through regular website inbox, reply here within this thread or you may contact us via :


E-mail < Impeachment_Proceedings@hotmail.com>


Those interested specifically in contributing to our computer system needs ... I've listed below our System Configuration and specific items we yet need.

Computer System Configuration :

--HP PAVILION A1650Y
--GENUINE WINDOWS XP MEDIA CENTER EDITION 2005
--INTEL (R) PENTIUM (R)4 524 W/HT TECH.3.0GHZ
--1 GB DDR2-533MHZ SDRAM MEMORY
--80 GB 7200 RPM SATA HARD DRIVE (INTERNAL)
--1 LIGHTSCRIBE 16X DVD+/-R/RW SUPERMULTI DRIVE (INTERNAL)
--1 3.5 IN 1.44 MB FLOPPY DRIVE (INTERNAL)
--2 FRONT USB PORTS / 1 FIREWIRE IEEE 1394 AND FRONT AUDIO PORTS
--1 INTEGRATED ATI RADEON EXPRESS 200
--1 INTEGRATED 7.1 SOUND CARD W/FRNT AUDIO PORTS
--INCLUDES MICROSOFT (R) WORKS SUITE 2006 AND MICROSOFT WORD
--19" FLAT PANEL MONITOR
--HP DESKJET F380 ALL IN ONE PRINTER / COPIER / SCANNER / PHOTO PRINTER
--WE ALSO HAVE A WINDOWS VISTA HOME PREMIUM (O
ON THE WAY
___________________________________________________________________

Further Upgrades and items we still need I list below :

- BLANK MEDIA -

LIGHTSCRIBE COMPATIBLE :

-- CD-R / (CD-R MUSIC) / DVD+R / DVD-R / DVD DL

STANDARD (NON LIGHTSCRIBE) :

-- CD-RW / CD+RW / DVD-RW / DVD+RW
-- CD/DVD CASES - the plastic flip open cases CD's come in - standard size ... not the slim case style - although we will accept slim case style if someone has an overstock they want to donate - that would be great too.
-- CD/DVD "slips" ... "envelopes" ... "protective sleeves" white or colored assortments
----------------------------------------------------------------------------------------


- PRINTER SUPPLIES - FOR HP DESKJET F380 ALL IN ONE :


INKJET CARTRIDGES :
-- HP 21 = BLACK INK
-- HP 22 = COLOR INK
-- HP 58 = PHOTO INK


PRINTER PAPER :
-- (PLAIN WHITE) - ALL STANDARD & HEAVY GRADES 8.5 x 11 PRINTER PAPER
-- (MULTI-COLORED / FANCY PATTERNED) - ALL STANDARD & HEAVY GRADES 8.5 x 11 PRINTER PAPER
-- VARIOUS PHOTO PAPER - 4x6 / 8x11 GLOSSY / SEMI GLOSS ETC...
------------------------------------------------------------------------------------


PROGRAMS & SOFTWARE UPGRADES STILL NEED :


--SONIC SOLUTIONS (ROXIO) EASY MEDIA CREATOR 9 SUITE (&/OR OTHER DVD MEDIA BURNING / RECORDING SOFTWARE PROGRAMS ETC...)


--MUVEE AUTOPRODUCER 6 FULL VERSION (&/OR OTHER MOVIE PRODUCTION TYPE SOFTWARE PROGRAMS - FULL VERSION)

--PIXELAN SOFTWARE - SPICE FX PACKS 3.0 FOR WINDOWS MOVIE MAKER (FULL VERSION - ALL AVAILABLE PACKS + BONUS FX + PANZOOM MAKER)
--------------------------------------------------------------------------------------------


HARDWARE & DEVICES STILL NEED :


--1 - 18X (or 20X) LIGHTSCRIBE DVD+/-R/RW DVD DL SUPERMULTI DR (INTERNAL)
--1 - 160 GB (OR LARGER) 7200 RPM SATA HARD DRIVE (INTERNAL)
--1 - 160 GB (OR LARGER) EXTERNAL USB HARD DRIVE
--1 - 18X (or 20X) EXTERNAL LIGHTSCRIBE DVD+/-R/RW DVD DL SUPERMULTI DRIVE
--1 GB DDR2-533MHZ SDRAM MEMORY MODULE
--1 MULTI PACK USB CABLE KIT PACK W/ADAPTERS
--1 HIGH SPEED USB TRNSFR CABLE SET (PC to PC) for file transfer
--SET TOP (DESK TOP) PC SPEAKER SYSTEM (ANY DECENT VARIEY WILL SUFFICE)
--VIDEO CAM-CORDER RECORDING DEVICES W/TRI-POD AND USB/FIREWIRE COMPUTER CONNECTION CABLES
--WEB-CAM SET UP ... FOR VIDEO CONFERENCING WITH OUR CONTACTS OVERSEAS AND IN COUNTRY - CAN ALSO BE USED FOR RECORDING VIDEO EVIDENCIARY / DOCUMENTARY AND SUCH.

"IMPEACH MARK BEGICH NOW -!- IMPEACHMENT PROCEEDINGS @ http://www.thepetitionsite.com/takeaction/784521178"
____________________________________________________

FOR FULL REPORTS AND FURTHER INFORMATION - VISIT THE :

~ INVESTIGATION TO SECURE MY NATION FOUNDATION ~

- FINANCIAL STATEMENT - DONATION SUMMARY - PUBLIC TRACKER -
http://forum.myspace.com/index.cfm?fuseaction=messageboard.viewThread&entryID=31841746&groupID=103104510&adTopicID=33&Mytoken=3AE4F768-3BD0-4336-B24D860F7255482360609803

Visibility:
Everyone
Tags:
love
,
help
,
care
,
giving
,
money
,
america
,
impeach
,
cause
,
support
,
donate
,
donations
,
trial
,
impeachment
,
detectives
,
investigations
,
attorneys
,
lawyers
,
sponsorship
,
contributions
,
investments
,
inventors
,
investors
,
investigators
Posted:
Mar 6, 2007 4:32am
| | |
| --- | --- |
| | Content and comments expressed here are the opinions of Care2 users and not necessarily that of Care2.com or its affiliates. |
SHARES FROM RUSSELL'S NETWORK