Apr 20, 2007
| | |
| --- | --- |
| Focus: | Human Rights |
| Action Request: | Petition |
| Location: | United States |
Hello friends of friends. I have been trying to help out a friend. Please look over his petition and sign and forward if you will. I know he would greatly appreciate your help. His story and link are below. Changes in human rights need to be made. It starts with one and if nothing is done about it, it will continue. This is going on everywhere and it needs to be stopped. Please help out my friend by signing his petition and forwarding if you would. Thank you, T.L.
Legislation for Patients Rights
Richard A.
My 8 yr old son was taken into custody , after a therapist reported to Child Protective Services , because of an avid imagination . While in their care he was abused by an employee of the Mental Health facility . Since then I have been picketing this institution . During this time , Oct 2006 to present , countless people have stopped and told me their stories and this has become bigger than just my tale of abuse . We need your help , Please go to
www.patientsorvictims.com
there is a direct link to our petition for an State investigation and Legislation for abuse in Mental Health Institutions . Please assist us in our fight , sign our petition .

Please sign the petition here:
http://www.thepetitionsite.com/takeaction/595372348
Hi,
Did you know that current federal hate crime laws don't protect
everyone?
We've had a federal hate crimes law on the books since 1969, and
it has never included crimes targeting victims because of their
gender, gender identity, sexual orientation or disability.
Congress is about to consider a bill that would change that. It
would also help under-funded law enforcement officials
investigate and prosecute hate crimes.
Tell your representative to support this bill at:
http://www.hrc.org/FightHate
Here's something else that shocked me: one in six hate crimes
are motivated by the victim's sexual orientation.
And the federal government can't even investigate most of these
crimes or help bring the criminals to justice. That's
outrageous!
In past years, right wing groups have blocked attempts to expand
hate crimes laws. They're gearing up for another fight now, so
we need to make sure our representatives do the right thing and
support this landmark law.
Click here to send your message:
http://www.hrc.org/FightHate
In my mind, there's no question that including all hate crimes
in federal law doesn't constitute "special treatment," as some
right wing groups would have us believe - there's nothing
special about wanting to live safely and without fear of
violence. That's something everyone deserves.
Thanks for joining me,
- S.
****************************
(c) 2007 Human Rights Campaign
1640 Rhode Island Ave., N.W.
Washington, D.C. 20036-3278
Phone: 202/628-4160 TTY: 202/216-1572 Fax: 202/347-5323
mailto:membership@hrc.org


OTHER PETITIONS
Apr 20, 2007
| | |
| --- | --- |
| Focus: | Animal Welfare |
| Action Request: | Petition |
| Location: | United States |
PET/America: Help the Horses in in Jefferson County 9:43 AM




http://www.thepetitionsite.com/takeaction/460057124


Dennis Danley has been charged with 10 counts of animal cruelty. Sheriff's deputies identifed 5 dead and 10 malnourished horses. Unbelievably, the horses continue to remain in his custody. At least one other has died since his arrest. The law provides for the horses to be seized and volunteers are available to care for them until the court makes a decision re: them. Sheriff Boober has not complied with the law. Details of this sad situation are available on the PETA website. Documentation is available at Herald-mail.com. I am requesting your help in petitioning Sheriff Boober to seize the animals and place them in proper care until the court determines how this situation will be resolved.

--------------------------------------------------------------------

From PETA

Dennis B. Danley faces 10 criminal counts after neglecting horses

By CHRIS BROWN / Journal Staff Writer



CHARLES TOWN — A Charles Town man was charged with multiple counts of cruelty to animals this week after police received a report last month that he was not properly caring for a number of horses at his farm in Kearneysville and a handful of them had died.

Dennis B. Danley, 54, of Charles Town, was arrested Monday by the Jefferson County Sheriff's Office, which claimed he was mistreating 10 to 15 horses by not feeding or watering them properly at a back field on Blakely Farm Lane.

According to a complaint filed by Cpl. V. H. Tiong, Danley admitted the horses were last seen by a veterinarian in September. Danley said the horses were supposed to be thin because of their breeding, according to the complaint.

During a visit to the property, Tiong said he asked Danley for documentation that the horses were healthy, but Danley failed to provide the paperwork.

Danley also failed to properly bury several dead horses, and Tiong said he also did not see any feed in the barn he was using. The horses were also being kept outside, police said, and Danley was ordered to provide the horses with shelter in the case of bad weather.

Tiong again visited the farm on March 15, after informing Danley that he would be bringing a veterinarian to examine the horses, and found several horses still in poor health, with some suffering from rain rot, and others appearing almost skeletal. In all, 10 horses were deemed malnourished and one of the horses in Danley's care recently died because of a viral infection.

Danley was released on a $7,500 personal recognizance bond. If convicted, he could face between a $200 to $3,000 fine and/or 6 months in jail on each count of animal cruelty.

Danley was convicted in November of 1997 in Loudoun County, Va., on similar animal cruelty charges, police said.

Jefferson County resident Jeanne Morton said she was trying to organize a group of people to help care for these horses. Morton, who said feeding an individual horse was expensive, noted Danley's previous conviction and said it underscored the need for the horses to be cared for.

"It's not as if he's just somebody who fell on hard times," Morton said.

Section: News Posted: 3/28/2007



Dear friends,

This news was just released an hour and 20 minutes ago, please pass it on, the melamine is not just in wheat anymore, it's now been found in rice protein concentrate. I suspect it will be found in many more food sources before this ends, including human food. I changed my dog over to organic/holistic food about 5 months ago, but still she has been lethargic and drinking 3 times her normal amount of water. This was before the news release though, so I attributed it a thyroid/glucose problem, which I hoped the new food might help, and I am having her checked regardless. Here is some sound advice I am passing on (anonymously) from my friend, it's worth considering if it's possible for you to do:

"The pet food scare freaked me out as well and I've decided not to give [his pets] commercial food anymore but instead, make their dinner myself from known ingredients. These greedy companies bought the cheapest wheat they could find and of course coming from China, it was tainted with poison as they have much lower health standards than we have here. Supposedly 40,000 dogs and cats were either killed or seriously sickened by the latest tainted food released to the public. I think that the best way to be sure of the integrity of the food is not grow your own or to buy only simply unchemically treated foods and cook them yourself."

Article and link below, take care all,
~Lynn B.


--

Natural Balance pet food recalled:

The industrial chemical melamine has been found in more pet food, and suspicion is falling on a second pet-food ingredient imported from China as the source of the contamination.

Natural Balance Pet Foods said Tuesday it found melamine in samples of some of its food, which led to a recall. The company suspects melamine was in a rice protein concentrate used as an ingredient, said President Joey Herrick in an interview.

Melamine is the chief suspect related to the Menu Foods recall, first announced four weeks ago for more than 60 million cans and pouches of wet dog and cat food. The melamine in Menu's products was in wheat gluten imported from China and sold to Menu and several other pet-food makers, which also did recalls.

The rice protein concentrate was imported from China by San Francisco-based Wilbur-Ellis. Herrick says the concentrate, which is being tested, is suspected to have melamine, as it was the only new ingredient. Recalled Natural Balance products include Venison and Brown Rice canned and dry dog foods, dog treats and Venison and Green Pea dry cat food.

Wilbur-Ellis CEO John Thacher said his company sold the concentrate to five pet-food makers, but that most of it went to two firms. One of the primary companies was Diamond Pet Foods, which packs some of the Natural Balance product but doesn't use the concentrate in any Diamond-made foods, says Diamond spokesman Jim Fallon. The other major customer, which Thacher would not name, tested the rice protein and found no melamine, Thacher says. Natural Balance's rice protein concentrate is mixed with venison meal, Thacher says.

Natural Balance has received about 10 reports of sick pets, mostly dogs, since Thursday, Herrick says. It started testing the foods Friday, when it also asked retailers to pull the products. As in the Menu recall, some of the pets developed kidney failure, Natural says.

Natural Balance was co-founded in 1989 by actor Dick Van Patten, according to the company's website.

The Food and Drug Administration offered no comment Tuesday. It said Monday that Natural Balance had informed the agency of the issue. Thacher says it told the FDA on Sunday that it had detected melamine in some rice protein concentrate imported from China about a week ago. Wilbur-Ellis has ceased importing the ingredient from the Chinese firm, Binzhou Futian Biology Technology, Thacher says.

Along with Diamond, pet-food makers Nestlé Purina PetCare and Procter & Gamble said Tuesday that they don't use rice protein concentrate in their foods.

No other Natural Balance products include the ingredient, the company says.

Melamine is not allowed in human or pet food. It is an industrial chemical used in plastics worldwide and also sometimes as a fertilizer in Asia, the FDA says.

While melamine is not highly toxic, the FDA is investigating whether it, or something related to it, is responsible for pet deaths in the Menu recall.

Updated document.('4/17/2007 9:37 PM'
); 1h 38m ago
http://www.usatoday.com/money/industries/2007-04-17-premium-pet-food-recalled_N.htm
Tammy J.







48 HOUR EMERGENCY- 32 dogs released to be

EUTHANIZED-HELP
Tuesday, 2:31 PM
PLEASE CROSS POST
FALMOUTH KY 41041
32 dogs released by rescuer that is overwhelmed
ALL DOGS HAVE 48 HOURS OR WILL BE EUTHANIZED
CALL 859-486-7535 NUMBER ONLY GOOD FOR TODAY!
pendletonrescue@yahoo.com
CALL 859-654-3490 This is the ownes number




THIS DOGS HAVE TO BE OUT TODAY!
THERE IS NO TRANSPRTATION HELP YOU MUST BE ABLE TO PICK THEM UP TODAY IN FALMOUTH KY
In 1997 the
town of Falmouth was flooded and a local woman turned her garage into a
safe place for the dogs untill the owners could be found.
Now 10 years later people are still leaving dogs at her home in cages or tied to the mail box.
The town has now given her 48 hours to get these dogs out or they will be Euthanized.
ALL DOGS ARE FULLY VETTED, ALL AGES, AND BREEDS.
DONATIONS NEEDED ASAP
PLEASE SEND DONATIONS TO www.ky.petfinder.com TO HELP PAY FOR BOARDING UNTIL RESCUES CAN COME TO SAVE THESE DOGS

TO SIGN THIS, PLEASE USE THE LAST LINK AT THE BOTTOM OF THIS MESSAGE, THE OTHER LINKS ARE NOT WORKING.
PLEASE FORWARD THIS IMPORTANT MESSAGE TO EVERYBODY YOU KNOW.
WE MUST STOP THIS LOOPHOLE.
THANKS, RIA.


EM: Import prohibition for dog and cat fur Saturday, 4:30 PM



Menu Foods Boycott

'

Please sign this petition to Menu Foods and forward widely!

'

Hearing how the company so carelessly continued

testing on animals, some of whom died, broke my

heart. I very much want to do something about this.

I very much want to get the word out about this.

My own puppies, age 7 months and 10 months, were

sickened by so-called "food" produced by this

company. I am disgusted.

I come to you asking that you help spread my

message. So many people have signed my petition and

then e-mailed me saying they had no idea the company

was testing on animals. I feel that it's vital that

more people learn about this.

I am a realistic person. I understand that the

chances of me effecting this business are slim to

none. The purpose of my petition is simply to

educate people of what's going on... it's important

to get the word out.

Thanks,

Emily G

menufoods.boycott

PLEASE HELP STOP THE HORRIBLE GREYHOUND RACING, THE SPORT THAT KILLS AND CONSIDER SIGNING AND FORWARD TO EVERYBODY YOU KNOW.

THANKS SO MUCH, RIA.




http://www.thepetitionsite.com/takeaction/226603898

Click on first banner to go see full info on this matrix that will allow you to quickly see whether or not your state has felony statutes in place for cruelty to animals. Becka/Care2Connect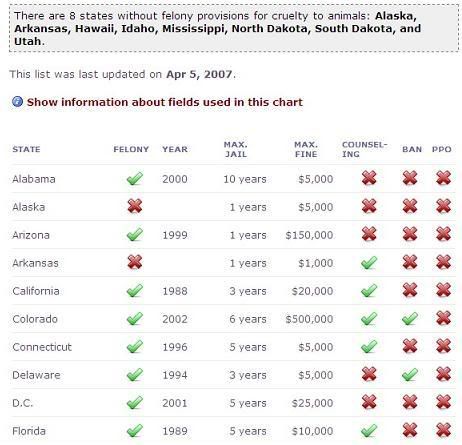 Folks,
Please note, crosspost and email all your friends the following article. We MUST get it to the front page. The FDA is proposing classifying supplements, vitamins and even FRUIT JUICE as DRUGS. This will not only deny people access to alternative care, but will result in a HUGE increase in ANIMAL EXPERIMENTS since the FDA requires it for all "drugs" The commenting time frame is only until April 30th, so we MUST act quickly!! I've sent alerts to all the animal welfare organizations I can think of, so hopefully, we can put a stop to this, but we need to move quickly!! Note it and move it forward!
http://www.care2.com/news/member/666430416/346699
http://www.newstarget.com/021789.html - article talking about it
http://www.accessdata.fda.gov/scripts/oc/dockets/comments/COMMENTSMain.CFM?EC_DOCUMENT_ID=1451&SUBTYP=CONTINUE&CID=&AGENCY=FDA - direct link to the comments page
We need to fight this thing immediately. The FDA is taking public comment until April 30th. If we don't act on this, places like Covance, the animal testing lab, will have even MORE business coming their way since, as you all know, the FDA demands that all drugs be animal tested!!!!!!!! Please include this as a reason not to permit this to happen as it will serve the purpose of indicating both your displeasure with the proposed changes AND indicate that you don't believe in animal testing.
Be sure to cite Docket No. 2006D-0480. Draft Guidance for Industry on Complementary and Alternative Medicine Products and Their Regulation by the Food and Drug Administration. Tell them you support open access to vitamins, herbs, and supplements, and you do not want CAM to be regulated by the FDA.
Thanks so much!!
Angus Reid seal hunt poll - vote YES
'

http://rm.angusreidforum.com/?cid=1162&rs=SHEnGg
50/50 right now
'
Please crosspost!
Dear Friends,
Please help Mary L. win this contest so she can donate the prize money to a deserately needy shelter in Turkey.
It's easy. Go to the contest site, using the link below. Once there right click on the page and "save it to your desktop." Then click on a 10 rating and vote for Ginza.
The doggie with the highest rating wins. You can click multiple times in a row and multiple times in a day.
Original Message:
-----------------
Hi Kate, thank you very much. Ginza is a shelter soul in Istanbul, Turkey The women who runs it is a retired nurse and the shelter is no-kill. They are still in need of food and donations for medical.
This is the shelter I donate mostly to. I'm not sure if you have seen the group. I have copied the name below for you.
The winnings of course will go towards the shelter. Naturally. Thank you and bless your kids hearts and you of course.
4-Paws Are Our Cause!
58 min ago (81 members) hidden from public viewing, requires invitation, english language
Prayers for my cat Galán

The group may be on a closed version because we had someone that tried to harm the kids. If you want a invite since I can't send one let me know and I'll get Ceci, to send you one.

Blessed be.

Mary & Becker

Original Message:

-----------------

Mary,

We'll do our part here. I have both the kids, Aiko & Zita voting, too!

Best way to do it is to tell your contacts to right click the page and save a shortcut to the desktop.

Also, tell us what you're going to do with the winnings!

Hugs.

Kate

Original Message:

-----------------

we did sneak Ginza in, and she is in need of your "10" votes! Please vote for Ginza everyday at:

http://www.animalattraction.com/PhotoContest.asp?PhotoID=9039
WE NEED RESCUE GROUPS/FOSTERS/ADOPTIONS RIGHT NOW. THEY HAVE TO BE OUT BY APRIL 14TH. THEY ABSOLUTELY WILL DIE IF THEY DO NOT GET OUT THERE. Go to http://www.petfinder.com/shelters/VA312.html and click on adoptable pets. Lee Animal League is trying real hard to get these wonderful aniamls outta there

HERE THEY ARE:

OrganizationDominant breedAgeM/FNamePicFeaturesLee Animal League
Pennington Gap, VA Rottweiler Baby pup2
Lee Animal League
Pennington Gap, VA Black Labrador Retriever Adult M JJ
Lee Animal League
Pennington Gap, VA Rottweiler Baby M Toby
Lee Animal League
Pennington Gap, VA Rottweiler,Black Labrador Retriever Baby more of Jim's pups
Lee Animal League
Pennington Gap, VA Yellow Labrador Retriever Adult M Jake
Lee Animal League
Pennington Gap, VA Rottweiler,Yellow Labrador Retriever Young more pups from Jim
Lee Animal League
Pennington Gap, VA Wirehaired Terrier Young wirehaired terrier
Lee Animal League
Pennington Gap, VA German Shepherd Dog Baby F Petra
Lee Animal League
Pennington Gap, VA German Shepherd Dog Baby F Gretchen
Lee Animal League
Pennington Gap, VA German Shepherd Dog,Feist Baby F Hazel
Lee Animal League
Pennington Gap, VA Tibetan Spaniel Adult F Sweetie
Lee Animal League
Pennington Gap, VA Australian Cattle Dog/Blue Heeler,English Setter Adult M Jackson
Lee Animal League
Pennington Gap, VA English Setter Adult F Patches
Lee Animal League
Pennington Gap, VA Lhasa Apso Young F Ariel
Lee Animal League
Pennington Gap, VA Lhasa Apso Adult M Tiki
Lee Animal League
Pennington Gap, VA English Setter,Shepherd Adult F #setter mix
Lee Animal League
Pennington Gap, VA Golden Retriever Baby #retriever mixes
Lee Animal League
Pennington Gap, VA Hound,Beagle Baby M Ikey Joe
Lee Animal League
Pennington Gap, VA Chihuahua Adult F little Girl
Lee Animal League
Pennington Gap, VA Chihuahua Adult F Oreo
Lee Animal League
Pennington Gap, VA Beagle Young F Cindy
Lee Animal League
Pennington Gap, VA Beagle Young M Markus
Lee Animal League
Pennington Gap, VA Australian Cattle Dog/Blue Heeler Baby F Blue Heeler
Lee Animal League
Pennington Gap, VA Yellow Labrador Retriever,Shepherd Adult F Sandy
Lee Animal League
Pennington Gap, VA Collie,Shepherd Baby F Little Bit
OrganizationDominant breedAgeM/FNamePicFeaturesLee Animal League
Pennington Gap, VA Husky Young M Casey
Lee Animal League
Pennington Gap, VA Boxer Adult F #boxer mom and pup
Lee Animal League
Pennington Gap, VA Hound Adult #hound mix
Lee Animal League
Pennington Gap, VA Labrador Retriever Young F gypsy
Lee Animal League
Pennington Gap, VA Labrador Retriever Young F Kate
Lee Animal League
Pennington Gap, VA Beagle Adult F KIM
Lee Animal League
Pennington Gap, VA Labrador Retriever,Cocker Spaniel Adult M # brothers
Lee Animal League
Pennington Gap, VA Terrier Adult F LITTLE GIRL AND P
Lee Animal League
Pennington Gap, VA Schnauzer Young Jims SCHAUZER PUP
Lee Animal League
Pennington Gap, VA Labrador Retriever Young Jims Lab mix pups
Lee Animal League
Pennington Gap, VA Labrador Retriever,Shepherd Baby Jims lab mix pups
Lee Animal League
Pennington Gap, VA Tibetan Spaniel Adult F Candy
Lee Animal League
Pennington Gap, VA Boxer Baby F Jo
Lee Animal League
Pennington Gap, VA Boxer Baby M Mo

Posted: Sunday April 8, 2007, 8:39 am
Visibility: Everyone


Good Morning Kindred Souls
Why are we getting wheat from China?
LOL Dee
ANIMAL / NATURE RELATED PETITIONS
Feb 21, 2007
| | |
| --- | --- |
| Focus: | Animal Welfare |
| Action Request: | Donation |
| Location: | Missouri, United States |
Hi freinds and family, It is Valerie. Today I am asking you to please join me in honor of my wonderful Aunt whom just recently passed and who was an avid supporter of spaying and neutering animals. You can help by supporting Spay Day USA, a national campaign to promote spaying or neutering as a simple, effective, and humane solution to the tragedy of pet homelessness.
All funds raised will benefit local spay/neuter programs in the community of my choice and The HSUS's Rural Area Veterinary Services (RAV
program, which provides free spay/neuter surgeries for pets in poverty-stricken or geographically isolated locations.

Every $75 I raise will spay or neuter a cat or dog. I hope you will join me in this life-saving effort. Just click on the "Support Me" link to make a contribution. Every dollar counts!

The website is

https://secure.peerevent.org/registrant/PersonalPage.aspx?EID=3184&RegistrationID=55872

For more information, visit www.SpayDayUSA.org.

Thank you so very much for your support!
Love and Light,
Valerie

Jan 22, 2007
| | |
| --- | --- |
| Focus: | Animal Welfare |
| Action Request: | Think About |
| Location: | United States |
Hi everyone, as much of an animal lover my cousin is, she does not have the means to care for her cat anymore. Please help if you can, cross-post, and forward. Thanks so much.
Valerie
From Sarah (the owner): Ok here is what I know about the cat. We got her in 2000-2001 from a shelter in Texas. The guessed her to be 4-6 then so that would make her 10-12 now. She is spayed. She was a wonderful cat when we brought her home but within 2-3 weeks she started having problems. Come to find out she has a food allergy that they had been treating with depo shots and she had been quarantined for 6 months. We did not know this when we took her home but by this time we were attached so we tried to deal with it. Several vets have suggested different food that contain meats that she has never been exposed to before such as rabbit or kangaroo but here is the problem they are extremely expensive and you have to make sure she doesn't eat anything else. This Cat is a scavenger! She will eat anything if you leave it out on the counter. I have seen her eat corn, bread, dog food, chips. We can't seem to keep her out of other things and we can't afford to keep her in these expensive, specialty food. We have done the best we could do and kept her on one kind of food and get her a depo shot every 4-6 weeks. Our second problem is she is refusing to use the cat box. She poops next to the box and will pee on a rug, a pile of cloths or anything that looks good at the time. I love her but she is destroying my house and she has got to go. She is really a loving cat and she tolerates my kids, my other cat and my dog. Do you think you can help me find someplace else for her? It is so cold outside but I am to the point that I am going to have to put her out or put her down. I have a new baby and can't have my house smelling like pee. Please help if you can
Sarah

If you can help please contact me (Valerie) at ravenlei@kc.rr.com
or just send me a message and I can get you in contact with Sarah about this cat.
Thank you so much.
Jan 5, 2007
| | |
| --- | --- |
| Focus: | Animal Welfare |
| Action Request: | Various |
| Location: | United States |
PETITION FOR USA AND CANADA ONLY.
http://www.api4animals.org/petitions/002_circus.php

Help stop the next wolf massacre
http://action.defenders.org/saverockiemountainwolves

OPRAH DO A SHOW ON PETS, SHELTERS, PUPPY MILLS ETC.


Help Spanish Dogs
_______________________________________________

Canine brutally stabbed needs your help to bring justice

___________________________________________

US petition to release aged research chimps

The United States is the biggest user of chimpanzees in research - an estimated 1,300. Many have been in research for decades. The oldest known is Wenka - she is 52. After nearly 50 years, it's time for her and the other elders to retire so they can spend their remaining days in peace and comfort.

More on this site: http://releasetheelders.blogspot.com/

Please sign - 50 years in a laboratory - unimaginable!

______________________________________________

_______________________________________________________

Please help save Duke - Duke has been waiting at the shelter for over 2 years to hear his court decided fate and the verdict has come back with an order of destruction. Ironically, this dog has been waiting for a death sentence while he is not guilty of the task. Duke was wrongfully identified as a dog that allegedly attacked a neighbors dog. The neighbors dog was bit, not killed. I am collecting signatures as a sign of support for my dog in hopes of getting his case reopened.

__________________________________________________
Please Do Not Build on the Redwood Acres Horsefarm Property
__________________________________________________

Please help!!!
Please be advised that Huntington Beach Humane Society (the 'humane' part is questionable) is closing down for good on January 8 and ALL DOGS MUST BE ADOPTED OR THEY WILL BE EUTHANIZED. The shelter is not publicizing this very well (probably for fear of the bad publicity) so we need to spread the word. Please share this information with other animal lovers in the hopes that more animals will be adopted from there. If nothing else, maybe your funds can help move them to another humane facility....like in Irvine or San Clemente. The shelter is 'selling' the dogs for 50% off to move them out.

PLEASE SAVE THE LIFE OF A PRECIOUS ANIMAL.....THERE'S ONLY 7 DAYS LEFT. Even if you can't have one of your own, just forward this on to everyone you know and have them forward it on....you NEVER know who winds up wanting and getting a dog! I've been surprised numerous times by people who I never thought in a million years would get an animal!

If you feel moved, just get in the car and go down there and look - anybody you know need a belated Xmas gift? You just might find your (4 legged) true love there!!!

21632 Newland Street Huntington Beach, CA 92646
Phone: 714-536-8480
Fax: 714-536-4541
http://www.ochumanesociety.com

Please pass this on! I know some of you have extensive mailing lists.....no guilt required....just action! Thank you in their behalf. Who's gonna watch out for them if we don't?



PLEASE HELP JULIA AT ROWAN ACO QUIT LEAVING HER ONLY 8:21 AM



Dear Friends of the Animals -

Our good friend Julia Sharp desperately needs our help for the animals at
the Rowan County Shelter in Morehead, Kentucky. The ACO quit and Julia, a
volunteer, along with others is attempting to keep the shelter operating.

As always, they are over full with wonderful dogs and cats. Anything any
rescue can to do help will be tremendously appreciated by Julia and
especially our Animal FRIENDS.

If you can help Julia with anything at all, please contact her right away
at:
Julia Sharp
Morehead, Kentucky
(606) 207-2795
(606) 264-0047

Let's roll up our sleeves and open up our hearts and get busy helping save
our FRIEND in the Rowan County Shelter.

God bless the animals and the people who love and care for them.

Judy Bishop
Topeka Animal Talk web group and
Friends of the Animals in Kansas
Topeka, Kansas
(785) 862-0234 home
(785) 633-7002 cell
jbishop_1@msn.com

Never doubt that a small group of thoughtful, committed citizens can change
the world. Indeed, it's the only thing that ever has." Margaret Mead

*****************
----Original Message Follows----
From: Quaslor@aol.com
Subject: [topekaanimaltalk] ACO Gone - Rowan Co. Shelter Needs Rescues ASAP
Date: Wed, 3 Jan 2007 15:46:39 EST

Rescuers,

Julia Sharp with S.T.A.R in Rowan Co. (Morehead, KY) just left a message
with me. The ACO is gone and Julia and the star group are at the shelter
now.

They needs rescues ASAP to come pull the dogs! Julia, Sue and the others are
cleaning the shelter and trying to get things in order, they desperately
need shelters to come get the dogs.

Please contact them and let's get animals out of there! If she doesn't
answer the phone, leave a message identifying yourself and a return phone
number.

Julia Sharp: 606-207-2795
606-264-0047
-------------------------------------
Cheryl Higdon
United Rescues of Kentucky
http://tech.groups.yahoo.com/group/UR_KY/
True Heart MinPin Rescue
Doberman Rescue
EC OTRA Moderator

~To ignore abuse is as bad as doing it. YOU can do something to stop animal
cruelty!~




Wendy A.


Wednesday, 7:17 PM


Many of you know the fight Julia and many others has put up against the judge in Rowan County. She is now forced into the position of caring for all of the animals there. Please show your support for Julia and her fight by sending funds and most importantly getting the animals out of there. We all know how quickly more animals will come in on top of what is already there. Please




Dear Sir/Madame:


The tarnished image of Greece around the world and its practice of brutality towards its companion and farmed animals is one which should conjure up shame in the hearts of every compassionate Greek.


The suspicious, illegal pet ware house fire of October 24th that burned alive over 1500 animals (companion animals, monkeys and all types of exotics) in Vari, near Athens is clearly an indication of the apathy, absolute stupidity and the aberrant direction of state veterinarian Chryssa Dile of the Ministry of Agriculture and the Ministry's inability and lack of desire to function on behalf of the animals under its jurisdiction. To compound the criminally negligent activities or lack of activities of the Ministry of Agriculture, government officials condone and support the rantings and destructive actions of a small group pf people led by Popi Baka and Ioanna Garagouni who are hell bent on destroying any semblance of animal welfare in Greece.


We plead with the press to address animal related issues with unbiased, intelligent reportage and a modicum of compassion. Carry the torch for these innocent victims who are unable to speak or control their destinies. This disheartening incident is yet more proof that the animals in Greece exist in a virtual hell. All of the above should be recorded for history as just another of Greece's failings.


Sincerely


Greek Press and Officials


online@ert.gr (@ert.gr)
ape@ana.gr (@ana.gr)
sseva@dolnet.gr (@dolnet.gr)

ethnos@pegasus.gr (@pegasus.gr)
webmaster@kathimerini.gr (@kathimerini.gr)
tanea@dol.gr (@dol.gr)
tovima@dol.gr (@dol.gr)
info@mad.gr (@mad.gr)
info@alter.gr (@alter.gr)
elef@enet.gr (@enet.gr)
Editor@ekathimerini.gr (@ekathimerini.gr)
espresso@espressonews.gr (@espressonews.gr)
an-community@dolnet.gr (@dolnet.gr)
info@mintour.g (@mintour.g)
info@greekpressny.org (@greekpressny.org)
info@alter.gr (@alter.gr)
info@Ypai.gr (@Ypai.gr)
popibaka@hotmail.com (@hotmail.com)
synomospondia@mailbox.gr (@mailbox.gr)



MARIA DAINES, A VOICE FOR ANIMALS
'Music United For Animals' is a collection of songs written to speak up for animals in distress and each song supports the end of cruelty.Many animal welfare/rights subjects are explored in the 13 track cd, which includes the ballad 'I am the owner of this coat' written to make people aware of the horror of the fur trade. 'They Wanna Kill (Have mercy on the ice) reminds listeners of seal extermination annually, while the true story of Fozzie Bear, a puppy that died in his rescuers arms at only 17 weeks old, tells the tale of puppy mills. Factory farming is exposed in the rock song 'Your meat is our murder' and other topics of animal cruelty include fighting with dogs, vivisection, veal trade, bear bile farming and the International anthem 'Rise Up - Make this moment Last' written for Marijo Gillis of WAG, New York is a call for everyone to try to make a difference.
All proceeds from this cd will support rescue shelters.
http://www.maria-daines.com


CROSS POST FREELY!!!





12/26 ACTION ALERT!!!





INTERNATIONAL CALL-IN/EMAIL EVENT TO URGE RELEASE OF
FORMER UCONN MONKEY



Folks,

We need your help!

Our organization's (UConn Animal Rights Collective) efforts over the past year, with support from a plethora or national and international advocacy groups, were instrumental in the recent termination of the nonhuman primate research program at UCHC that culminated with the unfortunate transfer of a rhesus macaque named Mowgli to the University of Mississippi Medical Center. The primary investigator on the protocol at the UConn Health Center, Dr. David Waitzman, received extensive sanctioning from the UCHC IACUC, USDA, NIH/OLAW and HHS for repeated, significant violations of Animal Welfare Act and PHS policy.

By building alliances with a wide array of activists, advocates, medical professionals and researchers across the country as well the proprietors of several prominent animal sanctuaries, we have been able to secure consulting services, veterinary care, and funding to transport and provide a safe sanctuary home for Mowgli.

Mowgli has experienced insurmountable grief and trauma. All three of his nonhuman primate companions at UCHC, the only persons like himself that he knows, have died or been euthanized while he, for years, watched and waited for his turn to come. Given that Mowgli has not yet been subjected to any invasive procedures, this is the perfect opportunity to provide him with the life he undoubtedly deserves.

The pieces are all in place to provide a safe haven for Mowgli and we need your help to insure that the project comes to fruition.

Please contact the administrators at the University of Mississippi Medical Center listed below via email and telephone and urge them, given the circumstances listed above, to agree to release Mowgli and participate with us in the relocation process.

(Phone calls are best, but emails are great as well!--sample letter below)

Be polite!!

Primary contact info:
Dr. John Hall, Associate Vice Chancellor for Research, UMiss Med Ctr.
jehall@physiology.umsmed.edu
601-815-5000

Additional contact info:
Dr. Susan Warren- Chair, Institutional Animal Care and Use Committee
swarren@anatomy.umsmed.edu
601-984-1671

Ms. Jean Garrett- Asst. Director, Institutional Animal Care and Use Committee
jgarrett@dor.umsmed.edu
601-815-5006

Dr. Andrew Grady-- Director, Lab Animal Facilities
agrady@animal.umsmed.edu
601-984-1385

Dr. Linda Fulton-- Asst. Director, Lab Animal Facilities
lfulton@animal.umsmed.edu
601-984-1385

All email addresses:
lfulton@animal.umsmed.edu, jehall@physiology.umsmed.edu, swarren@anatomy.umsmed.edu, jgarrett@dor.umsmed.edu, agrady@animal.umsmed.edu

SAMPLE LETTER:

Dear Dr. Hall,

Thank you for your time. In light of the recent misconduct uncovered at the University of Connecticut Health Center and the subsequent transfer of a young macaque named Mowgli to your facility, as a taxpayer and person who abhors cruelty, I am requesting that plans be made for Mowgli to be relocated to an accredited sanctuary immediately.

This monkey has experienced insurmountable grief and trauma. All three of his nonhuman primate companions at UCHC, the only persons like himself that he knows, have died or been euthanized while he, for years, watched and waited for his turn to come. Given that Mowgli has not yet been subjected to any invasive procedures, this is the perfect opportunity to provide him with the life he undoubtedly deserves.

I look forward to a positive resolution to this matter.

Sincerely,

Name
City, State
Country



-------------------------------------------------
www.uchckillsmonkeys.com
------------------------------------------
W.A.R. (WIN ANIMAL RIGHT is an independent non-profit organization not affiliated or associated with SHAC, SHAC USA or any other group or organization and does not conduct or incite any illegal activity. The above information is not meant to incite or request any illegal actions or illegal activities of any kind. If you have any questions about the legality of any act, we encourage everyone receiving this (or the) action alert(s) to check your local laws and ordinances before proceeding to do anything.
comments
(1) |
discussion
() |
permalink
|
send green star
|
flag as inappropriate
Jan 1, 2007
| | |
| --- | --- |
| Focus: | Animal Welfare |
| Action Request: | Read |
| Location: | United States |
THIS IS THE HORRIBLE TRUTH BEHIND THE DRUG PREMARIN.
WHO NEEDS THIS DRUG, WE DON'T NEED THIS TO GET US THRU MENOPAUSE.
THIS ANIMAL CRUELTY HAS TO STOP.
PLEASE READ AND FORWARD, THANKS SO MUCH, RIA S.


ANIMAL CRUELTY.
HORSES SUFFER BECAUSE OF THE DRUG PREMARIN.



Pregnant mares used for Premarin production are confined to narrow tie stalls where they cannot turn or lie down for weeks at a time without release for exercise. This chronic lack of exercise can cause severe swelling of the legs, breakdown of the hoof structure and sets the stage for colic. They are harnessed to urine collection bags six months a year. The mares may be kept in pregnant for production for 8 to 9 years. At the end of their use, they are sent to slaughter.
Dec 30, 2006
Two Boxes
(I hope I get this back. Please keep it going. This has been going since
Dec. 1, 2000
~ please send it on.)

God's Boxes


I have in my hands two boxes,
Which God gave me to hold.
He said, "Put all your sorrows in the black box,
And all your joys in the gold."

I heeded His words, and in the two boxes,
Both my joys and sorrows I stored,
But though the gold became heavier each day,
The black was as light as before.

With curiosity, I opened the black,
I wanted to find out why,
And I saw, in the base of the box, a hole,
Which my sorrows had fallen out by.

I showed the hole to God, and mused,
"I wonder where my sorrows could be!"
He smiled a gentle smile and said,
"My child, they're all here with me.."

I asked God, why He gave me the boxes,
Why the gold and the black with the hole?
"My child, the gold is for you to count your blessings,
The black is for you to let go."

We should consider all of our friends a blessing.
Send this to a friend today just to let them know you
are thinking of them and that they are a joy in your life.

A ball is a circle, no beginning, no end.
It keeps us together like our Circle of Friends.
But the treasure inside for you to see,
Is the treasure of friendship you've granted to me.

Today I pass the friendship ball to you.
comments
(1) |
discussion
() |
permalink
|
send green star
|
flag as inappropriate
Dec 30, 2006
| | |
| --- | --- |
| Focus: | Animal Welfare |
| Action Request: | Various |
| Location: | United States |
URGENT!: Poor Dogs in MEXICO - Protest! Thursday, 3:23 PM


'

Please take some time to send the sample letter below (in Spanish) or write your own based on the pictures you will see here: http://es.geocities.com/sucesos_animalistas/Teotihuacan-Mexico-CRUELDAD-ANIMAL.htm to the authorities in Mexico.

This horrible situation for the animals in that country must be stopped.

Forward widely.

Thank you!

'

From: MENTAYFLOR
Sent: Saturday, December 23, 2006 12:50 PM
Subject: URGENT!: POOR DOGS IN MEXICO (TEOTHIHUACAN), PLEASE SEND A PROTEST LETTER
Importance: High

Dear friends, please have a look at these pictures:

http://es.geocities.com/sucesos_animalistas/Teotihuacan-Mexico-CRUELDAD-ANIMAL.htm

This happens in México, the poor dogs are sent to that cruel jail, without water, or food, pregnant dogs, puppies, a lot of that doggies will die before they kill them. Let's write to Mexican authorities. Thanks a lot!

At the bottom you have a letter (please see below), but of course, you can write in our own language an anti-tourist mail or add an anti-tourist sentence.
[
send green star]
Monika V.
Thursday, 3:24 PM


CARTA MODELO PARA ENVIAR (SAMPLE LETTER)

Por favor, a la atención del Lic. Enrique Peña Nieto, gobernador del Estado de México.
A través de internet se están difundiendo imágenes que fueron captadas el día miércoles 21 de Noviembre del 2006 en San Juan Teotihuacan, Edo. de México, y muestran la barbarie y atrocidades que cometen las autoridades de dicho municipio en contra de los animales callejeros, confinándolos en hacinamiento en pequeñas e insalubres jaulas en grupos de hasta más de 30 perros por cada una.

Expuestos a la intemperie, sin agua, sin comida y sin importar tamaño, edades ni sexos, se acrecenta el traumatismo y violencia para los más pequeños y débiles, entre ellos cachorros y hembras con crías, muchos de los cuales mueren antes de ser ejecutados por los infames verdugos en dichas "instalaciones".


¿Esto es lo que prometen las autoridades al ofrecer un trato digno y muerte sin dolor a los animales que recogen de las calles?

Lamentablemente, Violar la ley de defensa de los animales parece ser una costumbre en la mayoría de los municipios del Estado de México y desafortunadamente, en muchos estados y municipios de la república.


Deseamos apostar "Por un gobierno mexicano que respete la vida"

"Por un gobierno que establezca campañas gratuitas de esterilización masivas y no las irracionales matanzas de animales indefensos"

Donde haya una genuina voluntad para resolver la situación de los animales abandonados el único camino a seguir será el de las campañas constantes de esterilizaciones masivas tanto de los animales de la calle como los de los refugios y los hogares. Esta solución inteligente es ética, económica y efectiva y mejora la imagen de los municipios a la par que les resulta menos oneroso en un corto período de tiempo. Está comprobado que entre 3 y 5 años desaparecen los animales de las calles si se llevan a cabo campañas de
esterilizaciones masivas bien orquestadas donde se coordinen los municipios, las sociedades de protección, los colegios veterinarios, los medios de comunicación, patrocinadores privados y el público en general.

"La falta de vacunación y esterilización de los animales de compañía y su reproducción sin control, se debe a la tenencia irresponsable por parte de sus propietarios, a su abandono en la vía pública y a la falta de control en el comercio animal por parte de las autoridades".

"La matanza de animales solamente estaría atacando las consecuencias
del problema y mientras las causas no se controlen o eliminen, el problema subsistirá".

'

[
send green star]
Monika V.
Thursday, 3:24 PM
gob@gubernatura.gem.gob.mx

;

quejasoic@sectur.gob.mx

;

gemsgg@mail.edomex.gob.mx;ordiales@irt.com.mx;
gemse@mail.edomex.gob.mx

;

enemera@prodigy.net.mx

;

gob@gem.gob.mx

;

amr@gem.uaemex.mx;
guortiz@mail.ssa.gob.mx

;

samano@gubernatura.gem.gob.mx;


Blog: RIVERBEND ON IRAQ - 29TH DECEMBER, 2006 READ WHY RIVERBEND SAYS:

Just because Americans die in smaller numbers, it doesn't make them more significant, does it?


I've just been doing some more research on fur farms etc and came accross Pamela Andersons anti-fur campaign video and just wanted to spread it around. (You need quicktime to watch it.)

http://www.furisdead.com/feat-pam.asp


It is a heart breaker i warn you now!

I'm sure that many of you have signed this, but incase you haven't, here's heather mills mcartneys petition for cat and dog fur:

http://www.heathermillsmccartney.com/petition.php

And here's PETA'S pledge to go fur free:

http://www.furisdead.com/pledge-furfree.asp

Have a great new year everybody!





Serbia- Fire your weapon for those who can't !

'

Letter Campaign from WAG (Welfare for Animals Global)

'

Send your protest letter NOW!

'




PS: You can choose between 2 letters or send both:

"Protest Letter" or/and "Alternative Letter"

13 YEAR OLD POODLE DROPPED OFF AT PIKE SHELTER TO BE EUTH'D HELP

9:00 AM

Pike County Animal Shelter

Pikeville, KY

606-432-6293

pcas2006@yahoo.com

Poodle
Size: Small
Age: Senior
Gender: Male
ID:
Notes: Hi, My name is Fluffy. I was brought into the shelter as a owner give-up. I am 13 years of age. My owners said I could no long hold my bladder, so they brought me here. I am so lonesome here, does anyone want to help an old fellow that just wants to live out the rest of my days happy with someone that understands my problem. If you are the ones, please contact the shelter and tell them you want Fluffy. The shelter is so crowded at this time, and my time is short.

This pet has been altered.

ONLY 396 SIGNATURES, DEADLINE 1-2-2007
End the use of Sow Stalls
PLEASE everyone! SIGN this petition...forward this to

your contacts, friends, and family. We only have 2 weeks to get the

targeted 1000 signatures. Please help us! All we need is

signatures!


Prosecute Shannon devon Wright
http://www.thepetitionsite.com/takeaction/132057411
Please look at these dogs:
http://search.petfinder.com/shelterSearch/shelterSearch.cgi?animal=&breed=&age=&size=&specialNeeds=&declawedPets=&children=&status=&id=&internal=&contact=&name=&shelterid=SC181&sort=&preview=1
Adoption fees are all being waived. Let's find homes for these sweet pups!!
And pass it on, thanks!
for the animals,
sheri
In His Hands,
sheri & the boys

>
>Jill Walker wrote:
>
> Date: Fri, 22 Dec 2006 21:13:24 -0800 (PST)
> From: Jill Walker
> Subject: Need Help
> To: Cullen72401@ yahoo.com
>
> Hi there. My name is Jill Walker and I operate Rainbow Bridge Animal Rescue in Alcolu, SC.
http://www.petfinder.com/shelters/SC181.html
I am active duty Air Force and I have been running this rescue off of my military pay for six years. I've run out of money and am in danger of losing my home, so I would like to ask you if you can take in a dog or two for me . I can provide the doghouse(s), a kennel, and will make sure they are current on shots. Any help you can give me would be appreciated.



Canine brutally stabbed needs your help to bring justice
Deadly Chicken Soup!
A 10-year-old boy died while three of his siblings, his mother and a neighbour's daughter have been warded for food poisoning believed to be from chicken soup they had for dinner on Saturday.
Original Message:
-----------------
FDA: Cloned Livestock Is Safe to Eat?
Cloned dinner? Is there no end to animal exploitation? Watch the ethical concerns, the safety concerns and the 'yuck' factor.
Important animal testing article...please read, note it and get the word out to all who come to Care2!!!
Thanks a bunch!!! hugs...mary
Happy Holidays, friends!

I'd like you to please note this story and pass it along to your friends. I'm trying to help educate the poor schmucks out there who think animal testing has a place in the world. Thanks much!!

Rebecca

http://www.care2.com/news/member/682651244/257132
Please spread the word ! Thanks
______________________________________________

CALLING ALL ACTIVISTS: WE NEED YOU! ANTI FUR PROTEST NJ
Caring Activists Against Fur
Event Just Added
This Saturday, December 30th

Help us eduate thousands of motorists and potential shoppers about the
cruelty of the fur trade. If they don't buy them, they won't kill them.
Help us spread the word.
Where
:
Steven Corn Furs Inc - 358 Rte. 17 North, Paramus,NJ
When:
1:00 sharp - 3:00 pm

Sponsor: Caring Activists Against Fur
www.caafgroup.com
______________________________________________
Dec 28, 2006
Esther Benton spent her entire life in Kansas. She was married to a man she was maddly inlove with and had two wonderful children. Not even a year after her husband passed of cancer, she herself was diagnosed with cancer. It had entered her brain and blood. Within weeks of finding out about her illness, Hospice was called in, and she held her last party. She invited everyone she knew and loved, relationships from years ago and on. Everybody loved Esther. She had such a calmness, and loving compassionate heart. You couldn't help but love her. She passed away recently, leaving many people grief stricken. But for those of us who know and beleive in our hearts, she is still with us in spirit.
A couple years before her passing, she told her sister Myrtle, that when she died, she wanted a dog neutered in her name. Her family did as she wished, by having all donations sent to a no-kill shelter in Kansas City.
Esther Benton-Wing Will always be one of the finest Wing Girls.
May we be brought together by her kindness and love.
| | |
| --- | --- |
| | Content and comments expressed here are the opinions of Care2 users and not necessarily that of Care2.com or its affiliates. |
SHARES FROM VALERIE'S NETWORK