Sep 28, 2009
| | |
| --- | --- |
| Focus: | Animal Welfare |
| Action Request: | Flyer |
| Location: | United States |

Missy ~ Small Chow-Mix, 46 lbs
Hi, we're Missy and Precious. Our elderly human was grief-stricken to part with us-- he is terminally ill and could no longer keep us. Can you find room in your home and in your heart to add us to your life?
We get along well with other dogs, cats, and children.
We especially make perfect companions for seniors.
We're both 7 years old, fully vetted and healthy. Everyone says we're the sweetest, most docile dogs they've ever come across. We're house-broken, crate-trained, non-destructive, non-aggressive... we're very good girls!

Our new home can be an apartment, condo, or a house with or without a yard. A couple of walks a day is all we need, we love to snuggle by your side and bring joy to your life. We have so much love to give. Won't you be our best friend? YOU would mean the world to us.
Contact: nadia.donato@yahoo.com

Precious- Cocker Spaniel, 32 lbs.
Missy and Precious were surrendered by their elderly owner who was terminally ill, helpless, and had no place to take them but to a shelter in SC. He cried like a baby when he handed them over. The shelter folks saw how special these 2 girls are and pleaded for them to be saved from the heart stick! When I had them rescued and vetted this summer, they were diagnosed to be heart worm positive (apparently common in the south). They're currently in a foster home in NC and after a couple of months of treatment, they're now ready for their forever home. The foster can no longer keep them as she will be going on a trip. If you can't foster or adopt, please spread the word. Transport can be arranged.
If I didn't have 2 dogs of my own in a NYC apartment, I'll take them both in a heartbeat! If you can't adopt or foster, please spread the word about Missy and Precious. You'll never know who will be their destined perfect match!

Contact: nadia.donato@yahoo.com

For more pictures click below:

Click Here for their rescue pics at the Shelter

Click Here for their after rescue shots
Jul 25, 2009
Please click below link to Donate to Precious & Missy's Heartworm Treatment:

http://www.fundable.com/groupactions/groupaction.2009-08-02.9636508686


Click the album above to view pictures of their rescue. There are also before and after shots of the girls (scroll below) which I post as I receive them. For those not familiar with this case, background is here: http://www.care2.com/c2c/share/detail/1197760


*** 8/09/09 UPDATE- The Heartworm Ward Pics & Mandy on Her Way Home!***

Tomorrow, August 10th is my birthday. It would really make my day if even just half of my friends on Care2 and Facebook contributed $1 for these girls' treatment. Please donate:

http://www.fundable.com/groupactions/groupaction.2009-08-02.9636508686

Mandy is finally on the road to meet her forever mom, Linda C. in Mass. She decided to adopt Mandy instead of fostering. Thanks, Linda! And, thanks to everyone who volunteered to drive Mandy and other doggies from death to their second chance at life. From all the atrocious stories of what humans do, knowing there were at least 40 people involved in helping get these innocent babies to safety this weekend gives me hope for humanity. THANK YOU ALL!


Mandy on her way to her new home and a great new life!
)" width="140" height="105" />


As for our seniors, Missy and Precious, they are recuperating well under Jackie's care in NC. After researching various boarding facilities both in NC and NY, I've come to a conclusion that the only option is fostering or adoption. In addition to the outrageous expense, there are no facilities adequate enough to care for their next 35 days of recuperation. Therefore, I'm adjusting the fundable target amount and deducting the boarding facility expense for their next treatment stage. Please continue to cross-post them for foster or adoption. Jackie was kind enough to write an info on the girls to help when it comes time to placing them. I will create a separate ad for them which I'll include on the next update. Following is Jackie's note and pics from her HW ward.




Sent:

Saturday, August 8, 2009 9:40:23 AM


Subject:

Pictures of the Girls

Nadia,

Here are pictures of your girls. I have also included the heartworm ward...lol. Can you see their lamp and radio?
They aren't coughing at all. Missy likes to tip over the food bowl...then drag it into her crate...lol.
Precious actually picks it up and hides it behind her crate. She's the one next to the radio.
Missy goes outside and pees immediately, but is much more picky about where she poops.
Precious heads out, pees and poops, then wants to go back in the house. There's food in there!
I'm glad you're sharing them with me. They're sweet dogs.
I'm sure they'll appreciate anything you give them. I've given them little rawhide bones to keep them occupied.

Jackie

Jackie's HW Ward- there are 2 other HW+ doggies rooming with Missy and Precious.

" width="140" height="105" />
" width="140" height="105" />


No playing allowed for a couple of months during treatment.



Precious still living up to her name.

" width="140" height="105" />

"Pee" is for Precious.



Click

HERE

for the album (enlarged pics)

Please continue to cross-post Missy and Precious for their next loving and forever home. They truly deserve a second chance. Thank you! <3


*** 8/02/09 UPDATE- Note from NC Foster ***
While Mandy is still with Alisa in Cedar Farms awaiting transport to MA, Missy and Precious are with Jackie in Greensboro for their 35 day recuperation period for their first stage of heartworm treatment. Jackie is a rescuer and caring for 2 other HW+ rescue dogs. Her home is like a doggy hospital now. lol I've been asked since the last update requesting that the sisters remain together. Please note that I'm with you on this and have frequently mentioned that the sisters are NEVER to be separated. During treatment, they're both in the same home, same room, they're in large crates next to each other. They're both let out together and spend time together outside their crates for short walks. Here's a note from Jackie over the weekend:



Sent:

Saturday, August 1, 2009 9:17:27 PM


Subject:

Re: Hi jackie!

Nadia,

They are soooooo sweet. They the least trouble.

When it's time to come out of the crate, first thing each one does in run to the water bowl. The medication makes them very thirsty. After that it's a trip to the outside and potty time. Missy and Precious both go outside immediately and potty. We head back in and there's half a bowl of water gone in an instant...lol. They are both eating very well, and seem to be adjusting to being in the crate. They are in HUGE crates (Mastiff size) so they can stretch out. Actually, Precious looks like a puppy in there...lol.

These are such wonderful dogs. Sweet, gentle. I'm so glad you stepped in and rescued them. They are quiet, cat friendly...actually ignore them, and warm loving dogs. It is my pleasure to help them get through this HW treatment. Thank you for sharing them with me.

Jackie

(Thank you, Jackie for opening your home and heart for these precious angels. As the lady at the shelter said, "their lives are worth saving." Thanks for caring for them during this ordeal.)


*** 8/01/09 UPDATE- The good and bad news + after pics***



The Good News:


Mandy has been fully vetted, spayed and all blood work results are clean. She now has a health certificate and awaiting transport to MA to be with her foster mom, Jennifer C. If you know any transporters departing from NC to MA (or close to MA) please let me know. Mandy's certificate is only good for 10 days (issue date: 8/27/09).



The Bad News:


Please click below link to Donate:
HELP SAVE CHOW & COCKER SENIORS- HW TREATMENT FUND

Sadly, both Missy and Precious tested positive for heartworm. For those unaware, this is a severe infestation of the heart by worms of from 6-12" in length which load the heart and cut off its ability to function. In severe cases, the worms migrate from the heart to other organs. If you Google heartworm pics, you will see how horrific this disease is. The treatment is long, risky and quite expensive; but, the risk of these nasty parasites killing them is even higher. These girls deserve a second chance to live a life they deserve so I agreed to have them treated. They began stage 1 (out of 3) of their treatment on Thursday, 7/30. After 35 days, stage 2 and 3 will be administered (about 4 days apart). It is

extremely

important that they are not active or excited during this 70 day period OR THEY WILL DIE! Luckily, Alisa of Cedar Farms found Jackie, an angel rescuer in NC who is also fostering 2 HW positive pups. Jackie was kind enough to agree to open her home and care for Missy and Precious for the first 35 days of treatment for a small donation to cover for dog food.



The Math:


$495 (after site fees) was the final amount collected from the Fundable account created prior to rescue. Originally this was to raise funds for the rescue of 2 dogs and did not estimate any medical complications. On the 11th hour, we added sweet Mandy to the sponsorship. All 3 dogs were completely vetted, including blood work, not state required but necessary to protect all the animals in both Linda's and Jennifer's homes (fosters). Mandy's came out clean but she did require spay surgery to be transported. In addition, both seniors' skin were so badly neglected, they needed to be shaved down, medicated, and overnighted at the vet. The total vetting, boarding and care for all 3 dogs since the shelter came to $919.06. The heartworm treatment estimate, meds, and boarding for both dogs is $1,160 (if all 3 stages are done in NC). If second stage is in NY or anywhere in the northeast, it will be much higher (I was quoted by a NY vet, $700 per dog without the meds and boarding). I created another fundraising page with a goal of $1,335 (after Fundable site fee) to cover the cost of their HW treatment, meds, boarding, transport, and the rest of the cost of their initial vetting (minus my own personal donation of $350).

Please note that Fundable site does not collect from donors unless the target amount is met on the target date. If you are unable to donate, please help these girls by spreading the word. Please cross-post.

Please click below to Donate:
HELP SAVE CHOW & COCKER SENIORS- HW TREATMENT FUND

I'm drained both emotionally and mentally but looking at them now makes everything all worthwhile. If you have been following their saga, I'm sure you'll feel the same....

ONE WEEK AFTER THEIR RESCUE FROM DEATH BY HEART STICK:

Missy- Before


Missy- After



Precious- Before


Precious- After



Mandy- Before

" width="140" height="105" />
Mandy- After

Click HERE to see the rest of their beautiful "after" shots.
Thank you all for caring and for all that you have done. It's not over yet but we would have been viciously killed a week ago had it not been for your help. THANK YOU!
Love,

Missy, Precious and Mandy


*** 7/27/09 UPDATE ***

WE FOUND AN APPROVED MA REGISTERED RESCUE!! YAY!!
))
Linda C. (foster), worked all day to help the 3 dogs get into her state. Thank you Linda! <3 One hurdle: MA requires that the dogs be quarantined for 48hrs. And, it needs to be an approved facility within MA. Unfortunately, she was not able to find one that is available. We will continue the search. We hope to get this settled tomorrow (Tuesday) so we can plan transport for Friday.

The seniors had their vet visit this morning. Mandy's will be tomorrow. I asked them to do the whole works some of which were not required for the certificate. These dogs are precious and I want to make sure they're healthy, comfortable and pain-free. The vet did not see any issues except for Precious, the Cocker's skin condition due to extreme matting. They needed to bathe and medicate her. I asked that they do the same for Missy (Chow) as well and asked that they give her a shave just like her sister.... to new beginnings! They're currently staying over-night at the vet. I hope they feel as if they were on a spa weekend-- clean, comfortable and totally relaxed. I'm hoping to get pictures of them tomorrow.

Mandy will be next. HW test results for our Golden Girls will be in tomorrow. Crossing paws xx

Please continue to cross-post the girls for forever loving homes. Please remember that the seniors can NOT be separated. Thank you. We're almost there!



*** 7/26/09 UPDATE ***

WE STILL NEED ADOPTERS, OR FOSTERS FROM OTHER STATES (OTHER THAN RI OR MA), OR A REGISTERED MASSACHUSETTS NO-KILL RESCUE (in the true sense of "No-Kill") TO ENSURE SAFETY OF THESE 3 DOGS!

Alisa was not able to email but she did phone me tonight to give an update. She said all 3 doggies did wonderfully today! She said it's amazing how they transformed completely after being out of the shelter for 24 hours. Still no problems with their cats or other doggies at the property. They are more alert now and all 3 get along with each other. She said, "it seems like they're comforting each other." She can't say enough how wonderfully sweet, docile and gentle these girls are. She can't ever imagine having any problems with any of these 3 dogs especially in her experience in rescue.

They love their crates-- especially the seniors. While Alisa sitting next to Missy (the Chow) in her crate, Missy reached out to try to touch Alisa's arm with her paw. Her heart melted.
Precious (Cocker), now completely shaved down is doing wonderfully-- she no longer feels scared and awkward with the leash. Alisa said she was prancing on their walks today and that you can tell she's a happier dog. Mandy (Lab), she said is such "a great, great dog!" Though still missing her puppy, she started to show signs of her young age and was active today. The seniors didn't mind. Alisa said Mandy looks like a mix of Lab and perhaps Weirmeiriner, a beautiful dog and that she's got the cutest paws! Alisa and Tony will try to get them vetted tomorrow, if the vet can't take them, it'll be done on Tuesday.

Alisa echoes what the shelter worker said that these dogs are low-key, not a drop of alpha, very very gentle... and that their lives are worth saving. Thank you all for all that you have done. This rescue is not complete yet. We only have till Friday, 7/31/09 and plans need to be set before then. Please consider adopting or fostering, or help network them to find their forever or foster homes. They deserve a second chance.


*** 7/25/09 UPDATE ***

WE NEED ADOPTERS, OR FOSTERS FROM OTHER STATES (OTHER THAN RI OR MA), OR A REGISTERED MASSACHUSETTS NO-KILL RESCUE (in the true sense of "No-Kill") TO ENSURE SAFETY OF THESE 3 DOGS!

All 3 girls are "unbelievably sweet" according to the rescuer angel (Alisa) and her husband (Tony) of Cedar Farms who pulled them to safety and are caring for them at this time. Here's their site; please consider donating or crossposting their adoptables: http://www.petfinder.com/shelters/cedarfarm.html

There are foster homes lined up in MA for the 2 senior dogs (together) with Linda C. (an approved labs4rescue foster) and Mandy with Jennifer C (Linda's daughter). These ladies are true angels who volunteered to open their hearts and homes. We planned for them to go to MA next week. I'm running into a HUGE hurdle as Massachusettes law is very strict. If you are a registered MA no-kill rescue org or know of one who can help and who will not separate the 2 senior sisters, please email me: nadia.donato@yahoo.com.

As for the elderly owner, I have left a message at the hospital today with my cell # and stated that his 2 dogs are safe and were rescued from death. I was promised the message will be delivered. I tried to speak with him but will no longer push it as the lady at the shelter risked her job by giving me his contact info. She is the only human being in that God-forsaken place and do not want to risk losing her from saving the others from being killed in such a barbaric way as the heart stick.

I don't know what to think-- as you can see from Alisa's update below, he may have loved his dogs but as far as I'm concerned, they were neglected! Perhaps he was just too old, sick and poor to care for them? We may never know. All I know and care for is the safety of these animals.

We have 2 angels who volunteered to transport-- Thank you Kathy C. and Greg F.
ON-SITE UPDATE FROM ALISA (rescue/puller):
Sent: Saturday, July 25, 2009 9:09:11 AM


quick update since I have to get back on the road shortly.
Had a nice trip home...the dogs did NOT make a peep. They were greeted at the farm by our three cats. No one has any problem with cats...YAY! They met Tony, we did a quick walk and water and got them settled in their new quarters for the night. Everyone slept well, didn't mess their crates (YAY!) and are next in the rotation for breakfast .....more later.
Alisa
Sent:
Saturday, July 25, 2009 5:59:41 PM
Hi Nadia , and nice to "meet you", Linda!
All three dogs are unbelievably sweet. They are all fine with cats as previously mentioned and have not acted the least bit obnoxious toward any of the other dogs. All three are separately quarantined here now and they all are doing fine together.
Poor Miss Mandy is MISSING HER BABY - of course, it was just taken from her yesterday, so that is understandable. She is searching and searching and wants to be very close right now. She will come right up and put her head down in your lap. I have a stuffed animal that I have put in her kennel with her and hope that will help. She should get less anxious with time. She seems in good health.
Precious, the black cocker, got shaved down today. The mats in her coat were horrific and no comb was going to get through them. Some of the mats had started twisting her skin. Tony carefully took all the mats off with his grooming razor and she stood as still as a statue...she knew that it was going to make her feel better. I will get some pics. Last night she really fought the leash but today she is much, much better. She will be pro by the time she gets to Mass. She went right in her crate after her afternoon walk.
Tony combed a serious bucket full of hair out of Missy the Chow's coat. She LOVED it! After all that hair was removed we realized how painfully skinny she is. She is a sweet, sweet, affectionate, obedient dog. She does much better than Precious on leash. I can't imagine having any trouble with her at all...as long as her health is ok.
We'd like to get them into the vet on Monday if possible. Tony will call them first thing and then, Nadia, he'll probably get you on the phone with them so we all know what is to be done.
Alisa
Note to all: Although most in Care2 and the animal rights movement know me, there are many outside my networks who don't. I've been an animal activist for as long as I can remember Google my name: Nadia Donato and you'll see. I'm sure I'm on the terrorist watch. lol However, I'm not a rescuer. Hands-on rescue is all new to me. I appreciate that so many of you care. I truly do! If you can help in any way to secure safety of these dogs, please email me and I'll reply ASAP. Otherwise, I will continue to give updates on a regular basis. Please know that my utmost priority is the welfare and safety of these animals. Thank you all for your help.
For the sake of the animals......
Nadia
Album: Elderly's 2 Seniors + Lab Rescue Pics
2 senior dogs (Chow & Cocker) were taken to the shelter by their owner on 7/14/09. He was elderly & going to the hospital, had no place for them to go. He cried like a baby when he handed them over. They risked death by heart stick. On 7/24/09, they were rescued to safety. A black lab mamma whose time was also up was rescued along with the 2 seniors at the last minute plea by an angel at the shelter. Go here for their story: http://www.care2.com/c2c/share/detail/1197760

by Nadia Donato (476)
comments
(5) |
discussion
() |
permalink
|
send green star
|
flag as inappropriate
Jul 23, 2009
| | |
| --- | --- |
| Focus: | Animal Welfare |
| Action Request: | Various |
| Location: | United States |
This girl was surrendered by her owner with her pups in a high kill shelter. All her puppies died except one pup with a blind eye. A sanctuary agreed to take the puppy, but poor sweet Mandy is left behind. Her time is up tomorrow, Fri. 7/24 as the shelter is filled to the max!

*** 7/25/09 UPDATE ***

Please go here for updates and pics of their rescue:

http://www.care2.com/c2c/share/detail/1203803

We have a new hurdle-- I need a registered Massachusetts rescue org to ensure their safety. Or adopter(s) or foster(s) in other states but RI and MA. Help please!


*** UPDATE: 7/24/09 ***

We found a foster for Mandy at the last minute and she was rescued tonight along with the 2 seniors Chow and Cocker.
)) We still need a rescuer to step up and be her permanent rescue. Mandy will be fostered by the daughter of the 2 seniors' foster. Thank you Linda and Jennifer!!!!!
Please see update here for the rest:
http://www.care2.com/c2c/share/detail/1197760
Pictures of rescue will be posted tomorrow. Thank you all so very much!!! <3
*******
Mandy is about 2-3 yrs old, active and very affectionate-- typical lovable lab personality. Mandy has sponsorship and has puller available to take her. She needs Rescue/ Foster/ Adopter.

She's being held at the Fairfield County Animal Shelter in SC, same shelter as the 2 senior dogs that are being pulled tomorrow. The shelter worker wrote to me out of desperation to find help for poor Mandy. She needs a rescuer please! Note from shelter worker: "Please tell your friends that her life is worth saving!"

Please email nadia.donato@yahoo.com if you can help.

**PLEASE CROSSPOST** Thank you!
comments
(7) |
discussion
() |
permalink
|
send green star
|
flag as inappropriate
Jul 19, 2009
| | |
| --- | --- |
| Focus: | Animal Welfare |
| Action Request: | Various |
| Location: | United States |
These 2 dogs were taken to the shelter by their owner on 7/14/09. He was elderly & going to the hospital, had no place for them to go. He cried like a baby when he handed them over.

2 Dogs- Chow & Cocker Spaniel- High Kill Shelter (both 9yo females)

URGENT! Please cross-post, donate if you can.

TO DONATE AND ENSURE FUNDS GO SPECIFICALLY FOR THESE DOGS, PLEASE GO HERE:

http://www.fundable.com/groupactions/groupaction.2009-07-21.2164842278


*** 7/25/09 UPDATE ***

Please go here for updates and pics of their rescue:

http://www.care2.com/c2c/share/detail/1203803

We have a new hurdle-- I need a registered Massachusetts rescue org to ensure their safety. Or adopter(s) or foster(s) in other states but RI and MA. Help please!


*** 7/24/09 HAPPY UPDATE ***

I am thrilled to report that Missy (Chow) and Precious (Cocker) along with Mandy, (black lab) our last minute fur baby rescue has been pulled from the shelter tonight and is now in NC, in the care of Alisa, the rescuer that pulled them. She said that all 3 doggies are very very gentle and sweet. <3 They will stay for a week in NC and leave for their foster homes in MA on Friday, 7/31.

We found another angel to step up at the last minute and decided to foster Mandy. All 3 dogs will go to MA next week-- going to the same family (different homes). Linda C. will be Missy and Precious' foster mom and Jennifer, Linda's daughter will be fostering Mandy. Thank you Linda and Jennifer!!!!!! Although she's already set for foster, WE STILL NEED A PERMANENT RESCUE ORG. FOR MANDY.

Kathy C. has volunteered to drive from Greensboro NC for 5-6 hours on Friday 7/31. I need help coordinating their transport as I've never done this before. I'm a New Yorker, I don't even drive! lol Please message me if you can help.

Tonight, we saved 3 innocent lives who would've otherwise been killed by heart stick, bagged and stuffed in a barrel and discarded as trash. Thank you all so much for all your help.This wouldn't have happened without everyone's contribution.

Love,

Nadia


*** 7/23/09 Update ***

Missy (Chow) and Precious (Cocker) will be picked up from the shelter at 7pm tomorrow. Puller works during the day and is 3 hours away. Shelter promised to hold them and not to PTS (it's supposed to be their due date)

The shelter worker, out of desperation, requested for me to consider networking another dog due tomorrow as well (by heart stick). She said this dog (Mandy) is very special unfortunately they do not have room. She said, "Please tell your friends her life is worth saving!"

Mandy is sponsored and puller is available in the area can be pulled and vetted together with the 2 senior dogs. She needs a rescuer/ foster/ adopter/ transport. I wrote a separate share for her plea: http://www.care2.com/c2c/share/detail/1201297

*** 7/22/09 Update ***

"Very Hopeful" news!

(Being superstitious, I won't call it "Good" or "Great" news until these dogs are out of deathrow, sound and safe)

I spoke with both puller and shelter manager today. They're making arrangements for the dogs to be pulled out of the shelter on Friday. I'm working on having a no-kill rescue organization in the Northeast as their permanent rescue (until they have agreed, I can not mention this org's name). If this group is not able to commit to these dogs in time, Help Save One Rescue in RI has agreed to take them.

We also have an angel, Linda C. who offered to foster these 2 doggies!! And, another angel, Kathy C. to help with transport from Greensboro, NC. Thank you so much ladies!

I am keeping the fundraiser going as arrangements for these 2 dogs are still up in the air pending vetting, transport, foster, until the time they are adopted. We have met our target amount in less than 24 hours.
) Thank you all for opening your hearts and making donations. If not all $500 is used (Fundable charges $50 fee), the rest will be donated to these 2 dogs rescue group. After $500, and these dogs are determined healthy by the vet and no other funds are required for their care, the rest will go to help rescue other dogs in gassing shelters.



Unfortunately, I was not able to contact these 2 dogs' elderly owner at the hospital today. I will try again tomorrow.

THANK YOU ALL SO MUCH FOR ALL YOUR HELP!! As I mentioned, I won't celebrate yet until these dogs are out of deathrow and safe.

xo Nadia

*** 7/21/09 Update ***

TO DONATE AND ENSURE FUNDS GO SPECIFICALLY FOR THESE DOGS, PLEASE GO HERE:

http://www.fundable.com/groupactions/groupaction.2009-07-21.2164842278

I was in touch with the shelter today and both dogs are still there. Their due date is this coming Friday, July 24th. We need foster or adopter, transporters, crossposters, and donations-- no amount is too small, every little $ adds up.

*** 7/20/09 Update ***

WE NEED AN ANGEL OR TWO TO FOSTER OR ADOPT ASAP~ BEFORE JULY 28TH



- I found someone who can pull both dogs from the shelter. Once pulled, they will be in Greensboro, NC. The dogs will be vetted and in temporary boarding for just a week (till 7/28).


- Once destination is determined, transport will be coordinated.


- They're very sweet low key dogs. I also got the contact info of hospital where their ex-owner is. I hope to make a call to him that his dogs will be ok when the time comes. If anyone has donated to the links below, pls send me a message here or email nadia.donato@yahoo.com.


Please let me know if you can help in anyway:
Foster / Adopt / Donate / Transport



Many thanks,

Nadia
****************

We can sit and judge people in a situation like this but that will not do any good. We could sit and say "didn't you know you were going into the hospital"? "Can't you find a no kill shelter"? "How could you do this"? Again, what is that going to do. Rescuing from certain areas has opened my eyes up to the fact that this might be a older man who is sick and has no money and lives in a rural area. I am not in his shoes so I can't judge. What I can do is try to help his two dogs that he cared enough about to make sure they always had their shots and were altered.

Both are 9 years old and have been in his household until now. I am not really sure what else to say other than "does someone want to adopt one or 2 nine year old dogs?". I can tell you from the experience of being the lucky owner of a senior dogs that they make incredible companions. They are happy to have a nice bed and a place to relax. My elderly pug spends a good portion of her life laying down at my feet while I am on my computer.

I think someone who opens up their home and lets a senior dog hang out with them is a special person. They really are not alot of trouble and I feel it is our responsibility as humans to help in these situations, Maybe you were not planning on taking in another dog but if you have the room and the means please consider it. It may start off as a little bit of an inconvenience and adjusting but I absolutely promise you - you will NOT regret adopting a senior.
TO DONATE AND ENSURE FUNDS GO SPECIFICALLY FOR THESE DOGS, PLEASE GO HERE: http://www.fundable.com/groupactions/groupaction.2009-07-21.2164842278
comments
(27) |
discussion
() |
permalink
|
send green star
|
flag as inappropriate
May 13, 2008
| | |
| --- | --- |
| Focus: | Animal Welfare |
| Action Request: | Various |
| Location: | United States |
***A VERY SAD UPDATE***
I am sad to report that Peppy has passed away. I spoke to Jeff Lubi the Executive Director at the Chautauqua County Humane Society today. He informed me that Peppy's owner had her put to sleep on January 6, 2009 due to kidney failure.
http://animalsave.info/pepie/index.htm
www.in-memory-of-pets.com
Look on the left and select Pet's Family Stories and in
search ID type in: 75558
I am devastated to say the least. PLEASE do not let Peppy's spirit die, her case should be the catalyst to change animal welfare laws in New York State. NOW is the time to put pressure on legislators and politicians.
***********

Please sign petition and contact officials and the press to help this poor dog!



http://www.thepetitionsite.com/1/free-peppy-who-has-lived-in-a-cage-for-16-years


(Chautauqua=Sha-talk-wa)

Dunkirk, New York in Chautauqua County
Peppy is a 15 year old Husky who has been confined to a metal cage her entire life. She has never felt the grass between her toes, she walks on an open grate. No one to talk to, no real warm shelter during New York's freezing temperatures. She needs out and we need to effectively contact the people below to get the word out. Please write to the media outlets, pass this on to everyone you know to put the pressure on the officials who care to do nothing.


http://pets.groups.yahoo.com/group/help_Peppy/
http://forums.petfinder.com/viewtopic.php?t=153631&start=0
Please politely contact the following to help FREE Peppy:
CITY OF DUNKIRK - ACO WALLY BAKER
716-934-539/716-363-0058
716-679-8303 CELL
TOWN OF DUNKIRK - DOGS ERIC SALISBURY
716-366-3967/716-366-3544

Chautauqua County SPCA:
http://www.spcapets.com/

Chautauqua County Elected Officials:
http://www.co.chautauqua.ny.us/dept/deptframe.htm

comments
(4) |
discussion
() |
permalink
|
send green star
|
flag as inappropriate
Apr 2, 2008
| | |
| --- | --- |
| Focus: | Animal Welfare |
| Action Request: | Canvass |
| Location: | United States |
EMERGENCY! - 80 Cockers in Texas in DIRE situation! - Please spread the word! ***CROSS POST WIDELY**

80 COCKERS (MOSTLY YOUNG) WERE SEIZED FROM A HOARDER IN TEXAS. HELP DESPERATELY NEEDED.

CONTACT:

Weatherford Texas Animal Shelter
Animal Control Manager, Diane Daniel

403 Hickory Lane Weatherford, TX 76086
Ph: 817-598-4111



Weatherford Animal Shelter Petfinder Pictures


Weatherford Animal Shelter Website

Update as of March 31, 2008 (evening) from a volunteer in Texas: We have 17 dogs to safety. Of these dogs 8 are known to be heartworm NEGATIVE.only 2 are positive so far and 7 dogs have yet to be tested. This ratio of heartworm negative dogs in itself is a minor miracle. The estimated age range right now is 1 to 5 with most around 3 or so. We will be pulling more Tuesday as our resources allow, but are working VERY VERY hard at getting other groups, even out of state, to try and pull some of these dogs.

Make no mistake here, we fully realize that DFW Cocker Spaniel Rescue can in no way rescue all 80 of these dogs alone. Not only do we not have the personnel & foster space we do not have the financial resources to vet them. With that said we will rescue as many as humanly possible and assist other groups with transportation so that even more can get to safety! If you have out of state relatives that can check with rescue groups in their area tell them about these dogs. We can arrange 'transport trains'!! I myself was part of one just last week for three dogs that came all the way from Ohio to another group in Texas!!! Right now the dogs that we have safe are in boarding waiting to be vetted or at vets being vetted. Once they are vetted Pam McKelroy will be working triple time to get these dogs into foster homes. We have had so many wonderful folks step up to help with this situation. more are needed, but we are well on the way to having places for these beautiful dogs. As to the personalities/ behaviors of the dogs so far. They are all very timid of humans, but not aggressive at all. They allowed Capstar tablets to be shoved down their throats (an extremely fast acting flea-ridding treatment) without problems. They do not know how to be on a leash, they are frightened of all the things happening to them and they are not house-broken. PLEASE understand that these things are usually very quickly learned with patience and consistence and don't let it scare you off from helping these furkids. These dogs, when around gentle, loving, consistent human treatment will no doubt warm up quickly. They appear intelligent and clear eyed. We hope that this answers some of the many questions being asked by you all. Your support, both with time, roofs over head and financially are making this possible. THANK YOU EVERYONE!!!!

Copyright C 2007, Camp Cocker All rights reserved.


comments
(2) |
discussion
() |
permalink
|
send green star
|
flag as inappropriate
Visibility: Everyone
Tags:
Posted: Apr 2, 2008 12:09am
Mar 29, 2008
| | |
| --- | --- |
| Focus: | Animal Welfare |
| Action Request: | Write E-Mail |
| Location: | United States |
Sample letter and emails follow.
Very soon, the city of Miami, which is in Miami-Dade County, will be voting on an ordinance to restrict dog tethering (chaining). This is important legislation that must be passed. Please email city of Miami officials asking them to pass this anti-tethering ordinance.

Emails for city of Miami officials:
mannydiaz@ci.miami.fl.us, agonzalez@ci.miami.fl.us, msarnoff@miamigov.com,
jsanchez@ci.miami.fl.us, tregalado@ci.miami.fl.us, MSpence@ci.miami. fl.us
Sample letter:
Dear City of Miami Officials:

I understand you will soon be voting on an ordinance that restricts tethering dogs in your city. This is important legislation that should be passed. Miami wants to be known as a glamorous and fun tourist destination. A dog suffering on a chain in the hot tropical sun tarnishes this image. The ordinance imposes humane conditions for tethering, including requiring people to be outside when their dog is chained.

The evidence demonstrates why chaining is cruel and inhumane, often making "vicious monsters" out of otherwise gentle and social animals. Dogs are social animals who instinctively want to be part of a group or pack. Leaving dogs chained outside makes them aggressive. The Center for Disease Control reported that chained dogs are 2.8 times more likely to bite. Children have been injured or killed by going into a chained dog's area, or by a dog who has broken free from a chain. A dog loose in neighborhoods could be one who was made aggressive by chaining.

Tethered dogs are easy targets for attacks by other animals. They are killed or injured by extremes in weather, poisoned by humans, and made sick from animal feces or bird droppings. In many cases, the necks of chained dogs become raw and covered with sores from the dogs' constant yanking and straining to escape confinement. Dogs have been found with collars embedded in their necks.

Many other places protect children and dogs by having tethering ordinances, including Fort Worth, St. Louis, Washington DC, Fort Lauderdale, Dania Beach, Hollywood, FL, Macon, Georgia and the entire States of California, Texas, Virginia, West Virginia and Connecticut. The city of Miami should pass one, too.

Sincerely,

(Your Name, Your City/Town/Country)
Visibility: Everyone
Tags:
Posted: Mar 29, 2008 12:28am
Mar 23, 2008
| | |
| --- | --- |
| Focus: | Animal Welfare |
| Action Request: | Donation |
| Location: | United States |
OMG!! This must be one of the most gruesome case of animal cruelty/neglect I have ever seen. Open wound + maggots eating this poor dog alive!
Please help sponsor No Name; every little bit helps. These are from the same people who helped Dany and her friends.


---
More dogs suffer in Bankok, Bea



Caution terrible photo - only for strong nerves

As mentioned yesterday here is the second emergency case " No Name"

No Name was caught this week by Brigitte (Samuidog) on the beaches of Koh Samui.

I believe nothing has to be said about this picture.

What has happened to No Name?

At this moment it's not 100% clear if No Name has a chance of survival, but the vet from Samuidog gives him a good chance. At this moment they are fighting his case of maggotts.

We are searching for a sponsor for No Name, someone who is willing to fill his food dish in the future.

In time we will have photos of No Name - before and after pictures.
---------------------------------------------------------------------------------------------------
---------------------------------------------------------------------------------------------------
---------------------------------------------------------------------------------------------------
Emergency cases from Paporn www.Khlongdogs.com Contact Mrs. Paporn in english or german at paporn@khlongdogs.com Donations directly to Khlongdogs or tierhilfe Assisi, with the mention of the concerned dog. For instance temple project Bangkok etc.
------------------------------------------------------------------------------------------------------
------------------------------------------------------------------------------------------------------
Note
we all work as a team but it's easier for us if the donations go directly to the appropriate places.
-------------------------------------------------------------------------------------------------------
There are also many animal friendly Thais. Unfortunately as everywhere is this world there are animal friendly people and also animal haters.
The problem is, that there is no law in Thailand for animal protection. In charge as fare as I know would be the governor. Another animal protection team from Thailand has sent me photos of saved dogs. I will send those shorty as a "light in the future".
-------------------------------------------------------------------------------------------------------
If anyone has not received the mail "about us", get in touch with me SabineJerome@aol.com and I will send it to you. It is of great importance for everyone to know who he is helping.
comments
(6) |
discussion
() |
permalink
|
send green star
|
flag as inappropriate
Visibility: Everyone
Tags:
Posted: Mar 23, 2008 4:10am
Mar 23, 2008
| | |
| --- | --- |
| Focus: | Animal Welfare |
| Action Request: | Write E-Mail |
| Location: | United States |
Please Note, Send Emails (See Sample letter) and Comment on YouTube Video

A Gruesome Barbarity Uncovered,Hanging of Dogs in Kos-Greece


Trudi

- 10 hours ago - uk.youtube.com

---
On the island of Kos, in the village of Kardamena, animal welfare workers discovered the brutal hanging of nine hunting dogs over a short period of time. The way they had been hung meant it must have taken a long time before the poor dogs were finally dead.
PLEASE, send an email and/or fax to the Mayor of Irakleidon,and the Mayor of Kos.

CONTACTS:

Mayor of Irakleidon,Mr.Stergos Billis:
Email: hrakleid@otenet.gr
Fax: 0030224051128


Mayor of Kos,Mr.Georgios Kyritis:
Fax: 00302242021341

Urge them to find the person(s) responsible for hanging the dogs and take legal action against them. Comments below the Youtube video will also be forwarded to them,so they will understand that unless the culprits are found and prosecuted,tourism on Kos and especially in Kardamena will be badly affected this summer!!
---
Sample letter (easily copy & paste recipients below):
(note: Mayor of Kos, Mr.Georgios Kyritis via Fax only: 00302242021341)


TO: hrakleid@otenet.gr
CC: press@kos.gr; editor@ekathimerini.com; btko@hol.gr; manager@dhras.gr; pressoffice@firstchoice.co.uk; info@proodos.net; superfm.kos@hol.gr; statmos@hol.gr; pangoaki@otenet.gr; an-community@dolnet.gr; news.desk@express.co.uk

Subject: The gruesome hanging of 9 dogs in Kardamena

I am horrified by the sadistic slow hanging of the nine dogs in Kardamena whose photos are going around the world.

I demand justice for the animals and punishment (Greek Law 3170/2003) for the sadists that killed them.

This incident is not an isolated case. I'm appalled that a government can have little regard for innocent lives. Most of the animals in Greece are treated like pests! They are hanged, poisoned, run-over, or beaten to death! Animal advocacy groups get little to no support, and the country's laws on animal cruelty are lax and are hardly enforced.

Its time for a change! Please show the world a more compassionate Greece. Until then, I will organize a BOYCOTT of Kos and all of Greece. I will tell everyone who will listen not to support your country and all its products.

Sincerely,

Your Name
Your Town/City, Country
Visibility: Everyone
Tags:
Posted: Mar 23, 2008 3:40am
Mar 19, 2008
| | |
| --- | --- |
| Name: | Dany |
| Type: | Memorial (for the deceased) |
| To Honor: | Pet(s) |
| Location: | Bangkok, Thailand |
From Sabine's e-mail
Help us and don't ignore us. Wake up and open your eyes.
Dany had eaten chicken with eggs in the morning. A few hours later she fell asleep and never woke up.


Dany's friends Jack, White, Hope and Heart and possibly little Hoffnung could be saved, but for Dany our help came too late.


All uf us have been involved in Dany's fate every day, we were happy together and we cried together.


Please let us set an example for all the street dogs in Thailand with this story of Dany, so she did not have to die in vain.


We will have Dany put to grave at the temple, as it is done in Thailand. Photos of the burial will follow.


Sad regards


Ulrike, Stefanie, Brigitte and Mrs. Paporn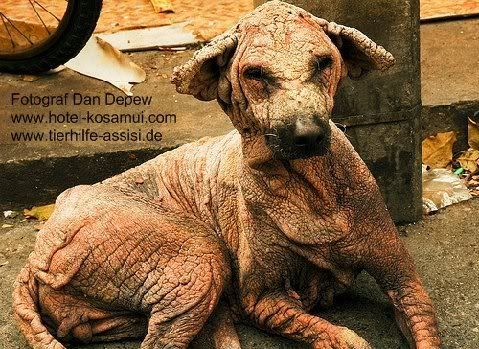 Dearest Dany,

I'm so sorry help came too late for you. But, you're now free from pain and suffering. Rest in peace dear one.
comments
(3) |
discussion
() |
permalink
|
send green star
|
flag as inappropriate
Visibility: Everyone
Tags:
Posted: Mar 19, 2008 3:38am
| | |
| --- | --- |
| | Content and comments expressed here are the opinions of Care2 users and not necessarily that of Care2.com or its affiliates. |
SHARES FROM NADIA'S NETWORK