Dec 15, 2009
| | |
| --- | --- |
| Focus: | Environment |
| Action Request: | Think About |
| Location: | United Kingdom |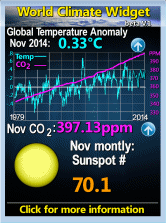 http://wattsupwiththat.com/widget/
HERE are 7 just reasons out of a total of 100, released in a dossier issued by the European Foundation about why climate change is natural and not man-made:
1) There is "no real scientific proof" that the current warming is caused by the rise of greenhouse gases from man's activity.
2) Man-made carbon dioxide emissions throughout human history constitute less than 0.00022 percent of the total naturally emitted from the mantle of the earth during geological history.
3) Warmer periods of the Earth's history came around 800 years before rises in CO2 levels.
4) After World War II, there was a huge surge in recorded CO2 emissions but global temperatures fell for four decades after 1940.
5) Throughout the Earth's history, temperatures have often been warmer than now and CO2 levels have often been higher – more than ten times as high.
6) Significant changes in climate have continually occurred throughout geologic time.
7) The 0.7C increase in the average global temperature over the last hundred years is entirely consistent with well-established, long-term, natural climate trends.
You can read the other 93 here:
http://brophinator.wordpress.com/2009/12/15/100-reasons-why-global-warming-is-natural/
Sep 8, 2008
There are no listings fees, no store fees and a Final Value Fee of only 3%. The site can upload your listings from other sites if you wish at no charge. All set price items are uploaded to Google base every Monday at no charge to help you gain more exposure. If you need more information please contact me through C2C or my email address below:
martin.ludford007@btinternet.com
comments
(1) |
discussion
() |
permalink
|
send green star
|
flag as inappropriate
Jun 14, 2007
Extract from The 9/11 Truth Campaign (Britain & Ireland) One Voice The campaign recognises that there is a diverse range of opinion amongst 9/11 truth campaigners. The campaign does not endorse any one presentation of the evidence or individual. What they do say is when taken in totality the evidence overwhelmingly supports the need to reopen 9/11. The greatest challenge is lack of public awareness and debate of this evidence and promoting this awareness and debate is their primary purpose.

Imported from external blog
Jan 11, 2007
All across the Greek Islands you will come across stray cats that are in desperate need of food and a little TLC. On Skiathos its no different, during my 2 weeks there I found two groups of cats in need of love and food. I know that there are many cat lovers amongst the Care2 community. I am sure that like me once you come across these gorgeous needy creatures, you too would dash off to the nearest mini-market and find the section containing cat-food as I did when I came across this Female with her kittens. I don't think they had had much food, and their mother was very malnourished. Her kittens were still quite young and feeding from their mother, so I decided that not only should the younsters have the tined cat food, but mum should have a good feed as well. There is no substitute or alternative in this particular case. You could do one of three things as some tourists did: "Just walk on by" or like many did "Ah arenít they cute" and stroke them, or like the few, including me "Stop, feed and water them, and give them lots of love". I know that stray cats are a problem in the Greek islands, as they are throughout the world and who is going to care for and feed them? Effective birth control might be the best answer; but they deserve the same love as we shower "Our better halves" as one friend once described our companiable pet cats.
Visibility:
Everyone
Tags:
skiathos_cats
Posted:
Jan 11, 2007 6:02pm
Jan 11, 2007
This is what i would describe as a "Positive Tourist Trap" and took place on the Greek island of Skiathos. It involved two male cats, who I think were brothers and were quite inseparable. However there is sadness in this story. One of the two brothers had a nasty wound which might possible lead to his death. If that happened and I pray that it did not, I never knew. But as they were so inseparable I knew that it would have consequences for the other brother. Once more these wonderful, friendly cats were in need of food which I supplied, they were only a short walk from my accommodation at the Elpiniki studios and apartments and close to the Female cat and her kittens. I did wonder if one of these two males was also the father of the kittens. When I fed the cats on my last day I asked two more English tourists who had just started their holiday if they would continue to feed the cats, which they said they would do. Hopefully when they left they would do the same and so on. If that happened, then all of the cats will have had a continuous and plentiful supply of nourishing food, rather than rotten scraps and small lizards which they were more used too.
Visibility:
Everyone
Tags:
skiathos_cats
Posted:
Jan 11, 2007 5:57pm
Jan 8, 2007
Picture caption: Gateway in the ancient fortress wall . . Old Nessebar is situated on a peninsula, accessed from the mainland by a metalled causeway about 300m long. The entrance into Nessebar is through a narrow gateway in the ancient fortress wall that once encircled the town. The earliest foundations were laid by the Thracians 2,800 years ago, and later were fortified by Hellenes and Byzantines. At one time the peninsula was twice its present size; large sections of the original fortified walls are now underwater. . . The causeway linking "Old" & "New" Nessebar can be seen to the left of the picture. The entrance through the ancient fortified walls is towards the right of the picture. . . Directions: At one end of the causeway that links the mainland to "old" Nessebar on the peninsula, close to the Archaeological Museum.
Jan 8, 2007
Picture caption: Sea Food Eat-in or Take-away . . Its a Take-away / Eat-in, Fast-food joint, it can't be described as anything other than that, but there the similarity ends. I had never before seen such a vast-array of sea-foods and fish, "too-go". All you have to do is indicate which of the dishes you want and how much, by weight and they heat it up in the microwave or you can simply eat it cold. The food comes with the inevitable chips (if you want them). But I could harp on for ever describing and identifying the seafood that was on offer. It was very cheap and delicious and as I have already said, you can "Eat-in" or "Take-away". I chose to rest, after a long day exploring "Old" Nessebar and relax, before catching my bus back to schh!! Sunny Beach - non typical Bulgaria. Added to the huge choice of food available, there was an equally large choice of cold, soft drinks and beers. The service was fast and efficient with little fuss, basically for me it was point to what I wanted, indicate portion size by weight and within a couple of minutes I had my feet-up eating my meal and enjoying a really lovely cold bottle of beer in the shade, well out of the hot afternoon sun. A truly enjoyable and tasty meal, all for about US$5. . . Theme: Fast Food Price comparison: less expensive than average. Price per person: less than US$10. Address: On the junction of Messembria and Chaika Streets. Directions: . Close to the taxi-rank and bus stop outside the ancient walls of "Old" Nessebar, and a short distance from the Archaeological Museum.
Jan 8, 2007
Picture caption: Causeway linking "old" & "new" Nessebar . . On a peninsula four miles from Sunny Beach is the picture-book settlement of Nessebar. Its cobbled streets, wooden houses with jutting overhangs, and a lovely windmill on the causeway separating the old town from the new quarter, all add to the charm of the town. In 1983 Nessebar was designated a UNESCO World Cultural Heritage Site, attracting nearly one million visitors annualy. The "new town" has numerous modern hotels and good facilities for tourism. Many of the buildings in the "old town" of Nessebar have been restored and date from the 16th -19th centuries; all new houses must be built in the same unique style. One of the oldest sights is the Basilica built around the 5th century, today only the foundations remain. One interesting architectural monument is the house of Panayot Mouskoyani, which today houses the ethnographic exhibition. There were once as many as 41 churches in Nessebar, however only a dozen remain, remnants of both Slav and Greek Orthodox communities that thrived here during the middle ages. The Old Bishopís Residence is probably the most imposing one of all the churches in Nessebar. Fragments of frescoes dating back to 13th century were discovered in the St. John the Baptist Church built in 11th century and The St. Yoan Aliturgetos Church, considered to be the most beautiful. Other sites of particular interest are The Turkish bath and the windmill at the beginning of the causeway. History: Old Nessebar dates back to at least the fourth century B.C. and the mysterious sun-worshipping Thracians who built the original walls and entrance gate. During the reign of Ivan Alexander (12 century) the town reached its "hey-day" both culturally and economically, expanding to such an extent that it occupied a huge territory of the land beyond the peninsula. It was at about this time when most of the churches of Nessebar were built; according to the world statistics, the town has the largest number of churches per capita. Facilities: The most notable hotels are found in the "new town" on the mainland, including the Messembria, Globus and Bourgas Hotel's, along with many smaller hotels and private lodging's within the "old town". There is an excellent bus transport system that connect's Bourgas and Pomorie to Nessebar and Slaunchev Bryag (Sunny Beach). Private taxis are numerous and inexpensive. There is also water transport to the port of Bourgas, plus local boatmen can be hired to reach various places in the bay. . . Pros: "So much to see and do in such a small area." Cons: "Lot's of tourist's - but that's to be expected in such a lovely town" In A Nutshell: "One of Bulgaria's most delightful tourist spots" Please leave a comment before you navigate away from this page, its so nice to read what you think. Many thanks, and happy travels Martin
Jan 8, 2007
Picture caption: NDK underpass fountains and water features. . . The National Palace of Culture - NDK is located in the very heart of Sofia surrounded by a beautiful park and distant view's of Vitosha Mountain. Within the building itself and the underpass are cafes, bars, restaurants, night clubs, bowling and a shopping mall, packed with inexpensive fashions and accessories. The NDK and surrounding park attracts many people to shop or just relax and enjoy their stay. The picture shows part of the underground level and overlooks (when in operation) some lovely fountains and water features. Sadly not working on the day I took the picture.
Jan 8, 2007
Picture caption: Sofia's National Palace of Culture. I first encountered Sofia's National Palace of Culture and its surrounding park in September 2004 whilst taking a short sight seeing walk on my tod. Walking up Maria Louisa Blvd past the Church of St Nedelya where the road intersects with Vitosha Blvd. on either side of the road are chic shops and ahead, Mount Vitosha is clearly visible in the distance. At the intersection with Patriah Evtimii Blvd., the Palace of Culture and surrounding park open out on the opposite side of the Boulevard. It is the largest multifunctional complex in Southeastern Europe. Its location is in the very heart of the capital, amidst a beautiful park and magnificent view's of Vitosha Mountain in the background. This colossal modern structure was opened in 1981 at considerable cost to the Bulgarian people. It is open seven days per week, as many of Sofia's important cultural events take place here. The building incorporates concert halls, exhibition spaces, congress facilities and the Luminre Cinema. Their are 16 halls that cater for these events, with seating capacity ranging from 50 to 4,000, all equipped with modern technology, press center, phone, fax, telex and e-mail facilities. There are also a number of cafes, bars, restaurants, nightclubs, shops and a bowling alley located on site or in the underpass in front of the building. The Palace of Culture is surrounded by museums, historical and cultural sites, financial institutions and the best hotels and restaurants in Sofia. It's also a good idea to take in the Yuzhen Park whose boundaries surround the centre, a popular place for locals and visitors to stroll or sit and have a meal at the many "open-air"restaurants. Phone: +00359 (02) 9166 2300 Address: 1 Ploshtad Bulgaria, Yuzhen Park, Sofia
comments
(1) |
discussion
() |
permalink
|
send green star
|
flag as inappropriate
| | |
| --- | --- |
| | Content and comments expressed here are the opinions of Care2 users and not necessarily that of Care2.com or its affiliates. |
Author


Martin L.
, 1, 2 children
Peterborough, Non-us, United Kingdom

Martin's Tags:
sofia_thingstodo
,
bulgaria_nessebar_intro
,
bulgaria_nessebar_restaurant
,
bulgaria_nessebar_thingstodo
,
skiathos_cats
,
on
,
site
,
line
,
auction
,
environment
,
global
,
warming
,
co2
SHARES FROM MARTIN'S NETWORK