Mar 8, 2009
Sunday, March 8, 2009 - Cancer Awareness and Support - Anniversary Show - LIVE 8PM EST

I am pleased to announce my upcoming March anniversary show on STATION BREAK for Colorectal Cancer Awareness Month. ALL CALLERS are welcome. Guest speakers include Carol Becker from The American Cancer Society, Director of Patient and Family Relations, Geraldine Madonia, President of Circle of Hope Cancer Foundation and Colon Cancer Alliance's Brooklyn, NY, Chapter Liason, motivational speaker and survivor, Dan Foster. Broad range of topics will be discussed including latest developments, how you can help bring awareness, where to find support, Calvary Hospital, inspirational survivor stories, and much more.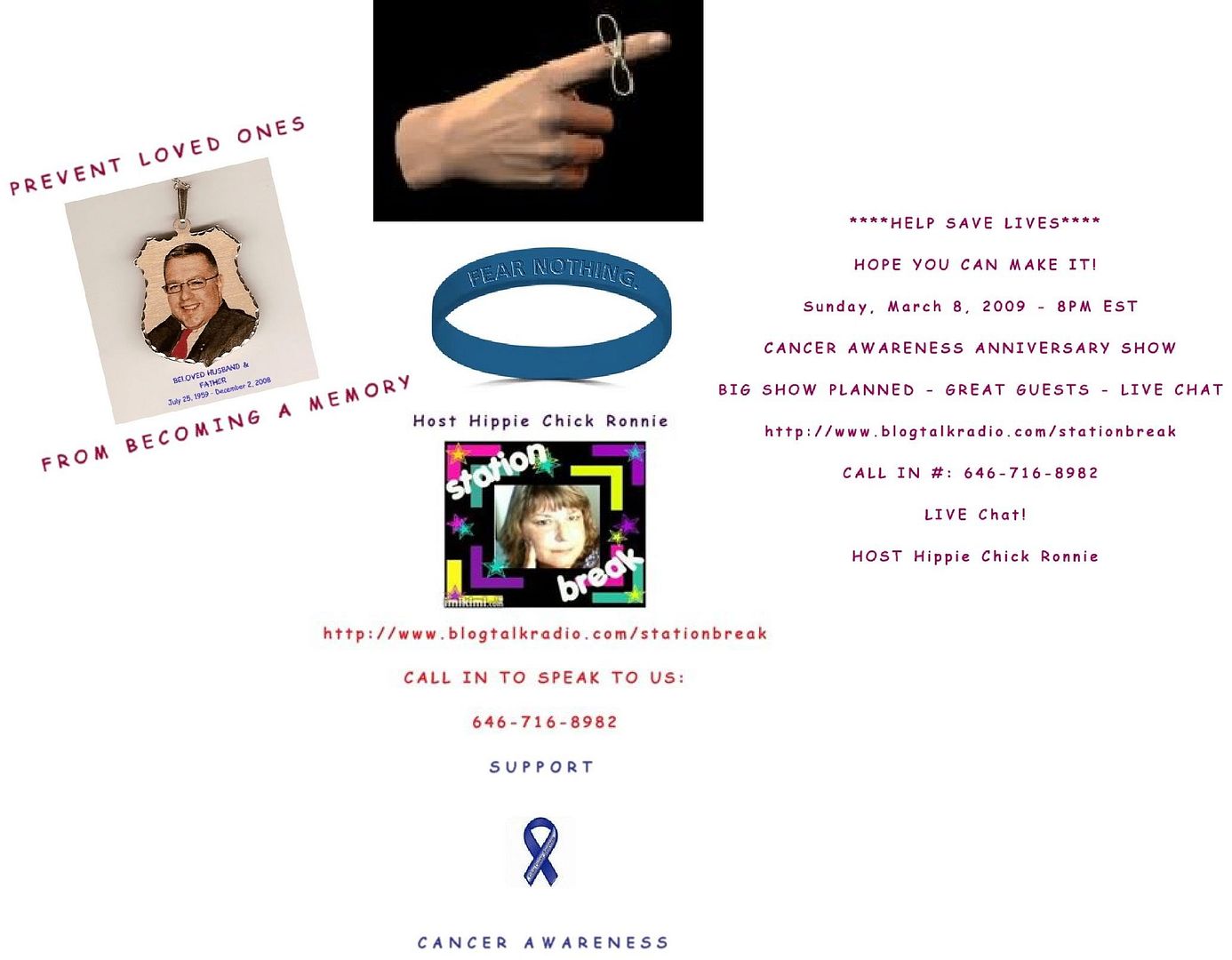 Mar 6, 2008
For yourself and your loved ones...

MARCH is National Colorectal Cancer Awareness Month

Please join me and my special guest, Carol Becker - Director of Patient and Family Services, ACS. Professionals, survivors, family members, please listen and call in. LIVE CHAT and archives.

To Listen: http://www.blogtalkradio.com/stationbreak
To Call into the show: 716-646-8982

Topics: Importance of early detection, Support for Cancer Patients and other aspects of colon cancer. Colorectal cancer is the second leading cause of cancer deaths for men and women combined in the United States and 90% correctable if detected early.

Other Special Guests Survivor Brian Baumann...and Tiffany Sutton on Eating Healthy.

CLICK TO LISTEN:


DIAL 716-646-8982
SUNDAY, March 9, 8PM EST

Your Host...Hippie Chick Ronnie
STATION BREAK on BlogTalkRadio
(Archives of past shows are always available)

Visibility:
Everyone
Tags:
cancer
,
show
,
talk
,
health
,
american
,
humans
,
society
,
warning
,
prevention
,
risks
,
colon
,
colonoscopy
,
blogtalkradio
,
colorectal
Posted:
Mar 6, 2008 1:28pm
Jan 11, 2008
This is a LIVE show with archived segments!

CALL ME TO CHAT ABOUT IT LIVE: 646-716-8982

OR LISTEN LIVE TO CURRENT SHOW OR TO ARCHIVES
(SEE LINKS BELOW)



SUNDAY, JANUARY 13, 2008, 8PM EST - COOKING SMART - Tips on Planning, Time-Savers, Preparation, Shopping, Quick Recipes...CALL In and Join the show

Got a favorite recipe or tip to share?? I'd love to hear from you!


To Listen just click picture above or link below
(no need to call the show):
http://www.blogtalkradio.com/stationbreak

Live Chat is Active during show! GUESTS are welcome to make their own BTR account! It will help me to chat with you and also give you free reign of all the BTR links! With an account you can also comment on and rate the show! (I LOVE comments and ratings!!!)

Your Host, Hippie Chick on Blog Talk Radio

| | |
| --- | --- |
| | Content and comments expressed here are the opinions of Care2 users and not necessarily that of Care2.com or its affiliates. |
Author


Ronnie M.
, 2, 1 child
Brooklyn, NY, USA

SHARES FROM RONNIE'S NETWORK