From:
Georgia AC Angels
Date: Jun 29, 2008 7:53 PM
Will Independence Day come for these animals in need?
BARROW COUNTY ANIMAL CONTROL
610 Barrow Park Dr.
Winder, GA 30680
OFFICE 770-307-3012
FAX 770-867-1660
cwatkins@barrowga.org
mbeckemeyer@barrowga.org
mburrell@barrowga.org
HOURS:
Wednesdays and Sundays – CLOSED to the public
Saturdays – OPEN 10-noon
Other week days – OPEN 8-5
The shelter will be CLOSED Friday, July 4, and Saturday, July 5.
FEES:
The process DOES NOT have to be completed in person!
Adoption – $100, INCLUDES spay/neuter, basic exam, vaccinations, and microchip!
Rescue – FREE for GA licensed rescues! Out-of-state rescues, please contact the shelter for details.
URGENCY:
Call AND e-mail BEFORE 8:30 A.M. on WEDNESDAY, JUNE 25.
See contact information above.
Generally, animals are subject to lethal injection after five (5) days of impoundment
Injections typically occur on Wednesdays, but because the shelter is SO FULL during the summer, they often occur more frequently.
Contact NOW!
UPDATES:
The lab mix with the hurt foot, the thin pointer mix, and the beagle mix are safe! Let's hope that many other animals from the previous posting were adopted or rescued as well! Please contact the shelter to find out the fate of a particular animal previously posted if he/she is not included in the current post.
Thanks!
AVAILABLE NOW:
NOTE: Pictures FOLLOW the descriptions!
THE FOLLOWING ANIMALS ARE MOSTLY "EXTRA URGENT" DUE TO THEIR BEING AT THE ANIMAL CONTROL AT OR BEYOND THEIR TYPICALLY ALLOTTED FIVE (5) DAYS AND/OR ARE OWNER SURRENDERED. THEY ARE THEREFORE SUBJECT TO LETHAL INJECTION AT ANY TIME.
RUN 2 – 06-191 F 1YR LAB/BOXER X – SPECIAL NOTICE TO RESCUES! This sweet young girl is PREGNANT and in need of help immediately! She is very quiet and gentle and will likely make a wonderful mother. She is now VERY large and starting to produce milk. An officer stated that they spared her last Wednesday in hopes that someone will be able to take this sweet girl and her family-to-be.
Could that be you?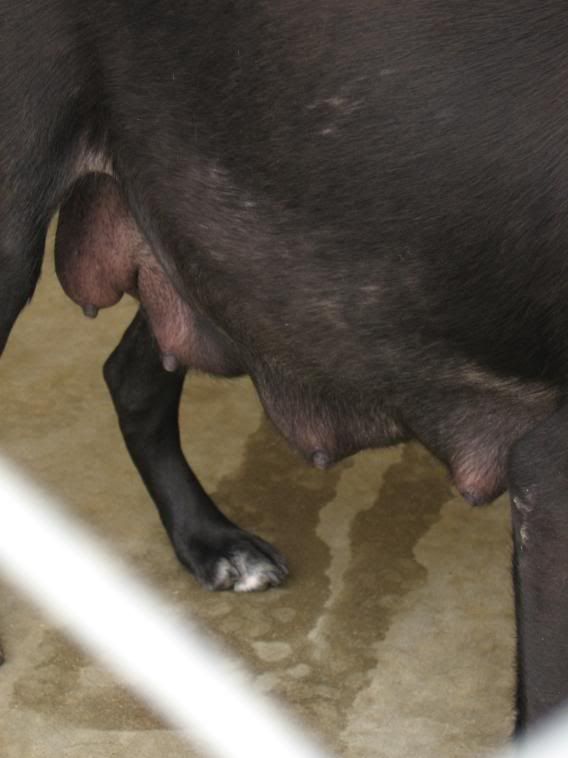 RUN 4 – 06-204 AND 06-207 BOTH M 1YR GREAT PYRENEES X'S – What a site! A set of Great Pyr X twins! The third brother posted last week is no longer available. These two remaining have really perked up since my last visit, and they just need a BATH! Anyone from GA knows what our CLAY can do to the otherwise WHITE fur of an animal. These sweet guys really are white at the roots.
Promise!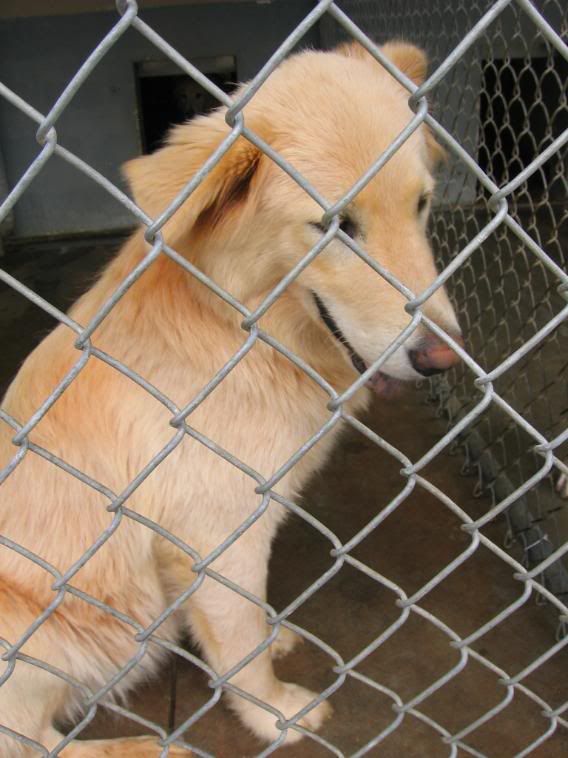 RUN 5 – 06-194 F 6-9MO BOXER X – This is a petite, quiet, alert, beautiful little girl, ready to go home with you and be loved! Look at those pleading eyes. She would be an excellent choice! She has been my MySpace default picture for a while, and I have received many comments about her, but apparently there have been no takers! She loves affection and slapped her tail loudly on the concrete when I visited. I took a couple more (kind of silly!) pictures of her.
Adorable!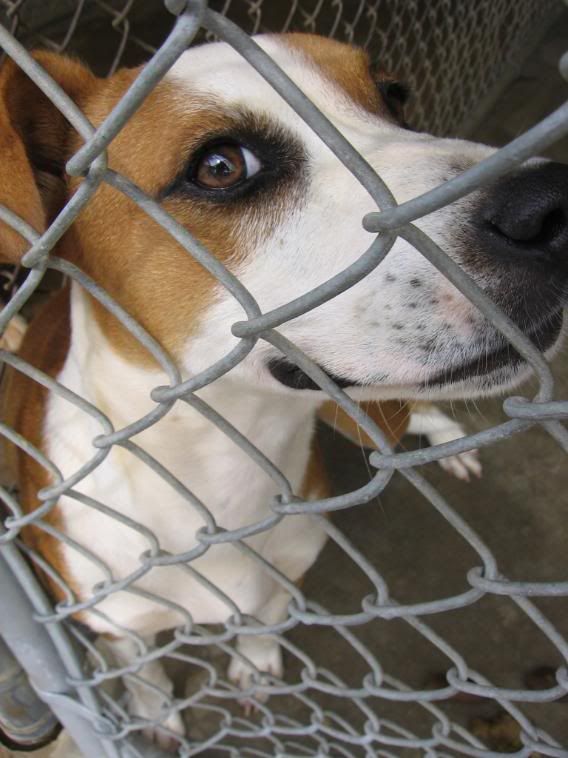 RUN 6 (was PEN 41) – 06-169 M 6-9MO LAB X – This adorable boy has been really lonely. During my last visit, I thought he was yelping in pain until I came closer and realized he was just trying desperately to attract some help. I tried my best to soothe him during my visit, but unfortunately, my visit had an end. This time, I was glad to see that the officers had moved him to a larger run with two other puppies, and he seemed to be much happier.
BUT he is STILL URGENT! HELP HIM, PLEASE!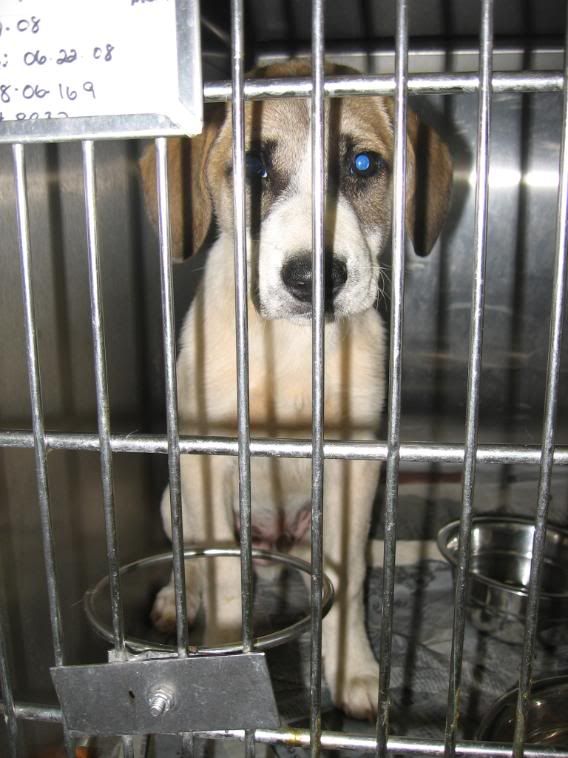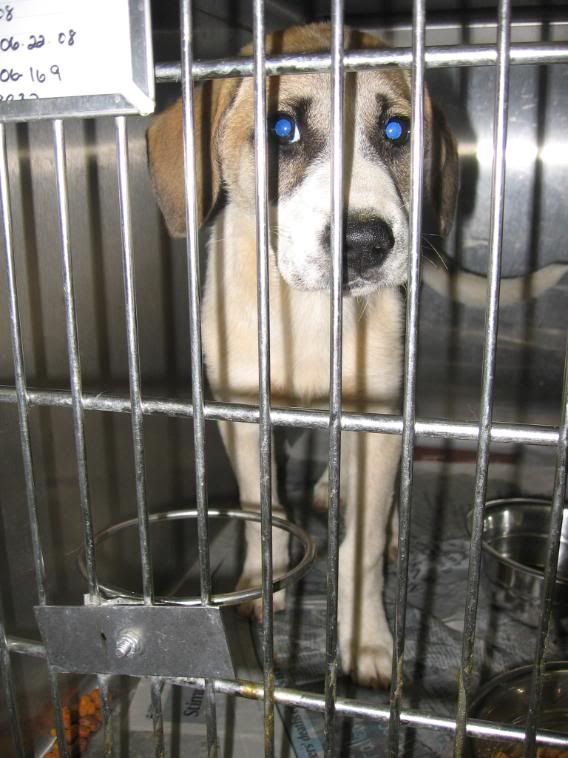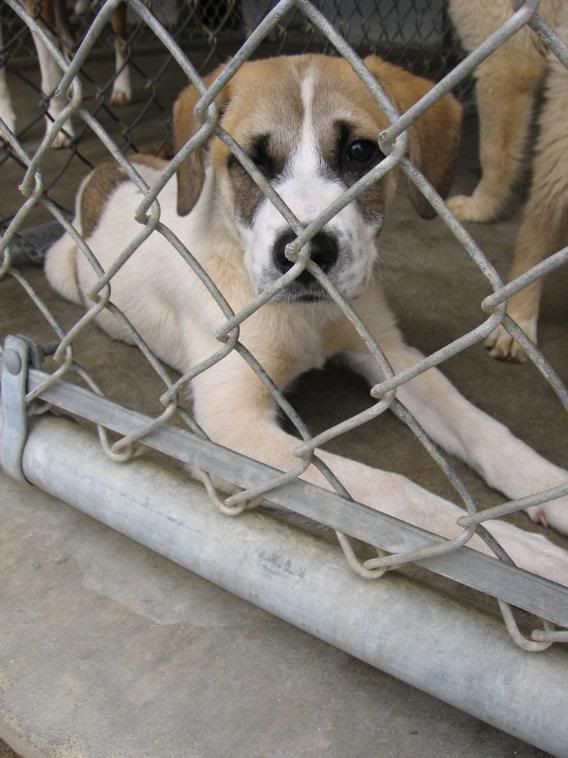 RUN 12 – 06-031 M 6MO LAB / POINTER X – Sweet boy "Dude" was at the shelter last week, but there was some confusion as to whether or not he was adoptable, especially since he is on the side away from the public, so I didn't post for him. He IS adoptable, however, and his time is up.
He is on the back side due to space issues, NOT due to temperament! He is a very friendly boy!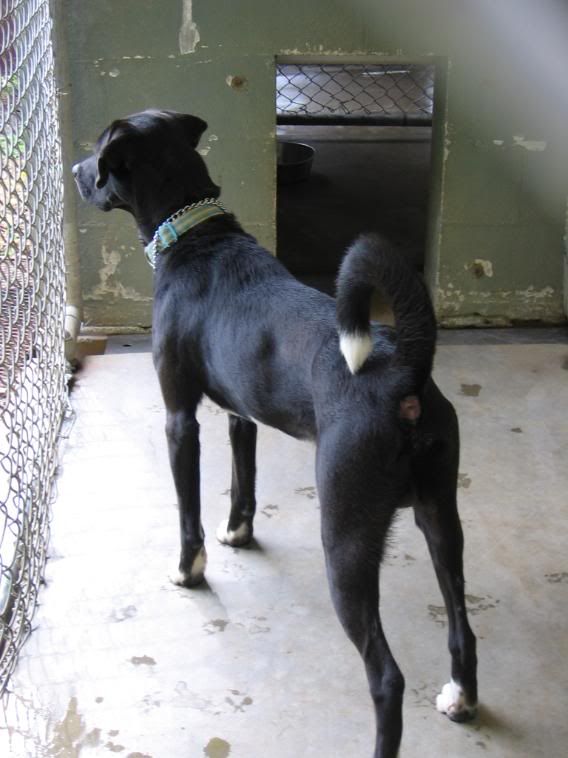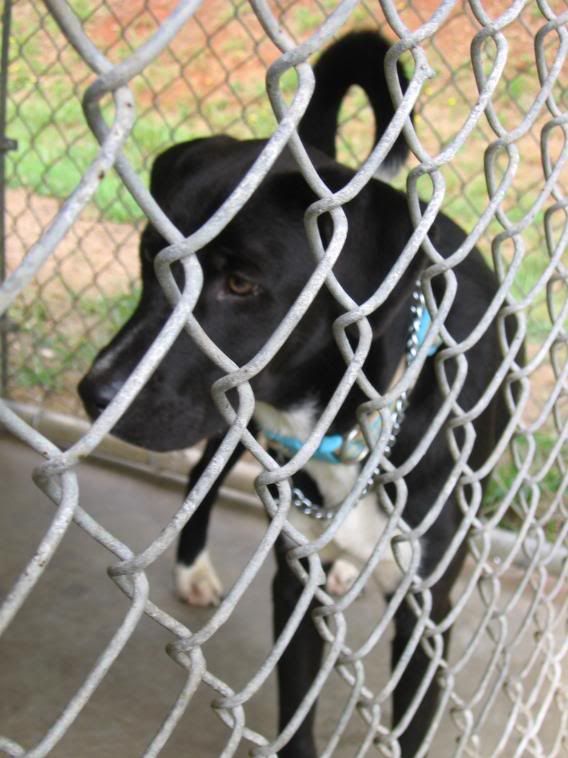 PEN 37 – 06-179 AND 06-180 BOTH M 6WKS LAB X'S – (179 is light and 180 is brown.) These little babies, likely siblings, belong on a calendar or magazine. They are CUTE, CUTE! They are also quiet, gentle, and play very well together. Can you believe no one has stepped up for them yet? There must be someone out there who is moved by these pictures and is able to help.
Maybe that person is you!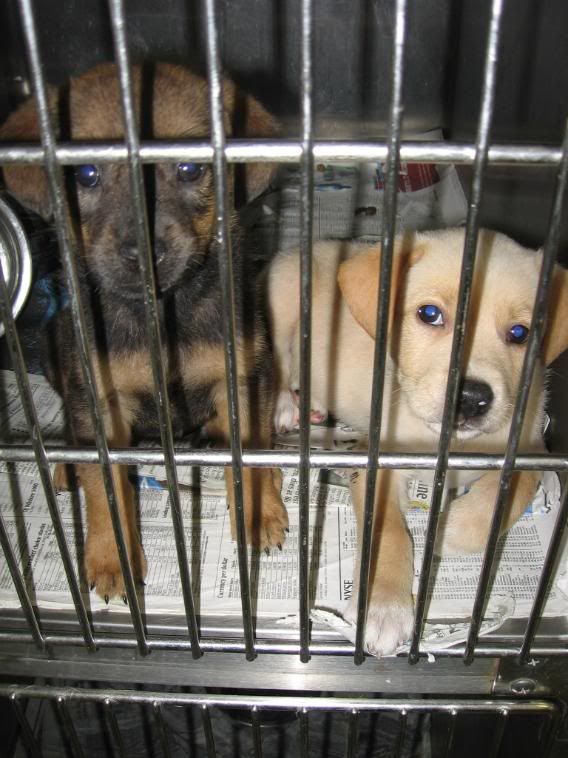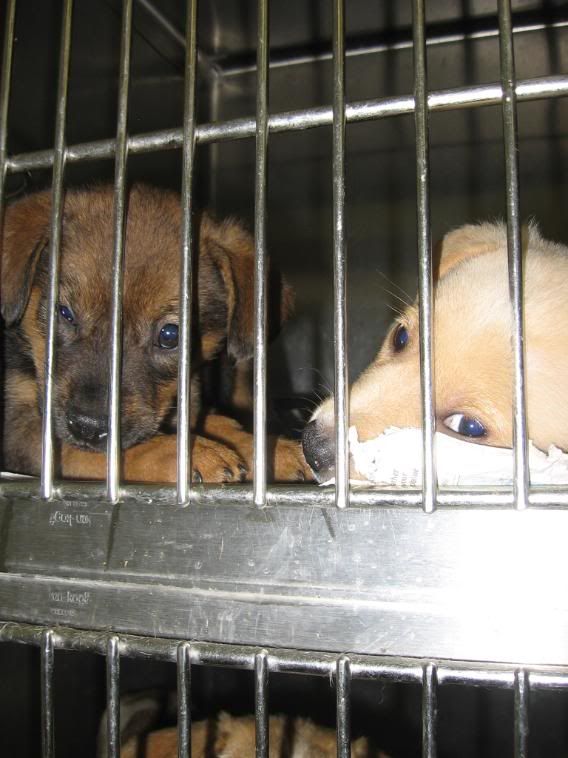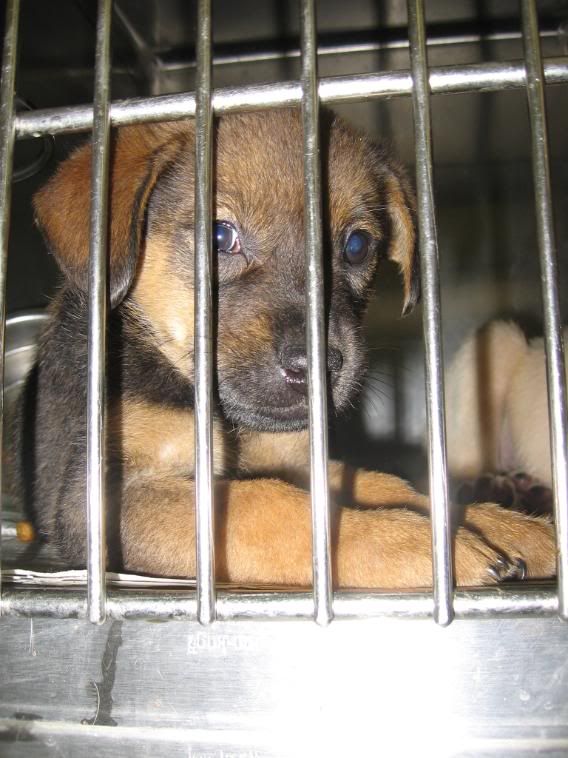 PEN 2 – 06-112 F 2MO CALICO – This little girl wants to live! The officers have given this precious girl just a few more days to find a home. She was reaching for me and meowing loudly again this week.
What a sweetheart! Can someone please help her?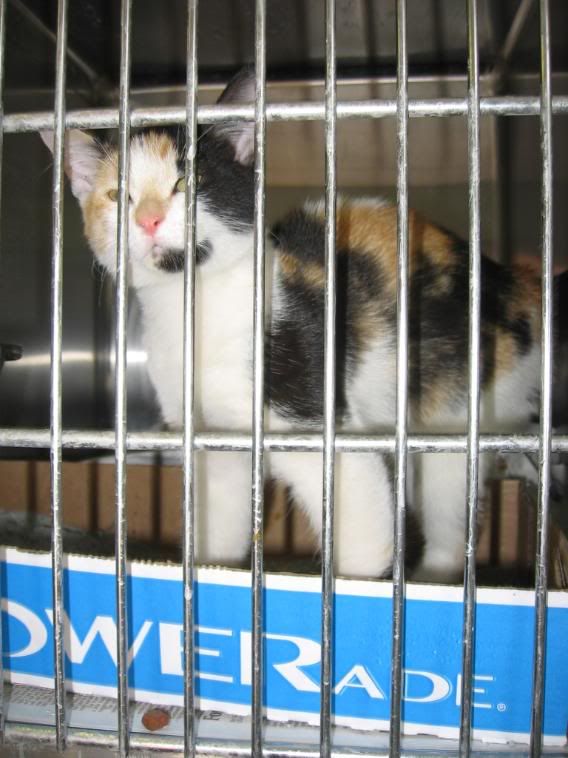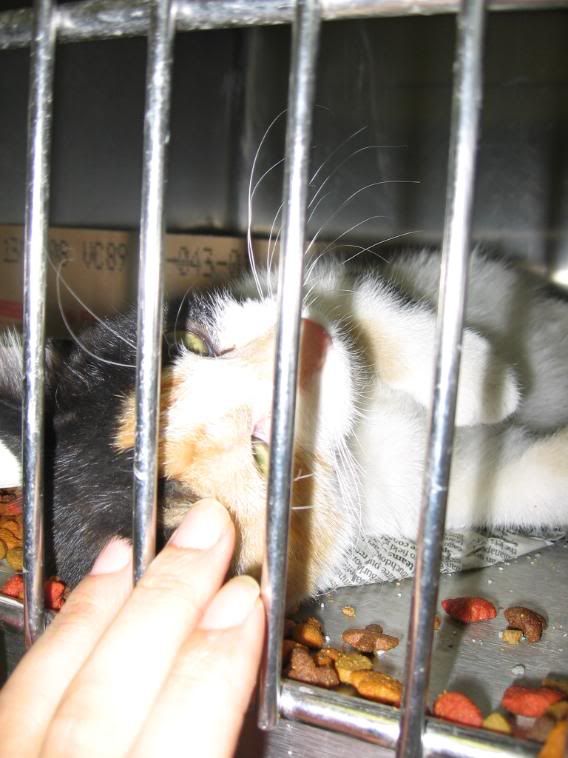 PEN 16 –06-129 F, 06-130 M, AND 06-131 F ALL 5WK – These beautiful babies are now without their mother. They need a loving home immediately! The 129 female is a calico, 131 is a dilute calico, and the brother is black / white. They are DMH or DLH.
This is a very sweet, good-looking group!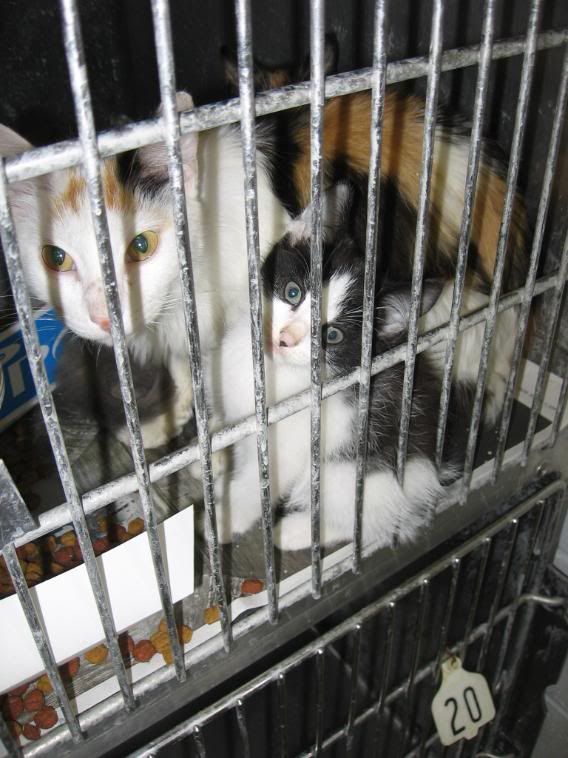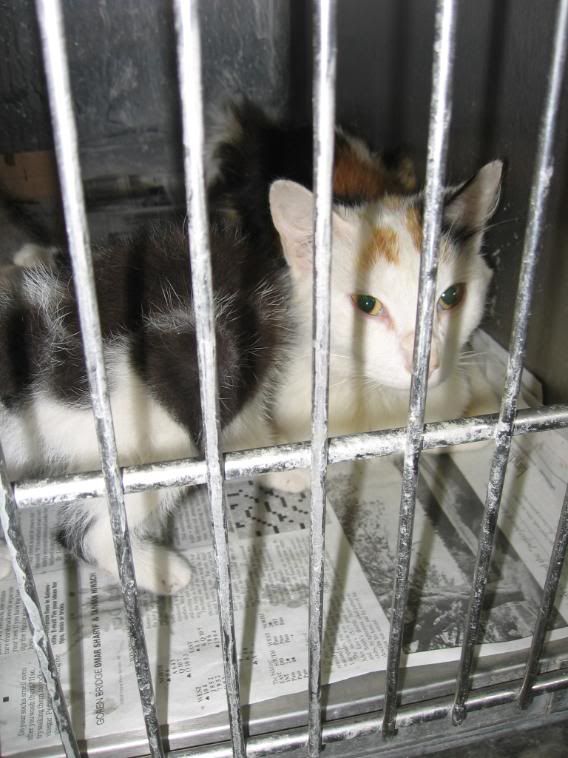 PEN 13 – 06-198 F 2-3YR; 06-199 M 8WK; 06-200 M 8WK; 06-201 F 8WKS - Mom and the two brothers are black / white, and the sister is torti. All are DSH and very sweet. They are now very urgent as their time is up! Please consider this family.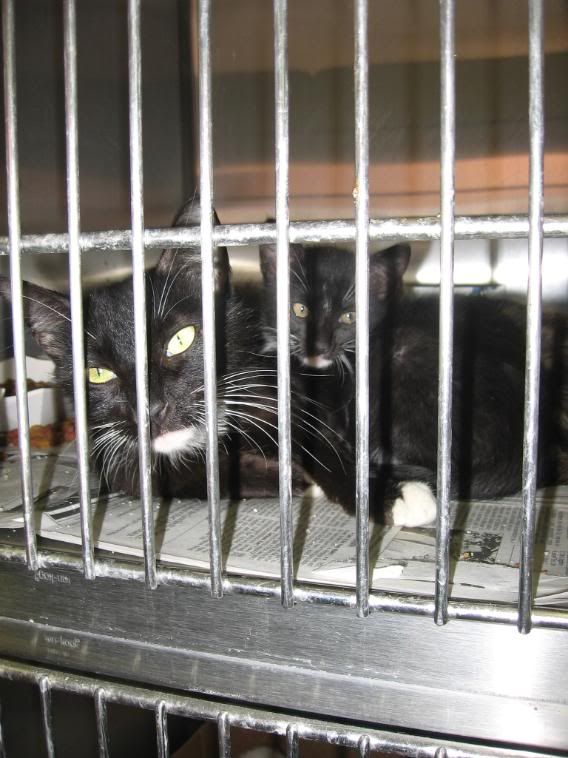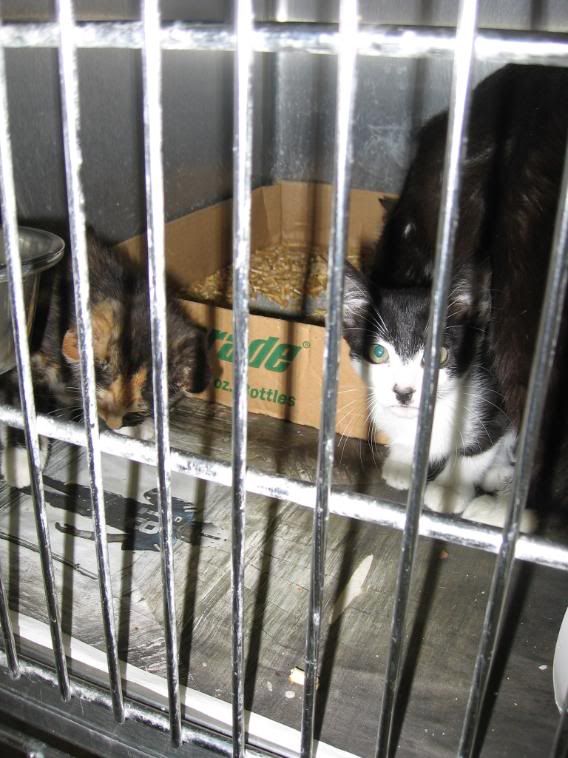 PEN 17 – 06-212 F APPROX. 10WK DSH AND 06-228 F 8WK DLH – Sweet girlie 212 is a pretty orange color and seems playful and friendly. She is sharing the pen with 228.
What a pretty black kitten! Her fur is soft and fuzzy, and she is ready to PLAY! Both girls are now very urgent as their time is up! Please consider these two!
THE FOLLOWING ANIMALS ARE NEW SINCE THE LAST POST BUT MAY STILL BE "EXTRA URGENT" DUE TO THEIR BEING AT THE ANIMAL CONTROL AT OR BEYOND THEIR TYPICALLY ALLOTTED FIVE (5) DAYS AND/OR ARE OWNER SURRENDERED. THEY ARE THEREFORE SUBJECT TO LETHAL INJECTION AT ANY TIME.
RUN 6 – 06-252 M AND 06-253 F BOTH 2+MO LAB X – These blond, fuzzy pups are likely siblings. The female has a bit more of a white stripe down her nose. Both are quiet and friendly.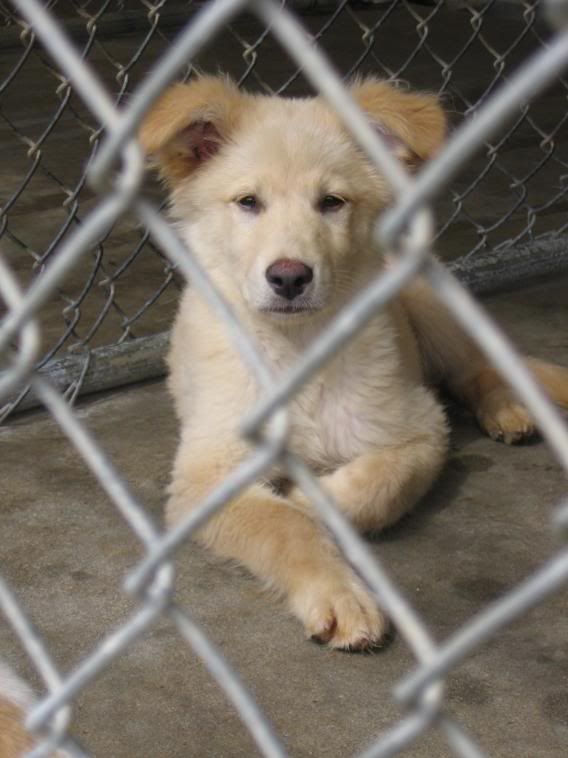 RUN 8 – 06-249 M 1-2YR LAB X – This poor boy may be passed up by many who will never know what love he appears to be capable of giving. Why? He's blind. But remember, love is, too…. As I crouched down for a visit, he instantly turned towards my voice, and he came close for a sniff. He was not startled when I reached in to pat his head, and he even began to smile at me. What a calm, gentle spirit…. (I have fostered a blind dog before who did very well at learning his way around! I have heard that most adapt adequately, unless you're the type to rearrange the furniture often.) I really didn't want to leave him. As I stood and stepped away towards the next run, he diligently ran his nose from side to side and up and down "looking" for me. Maybe in the near future his search for some company will be more fruitful. PLEASE consider this very special soul. He has so much to offer; please don't be one of the ones who pass him by.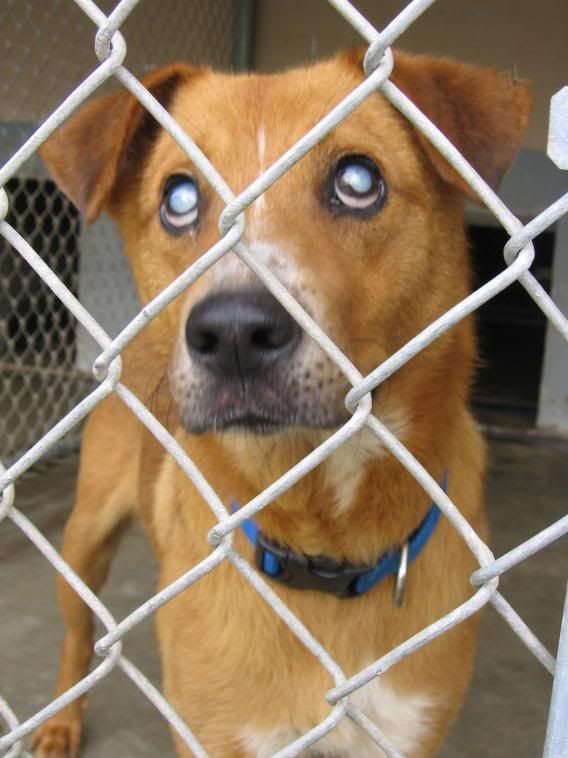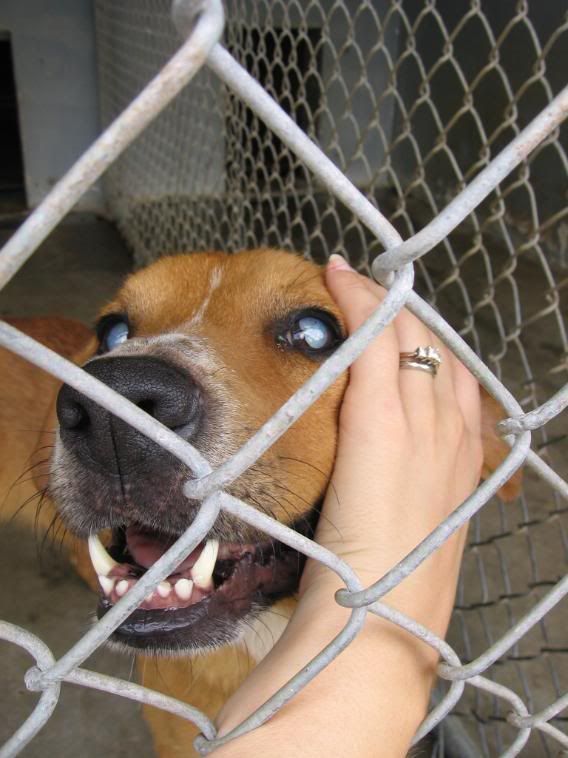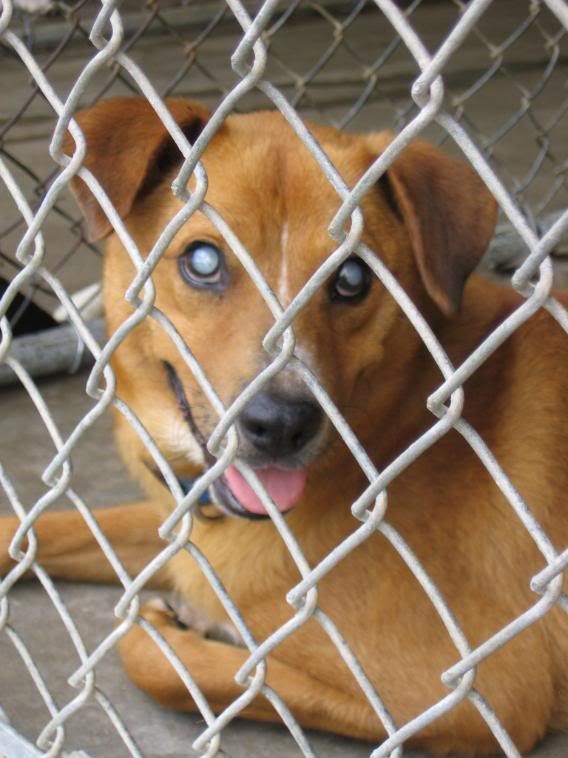 RUN 9 – 06-231 F 6MO LAB X – This sweet girl is a pretty, shiny black with a bit of white on her chest and feet.
She is calm, alert, quiet, and very friendly! A great choice!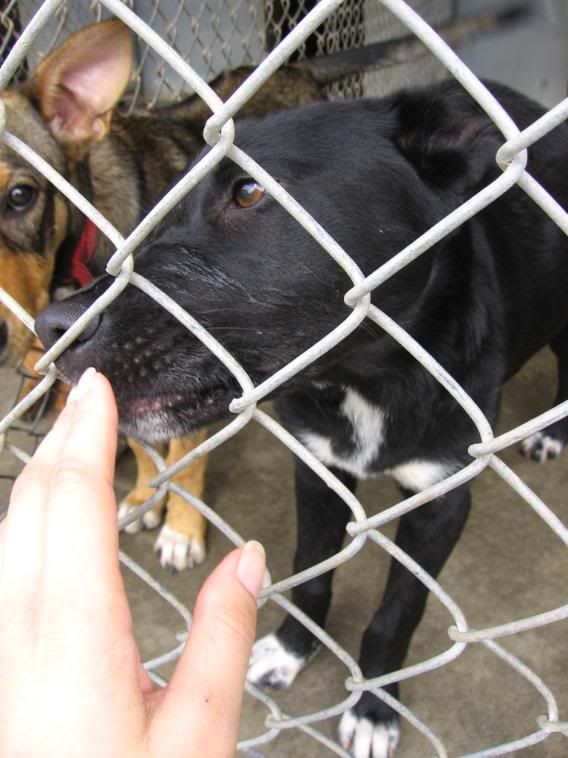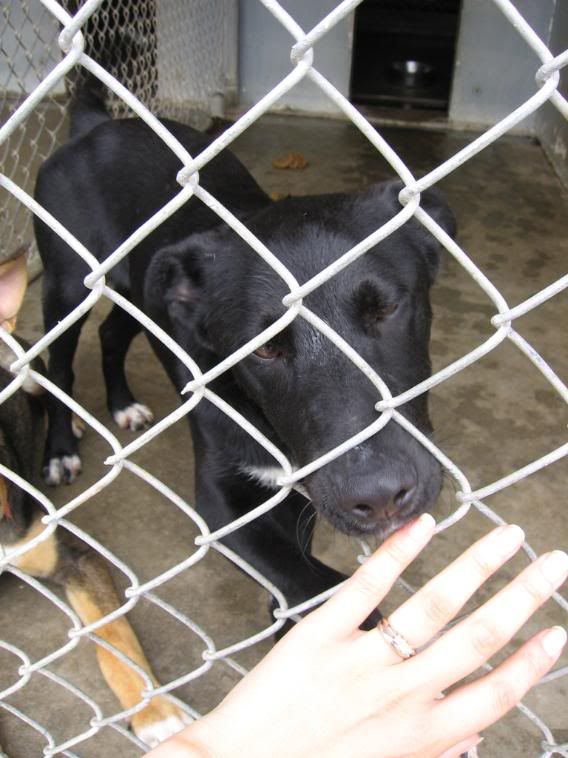 RUN 9 – 06-230 F 6MO SHEPHERD / RIDGEBACK X – This darling girl appears to enjoy cuddling! Most of the time I visited her run, she pressed herself up against the door to be as close as possible. She also gave me lots of kisses and looked up longingly at me.
What a beautiful spirit this one has!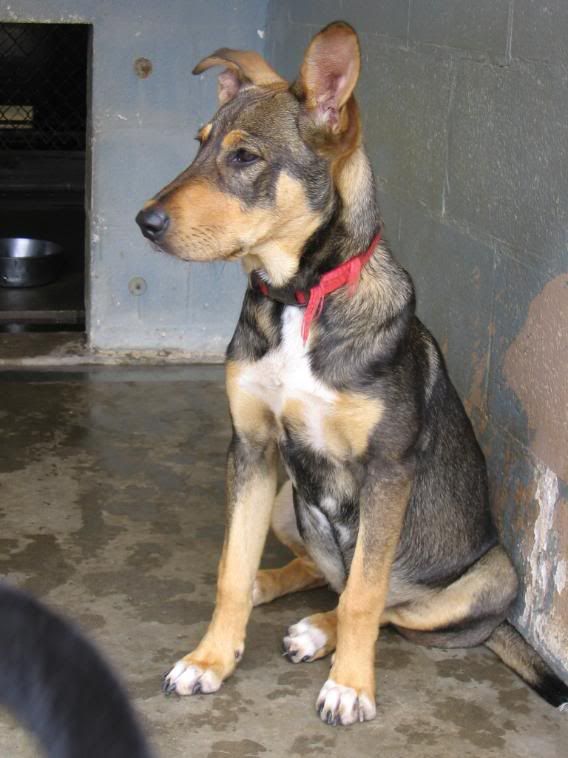 RUN 10 – 06-256 AND OTHERS – EIGHT PUPS 8WKS LAB / SHEPHERD X – Wow! OCTUPLETS! Three pups are brown and three are black. Some have longer, fuzzier fur than others, but ALL are extremely adorable and deserving of a loving home.
Can you give one or more of them such a place?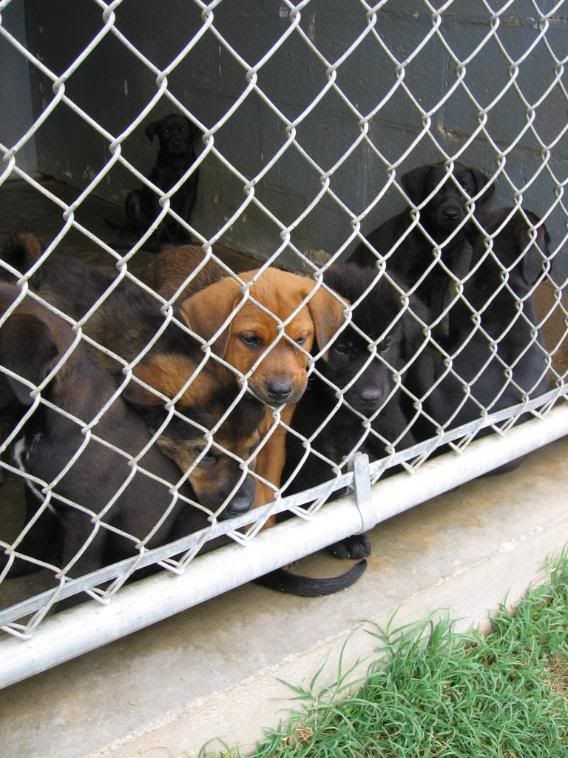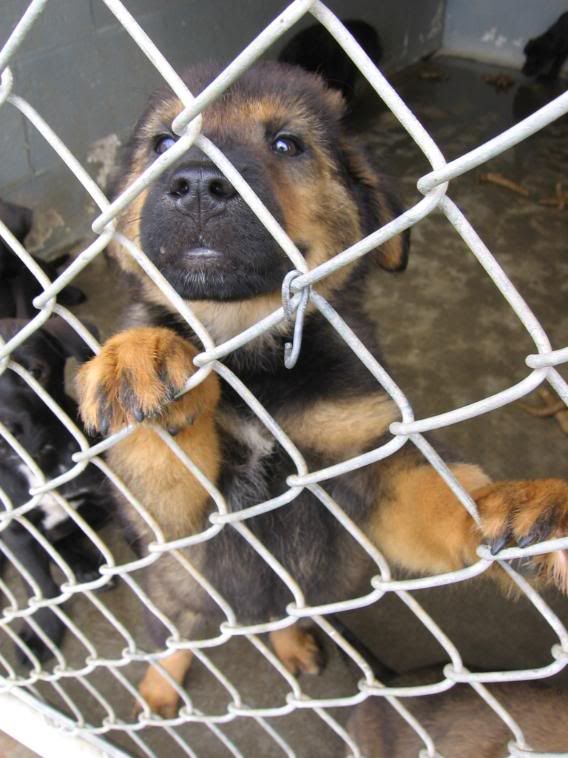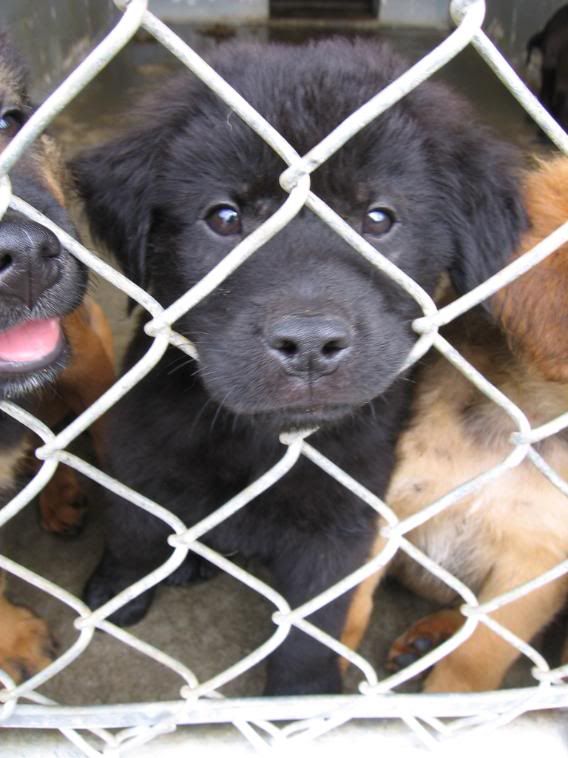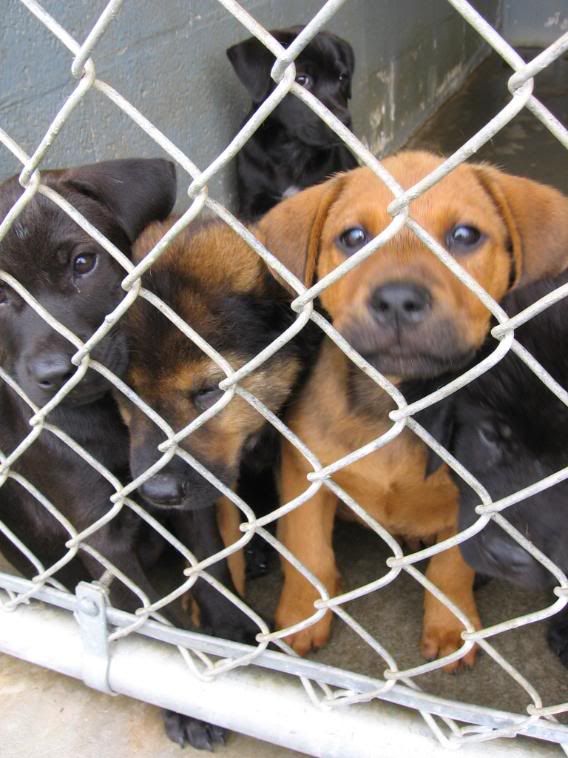 RUN 11 – 06-286 M 4-5MO RETREIVER X – This red and black pooch is extremely friendly and has a good bit to say! I was quite taken with his fur texture, as I found it to be some of the smoothest and softest I've ever felt.
What a wonderful boy he'd be to snuggle up to! Please consider!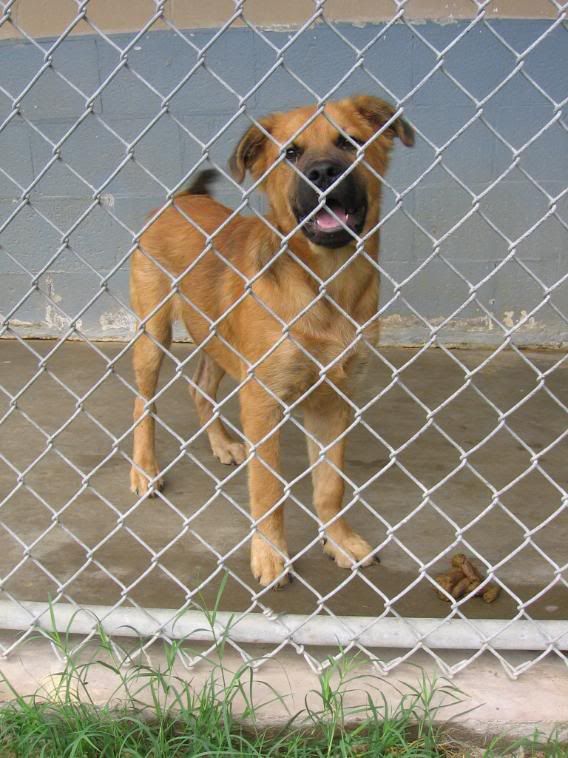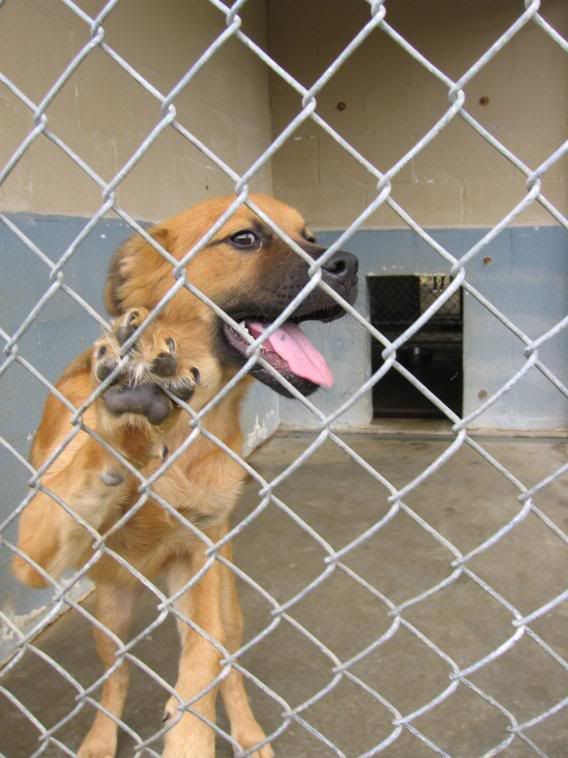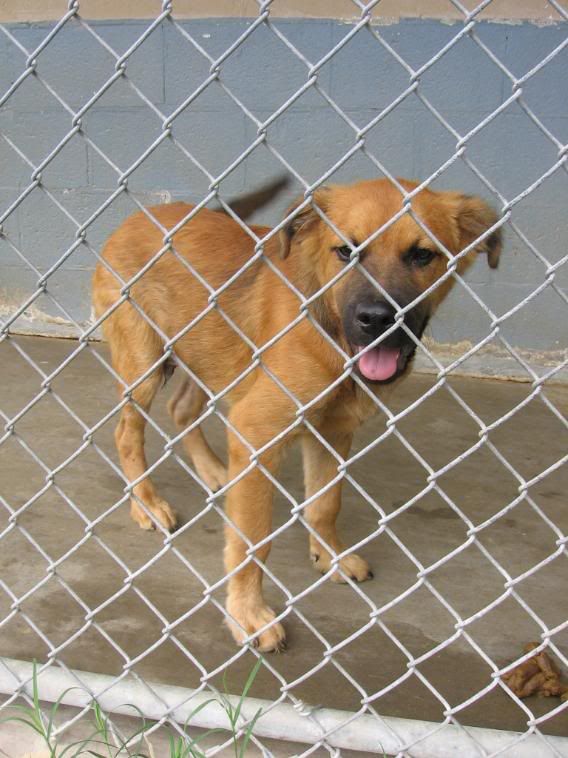 RUN 20 – 06-265 M 6MO LAB / BULLDOG X – This boy is very handsome! He also appears fairly calm and quiet. Due to space issues, he is in a run away from the public, so he may not receive too much exposure.
Please inquire about this special boy!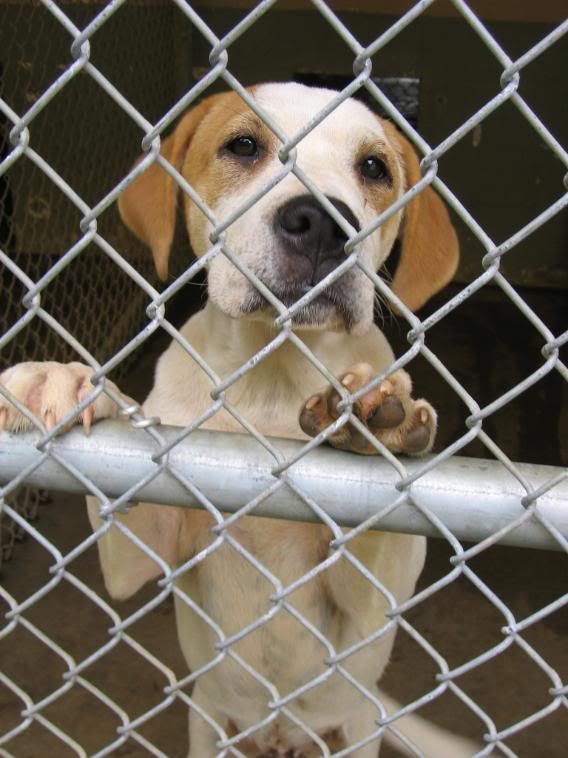 RUN 22 – 06-266 F 2YR TERRIER X – This little brindle darling is only 20 lbs, which is perfect for many types of living arrangements. She has a very slight build with big, expressive eyes and tall ears that make her appear alert and friendly. Unlike many small terriers, however, she is very quiet! This little angel would love to go home.
Can you take her?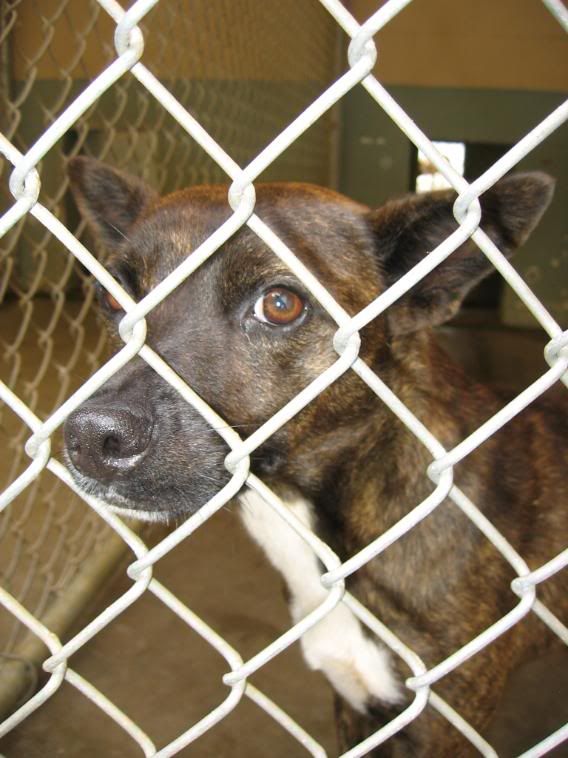 PEN 1 – 06-215 AND KITTENS 06-216 TO 06-220 – Mom 215 is a black DSH 1-2YR, and her TINY kittens are only 1WK. There are five. One is black, two are cream, and two are gray. I watched her nurse and groom the babies a bit, and she appears to be a very gentle and attentive mother. She also enjoyed some attention from me.
Someone please consider this sweet family!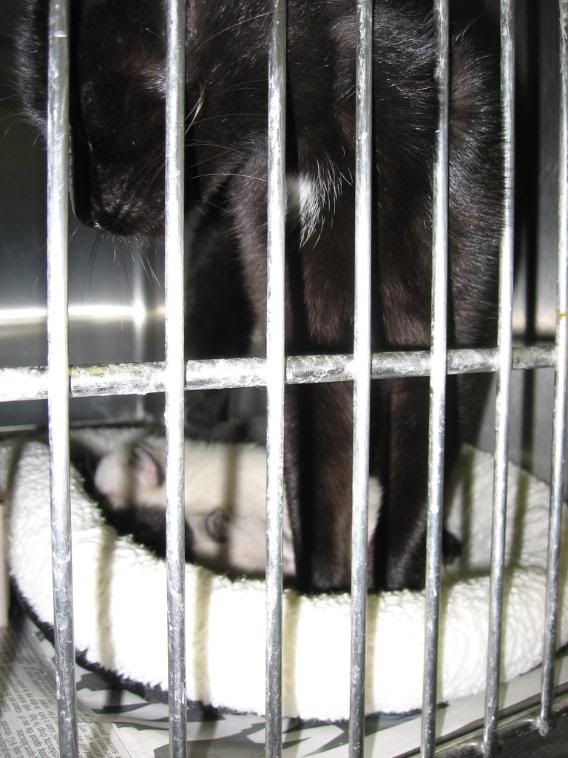 PEN 5 – 06-287 AND 06-288 BOTH YOUNG M DLH – These brothers are beautiful and friendly!
PEN 6 – 06-278 F 2YR DSH – This pretty black cat appears friendly and sweet!
PEN 7 – 06-276 F 1YR – This girl is a lovely, sweet, gray tiger.
Her markings are very bold, and she is extremely affectionate!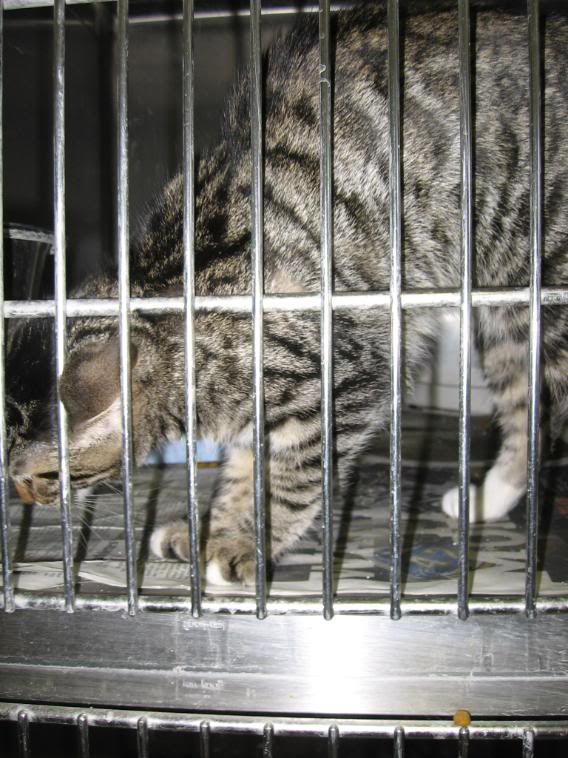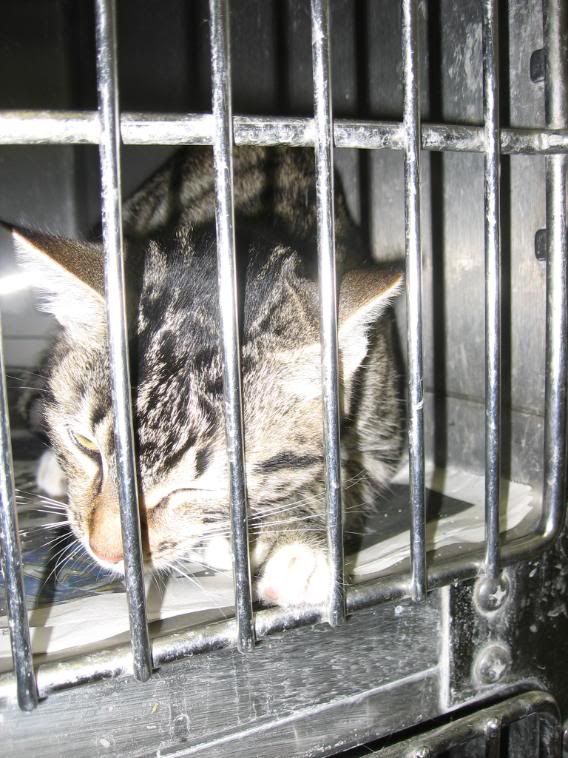 PEN 8 – 06-277 F 2YR – This tiger girl has a good bit of white on her chest, which makes for a unique appearance! She seems very sweet and alert.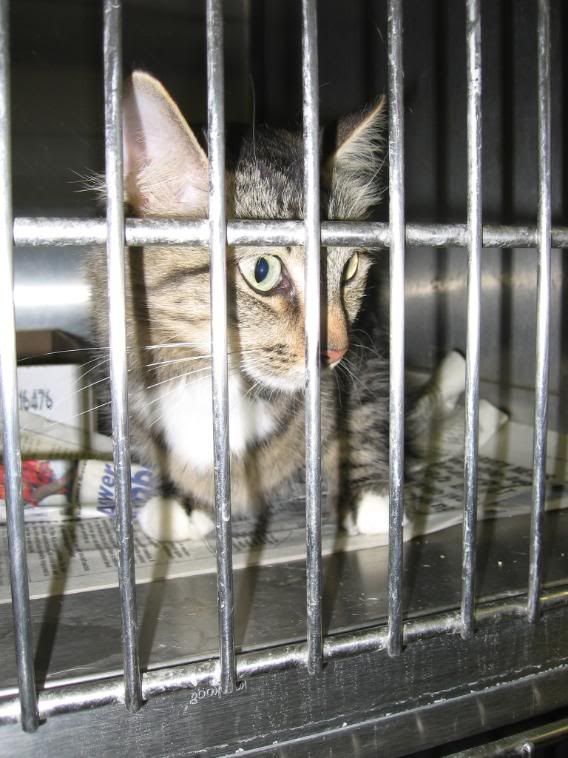 PEN 9 – 06-247 F DSH – This pretty gray tiger is a friendly girl! She's ready to play!
PEN 14 – 06-279 F 2YR DSH – Here is another pretty, friendly little tiger girl, ready to go home!
PEN 15 – 06-275 F 2YR – This sweet tiger girl has some white areas. She appears very nice but perhaps a bit shy.
PEN 18 – 06-222 AND 06-223 BOTH M 6WK – Number 222 is brown tiger, and 223 is an orange tabby. Both of these boys appear friendly and ready to go home! They are very sweet.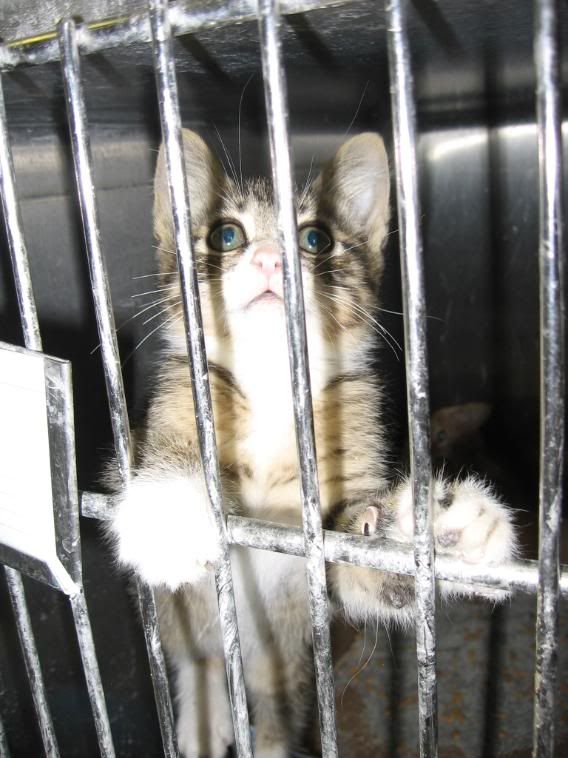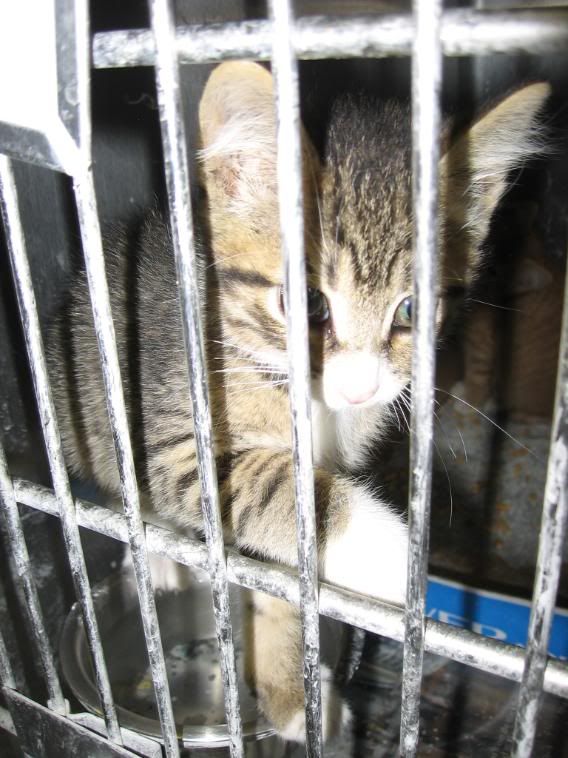 PEN 21 – 06-232 AND 06-233 BOTH F 3MO – Number 232 is DLH, and 233 is DSH. Both little girls are torti, which is very striking! They are playful and sweet and kept reaching out of the pen for me.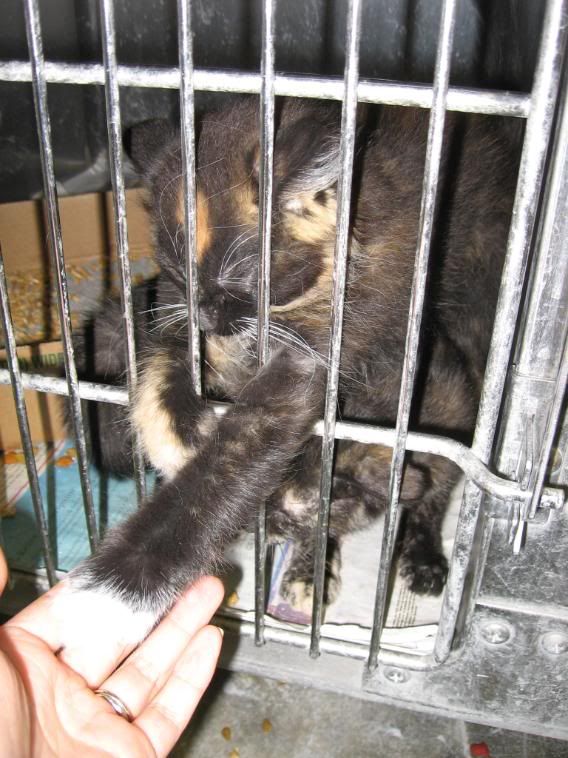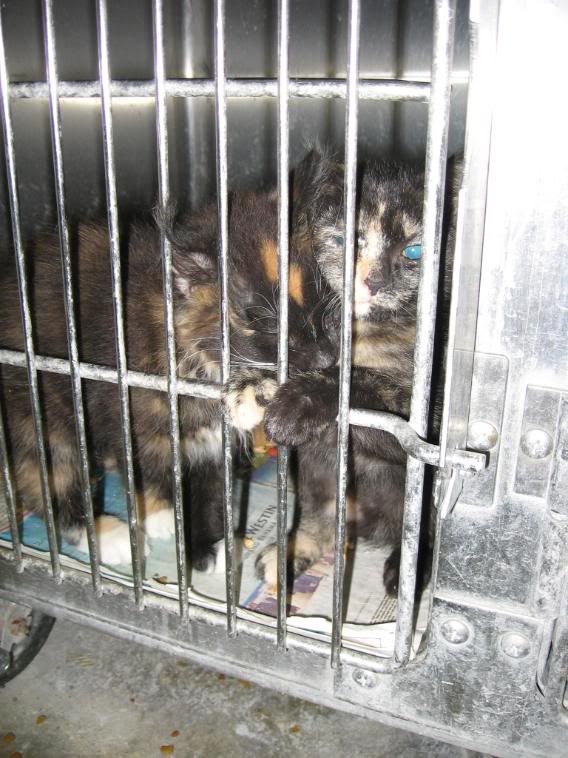 PEN 22 – 06-281 F, 06-238 F, 06-282 M, 06-284 M, AND 06-285 F ALL 6WK DMH – This cute family (although 238 may have been placed with the siblings) is mostly black, but number 284 has white feet, and 285 is torti.
They are very young, sweet, and fuzzy!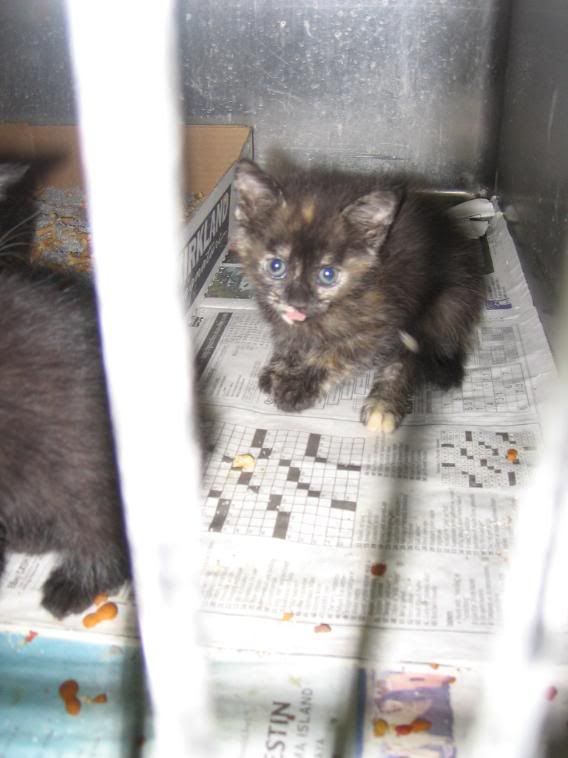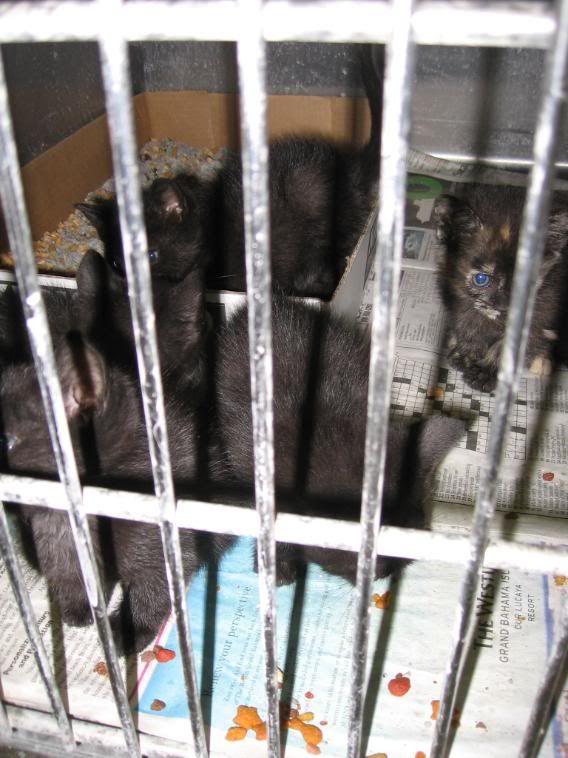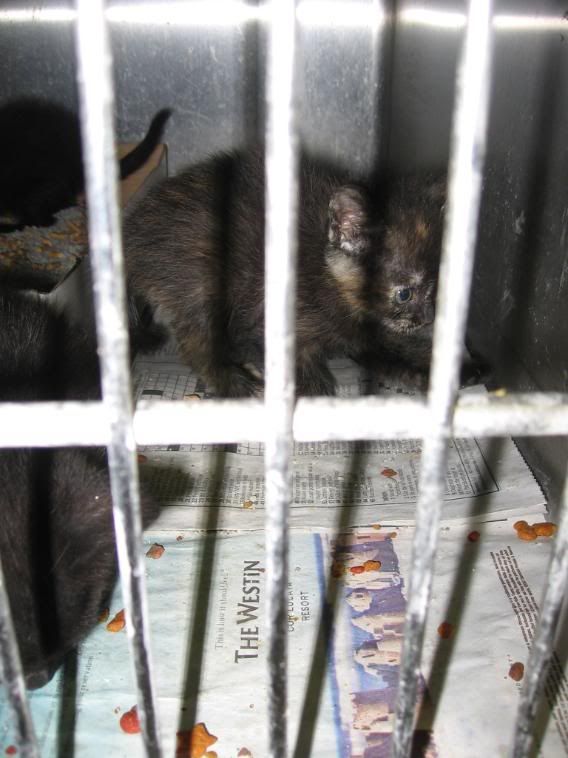 PEN 23 – 06-208 F 2YR DSM – This sweetheart wants to go home! She is a beautiful, rich, shiny shade of black.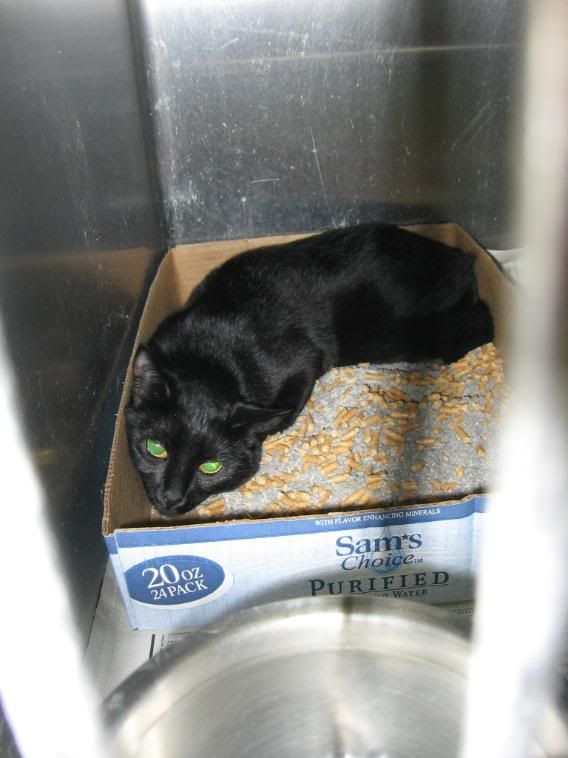 PEN 24 – ID#? SEX? DSH – This adult cat is black and white and appears fairly young and sweet. Please contact the shelter for additional information.
==========
Pictures were taken and list was compiled by Kellie Divis on 06-28-08.
ADD Kellie as a MySpace friend and SUBSCRIBE to the blog!
www. myspace. com/georgiaacangels
PLEASE REPOST! It's one of the cheapest, easiest, and most effective things you can do to help. People can't act if they don't know.