Dec 9, 2008
If you can help at all: donate, foster or adopt some of these kitties,....PLEASE DO!
Hi Everyone...here' s the situation. Unfortunately a Rescue group called GA Heartland has pulled over 100+ cats since July 2008, they are all currently being boarded in one place, Clairmont Rescue, Newnan, GA, there is a link to CR on my below site.
GA Heartland has over extended themselves and although they are 501c3, can no longer afford to pay for these 100+ cats, nor can Clairmont Rescue. The cost for food and litter alone exceeds $500/week. These cats are at risk of being sent back to the shelter, we need food and litter! Even coupons would help!
We are also praying that Cat Rescues across the east coast may have room for even just one or two! We can arrange transport, i will check rescue references. Foster homes are additionally and desperately needed for these kitties.
So, here's how you can help...
Please visit http://www.clairmon trescue.com to view most of the kitties needing help. They are all wonderful, socialized and vetted, incld. vaccs, fiv -, rabies and s/n.
If you can help by taking some into your rescue, please email me at helpingthehelplessp ets.com with your rescue/vetting references, questions and which kitties you can take into your program.
And MOST of all, if you are local and can help by donating cat food, cat litter or even kitty coupons for food/litter, please email clairmontstables@ yahoo.com, donations of the necessities will help to extend their stay in boarding, the longer we can feed them, the more time we have to find placement.
We are desperate to try and move some of these cats, the financial burden is just too much for the facility they are currently being housed in and the responsible rescue is no longer supporting them.
Thank you in advance for your help!!! Please don't hesitate to contact me with any questions.
comments
(0) |
discussion
() |
permalink
|
send green star
|
flag as inappropriate
Dec 5, 2008
| | |
| --- | --- |
| Focus: | Animal Welfare |
| Action Request: | Volunteer |
| Location: | United States |
This is a forward from Ren in Silver Spring MD:


Dear Cat Lovers,

I am moving overseas on Dec. 27 and urgently need to find a home for my two babies. I've had them for their whole lives (I adopted them when they were kittens, 12 years ago).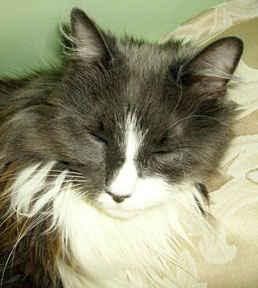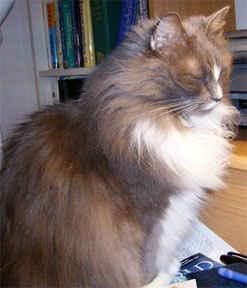 Mayli (on left) is very easy going and attentive. He'll sit in the bathroom while you shower (and sometimes ask for a drink from the tub). He loves being with you. He enjoys sitting in the sun, drinking from his water fountain (he likes running water), and chasing balls. He'll sit on your lap if you put him there and he enjoys a lot of affection and petting. Mayli will spend most of the night sleeping at the foot of the bed (if you let him) and the rest of the time keeping an eyeful watch (he's the night watch kitty).

Nuria (on right) is a princess and comes across as shy at first, but her loyalty is unmatched once she gets to know you. She is an excellent bed buddy and loves to take naps with you too. She loves chasing strings and things that make noise (crumpled bits of paper are her favorite). She also has a thing for rubberbands and when she finds them on the floor, carries them to her foodbowl so you can put them in their proper place.


I'm committed to doing what it takes to find them a loving, caring home for the two of them before I go, including making a financial contribution to your organization and/or their future care taker.
They are very sweet, loving kitties that will bless your home.

Their eyes are shut in the photos below because they are praying for a miracle.


Contact: Ren, ren_resch@yahoo.com (@yahoo.com), tel. 301-518-6174
comments
(0) |
discussion
() |
permalink
|
send green star
|
flag as inappropriate
| | |
| --- | --- |
| | Content and comments expressed here are the opinions of Care2 users and not necessarily that of Care2.com or its affiliates. |
Author


Hannah L.
, 5, 2 children
Spring Green, WI, USA

SHARES FROM HANNAH'S NETWORK