May 18, 2007
| | |
| --- | --- |
| Focus: | Animal Welfare |
| Action Request: | Petition |
| Location: | United States |
http://www.thepetitionsite.com/takeaction/194283020
I think the AKC has lost its collective mind.
comments
(2) |
discussion
() |
permalink
|
send green star
|
flag as inappropriate
May 4, 2007
| | |
| --- | --- |
| Focus: | Animal Welfare |
| Action Request: | Other |
| Location: | United States |
I JUST GOT PICKED TO BE A RICHMOND, VA AREA REPRESENTATIVE FOR DOGS DESERVE BETTER!!!!!!!!!!!!!!!!!!!!! I'm so excited I can hardly stand myself right now!!! So my first duty is to see if we can get ALL 50 states and my Canadian friends to participate in this event. Please post this far and wide. Thank you!!


Announcing Chain Off 2007 · Unchain the 50!


Freedom for America's Chained Dogs

4th of July · Events to be held June 30th through July 7th





Dear Lisa,

This Years 4th of July marks our 5th Annual Chain Off Event, and this Year we're going Even Bigger than EVER, with a Goal of at least ONE PERSON per state living chained to a Doghouse for 8-24 hours in our Fabulous Unchain the 50 Campaign!



The Dogs Deserve Better Chain Off, held every July 4th for the past 5 years, has evolved from

one woman chaining herself to a doghouse

for 33 hours in Pennsylvania in 2004, to

11 contestants chaining themselves for as long as 13 days in 2006 to win a new car.

Along the way others have joined in the crusade, with last year separate events being held in Pennsylvania, Ohio, Indiana, and Maine.



This year we want to make it even easier to participate, and we need at least 50 people to join us! That's right, at least ONE from every state.

And here's how we've made it easy for you...



Last year's participant, Erin Blais of Maine, BLAZED a trail for you...She lived chained to a doghouse for 24 hours

IN HER VERY OWN YARD!

That's right, no event to plan, location to get permission for, funds to raise...nothing. And the media STILL CAME.



Many of you have been telling us you want to do this for years, but when it came to planning the event, it proved to be too much for you.

(We understand, it can be VERY daunting.)

So this year,

DON'T PLAN.

Just get yourself a doghouse, let us know where and when you will be joining us, get a few friends to sponsor you on this hourly 'sponsor sheet' (like a walk-a-thon), and be done with it.

We will alert your local media and include your details on our website.

Each person who chains her/himself for 8 hours or more will receive a FREE CHAIN OFF 2007 T-shirt,

as well as brochures to hand out to any interested passers-by.



Just a few simple rules to live by:



1. If you say you'll do it, don't back out.

2. Get friends and family to sponsor you on this sponsor sheet so you can raise money for our work while you're whiling away the hours.

3. Make sure to take photos and send us a write up of your success for the website.

4. Chain yourself from 8-24 hours anytime from June 30th through July 8th.



AND THAT'S IT! Could it get any simpler?





Join us today.


E-mail Dawn@dogsdeservebetter.org with all your details.

Our MAIN EVENT will be held, we are 90% sure, in

Atlanta, Georgia

this year. Details to follow as soon as location is confirmed.

We'd like to have volunteers from all over come to be chained with us. Tammy Grimes will be chained there for 24 hours, and anyone else who can come to be chained with her is very welcome.

We will also have speakers, booths, and other events ongoing for the two days. More to follow as the event shapes up.



for the Event. Can you or your organization Sponsor 'Unchain the 50'?
Sponsorships run from Bronze level to Platinum, in which your company logo or name will be placed on all merchandise for the event, t-shirts, ads, signage, etc., as well as a large banner at the event. See the link to find out all the levels, or donate whatever amount you are comfortable with to help make the event happen.

Be a Sponsor!



PLEASE Participate! We have a chance to change the future.
With your help, we can let the world know animal abuse MUST be taken seriously. Don't sit back and let it happen. Be part of the change we are seeking,
KNOW and we will succeed.
Sincerely,

Tammy Grimes
Founder, Dogs Deserve Better
Apr 12, 2007
| | |
| --- | --- |
| Focus: | Animal Welfare |
| Action Request: | Other |
| Location: | United States |
OMG!! Apparently this person has never been to a shelter on euthanasia day. This bill is heroic!!! I wish my state's general assembly had the intelligence to introduce a bill like this. Four months of age is perfectly fine. Reputable breeders??? Where have you been living under a rock? There are MILLIONS OF PUREBREDS dying every day in shelters from responsible breeders and "responsible owners." . There are THOUSANDS UPON THOUSANDS of dogs and cats dying each day in shelters all across America because of ignorant asses like you!!! For God's Sake pull this petition.

Target: California Assembly
Sponsor: W. Ward

California Assembly Member Levine has introduced AB 1634, inappropriately named the "California Healthy Pets Act." The proposal requires all dogs and cats in California to be neutered by the age of four months, or their owners will face punitive fines and penalties.

AB 1634 Is Bad Health Policy for Animals – Neutering pets by the age of four months is poor health policy for many animals. Modern veterinary research questions the propriety of neutering animals too early, due to concerns about adverse behavioral issues and increased risks of cancer and other diseases. The decision whether to neuter a pet, or when, should be made by pet owners with the advice of their veterinarians, not by politicians. Pet lovers who believe neutering is not in their pet's best interests may avoid other important health care, like vaccinations and periodic exams, because they fear the heavy penalties under this law. This will be detrimental to public health if it deters the public from obtaining necessary rabies inoculations and reduce licensing compliance.

No More Purebred Cats or Dogs in California - The bill provides a complex exception for show animals that no cat or dog in California can meet. For example, it requires that by the age of four months a cat or dog must have competed in a "legitimate show." Dogs must be at least SIX MONTHS of age to compete in sanctioned events so this is an impossible test to meet. The proponents of AB 1634 have carefully crafted both versions of the proposal so that the future of show cats and dogs in California is doomed.

Reputable Breeders Are Not the Problem –Reputable breeders already adhere to national Codes of Ethics that requires that their &ldquo
et" offspring be neutered as a condition of sale and that their "show" offspring be developed as potential outstanding specimens of their breed. Their offspring DO NOT become part of the abandoned animal population.

California Pet Buyers Will Be Harmed - AB 1634 will cause fewer good quality pets to be available from California breeders to California pet buyers, but it will not diminish the public's demand for pets. By discouraging local breeders, the demand will be met from other sources. Some California shelters are already importing pets from overseas for adoption and puppies are smuggled into California from Mexico every day to meet current demand.

Unwanted Pet Population Will Not Be Reduced – Most owned cats are sterilized, as high as 92% in some studies. Many of the cats euthanized by shelters come from the free roaming/unowned cat population. These wild, unowned cats will not be affected by a new law. Reputable dog breeders reclaim their unwanted or abused offspring so they do not become part of the "unwanted pet" problem. Dogs from irresponsible, often out-of-state, breeders too often end up unwanted and euthanized. Those breeders will not be subject to, or comply with, any new law.

This Law Will Burden Local Shelters - AB 1634 is an unfunded mandate on local government. It will only further burden counties and municipalities and divert limited resources that would be better utilized elsewhere. The cost of enforcement will be high and California taxpayers will ultimately pay for this legislation. Jurisdictions that have imposed unaltered dog/cat licensing and breeder permits have found them to be costly and unenforceable.

You can read the complete proposals by clicking here: Original Bill or Proposed Revised Bill Read the language carefully, it is tricky, especially the so-called exceptions.

Read what others have to say about AB 1634 and check for updates. California residents – see contact information for your representatives on these websites:

Signatures: 5,957
Goal: 1,000,000
Deadline: Ongoing...
Please click here to sign this petition!

comments
(3) |
discussion
() |
permalink
|
send green star
|
flag as inappropriate
Apr 12, 2007
Those of you who really know me, know that getting rid of the gas chambers is a fiery passion of mine. Please write your thanks to Martinsville!!!


Alert 4-11-07 Martinsville Stops Gassing

The City of Martinsville has stopped using the gas chamber!

Please let Martinsville officials and the Martinsville newspaper hear your thanks!

Robert R. (Dan) Collins
City Manager, City of Martinsville
P. O. Box 1112; Martinsville, VA 24114
ofc: 276-403-5180
fax: 276-403-5280
email: dcollins@ci.martinsville.va.us

Mike Rogers
Chief of Police, City of Martinsville
P. O. Box 1112; Martinsville, VA 24114
ofc: 276-403-5300
email: Mrogers@ci.martinsville.va.us

Martinsville Bulletin
letter to the editor: info@martinsvillebulletin.com
NOTE: indicate in subject line that you are sending a letter to the editor

To all of you who have worked to end the use of gas chambers in Virginia, you have helped. You have made a difference. One more is gone!

Lillian Clancy/Don Marro


Imported from external blog
Visibility:
Everyone
Tags:
animals
Posted:
Apr 12, 2007 8:14am
Apr 11, 2007


Click on first banner to go see full info on this matrix that will allow you to quickly see whether or not your state has felony statutes in place for cruelty to animals. Becka/Care2Connect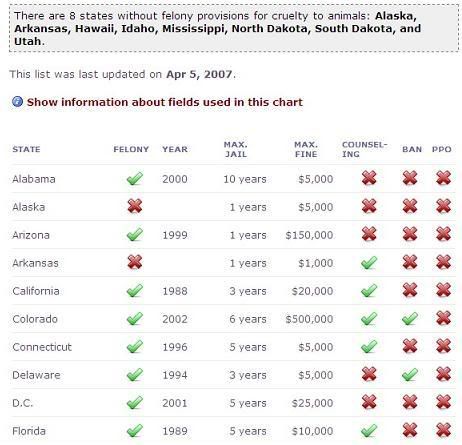 Apr 10, 2007
| | |
| --- | --- |
| Focus: | Animal Welfare |
| Action Request: | Petition |
| Location: | United States |
Lee County Animal Conrol Officer Wayne Martin was fired but needs to be brought up on animal cruelty charges in violation of and as defined by Virginia law, 3.1-796.122a, b, h & i, - Cruely to Animals as well as 3.1-796-119 - Capturing, confining, and euthanizing companion animals by animal control officers; approval of drugs, etc., used.

Sources have stated that Martin would put three to four dogs at a time in the kill box (gas chamber). The law states that only one dog at time can go in the box. Sources also stated that he used a power hose to wash down the kennels with ice cold water, never bothering to remove the dogs and/or puppies first.

http://www.thepetitionsite.com/takeaction/762762575


Visibility:
Everyone
Tags:
shelters
Posted:
Apr 10, 2007 7:37am
Apr 9, 2007
| | |
| --- | --- |
| Focus: | Animal Welfare |
| Action Request: | Petition |
| Location: | United States |
Cross posted, please sign.

From: NC Coalition for Humane Euthanasia
Date: Apr 9, 2007 10:03 AM


http://www.gopetition.com/petitions/ban-the-use-of-gas-chambers-in-north-carolina-pounds.html
Apr 6, 2007
One of our worst kill shelters here in VA has closed. Please read the following article. I'm thinking about doing a petition against the Animal Control Officer. The Sheriff's office just suspended this guy, but I called the shelter and spoke with two people there and they elaborated on this guy (asshole) and how they've been begging for a surprise visit to catch him for years. I need a little feedback from everyone before I get all cocky, etc.


Lee pound closed after animal control officer suspended
Published 04/04/2007 By WALTER LITTRELL
JONESVILLE - The Lee County dog pound is temporarily closed after Animal Control Officer Wayne Martin was indefinitely suspended on Wednesday.
Sheriff Gary Parsons, who supervises animal control department employees, said he and County Administrator Dane Poe jointly agreed to the suspension Wednesday morning after a visit to the pound by a state veterinarian's office worker.
The suspension is "effective until we can make a determination if further action is necessary," said the sheriff.
Parsons said the Wednesday visit by the state vet's office was a follow-up visit to a routine inspection visit about two weeks ago during which the worker found issues that had been discussed with Martin. On Wednesday, the worker determined that animals were not being properly euthanized, the sheriff said.
Poe said state law requires no more than one animal be euthanized in a gas box without separation, but the officer found more than one animal in the box without separation.
Martin is certified in the use of the gas box, he said.
Poe said the state vet's findings were relayed to him verbally but a written report is not yet available, and he declined comment until the complete report has been submitted to his office. The administrator estimated that will take four to five days at a minimum, based on past experience with inspections from that office.
"Needless to say, we felt the findings were severe enough to take action immediately," he said.
Poe said since assistant animal warden John Shubert resigned effective March 23, the animal control office is without personnel to operate the pound and answer calls. Animals in the facility will be cared for by other county personnel, but no staff will be on hand to take in animals that are being dropped off or to answer animal control calls, he said.
As for the animals at the pound, Poe said they will be held the time required by law and that he intends to check with the Lee County Animal League to see if members can care for them.
"We will hold them until at least Monday, then we will seek to dispose of them by legal means," he said. "We won't be able to pick up strays or to handle calls for the time being."
If any animals have to be euthanized while the county is without a certified animal control officer, it will have to either use the services of a licensed veterinarian or take them to another pound, said Poe.
Poe said during the March inspection, the state vet's office had recommended corrective action on several minor items including a minor leak in a corner seal of the gas box, record keeping, record custody, sealing on the kennel floors and small gaps in kennel doors that may have allowed smaller puppies to escape. The state vet had also recommended that animals in need of veterinary care should be given that care when animals were in county custody. Those issues were being addressed and Wednesday's visit was the second follow-up to that visit.
Of those concerns, the most severe was the seal breach, but that had been repaired, the box tested and recertified for use, he said.
The administrator is hopeful the pound closure won't be lengthy. He noted the county has already advertised for applications to fill Shubert's position and those are due on April 16. Since the board of supervisors meet on April 17, and supervisors hire for that position, he's hopeful a recessed meeting for the purpose of conducting interviews can be scheduled during that meeting and at least one officer can be hired in a timely manner.
comments
(8) |
discussion
() |
permalink
|
send green star
|
flag as inappropriate
Apr 5, 2007
Repost

Hey guys, watch out for that biker, it could be me and my guy.


A Biker's Story - Please read (reposting, thx, R.J.)

----------------- Bulletin Message -----------------
From: Charlene
Date: Apr 5, 2007 11:59 AM


Please read this one all the way thru.....

*******************

----------------- Bulletin Message -----------------
From: Real.Justice
Date: Apr 5, 2007 8:48 AM


My husband and I ride motorcycles. So does most of our friends and family so PLEASE pay attention to them.

A bikers Story

I saw you; hug your purse closer to you in the grocery store line.
You didn't see me; put an extra $10.00 in the collection plate last
Sunday.

I saw you; pull your child closer when we passed each other on the sidewalk.
You didn't see me; playing Santa at the local mall.

I saw you; change your mind about going into the restaurant.
You didn't see me; attending a meeting to raise more money for the hurricane relief.

I saw you; roll up your window and shake your head when I rode by.
You didn't see me; driving behind you when you flicked your
cigarette butt out the car window.

I saw you; frown at me when I smiled at your children.
You didn't see me; when I took time off from work to run toys to the homeless.

I saw you; stare at my long hair.
You didn't see me; and my friends cut ten inches off for Locks of
Love.

I saw you; roll your eyes at our leather coats and gloves.
You didn't see me; and my brothers donate our old coats and gloves to those that had none.

I saw you; look in fright at my tattoos.
You didn't see me; cry as my children were born and having their
name tattooed on my skin and in my heart.

I saw you; change lanes while rushing off to go somewhere.
You didn't see me; going home to be with my family.

I saw you; complain about how loud and noisy our bikes can be.
You didn't see me; when you were changing the CD and drifted into my lane.

I saw you; yelling at your kids in the car.
You didn't see me; pat my child's hands knowing he was safe behind me.

I saw you; reading the newspaper or map as you drove down the road.
You didn't see me; squeeze my wife's leg when she told me to take the next turn.

I saw you; race down the road in the rain.
You didn't see me; get soaked to the skin so my son could have the car to go on his date.

I saw you; run the yellow light just to save a few minutes of time.
You didn't see me; trying to turn right.

I saw you; cut me off because you needed to be in the lane I was in. You didn't see me; leave the road.

I saw you; waiting impatiently for my friends to pass.
You didn't see me; I wasn't there.

I saw you go home to your family.
You didn't see me, because I died that day you cut me off.

To you I was just a biker, not a person with a family and friends.

You didn't see me; and now they will never see me again.

PLEASE PASS THIS ON FOR YOUR FRIENDS WHO RIDE OR HAD SOMEONE WHO MAY HAVE DIED WHILE RIDING A MOTORCYCLE
comments
(1) |
discussion
() |
permalink
|
send green star
|
flag as inappropriate
Apr 5, 2007
I'M CROSS POSTING THIS FROM MY FRIEND

Animals Don't Need Your Excuses


When you care about animals, work with them or rescue them, people will frequently try to give you all kinds of excuses as to why they suddenly can't care for their pets. I think the ones that disgust me the most are friends popping up out of nowhere asking for me to help them find a home for their dog or cat. Well, because I love animals and network with other like-minded people, I am probably the last person you should come to for this kind of "help." (For the record, those of us who help animals stay so overwhelmed, that we are weary of your excuses.) What you are essentially telling us is that for whatever lame, bullshit reason you can come up with, you no longer wish to be responsible for your pet. If you have a new baby and this suddenly prevents you from being responsible enough to provide food and shelter for a dog or cat, this speaks volumes to me. Here's a solution…Be responsible enough to take care of a baby and a pet. After all, you had your pet first. This is called being an adult. I know plenty of people who are good parents and excellent pet owners at the same time. I was born into a home where my parents already had two dogs. Those two dogs were our family. As someone with many pets (more than anyone I know of) there is no excuse someone is going to be able to give me that is going to fly. I have heard so many excuses from people over the years, they all just blend together. The thought of someone giving up their loving pet, especially after having this animal for years is just heartbreaking. Animals don't need your excuses. People who rescue and help animals don't even listen to your excuses. Please stop being selfish and start being responsible.


 PETS
If you are allergic to cats, you know this before getting a cat and you don't suddenly become allergic to them one day. I say this as someone with both cats and severe allergies. Most people are allergic to pollen or mold, don't always blame it on your cat. If you will simply wipe your cat or dog down each day with a damp cloth, problem solved. If people are truly allergic to them, they are allergic to the dander, not the fur itself. "Dusting off" your pet daily can prevent allergy attacks and pointless excuses. If this is an issue for you in the first place, please do NOT adopt a dog or a cat, only to give them up. It's simply not fair to the animal.


Are you suddenly too busy for your dog or cat? Please. You probably waste time doing other pointless things all day long. Anyone can find 10 minutes at the end of the day to sit with their dog or cat. Spending time with pets is more therapeutic than most people realize. Your pet has been waiting for you all day. The least you can do is spend some time with them. For all the people you encounter or talk to all day that may not deserve your time, your pet is always deserving of it. Pets don't want your excuses; they only want you to love them.


For all the people who dump their dogs and cats off at the shelter for no justifiable reason, you should truly be ashamed of yourselves. When you are driving away, leaving your pet behind to grieve and likely end up euthanized, take a few moments to reflect on what an asshole you are. The reality is, when you dump off your animal, regardless of the reason, they don't understand WHY. In their mind, they are waiting for you to return, to take them home. They often whine, cry and even yelp as if in pain because you abandoned them. When you never show up or it sinks in that you aren't coming back, they become severely depressed, often refusing to eat. This is the site that irresponsible pet owners choose to spare themselves, while shelter workers have to care for and comfort your grieving pet. Animals show us unconditional love. Show them love and respect in return. No excuses.
comments
(3) |
discussion
() |
permalink
|
send green star
|
flag as inappropriate
| | |
| --- | --- |
| | Content and comments expressed here are the opinions of Care2 users and not necessarily that of Care2.com or its affiliates. |
Author


Lisa H.
, 3, 1 child
Glen Allen, VA, USA

SHARES FROM LISA'S NETWORK