Nov 19, 2007
(when a friend e-mailed this to me,i know i gotta post it here! Har-har! ;op )



The Way you Sleep



After two Beers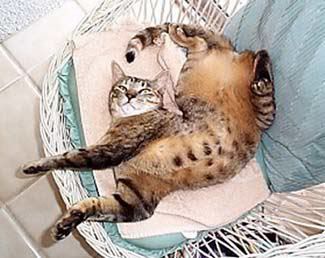 After three glasses of Wine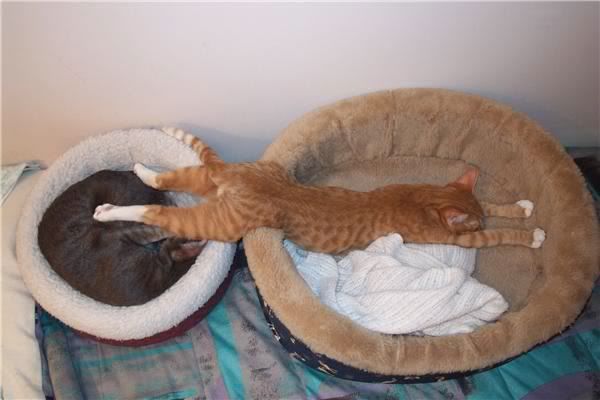 After four Kamikazes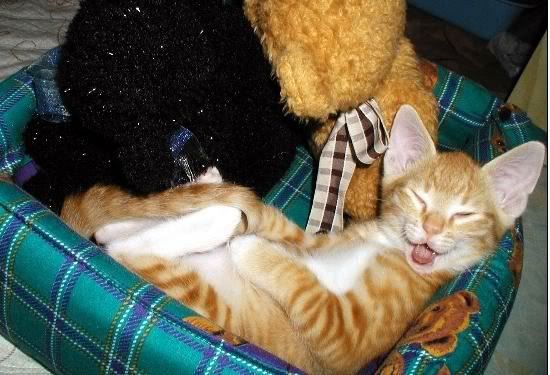 After a few shared bottles of wine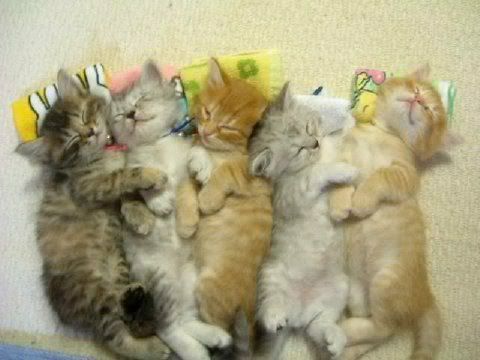 After a few Margaritas....
(Love it)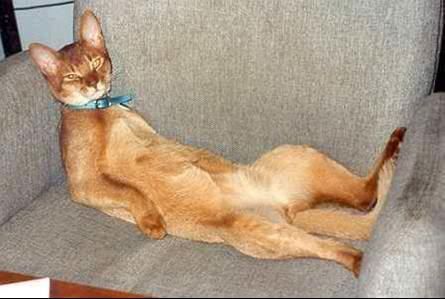 After 2 bottles Jack Daniels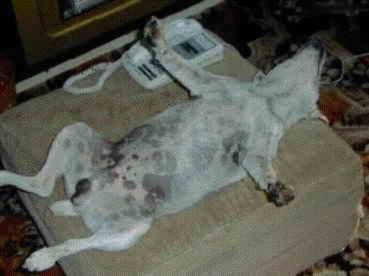 And after an evening of two beers, three wines, four kamikazes, margaritas and that bottle of Jack shared with friends
"Life is short, break the rules, forgive quickly, kiss slowly, love truly, laugh uncontrollably and never regret anything that made you smile."
Oct 2, 2007
had a good sleep, my sweet?
ok,ok so yer cute...u still hav to get up soon!
yes,yes...do yer exercise...yer morning walk?
get yerself ready for work, no need to look pretty-you already are!
hey,hey....did u went back to bed? C'mon,sleepy head! don't tell Valiums again! Grrrr!
put on yer socks..
and yer favorite shoes too...
and go out into the world -to do whatever it is we each do...
whatever it is you do,just dont forget-
to
SMILE!!!
so that the WORLD - SMILES BACK AT YOU
Apr 25, 2007
I had found a kind of serenity, a new maturity... I didn't feel better or stronger than anyone else but it seemed no longer important whether everyone loved me or not--more important now was for me to love them. Feeling that way turns your whole life around; living becomes the act of giving.

--Beverly Sills
comments
(4) |
discussion
() |
permalink
|
send green star
|
flag as inappropriate
Aug 19, 2006
starry starry night
paint your palette blue and grey
look out on a summer's day
with eyes that know the darkness in my soul
shadows on the hills
sketch the trees and the daffodils
catch the breeze and the winter chills
in colors on the snowy linen land
now I understand
What you tried to say to me
how you suffered for your sanity
and how you tried to set them free
they did not listen, they did not know how
perhaps they'll listen now
starry starry night
flaming flowers that brightly blaze
swirling clouds in violet haze
reflect in Vincent's eyes of china blue
colors changing hue
morning fields of amber grain
weathered faces lined in pain
are soothed beneath the artist's loving hand
now I understand
what you tried to say to me
how you suffered for your sanity
and how you tried to set them free
they would not listen, they did not know how
perhaps they'll listen now
for they could not love you
but still your love was true
and when no hope was left inside
on that starry, starry night
you took your life like as lovers often do
but I could've told you Vincent,
this world was never meant for one
as beautiful as you
starry starry night
portraits hung in empty halls
frameless heads on nameless walls
with eyes that watch the world and can't forget
like the strangers that you've met
the ragged men in ragged clothes
a silver thorn, a bloody rose
lay crushed and torn upon the virgin snow

now I think I know
what you tried to say to me
and how you suffered for your sanity
and how you tried to set them free
they're not listening, they're not listening still
perhaps they never will
Aug 19, 2006
CUSTOMER SERVICE

It happened at the Denver Airport. This is hilarious. I wish I had the guts of this girl. For all of you out there who've had to deal with an irate customer, this one is for you. An award should go to the United Airlines gate agent in Denver for being smart and funny, while making her point, when confronted with a passenger who probably deserved to fly as cargo.

A crowded United Airlines flight was canceled. A single agent was re-booking a long line of inconvenienced travelers. Suddenly an angry passenger pushed his way to the desk. He slapped his ticket on the counter and said, "I HAVE to be on this flight and it has to be FIRST CLASS." ; The agent replied, "I am sorry, sir. I'll be happy to try to help you, but, I've got to help these folks first, and I'm sure we'll be able to work somet hing out."
The passenger was unimpressed. He asked loudly, so that the passengers behind him could hear, "DO YOU HAVE ANY IDEA WHO I AM?"

Without hesitating, the agent smiled and grabbed her public address microphone, "May I have your attention please, " she began, her voice heard clearly throughout the terminal. "We have a passenger here at Gate 14 WHO DOES NOT KNOW WHO HE IS. If anyone can help him find his identity, please come to Gate 14."


With the folks behind him in line laughing hysterically, the man glared at he United agent, gritted his teeth and swore "F*** You!". Without flinching, she smiled and said, I'm sorry sir, you would have to get in line for that too."

Aug 19, 2006
Quote of the day
" He who does not understand your silence will probably not understand your words. "
- Elbert Hubbard. American editor, publisher and writer, 1856-1915
Aug 17, 2006
Quote of the day
" Love is the ultimate outlaw. It just won't adhere to any rules. The most any of us can do is sign on as its accomplice. "
- Tom Watson. American Golfer. b.1949
Aug 8, 2006
Quote of the day

Poster $8.99
(81 x 115 in)

" All that we are is the result of what we have thought. The mind is everything. What we think we become. "
- Buddha. Hindu Prince Gautama Siddhartha, the founder of Buddhism, 563-483 B.C.
Aug 2, 2006
Quote of the day
" The most valuable thing you can make is a mistake - you can't learn anything from being perfect. "
- Adam Osborne. American entrepreneur, 1939-2003
| | |
| --- | --- |
| | Content and comments expressed here are the opinions of Care2 users and not necessarily that of Care2.com or its affiliates. |
get the feed
SHARES FROM GAMBIT'S NETWORK